I'm currently looking for some new writers in order to expand the blog given that I can't post the amount of things I'd like to. So if you are interested in writing about anything related to music (news, TV shows, album reviews, introducing artists) just drop me an
email to musicisthedoor@gmail.com
and we can discuss some of your ideas.

01 September, 2011 10:36 PM
With the third #1 spot in the week, the XF Au is only hoping it's 4th episode also gets to the top. Two more audition episodes will air next week, with bootcamp following on Wednesday and Thursday. So without more chatter, let's listen to the next bunch of hopefuls ... It's time to face the music!
Recap and videos after the JUMP ...
Final audition show of the week. We are hitting Brisbane first! "God help you" tells Mel with a diabolic laugh. And the first contestant is up,
Antonio Sneddon
, an underwear model, which I really don't get. If that guy can be a model, everyone can. Seriously, he's not even cute. He's singing a Ronan song! "You don't wanna do that" says Ronan. Hilarious. His faces are killing me! Haha. He's getiting the song all wrong, Ronan is singing along, helping him. It's a hot mess. He's a major joke. Ronan trying to guide him is the best part of this. Haha -
VIDEO
Coming from the Gold Coast,
Cleo Howman
(25), is looking like a loner cause her boyfriend missed the train and will be late. She's kinda pissed. Her style lays between indie and pop she tells us. Singing "You've got the Love", she's sounding really shaky and messy. Still, I love her voice, she's got a really unique tone and a cool phrasing. She picks it up at the end. I want more! Mel thinks that she would have nailed it with a more folky, jazzy, bluesy song, I agree. Still, she's sent through, with Mel saying no. I see a lot of potential on her though. I want her as a finalist! Probably my fave Over. -
VIDEO
The next contestant,
Pete Murphy
(45), who's done musical theater, and worked with Nat in Rent 15 years ago, is hoping to impress the judges. Well, he's certainly got Nat's vote even before performing. He was doing a show in London and got an infection and had to quit. Then he was stabbed in the head when robbed. Crazy. "That's a crappy year bro" Guy says. His voice is quite good, not my type but he can sing. He's got this big theatrical voice and he pulled some crazy notes. Judges loved that. He's through. -
VIDEO
The boys are feeling the heat! Bryne Jenke (19), impresses with his good looks and raspy pop voice, followed by afro 17 y/o Rob Baron, whose voice is less than impressive, but we only saw 10 seconds, so who knows? Next is William Singe (18), who has the biggest voice in the montage, but nothing that impressive.
Central Australia uni student,
Zaachariaha Fielding
(19) is next and he impresses everyone with his amazing rendition of "Talking Bout a Revolution". Great unique tone, I specially like the way he whispers the "like a whisper" line. It's a pretty amazing audition but he needs more stage presence and confidence. He gets emotional. Really good overall. 4 massive yeses. -
VIDEO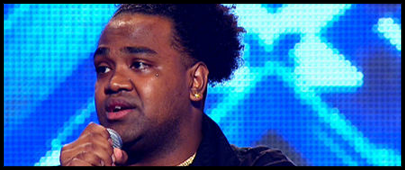 He's got the guns, she's got the legs, they are
Straigh Up
. "He's massive" says Luke. Jade is the singer, Nas the entertainer. Oh, what a bad song choice, it implys too little singing. His voice is kinda annoying. I don't really like the guy, but her voice is amazing. Lots of swagger. She's very rap driven. And they make an interesting mix together. She'll be better as a solo, but this group isn't necesarilly bad. Audience loves them. "Your legs, your arms, ahh" Mel tells them. They sail to bootcamp. -
VIDEO
Final audition of the day,
Paige Phoenix
(35). His girlfriend lives in San Fransisco. He's a regular guy, he says. Well, he's not, here comes the shocker. He's a transgender. Right? Who saw that coming?! He's got a really great raspy voice, quite unique and really interesting. I want more from him, this is amazing. Best audition of the night, definitely. They all agree that his voice is amazing, so he's through. And that's the end of the show. -
VIDEO