I'm currently looking for some new writers in order to expand the blog given that I can't post the amount of things I'd like to. So if you are interested in writing about anything related to music (news, TV shows, album reviews, introducing artists) just drop me an
email to musicisthedoor@gmail.com
and we can discuss some of your ideas.

29 September, 2011 11:09 PM



I'M LOOKING FOR A SWEDISH TRANSLATOR, IF INTRESETED, EMAIL ME


With the top 20 finally selected and with some great decisions, and some not so great, the contestants will now face the semi-finals where they'll fight for the public vote in order to advance to the finals. Only two contestants from each semi will advance, with four more contestants selceted by the judges as wildcards. Who will succeed? Who will crumble? ...
Recap after the JUMP ...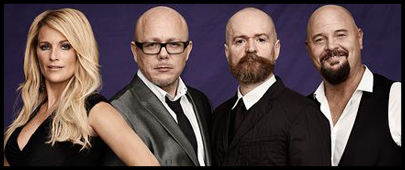 You can watch the full episode HERE (using what I explained in the comments) All the performances videos are taken from the Idol site too.
Dounia Arhzaf
"Fighter" (Christina Aguilera)
-
7/10
- I guess this is a fittable song for her cause she's got sass but somehow, it's not showing tonight. This is a very bland performance from her, I'm not feeling anything at all and it took me back to the first time I saw her, great singer but no connection or emotion and it's a pity, cause I think she just runied all her chances. And I'm not even sure this is worthy of a wildcard spot. -
VIDEO
Linni Barresjö
"The Edge Of Glory" (Lady Gaga)
-
5,5/10
- She looks different, it's a bit weird. And so is this performance. Her vocals sound totally off and I can't help it but she looks like the swedish Sarah, who won the danish XF. This is probably one of the weakest female performances I've seen this far. She's sound plain and karaoke, I don't think she should ever touch Gaga again. -
VIDEO
Roshana Hoss
"My Heart Is Refusing Me" (Loreen)
-
8,5/10
- Perfect song for her and I love the red hair, it makes her stand out and it doesn't look as tacky as it could. She's got a great voice and the slow tempo on this song is a fantastic idea. She's connected with the song and she's delivering an emotional performance, a thing Dounia lacks. She deserves to be in the finals. -
VIDEO
Magdalena Reise
"I Have Nothing" (Whitney Houston)
-
6/10
- I hope she remembers her lines this time around. Haha. The song choice is good for her but unfortunately, her voice isn't delivering as it should. There are many bad notes in this performance, too much pitchiness. She sounds like Molly at times and I like that but she's either too nervous or her voice isn't prepared for this. -
VIDEO
Molly Pettersson Hammar
"A woman's worth" (Alicia Keyes)
-
10/10
- Wow! Molly is definitely the breakout star tonight. The most impressive thing is that she's just 15!! She sounds so mature and her voice is so fantastic! She's like the lovechild of Adele and Joss Stone. Fabulous performance, probably one of the best I've seen in a while. Soul, passion and the pipes to match them. You are looking at a talented lady here. -
VIDEO
Results
Incredible Molly and Linni are the contestants advancing to the finals tonight. Molly was just breathtaking and Linni despite being average, and the worst of the episode, has shown some promise in the past weeks so I get why people voted for her. Poor Roshanna deserved a spot in the finals and I bet she gets a wildcard tomorrow. And final result, the girls are so much better than the boys, I think they'll dominate this season.