I'm currently looking for some new writers in order to expand the blog given that I can't post the amount of things I'd like to. So if you are interested in writing about anything related to music (news, TV shows, album reviews, introducing artists) just drop me an
email to musicisthedoor@gmail.com
and we can discuss some of your ideas.

12 September, 2011 7:34 PM



I'M LOOKING FOR A SWEDISH TRANSLATOR, IF INTRESETED, EMAIL ME


Only two audition shows left. Or that's what I hope, and what I've read actually. I'm kinda done with the auditions by now, there's been some great talent though, and I bet that there still be some starts to be found out there. Will that be the case tonight? ...
Recap after the JUMP ...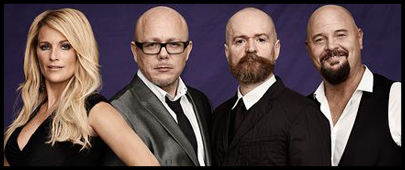 You can watch the full episode HERE (using what I explained in the comments) All the performances videos are taken from the Idol site too.
Nathaly Hollub Soto (24) - Wow! Just started and a massive talent walks through that door! She's got a really amazing voice and an incredibly unique style. It's very folky indeed, you know? She reminds me a lot to Laleh. That was really beautiful and made this whole episode worth it.

Mikael Fogelberg (16) - He's got a weird voice, it's definitely something very unique. And he's kinda a good singer. The problem is that I don't think he's quite ready for this yet. Some notes sounded really off actually. He's sent through though, wonder how this will develop ...

Hanna Einebrant (17) - She's got a great voice and I like the fact that she also plays a guitar, which adds a nice acoustic folky vibe to her. There's a real artistic quality to her, I hope she makes it far.

Jonathan Liljedal (19) - One more contestant that Cissi found for us. This time is another guy, who performs in a bar. Oh Cissi! She dressed like a skater! Haha! She's really funny actually. She's singing "Jag Kommer", a fave of mine. I bet I sound better than her with it! His voice isn't that special. He's got a nice tone but his pronunciation is bad. They all seem to like it though, so he's given a golden ticket.

Abir El Farran (22) - She's back! Oh wait. Who is she? Apparently she auditioned a while ago and was cut. She's still not that good. I mean, she's got something but it's not that impressing at all. Her voice sounds a bit shaky to me.

Frida Josefsson (15) - She's a farm girl! She's got sheep, chicken, etc. She's singing Adele and nailing it. Frida is a great singer indeed. Where you've been hiding?! Oh, I guess in her farm, plus she couldn't audition for this before. She's greatly talented though!