I'm currently looking for some new writers in order to expand the blog given that I can't post the amount of things I'd like to. So if you are interested in writing about anything related to music (news, TV shows, album reviews, introducing artists) just drop me an
email to musicisthedoor@gmail.com
and we can discuss some of your ideas.

19 September, 2011 6:21 PM
The Audition, Bootcamp and Judges Houses stages are finally over and now is when the competition truly starts! The Top 12 were announced and after many tears, the "best" have been select for the live performances. But remember, only one will be victorious after this. Who will shine? Who will dissapoint? ... It's time to face the music!
Recap and videos after the JUMP ...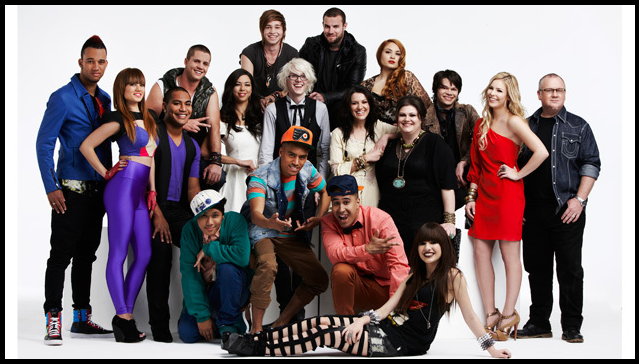 We get a performance from our four judges, and they are singing songs I've never heard in my life. I wonder were they take this from. It sounds just ok. Btw, I'll post the judges comments, of course I'll shorten them a bit and I won't include the mentors comments, they are gonna praise them always.
Reece Mastin
"Closer to the Edge"
-
7/10
- This song choice is weird, it should work from him, given that he's the rocker this season but I suspect he feels more comfortable with, let's say a jazz song and turning it into a hard rock number. Very rough start there. And WTF is he wearing? A purple dress? This is definitely not his best and it's kinda dissapointing considering I thought he was the best in this competition. He picked it up at the end and I enjoyed the ending but not his best. "What an amazing way to kick off XF!" (Mel) "I wanted that to be terrible, that was absolutely brilliant" (Ronan) "If Australia hasn't fallen in love with you already they will fall after that performance" (Nat).
Three Wishez
"Telephone"
-
7/10
- Another really strange song choice. "Telephone"? Really Ronan? That said, the scenery for this looks great. That metal box there with the dancers was great. The arrengment is really weird, I don't like it much. Their harmonies sound a bit pitchy at the start, Sophia kinda saves this performance, if her voice wasn't that great, this will be a fail. As it happened with Reece, I was expecting much more from them too. "There was some pitchiness at the beggining but a powerful performance" (Nat) "I can't take my eyes of you Sophia ... (To Joe) I'd say you don't get lost in your face" (Guy) "I didn't feel the groupness of you, you were all too separated ... but it was enjoyable" (Mel)
Andrew Wishart
"The Man Who Can't Be Moved"
-
5/10
- I never expected Andrew to get this far actually, Nat should have picked Paige in his place. I guess this is the first good song choice of the night. The problem now is that he's not singing it well, there are a lot of bum notes and he sounds really boring and forgettable. And is it just me or he always sounds the same? I fear he may be cut after this, and I couldn't care less. "Don't lose that edge you had in your first audition ... keep being different" (Guy) "You are the dad from next door and I love that ... tonight was a little bit obvious and boring but you do have a great voice" (Mel) "I blame Nat .. she should guide you. That was just too obvious" (Ronan)
Christina Parie
"Since U Been Gone"
-
6/10
- I hate her. I don't care how big of a voice or confidence she has, there's something about her that bugs me. She's not ready for this. She can't emote. This song isn't meant to be all happy and cheerful and jumping from here to there. The car in the middle of the stage looks out of place. I won't say her voice is bad, cause it's not, but she can't perform, she can't feel and move someone. "You are the reason we dropped the age limit" (Ronan) "When I go to a concert and pay to see someone perform, I pay to see something like that" (Nat) "I was worried you wouldn't hit those top notes, and you absolutely nailed it" (Guy)
Mitchell Callaway
"Only Girl (In the World)"
-
4/10
- OMG! What was Nat thinking when she picked this song? "I think it's silly" Mel says. Rhianna and country = epic fail. This sounds incrediblly creepy. His voice is sounding too country, so country that it sucks. Off tune, off notes, off energy, off performance. "How do you think that went? ... I just wasn't moved" (Guy) "I actually feel a bit silly now but it did move me ... I hate to say it but it was really bloody good" (Mel) "You sang the best that you've sang all week ... The world needs a tatooed country guy, and u are that guy." (Ronan) If that was the best he sang, I wonder how bad the reherals went.
Johnny Ruffo
"Moves Like Jagger" - 4,5/10 - There's a fire alarm on. All laugh and Luke has to kill time asking Guy loads of questions. I get the song choice, it's fun and there's lots of movement but it's too hard to sing and Johnny doesn't have the voice for it. All that's enjoyable in this performance is the staging, I love the screen and dance combinations but apart from that, he's sounding horrible. His tone is nice but he can't sing. Period. "I've said it before and I'll say it again, you're not the best singer and not the best dancer ... You can't relay on your looks alone, you are cute but I wanna hear you sing" (Mel) "Looked great but vocally it was just weak" (Ronan) "If you keep working hard you could be the best singer" (Nat) I doubt it ...
Audio Vixen
"Viva la Vida"
-
7/10
- This is a nice song choice for them and the staging looks quite great. It's was actually a good change that it wasn't Ria singing most of the song. Chris sang most of the performance and it was good enough. And then of course Ria jumped in with her huge voice with some amazing notes. It was a good performance but I don't think they can win this competition. I somehow have a feeling that they are going to be cut around top 8 despite how great their performances are. "That really was something special that we've not seen on this stage before" (Nat) "There's not much you can't do with that voice ... I wanna be moved ... and I just loved it" (Guy) "I'm gonna have to eat my words again, it was really, really good" (Mel)
Jacqui Newland
"Love Story"
-
6,5/10
- I don't get why Mel is making her sing this type of songs. We don't want the aussie princess, we want the Jacqui we met at the auditions and that we really liked with her hard rock songs. This is very forgettable and mediocre. She can be much better. The stage looks really nice but thos black wires. Oh look, she's flying! Was that necesary? Not at all. "I think the world has enough blond hair country singers, I think you need to be you, this was a bad move from Mel" (Ronan) "It shocked me, do you want to be this kind of artist or the hard rocker?" (Nat) "Do you see yourself like a Taylor Swift, Miley Cyrus kinda artist? Is that what you want to be?" (Guy) I doubt she wants to be a country singer. She loved being up there.
Declan Sykes
"Uprising"
-
8,5/10
- This is definitely the best I've seen tonight. It's really bizarre, but in a good way. The dancers are really strange but match his quirky unique voice. This is great actually. He's dressed in white, with a lobster pin, yeah, weird, while the dancers are in black, dancing around him. And it's the youngest contestant who does the best job. Kinda a shocker, right? That was very impressive Mr. Sykes, I want more! "Make some noice you are on live TV" he shouts to the audience. Haha. "You are a bit weird and everybody loves you ... You already got my vote" (Mel) "Mel just stole all my lines, that was brilliant ... that was fresh!" (Ronan) "If Guy lets you be you, you are a winner in my eyes for sure" (Nat)
Cleo Howman
"Jar of Hearts"
-
7/10
- She's my fave in the entire competition. There's something really unique and fresh about her, plus she's got something really magical, like Nat says. Oh! She misses the count and starts the song late. She skips some lines and it looks like the longest intro better. The part that she did sang is amazing though. I truly love her voice and style plus the stage looks wonderful in this performance! There's something really haunitng about her and if she hadn't messed it up there, this would have been the best performance of the night. "Unfortunately people didn't get to see you as good as you are" (Guy) Apparently it also happened at the rehersals. "I think her voice is so original and folky and I didn't hear her best ability in that song" (Mel) "Your composure was quite impressive ... I just think it was a weak song choice" (Ronan)
Young Men Society
"The Lazy Song" and "Price Tag"
-
8/10
- I've to give props to Ronan cause the staging has looked great for all his acts. The beds look kinda cheesy but they are fun to watch. They are entertaining and their voices also sound good. They've nice harmonies and they are quite interesting to watch. And I like the way both songs were mashed up, it's probably the best we've heard from the groups. "It's so great watching people enjoying themeselves on stage, it was really fun. A little pitchy in the beggining but it was awesome" (Nat) "Unbelivable ... you are great singers, you aren't contestants, you guys are superstarts" (Guy) "I thought it started a bit cheesy but .. it was fun and fresh and funky and it was bloody great" (Mel)
Tyla Bertolli
"Set Fire to the Rain"
-
6,5/10
- Oh no, Tyla can't tackle this huge song. Her voice just isn't big enough for this. She looks amazing tough, she's rocking the Jessica Rabbit look and it looks terrific, very hot, but her voice isn't sounding as great as it could with another song. The staging is good, the piano on fire looks kinda great with this song. I still think Tyla is the best of the girls, I hope Mel picks better songs next time, cause she'll be here for a while. "It wasn't strong enough vocally" (Ronan) "You sold the song to, it's really hard to sing an Adele song but you did it to me" (Nat) "I just felt you were screming that out and it wasn't coming out effortlessly" (Guy)
So those are all the performances. After this show, I'm left wondering about the talent. Where did it go? There are some amazing singers in this top 12, but only 1 or 2, were a stand out. The rest were just very decent. I blame that to nerves and it being the first show, but they've gotta pick it up. The best was definitely Declan and that's just about it. The rest was either forgettable, not good enough or a dissapointment. Even Cleo, who missed the count and started the song late was better than some of the other performers. I predict it'll be either Andrew, Jacqui or Cleo, unfortunately, in the bottom 2. Fingers crossed it's Andrew the one out by tomorrow. Though it should be Johnny, who can't sing.
Ranking:
Declan Sykes
Young Men Society
Cleo Howman
Audio Vixen
Reece Mastin
Three Wishez
Tyla Bertolli
Jacqui Newland
Christina Parie
Andrew Wishart
Johnny Ruffo
Mitchell Callaway
Resluts
And it all comes to the results. Two acts will have to sing for their "lives" in order to stay one more week in the competition. The bottom 2 is made up by Jacqui Newland and Cleo Howman, both struggled with song choice and their performances were not good. Jacqui deserves to go based on last night, Cleo had some issues but she's still my fave. Cleo is up first. She sings a beautiful version of Adele's "Chasing Pavements" but somehow, she seems to have lost her spark, like she's given up. Jacqui is next and she amazes everyone with "Heavy Cross", showing the actual type of performer she wants to be. Fuck the princess Mel. Jacqui seemed to be singing for her life, while Cleo didn't. The judges proceed to vote and Cleo has run out of luck. The judges decide that Jacqui should stay, with only Nat voting for Cleo, so Cleo is eliminated. Though it should have went to deadlock, Cleo's fate was probably sealed. It left me wondering if Australia has any taste at all considering not only Johnny but also Mitchell, Andrew and Christina all made it through. After all, if you are my favourite, you are due to fail. Sorry for the curse girl.
This entry was posted on 6:21 PM, and is filed under
Andrew Wishart, Audio Vixen, Christina Parie, Cleo Howman, Declan Sykes, Jacqui Newland, Johnny Ruffo, Mitchell Callaway, Reece Mastin, Three Wishez, TV, Tyla Bertolli, X Factor Australia, XF Series, YMS
. Follow any responses to this post through
RSS
. You can
leave a response
, or trackback from your own site.