I'm currently looking for some new writers in order to expand the blog given that I can't post the amount of things I'd like to. So if you are interested in writing about anything related to music (news, TV shows, album reviews, introducing artists) just drop me an
email to musicisthedoor@gmail.com
and we can discuss some of your ideas.

03 September, 2012 10:18 PM
The auditions proved that the talent this year is higher than ever and since the bar has been raised, bootcamp will now feature 4 times the judges. In previous editions the categories were divided prior to bootcamp, this time, the remaining contestants will have to face the 4 judges and also, a live audience. Who'll survive? Who'll crumble under pressure? ... It's time to face the music!
Recap and videos after the JUMP ...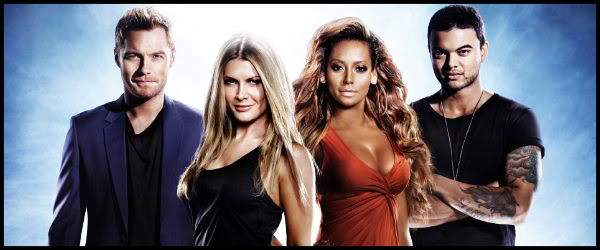 Day 1
The following contestants were all shown in the audition phase:
Boys

Jason Owen
Adil Memon
Josh Brookes
Joel Goncalves
Matt Cenere
William Singe
Jack Saunders
Matt Gresham
Hayden Maurirere
Trent Bell
Carmelo Munzone
Zach Russell
Jayden Sierra
Ahmed (from GCG)
Judah Kelly




Girls

Bella Ferraro
Shiane Hawke
Vendulka Wichta
Angel Tupai
Morgan Sheather
Tabitha Omaji
Briden-Star Aspinall
Bella Hunter
Sarah Main
Veronica Bravo
Valencia Fesolai

Overs

Nathaniel Willemse
Samantha Jade
Justin Standley
Angela Vayne
Chris Cayzer
Aaron Russell
Semaema Cornford
Rob Vegas
Danielle Blakey (Pic)


Groups


What About Tonight
Good Question
Fortunate
D&D
"This day is a big part of my life. If I don't go all the way it may be a case of me just throwing the towel and giving up". (Nathaniel Willemse)

"It's scary knowing that what happens to me, to the rest of my life could be what happens at bootcamp". (Bella Ferraro)

"I've done this three times, every year I want it just a little bit more, I've told myself, Trent, you can do this, and I know I can do this. I just need to make it happen". (Trent Bell)

"Setting off to bootcamp without my brother Aaron is tough, we started this journey together and having him not there besides me at bootcamp is gonna be really difficult". (Zach Russell)




But are you really gonna be alone Zach? We are informed that the 138 contestants will be competing in the first ever super-bootcamp. One venue, 4 categories and 4 judges to impress. "We've got something really big planned this year for bootcamp". (Nat) "This bootcamp is gonna be the toughest ever". (Mel)




The contestants all arrive at the same venue, without knowing they aren't alone. They all enter the stage together and the obvious screams and hugs begin. "I've never seen so many beautiful girls in my whole life, it was ridiculous, I lost my breath for a second". (Adil Memon) Judges enter the stage and inform the contestants they'll be picking the Top 24 together, they also tell them that a third of them will be going home but the end of the day. Each category has 4 songs to pick from, which they'll sing a capella. Mel gives the best advice ever, "Don't make friends". And so it begins!

First up, is my fave contestant

Vendulka Wichta

. She's the youngest in the competition and she's here to have fun. "The hardest part of super-bootcamp was, Mel has said, don't make friends, but there are so many nice people and you wouldn't have fun if you didn't make any friends". She's singing "The A Team" and from the moment she opens her mouth the judges are in awe. The little changes she made to the melody were stunning and her tone really shone with that song.

Shiane Hawke

is also in the line. She's singing Shakira's "Underneath your clothes", a song I never thought could be on that list. Shiane's definitely got a huge voice but there's something about it I still don't like. It gets a little shrill in the higher notes and her pronunciation on some of the words seems weird, maybe because of her braces? Either way, the judges love it, so expect to see her again.

Early front runner,

Bella Ferraro

is taking the stage next. "I'll be devastated if I only get this far". Predictably, Bella is performing "The A Team", yet another song Birdy covered. What is she gonna do when she runs out of Birdy covers? Just kidding. Another gorgeous performance from Bella. Compared to Vendulka's rendition, this one was much more melodic despite she seems to still be struggling with the nerves. She needs to chill a little. "She doesn't know how good she is", Guy says.

We are now treated to a montage, featuring

Tabitha Omaji

,

Veronica Bravo

and

Angel Tupai

, all impressing the judges and definitely moving to the next stage.

- VIDEO

It's now time for the boys. Up first, the last audition of the series, 15 y/o

Judah Kelly

. He's singing "Man In the Mirror" and while it sounds good, without music it's lacking something. And on top of that, Judah forgot the lyrics again. Yes again, cause he also forgot them when auditioning. Mel abruptly stops him. Ronan says he can't do that, while Guy calls it a shame.

Josh Brookes

is someone who is familiar to this stage. "Being in the super-bootcamp is a lot more daunting than the last". Guy tells the other judges that he got rid of him last year because of his inability to remember a song. "I've never saw him get it right, not once", Guy says. And just as Guy informed the other judges earlier, history repeats itself once more. Josh is off to a good start but then goes completely silent and stops for several seconds. "You've just blown that", Mel tells him. Josh asks the judges if he can continue. Guy lets him finish his performance but will the rest of the judges take what Guy said before into consideration when making their decision?


Trent Bell

is full of confidence this time around. He sings "Count On Me" by Bruno Mars. He doesn't forget the lyrics, which is already an improvement, and honestly, he sounds the best he's ever sound. He still sounds generic to me but there were moments in that performance that sounded really promising. Maybe the third is the charm after all. -

VIDEO

We move on to the Overs now.

Justin Standley

, who's looking for his children is the first taking the stage. He's singing "Superman". Solid performance but I felt his voice a little unpleasant and the whole audition was worse than his first one as Mel and Ronan pointed. "He's let us down", they said.

Thankfully, what's to follow left the judges impressed. We've get a montage of

Samantha Jade

,

Danielle Blakey

,

Aaron Russell

and

Chris Cayzer

.

Luke says that

Nathaniel Willemse

has the most to prove after dividing the judges at auditions. "I've come a long way, I've worked my butt off and I'm more than ready". He's taking on "It Ain't Over 'Til It's Over" by Lenny Kravitz. and it's probably one of the best performances so far. His falsetto was fantastic and the way he shifted back to his regular singing voice was remarkable. "That's how you sing an a capella", Mel says.

Remember

Rob Vegas

? If you don't, don't panic. He was featured in a montage during the auditions. And to my surprise, he's an Over. He's doing "Chasing Cars" but while he's performing, we are focusing on Nathaniel. Guy says that they've got to very similar singers at the end (I really don't see it) and that one of them seems to want it more than the other. He tells Nathaniel if he were to make it through today, he needs to dig so much deeper cause he sees hunger in Rob. Mel stops him and tells him that there are different styles of singing. (I agree) So Nathaniel has divided the judges once again but this time, Mel is his supporter and Guy is against him. -

VIDEO

Lastly, it's the Groups turn to take the stage. We've only seen 4 groups during the auditions, so this should be quick, provided we don't get any new ones.

Good Question

, made of former Miss Universe contestant Kristina and Joelle, are performing first. They sing "Back For Good" and impress once again. I really love Joelle's voice, her tone is outstanding. Also briefly featured are D&D.

Mediocre boy band

What About Tonight

is the last act of the day. Awful harmonies, out of synch singing and one of the members forgot the lyrics while rapping. Mel says he couldn't understand what he was saying. He says the rap was quite fast and changed some words. (Lie) Mel says she still couldn't understand. He keeps arguing and admits he forgot the lyrics. The judges are disappointed. (Yay!) -

VIDEO Eliminations

: The contestants are divided into three groups. Two of them are making it, one is going home.

First group

(Good Question, Bella Ferraro, Matt Cenere, Hayden Maurirere, Adil Memon, Jason Owen, Aaron Russell, D&D, Tania, William Singe, Bella Hunter and Joel Goncalves). "We've all have a really long day. It's been tough for anyone, we've had to make decisions and we've got to trust that the decisions that we've made are the right ones. You're not gonna like what I'm gonna say, you've gonna absolutely love it. See you all tomorrow!", Mel says to them.

The

second group

(Judah Kelly, Ahmed (from GCG), Semaema Cornford, Angela Vayne and Valencia Fesolai) unfortunately isn't that lucky. "The competition this year is incredible, we've the best talent we've seen in XF here in Australia. Some of you really amazed us from your first audition to now, some of you didn't do so well. So the four of us have decided, it's a no this year guys. Thank you for trying", Ronan says. So they've decided to keep What About Tonight over Judah, Semaema and Angela? Something's not right, unless they really messed up, like Judah actually did. "67 people, gone, in the first day".

The final group, which is the rest of the contestants, is obviously through to the next stage. "The 4 of us were very excited about a lot of you guys from the auditions and we expected a lot today. And for so many people, it didn't go well. We don't take this decision lightly, this's been tough for us, and to be honest, the decision was kind of easy with you guys. You are through!" Guy informs them.

All contestants are reunited on stage. Zach Russell is looking for his brother, Aaron, who is competing against him. They hug and cry and is supposedly a touching moment.

74 acts remain and it's time for their next challenge. They are gonna be put into ensembles and are gonna be given a song that they may or may not know. Then they've to learn the song, come back and perform it for the judges. Ronan tells them half of them is gonna be going home today. Each group has a few hours to learn their song and are gonna be helped by vocal coach Gary Pinto and Squared Division coaches Ashley and Antony.

Group 1

-

No Thrills

,

Vicky Abercrombie

,

Briden-Star Aspinall

,

Chris Cayzer

,

Justin Standley

and

Jason Owen

- They are singing "Get What You Give" by The New Radicals, as song Briden-Star isn't familiar with. "When I auditioned I had no expectations to go anywhere at all, to meet new people is great but it is so far out of my comfort zone", Jason says. As usual, there's a lot of friction among the group, specially between Vicky and Briden-Star, who clash regarding the direction they should take. "We've a lot of leaders", Briden-Star says, "I felt a bit bullied, you could cut the air there with a knife". Vicky is first and her voice is just ok, nothing special, honestly, Angela was much better than her. No Thrills forgets the lyrics and one of them reads them from her hand, very obviously, and still can't get them right. Briden-Star is quite good but I can't really get past her musical theater performance. The performance as a whole is actually a mess, with no one particularly standing out. Justin disappointed once more, two and you are out? If I was judging, all of them would'be going home, well, but Briden-Star, I kinda felt bad for her. -

VIDEO Group 2

-

Danielle Blakey

,

Hayden Maurirere

,

Jayden Sierra

and

Samantha Jade

- They are given "No Air" by Jordin Sparks. This group is doing a much better job than the previous one. It shows that there's not so much tension as in the previous ensemble and they all sounded great during it. Danielle has grown to become one of my faves despite only being featured for a few seconds. There's such an innocence to her voice, I can't seem to get enough from her. Samantha also shone, proving she's one of the strongest Overs in the competition. The final verses in which they all sang together were perfect considering how little rehearsal they had. It was amazing honestly. -

VIDEO Group 6

-

William Singe

,

Zach Russell

,

Aaron Russell

,

Trent Bell

,

Keeda

and

Veronica Bravo

- So apparently this group is made up by potential supergroup contestants. They were put together to see if there's any chemistry. Guy calls Zach the poster boy. "He's too good looking, people shouldn't be that good looking. It makes us all look bad", he says. Trent is determined to succeed this time around, "I'll sing my heart out on that stage and prove to them why I'm back". Not so focused however, is Zach Russell, who has an eye for the ladies, specially for Keeda, who says Zach's cute. He gets more cocky by the day, that's gonna work against him. Their song is Maroon 5's "Payphone". It's sort of a mess to be honest. I've no idea what Aaron was doing, he's got a nice voice but he sounded totally weird to me. Brother Zach sounded a little better but he struggled while singing with Kata. William and Veronica saved that performance to me, these two need to be a duo, they had a great chemistry. The judges start giving high fives to each other as soon as the contestants walk out. Ronan think they have two groups there. They think it' brilliant to have the brothers together, they say it's golden. -

VIDEO

Group 4

- What About Tonight

- "We kinda got distracted by all the babes", they say regarding to their disappointing performance last night. As expected they crash and burn once again tonight while singing "Teenage Dream". This guys can't harmonize and are awful singers by themselves too. I hope the judges realize how mediocre they really are and send them home. Guy calls their performance a train wreck.


Group 3

-

Joel Goncalves, Shiane Hawke

and

Bella Hunter

- "You'd be stupid not to practice, this is a competition and you gotta really work hard", Joel says backstage. Also in the group is Shiane, who struggled with the choreography while practicing. Joel's performance is a disaster. He doesn't only forget the lyrics but he's also doing a disappointing vocal delivery, not that I had any expectations for him whatsoever. Shiane does well enough but too little is shown to actually judge her. -

VIDEO (Also Group 4) Group 5

-

Josh Brookes

and

Rob Vegas

- We are reminded of how disappointing Josh was in his previous performance. "My instincts tell me that there's a good chance I may go home", he says. Thankfully he lives up to the expectations and despite an off starts, gives a solid delivery.

Group 7

-

Matt Gresham

,

Bella Ferraro

,

Morgan Sheather

and

Vendulka Wichta

- They are given "Somebody that I Used to Know", something that really excited Vendulka. "It's a song that I know already so I'm pretty stoked. I'm really determined to make it in the music industry and a lot of people think, you know, you are only 14, you've got your whole life ahead of you, but I don't see why I should put it off". While the youngest contestant isn't nervous at all, group partner, Bella Ferraro looks like death warmed up. "It's a big deal for me to do well in the XF. I think it would give me a lot of confidence that I sorta lost". I love this song but there was something weird in this performance. Matt was off to a good start, specially cause his voice fits so well with this song and Morgan sounded a little off and the backing "singer" didn't really help either. Vendulka shone once more, that's pretty obvious, she's great. Unfortunately, Bella forgets mostly all her lyrics, Morgan helps her out, but it goes downhill after that. That was bad, really bad, and this was probably one of the best group they had. -

VIDEO Group 8

-

Adil Memon

,

Carmelo Munzone

,

Angel Tupai

,

Fortunate

,

Tabitha Omaji

and

Nathaniel Willemse

- This is probably the other great group they have. Adil's been given the first line and is really feeling the pressure. Angel tries to calm him down. "Life was really hard growing up and I worked to have a better life and to also see my family in a greater place", Angel says. As they are about to perform, Adil panics and rushes into the bathroom. Carmelo goes after him and talks him out of it and they all finally take the stage. They are singing "You Give Me Something" and totally nailing it, even Adil, who was panicking earlier on the high note he had to sing. Fortunate proves why we don't need another 1D and Carmelo give some of the most soulful notes I've heard in this show. Then Tabitha and Nathaniel kill that song, in what probably is their best performance, specially Nathaniel's, who finally shows he really wants to be here. Angel does the final solo, with her huge vocals and then they all sing together. Wow! That was amazing! -

VIDEO Eliminations

: First up is

Group 7. Matt Gresham and Vendulka Wichta go through, and so does Morgan Sheather. Things aren't looking good for Bella, who's left for last. "To forget words when you only have one or two lines is really not good enough. Please don't do that tomorrow". And so, Bella moves on to the final challenge.

Justin Standley, who was in Group 1, is next to listen his fate. "You are killing me" he says, to which Mel responds "I don't wanna kill you cause we all want to see you back tomorrow". Also through are Veronica Bravo, Keeda, Rob Vegas, Samantha Jade, Josh Brookes, Jason Owen, Chris Cayzer and Briden-Star Aspinall.

Joel Goncalves is next to hear his fate. "It was a weak performance, forgetting words, your hands in your pockets, but you have something fantastic. We are running out of places, do we feel you can win the XF? It's a no from us Joel". Another act that failed to deliver was What About Tonight but considering this is a mediocre group with 5 guys, it's a yes from the judges.

Trent Bell, William Singe, Aaron and Zach Russell, Bella Hunter, Shiane Hawke, D&D, Danielle Blakey, Matt Cenere and Good Question all make it to the next round but the faith of Group 8, the best group, is still up in the air. "What the hell, you are all through" Ronan says.

Day 3

46 acts remain and by the end of tonight, only 24 will advance. Each act will be singing one song individually to an audience of over a thousand people. "This is your last chance to impress us at bootcamp, bring your A game", Ronan adds.

The fist to take the stage is polarizing

Nathaniel Willemse

, who's divided the judges many times. He's singing "I Gotta Feeling", quite a surprising selection. The song choice isn't the only surprising thing in his performance, the arrangement was totally not what I expected. He reworked the song making a dance tune into a soulful piano-driven song. This is without doubt one of the best performances of the season. Mind blowing, I've no idea where he's been hiding. There's a live shows place guaranteed for him after this. -

VIDEO Bella Ferraro

, who forgot the lyrics the last time she took the stage, is worrying was more. She says she knows the lyrics of the second verse but she thinks she's going to blank out on stage and forget them. Just as she herself predicted, when she gets to the second verse, she blanks out and stops singing, which is a shame, cause her "Don't Dream It's Over" cover was sounding heavenly. Mel encourages to keep going and she does but keeps forgetting the lyrics, so she does an encore of the chorus. Despite her apparent inability to learn new lyrics, there's no denying her voice is outstanding and her tone is golden. I'll give her a second chance, she deserves it. "Bella, believe in yourself", Nat tells her. "When she sings, she sings better than anyone, why did this happen?", Ronan adds, "She just needs faith". The judges all go backstage and tell Bella she needs self-belief. -

VIDEO

The two youngest contestants follow. "It's quite intimidating to think that 4 people can decide what happens with my life but it's one of these nothing to lose everything to gain situations, so I'll keep fighting for it",

Vendulka Wichta

says. She's singing "Your Song" in the most adorable way possible. It's surprising how mature her singing voice is, compared to her speaking voice. She may not have such an unique tone as Bella does but her delivery was flawless and incredible for someone so young.

Shiane Hawke

is next with her "Battlefield" cover. Despite I'm not really a fan of this song, she did a great job with it. Compared to Vendulka, her voice is much less mature, she sounds like a kid and I guess that's why it sounds shrill at times. I think she should wait a few years cause she's just good now but in a few years she'll be amazing.

It's

Adil Memon

's turn now. His group performance almost turned into a disaster when he panicked seconds before going on stage. Tonight, there's another disaster bound to happen. Adil's lost his voice, probably cause he tried to sing that way out of his range note. His guitar playing compensates for his lost voice, how cool was that start? When he starts singing, it doesn't really seem anything's wrong with him, cause he still sounds as good as he always has. The judges give him a standing-o. "Maybe you should lose your voice more often", Ronan suggests. -

VIDEO

We're now treated with a montage, including

Chris Cayzer

,

Fortunate

and

Samantha Jade

. They all sound great but I would've liked to see Samantha's full performance, cause that spinet sounded amazing.

Hayden Maurirere

, someone we've not seen much thus far, is taking the stage next. "I'm doing XF for myself but mainly my son. I wanted to come here to achieve something, I don't wanna get to my old life. This is what I love to do, I feel like this is my time" he says. He's got a terrific voice and tone, so the performance gets off to a fantastic start. Unfortunately, he's yet another contestant who forgets the lyrics, for more than 20 seconds. He tries to start singing again but never really recovers from that, it's a shame, I hope they give him another chance. "I'm devastated, I'd love to cry right now but big boys don't cry" he tells us. -

VIDEO

Bank teller

William Singe

is performing next. I finally realized where I've seen him before, he was a contestant last year too. "If I can't do this, how am I gonna be able to do shows around the world?" he says. William is super nervous before he begins singing his "Call Me Maybe" cover. A surprisingly amazing cover, with an original rap added to it. He's actually rather great, that's another reason why it'd be stupid to put him into a group. -

VIDEO

New montage, this time featuring

Good Question

,

Briden-Star Aspinall

,

Veronica Bravo

and

Matt Gresham

. Why are we seeing this people? I bet they prefer showing What About Tonight rather than them but we don't.

Justin Standley

gives us a rather bland and boring performance. He's starting to look more and more like Mitchell Callaway as the days go by. He did hit some great notes, and Mel surely looked excited about it, but I'm starting to get tired of him. I don't know, I get bored easily. -

VIDEO

Alberta native, a town of 12 people,

Jason Owen

is next to take the stage. Another contestant that it's starting to bore me. I think the problem is country music, it always sounds the same to me and one note. The judges rave about how beautiful it was, I don't see it. -

VIDEO

It seems that the great contestants are getting montaged, with

Carmelo Munzone

, being briefly featured.

Josh Brookes

, who missed JH after this same challenge last year is next to perform."If I fall at the final hurdle again this year, it's gonna be twice as shattering as it was last year". He starts singing "More" by Usher and despite it's not vocally flawless, it's definitely much more exciting than Justin's and Jason's performances together. The song choice was right up his alley and he showed a lot of swag but most importantly, he remember the lyrics. -

VIDEO

The final contestant is big voiced 19 y/o

Angel Tupai

. She's performing "If I Were Boy", in what's the most amazing vocal delivery of Day 3. Is there a note she can't sing? She's got a terrific set of pipes and all her performances up to now are flawless. What I like about her is that she doesn't oversing, and if she does it's just a little. What I now want is something more upbeat, just to see how versatile she really is. -

VIDEO

And with that, it's a wrap! Only half of the contestants will move on to the JH, with One Direction, Ke$ha, Usher and Alicia Keys joining the judges as their advisers.

Eliminations

: The

Girls

are up first, 15 of them remain but only 6 will move on. We've seen 10 of them (Bella Ferraro, Shiane Hawke, Vendulka Wichta, Angel Tupai, Veronica Bravo, Morgan Sheather, Tabitha Omaji, Keeda and Briden-Star Aspinall) So we're gonna lose 4 faves tonight. Guy tells them the decision was really tough.

Advancing to the next round

: Vendulka, Bella Hunter, Angel, Shiane, Morgan and Bella Ferraro.

Going home

: Veronica, Tabitha, Keeda and Briden-Star.

The

Groups

are next. We've only seen 4 of them (What About Tonight, D&D, Good Question and Fortunate) So we may not lose any featured contestants at all.

Advancing to the next round

: Fortunate, Good Question, What About Tonight and D&D. Yep, we didn't lose any group at all. So there are two places left, so it's safe to assume that the judges are gonna form to group.

It's the

Overs

turn. We've seen 7 of them (Nathaniel Willemse, Samantha Jade, Justin Standley, Chris Cayzer, Aaron Russell, Rob Vegas and Danielle Blakey) so at least 1 of them is going.

Advancing to the next round

: Nathaniel, Samantha, Chris, Danielle, Rob and Justin.

Going home

: Aaron.

The

Boys

are left for last. We've seen 11 of them (Jason Owen, Adil Memon, Josh Brookes, Matt Cenere, William Singe, Matt Gresham, Jayden Sierra, Hayden Maurirere, Trent Bell, Carmelo Munzone and Zach Russell), so 5 are going home.

Advancing to the next round

: Carmelo, Matt Gresham, Jason, Matt Cenere, Adil and Josh.

Going home

: William, Jayden, Hayden, Trent and Zach.

But this isn't the end for the contestants who are going home. The judges are going two form two groups from the eliminated contestants, one boyband and one girlband. The girl band includes Briden-Star, Veronica, Keeda and three other girls. The boy band is formed by Trent, William, Zach Jayden and Julien. If you can help me get the remaining names, I'll appreciate it.

Top 24

Contestants in bold are my predictions. The girls look like the most predictable to me. Regarding the boys, I wasn't really sure, maybe Matt G, maybe Jason, maybe Josh. Nathaniel and Samantha are locks for the Overs, the remaining place is a toss up, I'd say Justin cause he's been featured the most, though I hope it goes to Danielle. For the Groups, I don't think they'll keep both their manufactured groups. Considering the boyband they made looks stronger than What About Tonight, I'd say the former makes it while the latest goes home. Fortunate looks like a lock to me and so does Good Question, though both have received little air time.
Boys

Jason Owen
Adil Memon
Josh Brookes
Matt Cenere
Matt Gresham
Carmelo Munzone




Girls

Bella Ferraro
Shiane Hawke
Vendulka Wichta
Angel Tupai
Morgan Sheather
Bella Hunter

Overs

Nathaniel Willemse
Samantha Jade
Justin Standley
Chris Cayzer
Rob Vegas
Danielle Blakey (Pic)


Groups


What About Tonight
Good Question
Fortunate
D&D
Boyband (Trent Bell, William Singe, Zach Russell, Jayden Sierra, Julian De Vizio) (Pic)
Girlband (Briden-Star Aspinall, Veronica Bravo, Keeda, Katini Yamaoka-Dinkubahi, Stephanie Lambell and another girl) (Pic)
This entry was posted on 10:18 PM, and is filed under
Adil Memon, Angel Tupai, Bella Ferraro, Jason Owen, Josh Brookes, Justin Standley, Nathaniel Willemse, Shiane Hawke, Trent Bell, TV, Vendulka Wichta, What About Tonight, X Factor Australia, XF Series
. Follow any responses to this post through
RSS
. You can
leave a response
, or trackback from your own site.