I'm currently looking for some new writers in order to expand the blog given that I can't post the amount of things I'd like to. So if you are interested in writing about anything related to music (news, TV shows, album reviews, introducing artists) just drop me an
email to musicisthedoor@gmail.com
and we can discuss some of your ideas.

24 September, 2012 7:01 PM

UPDATE
: Episode 6 added. I'm also looking for a Swedish translator, if interested, please email me.
I'm sorry for the delay but I've been swamped with all the shows I'm covering. Who'd have thought that covering 4 shows will take so much of my time? Haha. But now that I made a little space, I decided I better started covering the show. As you all remember, Idol Sweden went on hiatus after Amanda Fondell was declared the winner and TV4 decided to replace it with The Voice and The X Factor. The Voice premiered earlier this year, with Ulf Nilsson winning the show, and now, it's the XF turn! Hosted by
David Hellenius
and judged by former Idol judge
Andreas Carlsson
, singer and Melodifestivalen 2012 entry
Marie Serneholt
, hip-hop duo Ison & Fille member
Ison Glasgow
and 90s popular singer
Orup
, the show will hopefully fill the gap left by Idol and if not successful, Idol can always return next year ...
It's time to face the music!
Recap after the JUMP ...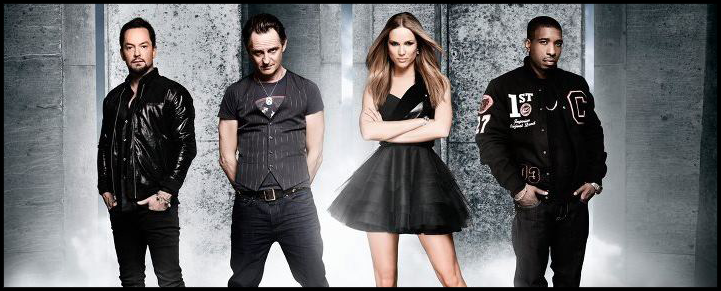 I will skip unsuccessful auditionees, so the following contestants all made it through to the next stage of the competition, bootcamp.
Auditions 1
Isak Danielson - 14, Hovås
- He's got lots of hens, apparently he loves them. He's singing the overcovered Adele but surprisingly, he's song is the unexpected "My Same", which I've never heard at this type of shows before. More surprising is Isak's voice. He's tone is full of soul, very rich, and extremely mature for someone so young. I've always said the talent was always greener in Sweden and Isak is certainly the living proof of that.
Njoy - Groups, Angered
- They seem to have good voices but their song was totally wrong for them. Their performance was messy and they didn't look like a group at all. The judges give them a second chance and the girls sing "Telephone", which is much better. They've got lots of sass and attitude and their performance is highly entertaining. It still felt a little messy but with some choreography that can be easily fixed.
OWG - 26, Högersten
- We get to see him peeing. Was that really necessary? This is a very bizarre audition. He seems more focused on his dancing than in his voice and he just isn't singing, just talking. The judges seem entertained though, I wonder what was he saying in that song. He gets through though, I've no idea how.
Freja Modin - 26, Göteborg
- She's got the look, the attitude and the voice. I wasn't expecting this song from her, "Are You Gonna Go My Way", but the performance is quite interesting. She's got the power to take on rock songs but it lacked some grit. I honestly think she'll do much better with something more alternative in which she could show her tone, cause that song didn't allow it to shine. Andreas asks for a second song, so she sings a song in Swedish. Her father passed away recently so this song is for him. This is much more beautiful. It shows she's singing from her heart and there's a plausible connection with the lyrics. She's got a pretty nice tone too and I liked the fact that this second song allowed her to show she can be versatile.
Auditions 2
Lukas Wallströmer - 17, Örebro
- Yet another precocious kid. This one's 17 though, but you get what I mean. As Isak, he's got an amazing soulful deep voice, plus he's got a fantastic rasp. He really commanded that stage, I was actually surprised he didn't faint up there cause he was pouring so much energy into that performance. All judges but Andreas give him a standing ovation.
We get the first montage of the season featuring
Wilma Ström
(17, Göteborg) who sings "Use Somebody",
Pernilla Karlsson
(30, Göteborg) singing a jazzy "Ain't No Sunshine" and
Sophia Jakobsson
(17, Munkedal) who takes on Adele's "Make You Feel My Love". All sounded much better than OWG so why didn't we get to see more of them?
Jeremie Yumba - 19, Linköping
- He's only 19? He looks much older. Jeremie's singing B.o.B's "Airplanes" rap and it's quite good actually. He reminded me to an older and better Astro. I think he'll be better as part of a duo in which one of the members is a singer cause I don't think it'll be very entertaining to watch him rap week after week by himself.
Oscar Zia - 15, Svedala
- Oscar's singing "Without You" and contrary to Lukas and Isak, he doesn't have a mature enough voice. It sounds like he could've a good tone underneath but the performance didn't showed. His dancing was a little annoying, very Glee-ish and that's not a good thing.
Benny Hult - 41, Trelleborg
- He looks extremely nervous and appears to lack confidence. However, he's got a killer voice. He's got a fantastic tone which reminded me to James Brown's and he hit some crazy notes during that performance. Yeah, it wasn't that current but with the right song it could be.
Auditions 3
Yang Long - 24, Hjorsberga
- He seems to be the typical joke audition, he's funny looking and speaks very little Swedish. He has lots of pronunciation issues when singing "At Last" so he doesn't really speak much English either then. His voice goes shrill at times but he managed to sing some very big notes that left the judges stunned. I didn't like it though, guess I've heard that song so many times.
More girls are montaged, including
Mergime Murati
(19, Hörby),
Moa Gagnert
(22, Stockhom) and
Sofia Emefors
(30, Stockholm). So they gave Yang 5 minutes and this girls just got 10 seconds each?
Malcolm Brandin - 21, Bredäng
- Another rapper. How many of these will this show feature? I'm not enjoying Malcolm as much as I enjoyed Jeremie. His rapping sounds weird to me for some reason, despite that, I thought he had more attitude than Jeremie. He really excited Ison too and since he knows about this stuff, I guess this was a good audition.
Dennis Glimmefors - 27, Karlskrona
- He's featured during a montage which shows Orup being mean. Finally, Dennis enters the stage with an old fashioned cover of Frank Sinatra's "My Way" and Orup sings along. Nothing remarkable though I admit he's got a nice voice. He's not current still, so I don't expect him to go far.
Frida Sandén - 17, Huddinge
- She's Molly Sandén's sister, so there's a lot of musical talent running through her veins! She also represented Sweden in the Junior Eurovision Song Contest in 2007. Frida is singing "Ambitions" and despite she doesn't have her sister powerful voice, she definitely has a good voice. She needs to work a lot on it but her tone is really pretty and some of the things she did with the phrasing really worked, so I've got hope on her.
Kristin Amparo
-
28, Bagarmossen
- She's orginally from Colombia and it's quite surprising how good she speaks Swedish. She's singing Emeli Sande's "Heaven" and instantly shocks everyone since the get-go, hittig some crazy notes throughout the performance. She lost control of her voice at times and also hit some bum notes but overall, it was very impressive. This is a hard song to sing and even if I consider the little mistakes she made, the performance was stellar. The judges give her a standing ovation. One of the best auditions so far.
Auditions 4
Sara Nutti - 16, Karesuando
- She comes from a small quiet town, which David has never heard of and neither has Marie. Apparently it's in the Finnish border. Her song choice is Marina and the Diamonds's "I Am Not A Robot". Sara is one of those quirky singers I love. Her voice is highly unique and her tone is really peculiar. She doesn't display Amanda Fondell's control though being quite pitchy in many spots. I didn't care actually, cause she was superbly cute! I think I've found a fave here!
Fusion
-
Stockholm
- They look way better than the previous female group we've seen, Njoy, and much more cohesive. They actually look like a group and work the stage like one. Unfortunately, that was the only good thing about them, their choreography. Their voices are mediocre at best, their harmonies were off and their voices really pitchy. They need a lot of improvement to even have a chance at this but I admit there's potential. They actually reminded me of Love Generation but they are worse singers.
Alexander Holmgren - 33, Malmö
- He's yet another contestant who gets semi-montaged. Alexander performs a soulful cover of "I've Heard it Through the Grapevine", instantly reminding me to Paul McDonald. He looks a lot like Paul and though he doesn't sound as quirky as Paul did, he does have a sexy raspy tone. He could be a fine Over.
Two Pieces
(Mikaela and Sebastian)
- Helsingborg -
The guy looks a lot like Andre Zuniga, I almost thought it was him. They've a weird chemistry, it feels really awkward to watching them. They perform "You Belong To Me" and their awkwardness is almost gone but it's still there. They've got great voices though their song choice isn't really working. They need to work on their chemistry cause it's not working for me.
We get short clips of
Christine Zakrisson
(28, Vittsjö), who really wows Marie; two rappers,
Antoni Saade
(16, Väsby) and
Julian Jonsson
(16, Falkenberg), the first better than the latter; and
Elli Flemström
(21, Gimo) who sings good cover of "The Edge of Glory".
Simon Issa - 17, Trollhättan
- His song is "I Don't Wanna Be" by Gavin DeGraw. His voice is unexpected but not as great as the judges made it sound like. His tone is a little shrill but it could be the song's fault. Marie gets up on her feet and starts dancing, with Andreas giving him a standing ovation. Good audition but I still think Isak was much better.
Auditions 5
Juliette Holmqvist - 17, Hisings Backa
- Apparently, she's Andreas's big fan, she even has his book. She also loves taking pics of herself but she doesn't come off as a diva, she's quite likeable actually. Despite she's only 17, she looks way older. I would've bet she was 25. Juliette takes on Adele's "One and Only" and despite she's got a pretty great voice, it's not enough to take on this song. She's got a pretty tone underneath and with a smaller song, she could do much better.
We get short clips from
Ida and Malin
(Uddevalla), two very cute blond singers taking on an equally cute song, energetic
Pierre Larsson
(26, Göteborg) with a cover of "Man In The Mirror" and soulful
Mollie Lindén
(16, Oskarshamn).
Manda Nilsénius - 17, Bjärred
- She's got a very interesting look, if she sounds as unique as she looks, she could be great. Her take on Jessie J's "Nobody's Perfect" is amazing. I love the arrangement, it allowed her tone to shine but without going over the top with the singing like Jessie does. Very cool performance, I want to see more from her.
Alen Skopljak - 15, Göteborg
- He's singing Bruno Mars's "Grenade". It's not very remarkable, he sounded quite feminine and very Justin Bieber-ish. He's got a nice tone though and with the right song he could do a good job, cause this was definitely not the right song.
Adam Kanyama - 16, Botkyrka
- Apparently, a lot of rappers have auditioned for the show. We've already seen about three of them but that wasn't enough, so we'll see another one. Adam has to be the best we've seen, if anyone's got a chance of making it to the liveshows, it's him. His rap was insanely good, the amount of words it had was crazy, I've no idea how he remembered all of that. He's got attitude, swag and the talent, plus he's likeable, not like Astro, who was insufferably annoying.
Milkshake Mama - 33, Höör
- What a bizarre audition! She's got a huge personality that's a fact. I'm not sure whether I truly liked this performance or I just liked it because it was fully entertaining. The judges seem to be having the same dilemma and ultimately put her through to the next round. I bet she'll be really fun to watch during bootcamp!
Auditions 6
Alexander Cundell - 14, Iggesund
-He's singing Chris Medina's "What are Words", which is interesting cause I was just thinking he looks just like Chris. Alexander is a good singer but this song is atrocious. It's like a plane crashing into a train then crashing into a ship. Yeah, I hate it. He's pitchy mnay times and while Isak'd a really unique tone, his is just normal. He's talented for his age though.
We get to see some really interesting people in the next montage.
Björn Cronzell
(42, Höör) with his big raspy soulful voice,
Yasmine Gustafsson
(17, Göteborg) sporting a rather unique hairstlye and
Marcus Holmbergh
(18, Lerum) who really reminded me to Adam Lambert.
Sabina Ddumba - 18, Bandhagen
- Her song is "Beautiful" by India.Arie. She's like a Swedish Rebecca Ferguson but with a lot more confidence. Sabina's got a wonderful soulful voice and an incrediblly sultry tone and managed to conncet with the audience and express emotion. I feel like I could listen to her voice forever. Definitely my fave audition of the series, I'd be extremely pissed if they don't pick this girl!
On The Beat - Stockholm
- Apparently they are a 4 piece but one of their members has broken his arm, so he can't perform. Weird. We've had many solo rappers, so why not a group of rappers? 4 times the fun, right? They really put a lot of effort into their performance, they danced a lot and their rap was quite great. The performance was a little messy but it was still highly entertaining.
Transperformers - Torslanda
- Awful old fashioned performance. It was barely entertaining but they really don't have good voices. The blond sounded awful and the brunette didn't have enough power to her voice. I'm not sure why did the judges put them through, all of them, I guess they were entertained? They don't have a future on this show though.
Another montage of groups I'd have rather seen than Transperformers which includes 3 piece girlband
Hey Mary
(Stockholm) singing "Candyman", couple
Sentiment Falls
(Göteborg) and another 3 piece girlband called
EIA
(Tyresö).
Richard Klingvall - 28, Svaneholm
- He's got a little daughter. We see some pics from his past over some sad music. He's a rehab worker now, so I guess he was a drug addict in the past (Please correct me if I'm wrong) Richard's singing a Joe Cocker's classic. I really didn't expect that huge voice to come out of him. He actually sounds a lot like Joe, I really like that raspy tone he has. Very good singer but it seemed he had lost his voice after performing. He obviously needs some lessons and a major makeover if he makes it far. But besides that, I enjyoed it.
Awa Santesson-Sey - 14, Stockholm
- She's really little! I've got Rachel Crow vibes from her since she first appeared on stage. She's extremely cute but she's too young for this competition. Her voice isn't strong enough yet, she needs a few years to develop it. But I've got a feeling she'll make it far, specially cause they showed her last.
That's it for the auditions! Tomorrow, bootcamp beings!
My faves
:
Boys
: Isak Danielson, Lukas Wallströmer, Adam Kanyama
Overs
: Kristin Amparo, Alexander Holmgren, Freja Modin
Girls
: Sara Nutti, Manda Nilsénius, Sabina Ddumba
Groups
: On The Beat
This entry was posted on 7:01 PM, and is filed under
Adam Kanyama, Alexander Holmgren, Awa S-S, Benny Hult, Freja Modin, Frida Sandén, Hey Mary, Isak Danielsson, J.E.M, Malcolm Brandin, Manda, NJOY, Oscar Zia, Sabina Ddumba, Sara Nutti, TV, X Factor Sweden, XF Series
. Follow any responses to this post through
RSS
. You can
leave a response
, or trackback from your own site.