I'm currently looking for some new writers in order to expand the blog given that I can't post the amount of things I'd like to. So if you are interested in writing about anything related to music (news, TV shows, album reviews, introducing artists) just drop me an
email to musicisthedoor@gmail.com
and we can discuss some of your ideas.

18 September, 2012 7:03 PM
We witnessed some very shocking decision during last week's Judges Houses, for example Nat sending Vendulka (check my interview with her
HERE
) home and Ronan picking 3 boybands as his Top 3. Tonight, the Top 12 will perform for the first time live and tomorrow night, one of them will be saying goodbye. Who'll step up to the challenge? Who'll fail miserably? ...
It's time to face the music!
Recap and videos after the JUMP ...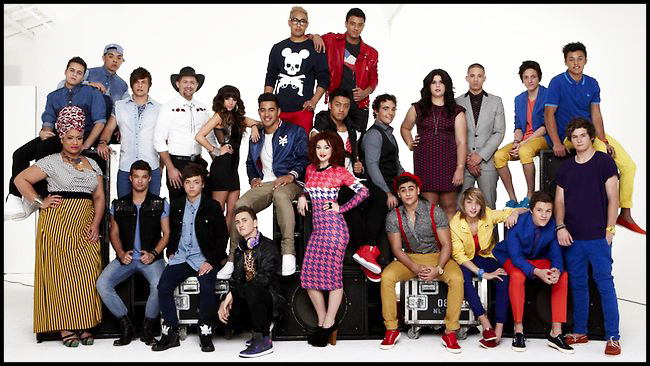 The stage looks a lot better this year, thankfully, cause last year's was awful. The theme is "Judges Choice" so basically, the contestants will be singing whatever they want.
What About Tonight
"Glad You Came" - 4/10
- From left to right: Brock Jays, Mitchel Cave, Christian Anthony, Tyrone Georgiadis and Luke Howell. We get a recap of their mediocrity up to now. Niall is shown saying he got shivers, probably cause that sounded awful. They say that they all live in different areas. We saw them rehearsing, fighting over a banana, swimming together, all the things normal teenagers do. Ronan really couldn't think of a better song for them, so he gave them another awful boyband's song. Being honest, Tyrone is a great singer but the others, especially Brock and Christian, are awful. I'm sad he's stuck with this mediocre dudes. This have to be the worst harmonies I've heard in a while. Clearly, they are the new 1D, cause they are as horrible as the other boyband is. Conveniently, the judges claim they could barley listen to them cause the crowd was really loud and if you need more proof, just listen to Mel's comment, "Your harmonies were great, you sounded great" ... She's definitely deaf.
Josh Brookes
"Show Me Love"/"Don't Wanna Go Home" - 5,5/10
- Josh says he got a job after failing to make it to the JH last year cause he didn't want to see the name "Josh Brookes, 20, unemployed" on the screen when he auditioned again. He says he lives with his parents, his sister and his brother, who's like a mini Josh. After failing last year, he almost gave up until his mom forced him to audition again. Giant earphones on stage, what a way of taking his addiction to a whole new level! There's no denying that Josh's got a lot of swag and despite he showed it during his performance, I'm not sure Mel did the right job picking his songs, after all, she was awful at that last year, and apparently, still is. "Show Me Love" sounded quite great and it was unfortunate we only got two lines of it but I give him some extra points for the dance moves and his attitude cause the vocals seriously lacked strength.
Angel Tupai
"Happy" - 8,5/10
- We get to see Angel at her singing teacher job. "My kids are so cute, being a singing teacher is wonderful. I live in western Sydney, regardless of having nothing, growing up was so much. My family are incredibly important for me, to see them so proud, that's the greatest memory for me", she says, "My biggest worry about this week is make-up, clothes, it's just complete havoc". Before commenting on her voice, let me say that I love her African inspired look. Is there any other artist who dresses like that and looks so amazing? Nat didn't pick the most surprising song for her but the arrangement worked pretty well for Angel. Nat always did interesting things with her songs and I'm glad to see she still does, I specially liked the drummers behind her, it added something different. Angel's voice sounded a little off at the start but once she got to the chorus we got to hear her huge sound. After what we've seen so far, this was like a safe boat. Thank God for Angel.
Justin Standley
"Father and Son" - 6,5/10
- Guy asserts us that it wasn't his story that brought him this far, I personally doubt that. The reunion that the whole Australia was waiting for finally happened. Apparently, he got contacted within hours of the show going to air. Justin met his daughter, Ophelia, and thankfully, the cameras were there to record everything! "In that moment it was years of heartache vanished, evaporated, because in you you knew everything is gonna be alright now. They say XF can change people's life and it's already changed my life remarkably". Ok then, can you stop talking about your family now that you've found them? Just when you thought it was over, it comes back. Guy is known for taking things too literal, so he made Justin sing about his family again. Being honest, it wasn't as bad as I expected it to be. He's got a good voice, I've always said that, but the problem is that it's not remarkable. He hit some pretty big notes there though and despite it was a little oversang it was still impressive. I expect her daughter reunion to give him some votes to make it through this time.
Fourtunate
"Payphone" - 7/10
- "We spent so much time together. Joe's around the house so much that our mom even has to do his washing. But it's cool, she loves it. No she doesn't", one says. "I don't feel like I'm giving up anything because my boys mean everything to me", their mom says. Surprisingly, their harmonies weren't as tight as usual, there were some mistakes at the beginning and their voices were a little flat but they've got such a great tone that I didn't really care. Their dancing was sick too! They really should give some lessons to WAT, who has zero stage presence. Fortunate is like a better YMS and given the latest made it to the Top 8, I think this guys can make it even further.
Jason Owen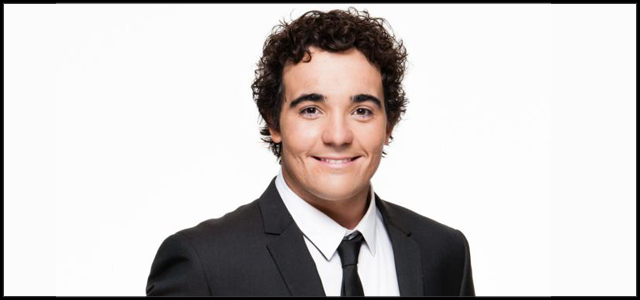 "Heaven" - 3/10
- Jason shows us his 12 people town, Alberta, and it looks incredibly boring. I'd could never stand living there, sorry. He's been training on the treadmill as Mel advised him to do but it hasn't done anything for his voice, it's actually worsen it. Anyone else thought that someone was gonna sound worse than WAT? Cause I really didn't. He's got no power and his tone is totally unpleasant, it actually pierces my ears. I also felt really uncomfortable watching him, was it just me? The judges make their first critique of the season. "I really didn't like it, I expected a lot from you. Every time I've seen you sing, you sang with heart. There was no heart in there, you were sort of doing Glee moves, it just wasn't you", Guy says. Totally agree, he said it much better than me. Mel says no one told he to perform like that, he did it himself cause he was enjoying it. Well Mel, this show won't crown the one who enjoyed it the most, will it?
Samantha Jade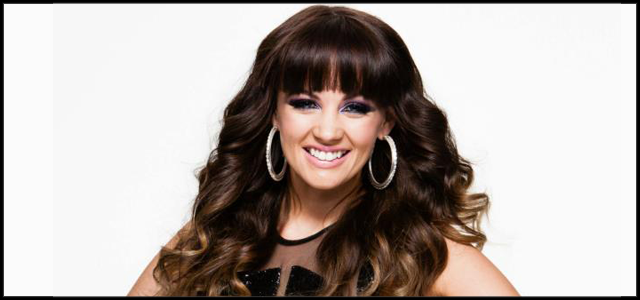 "Wide Awake" - 7,5/10
- Samantha is shown working at her dad's factory (and looking really hot) She says she was sending her résumé out to get a job but that she had nothing in there but singing and songwriting so her dad suggested she could count stock. She says her family means everything to her so this is for them too. She wants to prove to them she can get back up there again. "It's gonna be a challenge getting back on that stage. It's becoming really, really real now". She standing on a huge platform but it seems she's a giant with a long dress. Since she's standing up there, she couldn't move, so I'm not sure that was a wise decision from Guy, cause she was very restricted. Her voice is as lovely as it always is, well, except for that final note which sounded a little weird. However, I'm not sure the song worked for her, she's full of potential though, so no worries, she'll get better.
Adil Memon
"Fast Car" - 5/10
- Adil is shown panicking again before his rehearsal. I expected him to have overcome that by now but apparently, he hasn't yet. It's beginning to get annoying. This is really not a great performance. I expected much more from him but his nerves really get the best from him. He's got a fantastic tone but the performance was a major letdown. As he said before, the song was too fast for him, he never really caught up with it. He mumbled the faster parts and it was all rather karaoke, there was no connection with the lyrics. After the judges gave him their comments, Luke pointed out that Adil always seems to be losing his voice and he's right. Despite all that, he was miles better than Jason and WAT.
The Collective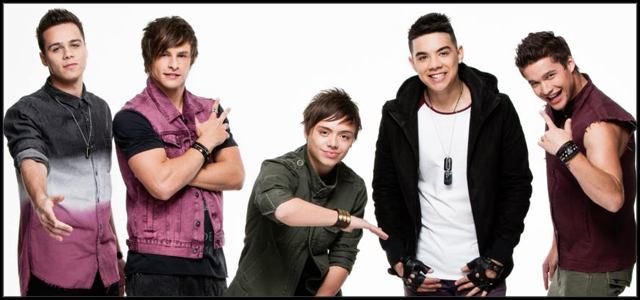 "Domino" - 9/10
- "We were put together and we had a short time to bond but from the get go we were all good mates", Zach says. "We are just comfortable, comfortable with each other smells", Jayden claims. William thinks Trent gets the most female attention but I think it's actually William who gets it. The staging looks really complicated and risky but also, totally awesome. This is what I wanted to see from them. Ronan didn't give them a typical boyband song, he gave them Jessie J's "Domino" and they made something totally cool from it. William's also rapping, which I always love. That guy needs to lead every week, the others are great singers too but William nails it every time he opens his mouth. You all know I loathe boybands but this guys are incredible. I think Ronan's got a winner in his hands.
Bella Ferraro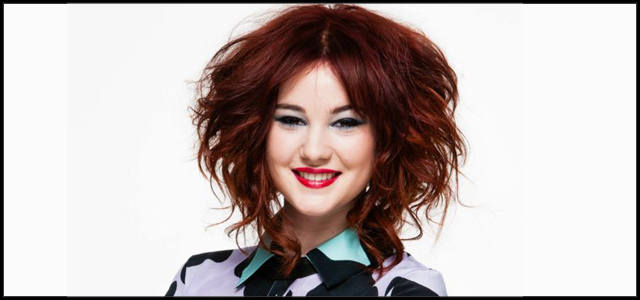 "Brother" - 7/10
- She gets extra points for her song choice. Matt Corby's "Brother" is my jam, I love it! She lives with her younger brother and her mom. She treats her dog Lucy as part of her family. "We have a lot of disagreements but I couldn't really ask for a better friend", she says. "Choosing Bella was extremely risky but she has something that is so unique and so exceptional when she's on it. One thing about Bella is that when she gets nervous she forgets the words", Nat says. The setting looks crazy, kinda like taken from the Alice in Wonderland set, my favourite movie actually. Haha. Bella's tone is precious but the song was too big for her. She doesn't have Matt's voice and that could've been fixed with a better arrangement but she just sang the song like Matt does, which didn't work. She lost control over her voice at the end and sang the entire verse in the wrong key. I wish she had done a little more justice to that song. It sounded nice but it wasn't really as beautiful as her audition. At least she showed versatility and didn't forget the lyrics, that's gotta count for something, right?

Nathaniel Willemse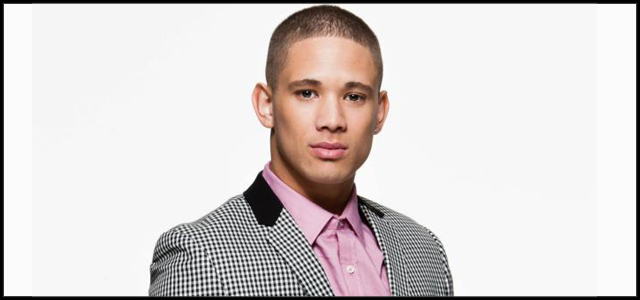 "Love on Top" - 9/10
- He says he does wedding singing at times to get afloat and that it's fun but he really enjoys teaching singing. "Nathaniel is the best singing teacher in the world, Mel B didn't think he really sing well, Mel B is really silly", one of his students says. "Guy and Nathaniel have spent more time being buddies together than working on their song this week", Mel says. Well, they looked like a funny duo to hang out. Haha. I still remember Diana Rouvas's fantastic performance during The Voice AU S1 and it saddens me to say that she did much better than Nathaniel. Despite that, Nathaniel's version is also great. He's an incredible performer, he lacks a little swag, maybe he could borrow some from Josh?, but the stuff he does with his voice is so cool that I can forgive him everything, plus he's so charming! His voice is "bloody marvelous", as Mel put it. I expect him to be Guy's last act, and I'll be glad with that.

Shiane Hawke
"Crazy" - 8/10
- Shiane lives with her mom, her dad and her dog and goes to school. "Most people don't like school but I love it. I love getting all my make up done. My mom thought that I looked like Khloe Kardashian but I said no, I look like Kim Kardashian", she says. I love what Nat's done with this song, she definitely did the best job tonight, props to her. The funky staging looks cool too, very Duffy-ish. Shiane sounds a lot better than expected and actually a lot more confident than ever. She's still doing her weird faces while singing but with a little work on that, she could get rid of them. Shiane's honestly impressed me tonight, I've high hopes for her after this. Mel thought the song was too mature for her but it was actually what she needed to do to show she was ready for this. I'm glad Nat knows what she's doing, this girls will get far in the competition.
The Collective
Nathaniel Willemse
Angel Tupai
Shiane Hawke
Samantha Jade
Bella Ferraro
Fourtunate
Justin Standley
Josh Brookes
Adil Memon
What About Tonight
Jason Owen
Results
Bottom 2:

Adil Memon
Samantha Jade

This is a really shocking B2. I would've predicted either Justin, Jason or WAT. But apparently, Australia disagrees with me. I thought Adil had it in the bag. He's really hot, so I expected a lot of girls voting for him. I expected Samantha to end in the bottom eventually but no so early in the competition.
Adil Memon - "Just The Way You Are" - He's panicking again. Mel is shown trying to calm him when the results are announced, asking him if he knows his song. His nerves are definitely worse than ever. He does not only sound awfully quiet but he's also forgetting his lyrics. Should the judges pick him after this mediocre performance, I'd be rather pissed.
Samantha Jade - "Can't Live (If Living Is Without You)"
- This is more like the Sammy we love. As opposed to Adil, her voice shines from beginning to end. Her nerves don't get in the way cause she's a true professional and they never affect her voice. That was fantastic, much better than her actual performance last night. She needs to stay and she deserves to stay. I hope the judges make the right decision.
Guy
: "Clearly, I'm loyal to my category and beyond that I think it's hard the first show because people haven't seen a lot of this guys yet but I do think that Sammy vocally was outstanding so I'm gonna be sending Adil home"
Mel
: "Well done for a great performance both of you. It's obvious that the person that I'm sending home is Samantha"
Nat
: "I actually can't believe that the two of you are up here cause I think that both of you have so much potential in this competition, it's quite frustrating. I believe the girls are the strongest in the competition this year and Sammy I believe your vocals are ridiculous, I think they were flawless both nights but it makes me wonder why is Australia not getting it? Adil I don't think your vocals were as strong but I do think you've star quality and I think that with the right mentoring that this process is right for you cause I think were you can go at the end of this could be huge. The act that I'm sending home tonight is Adil"
Ronan
: "We are supposed to vote on the performance we just watched and one was definitely stronger than the other. But I looked back on the performances before tonight and the artists that they are and it's really difficult for me to pick because they are so different. But I gotta go with my gut and who can last the longest in this competition and who deserves to be here so I've made my decision, the act that I'm sending home is Adil"
Adil Memon
So it's goodbye to the hot lifeguard. He just couldn't control his nerves, had he worked on that, he would still be here cause he has lots of potential. Well, there's always The Voice Adil! I wish you the best!
This entry was posted on 7:03 PM, and is filed under
Adil Memon, Angel Tupai, Bella Ferraro, Fortunate, Jason Owen, Josh Brookes, Justin Standley, Nathaniel Willemse, Samantha Jade, Shiane Hawke, The Collective, TV, WAT, X Factor Australia, XF Series
. Follow any responses to this post through
RSS
. You can
leave a response
, or trackback from your own site.