I'm currently looking for some new writers in order to expand the blog given that I can't post the amount of things I'd like to. So if you are interested in writing about anything related to music (news, TV shows, album reviews, introducing artists) just drop me an
email to musicisthedoor@gmail.com
and we can discuss some of your ideas.

26 September, 2012 11:44 PM

The auditions proved that there's still talent in Sweden after 8 years of Idol and The Voice. Young contestants like Isak Danielson and Sara Nutti and more seasoned ones like Sabina Ddumba and Kristin Amparo, all wowed us during the initial stages but will they be able to keep their strike going and impress the judges for a second time? ...
It's time to face the music!
Recap after the JUMP ...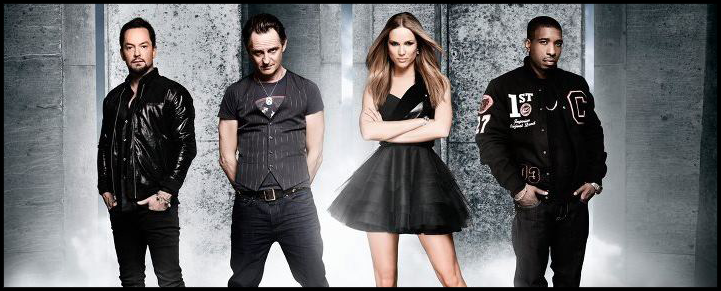 124 contestants have made it to bootcamp but only 24 will move on to the Judges Houses. Here's a list of the contestants we've seen during the auditions, divided into their categories.
Boys

Isak Danielson
Lukas Wallströmer
Jeremie Yumba
Oscar Zia
Yang Long
Malcolm Brandin
Antoni Saade
Julian Jonsson
Simon Issa
Alen Skopljak
Adam Kanyama
Alexander Cundell
Marcus Holmbergh




Girls

Wilma Ström
Sophia Jakobsson
Mergime Murati
Moa Gagnert
Frida Sandén
Sara Nutti
Elli Flemström
Juliette Holmqvist
Mollie Lindén
Manda Nilsénius
Yasmine Gustafsson
Sabina Ddumba
Awa Santesson-Sey

Overs

OWG
Freja Modin
Pernilla Karlsson
Benny Hult
Sofia Emefors
Dennis Glimmefors
Kristin Amparo
Alexander Holmgren
Christine Zakrisson
Pierre Larsson
Milkshake Mama
Björn Cronzell
Richard Klingvall


Groups


Njoy
Fusion
Two Pieces
Ida and Malin
On The Beat
Transperformers
Hey Mary
Sentiment Falls
EIA
Day 1

The contestants will be split into groups and perform the same song together. They'll get two picks, then they'll have to decide which song to sing. Tons of drama will ensue. I'll try to get all the names and link to the auditions of the ones we've not seen before.
Group 1 - Sara Nutti, Mergime Murati, Richard Klingvall,
Anoya Yousef
(18, Uddevalla)
Johan Hammerfors, Louise Frick Sveen and Juliette Holmqvist
- Their songs are "We Belong Together" and "Love the Way You Lie". They vote for the second one, to which almost everyone, but Sara and Mergime, agree on. Sara is off to a great start, with her heavenly tone shining through. Mergime has to read the lyrics but it's not really her fault since they gave her the rap. She does good enough with it. Anoya sings the second part of the rap but he did vote for this song, so there's a chance he already knew it. Richard sounds really awful, totally out of tune, while Juliette is just ok, nothing that remarkable. Johan, Louise and Richard are eliminated, while the rest all make it through.
Group 2 - Lukas Wallströmer, Kristin Amparo, EIA, Titch Maphosa
(33, Umea),
Hampus Sikström, Lisa Haag and Sophia Jakobsson
- They pick "Superstition" by Stevie Wonder. Tich opens and he's got a good old fashioned soulful voice but nothing else. EIA follows and their harmonies are a total mess. Kristin does a terrific job with her lines and so does Lukas, hitting an insane note. His moves were distracting me a lot though. He needs to tone it down. Hampus, Lisa and EIA are all sent home, while the rest stays in the competition.
We get short clips of Isak Danielson singing "With Or Without You" and Two Pieces singing "Born this Way", both making it through.
Group 3 - Yasmine Gustafsson, Njoy, Milkshake Mama, Pierre Larsson, Cherie Cherokee
(33, Stockholm),
Amandus Granlund Åberg
and Johanna Landt
- They are one of the few groups that has a choreography. Cherie and Pierre sound quite good and so does Njoy, at least they busted a move. Milkshake Mama forgets the lyrics and barley sings, proving that she was just a joke act during the auditions, she's just horrible. Yasmine, Milkshake Mama and Johanna are sent home.
Group 4 - Sabina Ddumba, Yang Long, Alisa Lindeberg, Johannes Jaeschke, Pamela Ahlgren and Isa Forsander
- They've got Stevie Wonder's "Superstition". Yang hasn't heard the songs before, showing he has zero musical knowledge. He's performance is mediocre at best, why do they keep putting him through? Sabina is good but not as good as she was during her audition. This was definitely the wrong song for her, she did some cool things with her voice though. Sabina is the only one in the line going through. Yang is definitely angry and urges the judges for a second chance. He says he'd not heard the song before and wants to sing again. Marie says that everyone has the same chance. Yang starts mumbling, he still wants to sing again and pleads for a second chance. Bye Yang, we won't miss you!
Another montage with a short clip from
Alen Skopljak
singing "Bleeding Love", forgetting the lyrics, laughing from his nerves and reading from his hand. A total mess. He is eliminated. Also sent home are
Moa Gagnert
and
Ida and Malin
.
Group 5 - Jeremie Yumba, Malcolm Brandin, Antoni Saade, Julian Jonsson and On The Beat - In a smart move, this group is made up by most of the rappers. The whole performance sounds the same to me but the judges decide to pick Jeremie, Malcolm and On The Beat to go through.
Group 6 - Adam Kanyama, Christine Zakrisson, Lovisa Felix and Sami "Americol" Al-Ameri
- Adam does a terrific job with his rap, which is both in Swedish and in English. Previously montaged Christine is also heavily featured, claiming that she was one of the judges favourites during the auditions. She does really well with the little we are shown. Christine, Adam and Sami move on to the next round.
Group 7 - Manda Nilsénius, Alexander Cundell, Pernilla Karlsson, Oscar Michael
(22, Lund)
, Charlie Ebert, Simon Samaeng, Janica Ahl and Burim Seferi
- Their song is "Fields of Gold". I still don't like Alexander, he's got a sweet tone but I can't get past his face with all those fake emotions. Manda does a super job, both emoting and sounding perfectly. Another surprise was Oscar, who's got a rather interesting folky tone. Why haven't we seen him before? One of the best group performances so far. The judges attempt a fake-out but ultimately, they are all through.
Group 8 - Simon Issa, Elli Flemström, Lineéa Jönsson, Marta Storck, Erhan Tiriqi
(19, Hässleholm)
and Anders Pettersen
- They've to pick between Pink's "Fucking Perfect" and Lady Gaga's "Born This Way". They pick the Pink song. Simon and Ellie do a good job with the song but the whole performance is really messy and confusing, they couldn't harmonize at all. When they sang together, it was atrocious. The rapper, Erhan, was quite good but I'm not sure he's got as many potential as Adam does. Only Elli and Simon move forward, the rest is sent home.
More montages, featuring the cute Hey Mary, little Awa Santesson-Sey, big voiced Sofia Emefors and Molly's sister, Frida Sandén, all making the cut. Also in the montage is OWG, who forgets the lyrics and gets cut.
Group 9 - Dennis Glimmefors, Oscar Zia and Freja Modin - We only get to see a few from them but they are singing "Every Breath You Take". Dennis still sounds old fashioned, Oscar still sounds weak and Freja still sounds great. Nothing changed here. Sentiment Falls also sings the song but in a different group. They all make it to the next round.
Group 10 - Benny Hult, Alexander Holmgren, Tove Ask
(16, Vellinge)
, Stran Cetin
(21, Helsingborg),
Fanny Andersson and Samuel Danielsson
- Alexander really has a great voice! It's a shame he was montaged during the auditions, at least they are showing him now, right? Stran sounds flat and Tove is too big voiced for my liking plus it also seemed she forgot the lyrics. Benny sounds quite good but his voice isn't as interesting as Alexander's. In the end, Benny, Alexander, Stran and another girl make it through.
The performances are now over but the judges want to form some new groups, cause it's quite obvious that is the category that lacks talent. We get to see Ida and Malin getting a new member in the form of Moa Gagnert and then a lot of other contestants getting put into groups, including Alen Skopljak, Johan Hammerfors and Pamela Ahlgren
Day 2
The judges have formed several new groups and now are testing them. First up is Alen Skopljak's who attempts to take on "What Makes You Beautiful" but fail miserably. Pamela Ahlgren's also crumbles under the pressure with Pamela attempting to rap but forgetting her lyrics. Lastly are Ida and Malin and new member Moa Gagnert are next to perform. They sing "Need You Now" and at last, the judges look happy. The girls look like they could actually be a band and most importantly they sounded decent enough. The song choice was a mess though.

The contestants will get the help of vocal coach Arnthor Birgisson in order to prepare for their solo performance in front of the judges.

Juliette Holmqvist - Her performance sounds weird. She's not properly enunciating the words and it sounds like if she had a potato in her mouth. Many awful notes here and there, specially when she tried to hit the bigger ones. She's got an interesting tone but she clearly doesn't know how to use it.


Alexander Holmgren
,
Christine Zakrisson
,
Manda Nilsénius
,
Alexander Cundell
,
Sofia Emefors
and
Benny Hult -
Alexander sounds awesome with "Human", I seriously tell you that I like his voice more and more with each song. Christine is a little old fashioned but she's a great technical singer. Manda and Alexander both sing "Apologize" but while she sounds great, he sounds like a dying cat. He just couldn't hit the big notes. Sofia really impressed me, she's got a powerful raspy voice which also felt really current. Benny on the other hand also sounded good on the song but I just can't see him on the charts.
Isak Danielson -
His song choice may not have been the most intelligent, Jessie J's "Price Tag" but it's clear the kid's immensely talented. He just needs coaching cause besides his bad song he also tends to overuse his voice. He was shouty and did too many things with his voice. He needs to learn to tone it down. I still love his tone though.

Dennis Glimmefors, Sentiment Falls
,
Sabina Ddumba
,
Elli Flemström
and
Simon Issa
-
Dennis sounds awfully boring, plus he had pronunciation problems. Sentiment Falls sounded really strong but also boring. They've got nothing distinctive. Sabina is awesome as usual. Her tone is stunning plus she has a lot of attitude while performing. Elli sounds like a diva to me but I can see her providing vocals for a disco track actually. Simon is another dull singer, good voice, zero originality.
Lukas Wallströmer and Freja Modin -
They are both singing "Set Fire to the Rain" and it's obvious it's not the right song for either. Lukas can take on any song but this one felt weird on him. In Freja's case, it was too big of a song for her. It was just very bland.
Malcolm Brandin
,
Adam Kanyama
and
Jeremie Yumba
-Malcom's an interesting rapper but I think I prefer Adam to him. I really can't comment on his style cause I've no idea if he's done it right but it felt right and the judges were really enjoying it. It was also in Swedish, so I didn't understand a single word. Guess it was funny too cause Marie was laughing hard. Adam shows much more swag to me than Malcom. The kid's got a big ego, that's for sure, and it's actually a good thing here. Jeremie's rap was nice but his voice felt unpleasant here plus it also seemed he forgot the lyrics.
Kristin Amparo
and
Oscar Michael
- Kristin's performance was an absolute mess. She totally blacked out. She forgot when to sing and also the lyrics. What she sang was good but I'm not sure it was enough. Oscar's didn't go good either. He started dancing and the moment he did that his voice started sounding awful. Marie tells him that she felt he'd just thrown his chance away cause it was too exaggerated and not in a good way. Oscar sobs hardly and hugs with a crew member.
Mergime Murati
,
Awa Santesson-Sey
,
Sara Nutti
,
Frida Sandén
and
Oscar Zia
- Mergime's voice sounds too sharp to me, it pierces my ears a little but she's a good rapper. There's that. Awa is too adorable for me to take her seriously, her voice is really bland too. Sara is amazing, I just love everything she does despite it's vocally not so perfect. Her tone sells it to me. Frida reminds me a lot to Minnah Karlsson and the fact she's singing almost all the songs Minnah sang on Idol isn't helping. Oscar reminds me a lot to Eric Saade and you all know I hate him. Go figure. He sounded good but I wanted to chop off his arms, could his moves be any more exaggerated?
Njoy
,
Fusion
,
Hey Mary
- This is a lot better than their audition but they still don't sound very cohesive. They've got great voices as soloist though. Fusion's vocals were also better though it was almost impossible not to top their audition mess. Hey Mary sounded messy too but I enjoyed it much more than the other two.
Two Pieces
- They're the last act of the day. Their chemistry is still completely off. They also sounded really cheesy and it was honestly boring. She sounded better than he did and I could barely listen to Sebastian when they sang together.
Top 24
My Top 12 predictions are in blod.

Girls - Andreas
Manda Nilsénius, Awa Santesson-Sey, Sabina Ddumba, Frida Sandén, Sara Nutti and Juliette Holmqvist
Adam Kanyama, Oscar Zia, Lukas Wallströmer, Malcolm Brandin, Simon Issa and Isak Danielson
Christine Zakrisson, Kristin Amparo, Benny Hult, Freja Modin, Alexander Holmgren and Sofia Emefors
Njoy, Sentiment Falls, Natural Blondes (Ida and Malin + Moa Gagnert), Hey Mary, JEM (Elli Flemström, Mergime Murati and Jeremie Yumba) and Fusion
This entry was posted on 11:44 PM, and is filed under
Adam Kanyama, Alexander Holmgren, Awa S-S, Benny Hult, Freja Modin, Frida Sandén, Hey Mary, Isak Danielsson, J.E.M, Malcolm Brandin, Manda, NJOY, Oscar Zia, Sabina Ddumba, Sara Nutti, TV, X Factor Sweden, XF Series
. Follow any responses to this post through
RSS
. You can
leave a response
, or trackback from your own site.