I'm currently looking for some new writers in order to expand the blog given that I can't post the amount of things I'd like to. So if you are interested in writing about anything related to music (news, TV shows, album reviews, introducing artists) just drop me an
email to musicisthedoor@gmail.com
and we can discuss some of your ideas.

23 September, 2012 6:35 PM

I'M LOOKING FOR A GERMAN TRANSLATOR, IF INTERESTED, EMAIL ME
HP gave his "Joker" to Maximilian Bauer last week and now, only Moses has his to handle to a hopeful. It's the final week of the auditions, will Moses use his "Joker" tonight? Which hopefuls will surprise us? .. It's time to face the music!
Recap and videos after the JUMP ...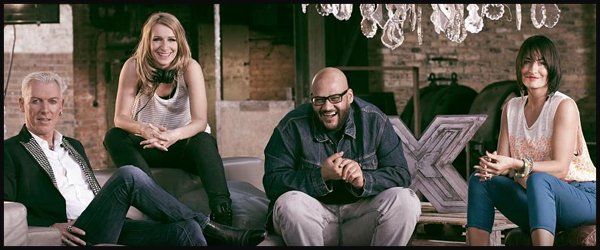 Since I wasn't able to watch the actual episode, I've no idea about the order, so the contestants are posted in the order I watched them.
aVid* (

Groups and Bands

)

- They are performing their own song, "Falling". The lead singer is quite pitchy but the song's got a nice melody and it's nicely written. The performance improves towards the end, after the bridge, they've grown a little on me, plus the song is actually catchy. I still think there are better bands, maybe they've got a better song. -

VIDEO
Crow 7 (Groups and Bands)
- Their style is weird, they look creepy indeed. They've got red and white contacts and creepy looking drawings on their faces. They are very gothy. The leads sound really good but the blond singer who made those guttural screams made what would have been a good performance, a painful one. I've said a lot of times I don't like those screams, why do they do that? Does someone really like that? -
VIDEO
Koral Erbey (
32)
- The guys got a beautiful voice but the performance was very flat to me and it also felt contrived. It looked like he was suffering trying to get the sound out of his mouth. He tries to serenade Sandra and Sarah when they don't give him an X, and ultimately, he succeeds, with both of them giving him the X at the same time. Koral has an interesting tone, he just needs vocal lessons. -
VIDEO
Melissa Simm (18)
- Melissa was previously a contestant on DSDS and made it to the Top 36. Shallow comment, I love her blond curls. Haha. She has a really pretty voice and a cute tone but it's not powerful enough yet. I'm not sure if that would take years or loads of lessons but she shows potential. When only Sarah and Moses give her an X, Sarah tries convincing the other judges, and ultimately, HP gives her the third X needed for bootcamp. -
VIDEO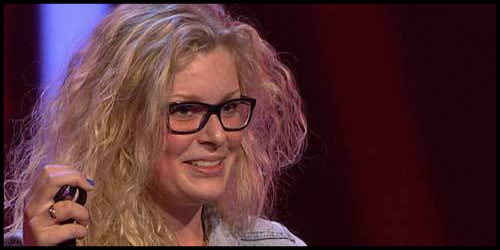 Nicholas Gordon (27)
- Nicholas will be singing "I Belive I Can Fly", we are reminded Colin Rich sang this same song weeks ago. Colin may have been old fashioned but at least he sang on tune. Nicholas starts very shaky and off tune but somehow, he convinces Moses. Then forgets the lyrics, and Moses screams "What have I done?!". Sandra gives him an X too, with Sarah asking "Are you serious?". The performance was honestly awful, I've no idea why they decided to put him through. Nicholas gets only two Xs but Moses finally convinces Sarah to give him an X too, sending the mediocre Nicholas to bootcamp. -
VIDEO
Oliver Heitmann (39)
- He sings U2's "I Still Haven't Found What I'm Looking For" on his guitar and for some reason, the judges love it, despite he had uncountable pronunciation problems. He had a nice raspy tones at times but the performance was a little disappointing overall. There was nothing exciting or interesting there. -
VIDEO
Olivia Barbera (20)
- She picks Lady GaGa's "You and I" and honestly, the whole performance is quite flat. She sounds as if she lacked breath and was pitchy many times. However, the judges decide to give them an X. What's going on tonight? Many mediocre singers are being sent to bootcamp. -
VIDEO
René Metzger (
19)
- His song is "Me and My Guitar". René's voice is rather sweet, he's got a very mellow tone. I'm not convinced it's that interesting to get him to win the show but it's certainly good enough to make it to the next stage. -
VIDEO
Richard Geldner (
24)
- Another really average singer. Richard sang the German song "Stark" and despite he did it with conviction and attitude, it really didn't convince me he has any star power. He had a nice grit at times and a cool tone too but it just wasn't enough for me. It may have been the song though. -
VIDEO
Tracy Hosea (17
)
- This was probably the best performance of the night and what an awful night tonight was! Tracy's singing Duffy's "Mercy". She's not the best vocalist, she's actually an average one compared to previous contestants but in this episode, she was the star. She had lots of attitude and she sounded quite on tune. She lost her voice though and had to stop singing a line, but she did it with confidence and that's what gave her another chance at bootcamp. -
VIDEO