I'm currently looking for some new writers in order to expand the blog given that I can't post the amount of things I'd like to. So if you are interested in writing about anything related to music (news, TV shows, album reviews, introducing artists) just drop me an
email to musicisthedoor@gmail.com
and we can discuss some of your ideas.

22 September, 2012 10:30 PM

I'M LOOKING FOR A GERMAN TRANSLATOR, IF INTERESTED, EMAIL ME
With just one more week of auditions to go after tonight, the stakes seem higher than ever. Sandra and Sarah have already handed their wildcards to Abdul-Hadi Arslan and Alexandra Plattner respectively. Moses and HP still have theirs, so expect them to use them in the coming episodes Who'll be the lucky contestant to get a second chance? ... It's time to face the music!
Recap and videos after the JUMP ...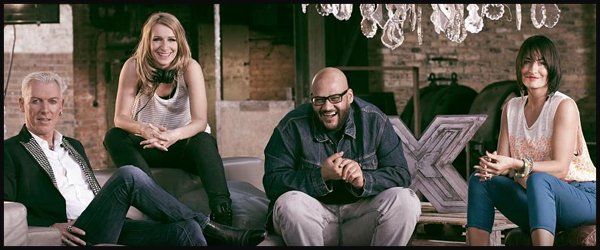 Since I wasn't able to watch the actual episode, I've no idea about the order, so the contestants are posted in the order I watched them.
Alexia Drawhorn (24)
- Her song is Alica Keys's "Superwoman". I love her afro, I want to squeeze it. Haha. Really cool soulful voice, very Alicia-ish indeed. I particularly liked how restrained her performance was, she didn't oversing it, and I even thought it was a little too quiet at times, but overall, she chose the right moments to apply power and that made it much better, plus it showed she knows what she's doing. The final lines were specially great. 4 Xs for her! -
VIDEO
Arben Bozhlani (18)
- He's originally from Kosovo but currently lives in Germany. Arben's voice is actually very sweet but I felt that his performance lacked a lot of personality. He just stood there with his eyes almost closed and sang "Still" by Jupiter Jones, almost too literally. It lacked dynamism or at least a little movement to excite me, I would've even enjoyed it better if he had looked at me. That aside, he does sound really well and all the judges but Moses give him an X. -
VIDEO
Binki (

Groups and Bands

)

- I'm not really liking this. They sound quiet weird and the song isn't good at all. I'm not sure if it's an original or what but to me it sounded awful. They were energetic though, which I guess is why the judges gave them an X. The lead isn't a good singer either. Maybe if I had understood the song I would've liked it better? -

VIDEO

Lavien Partawie (22)
- He previously auditioned for DSDS. Is it just me or he does look like Pinocchio? Haha. His song is Adele's "One And Only" which is already a surprising choice for a guy but more surprising is his voice. It's actually so amazing! He's incredibly unique, his tone is quite rare and his vibrato sounds great. He could be a very exciting contestant if given the right songs and boy was this song the right one! All judges but Sandra give him an X. -
VIDEO
Thierry Tzoumpe (34)
- He reminds me to Janine Smith from the second episode, he's like the male version. Thankfully, he didn't dance as enthusiastic as his female counterpart. There was still awkward dancing but it didn't feel so itchy. His singing was also much better, I didn't really like it, but compared to Janine it was superior. He was too old fashioned to me, I wouldn't have game him an X. -
VIDEO
Maximilian Bauer (20)
- He's got a rather deep country-ish voice but I really didn't like it. His almost rap was good but his singing parts weren't as interesting. It may have been the song but it felt really inconsistent and it really didn't convince me. He was quite weak, he won't survive bootcamp. Only Moses and HP give him an X but ultimately, HP decided to give him his "Joker". -
VIDEO
The Boptown Cats (

Groups and Bands

)

- This performance was so cool! I enjoyed their "Tainted Love" version so much that I almost got on my feet and started dancing. I like the fact that they rather current while still looking really old fashioned. The lead isn't the greatest singer but the rhythm was so fast that I couldn't help enjoying it. Plus the musicians seemed quite relevant to the performance, not as in previous Bands in which I felt were unnecessary. -

VIDEO
Swave (

Groups and Bands
)
-Unfortunately, I couldn't find their performance but the judges gave them 4 Xs, with Sandra being really excited about them. So let's imagine they were good, ok?
Loredana Giarraputo (17)
- Loredana is singing "Jar of Hearts". For someone who's just 17, her voice sounded mature enough. It wasn't anything I've never seen before or out of this world but it was pretty indeed. She just needs to find better songs which allow her to show off her vocals a little more cause this one was pretty simple. -
VIDEO