I'm currently looking for some new writers in order to expand the blog given that I can't post the amount of things I'd like to. So if you are interested in writing about anything related to music (news, TV shows, album reviews, introducing artists) just drop me an
email to musicisthedoor@gmail.com
and we can discuss some of your ideas.

07 September, 2012 7:40 PM

I'M LOOKING FOR A GERMAN TRANSLATOR, IF INTERESTED, EMAIL ME
The XF kept showing a lot of promise in it's second episode, with the highlight being returnee Barne Heimbucher, who wowed the judges with his unique take on Justin Nozuka's "After Tonight". I'm slowly restoring my faith in this show, I think it may finally find a talented bunch of contestants this year. Let's hope I'm not wrong ... It's time to face the music!
Recap and videos after the JUMP ...
Madeleine Apfel (22)
- She jokes backstage that if she fails tonight she's auditioning for Germany's Next Top Model. HP gives her an X the moment she enters the stage. She's certainly very pretty but her voice is mediocre at best. She hit most of the notes but there's nothing original about it, I still don't know how Sarah and Sandra gave her an X. -
VIDEO
Aron Verfinger (19)
- Aron's singing "The A Team" and despite he's got a really nice tone, I'm somehow not feeling the performance as much as the audience is. There were some pronunciation issues and that's about the only critique I've for him. I think the problem is this song, I'm starting to get tired of it, cause honestly, Aron did everything right here. -
VIDEO
Anna Hodowaniec (22)
- She's from Poland and doesn't speak German, only a few words. She came here just for the XF, despite there's already one in her country. Anna's singing "Listen", a song she picked to show the emotion in her voice. Wow! What a fantastic audition! From the moment she got to the chorus, the performance kept getting better and better and so did her voice, which was off to a decent start. It started acquiring a certain raspiness and power I never expected it to get. Anna's probably one of the best we've seen. Moses and Sandra gave her a standing ovation. -
VIDEO
Swing Kids (

Groups and Bands

)

- The lead singer's got a phenomenal tone, very suitable for the type of music they make, which is obviously swing. The performance started very subtle and sultry but it started building tempo towards the end. Although I would've liked them to keep it as intimate as it was at the beginning, they certainly got the audience moving, which is something quite hard considering their genre, so that's definitely a plus. -

VIDEO
Colin Rich (40)
- Colin's worked with Sarah before, on her song "From Sarah With Love", providing backing vocals. He's a singer/songwriter but his song choice shows zero originality. "I Believe I Can Fly" is one of the worst songs ever written, how cliched can you get when writing a song? Despite the awful choice, Colin has a great voice and if he's more current the next time around, he could get far. -
VIDEO
Jennifa I Gusti Bagus (21)
- She looks extremely nervous before getting performing, she even has a teddy bear with her, which she also takes on stage. That's super cute. Haha. Jennifa's deep voice shocks the judges and myself. Who ever thought that this cute girl had such a voice? She had many pitch problems and hit several bum notes but if she manages to work on those issues, she'll be one to watch, cause that voice is something special. -
VIDEO
Abdul-Hadi Arslan (25)
- There's a nice tone in his voice but it's nothing outsanding. The song didn't let him show his voice appropriately. When he hit the big notes, his voice really shone but those were very few, I wish he had picked a bigger song. Only Sarah and Sandra gave him an X and Sarah gets really pissed with Moses and HP. Ultimately, she gives him her "joker", which is yet another new rule that allows the judges to pick one wildcard during the auditions to advance to the next round. Glad she gave him another chance but I don't think he was that special. -
VIDEO
Vassili Lütke (23
)
- He's a beatboxer who's auditioning for a singing show. That's weird. Well, he's singing too and despite it's quite interesting, I'm not sure how he'll fit into this show. He barely sang a line and that's a big concern to me. If he wants to sing and also beatbox, I don't mind, but if he wants to beatbox and add some words, I think he auditioned for the wrong show. Sandra asks him to sing without the beatboxing after he finishes and it's actually quite good but still weak. I guess that's why he adds the beatboxing to it. -
VIDEO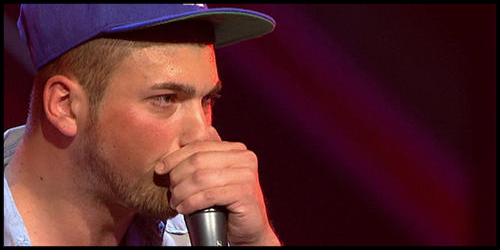 Lisa Aberer (20)
- I love her style, she looks like Little Mix's Perrie but funkier. Lisa's singing Norah Jones's "Don't Know Why". She's got a gorgeous jazzy tone and could be an interesting addition to the girls category. I think she may be a little bland though, there's not enough depth to her voice though there were some beautiful moments in that performance. -
VIDEO
Josephine (

Groups and Bands

)

- This seems to be an original song and if it is, it's rather great. The lead singer is quite intense and that adds something really interesting to the performance, making it dynamic and greatly entertaining. He reminds me to a German band but I cannot remember it's name right now. What I can say is that I truly enjoyed this performance and so did the judges, specially Sandra, who runs to hug the lead as soon as they are done. -

VIDEO