I'm currently looking for some new writers in order to expand the blog given that I can't post the amount of things I'd like to. So if you are interested in writing about anything related to music (news, TV shows, album reviews, introducing artists) just drop me an
email to musicisthedoor@gmail.com
and we can discuss some of your ideas.

12 September, 2012 5:09 PM
Super-bootcamp proved to be one of the toughest challenges yet, with multiple contestants, including fan faves Bella Ferraro and Josh Brookes, crashing under the pressure and forgetting their words. Tonight, the remaining 24 contestants will be jetted to NY and London for the Judges Houses, my favourite stage of the competition. Who'll impress the mentors and make it to the liveshows and which fave will crash and burn? ... It's time to face the music!
Recap and videos after the JUMP ...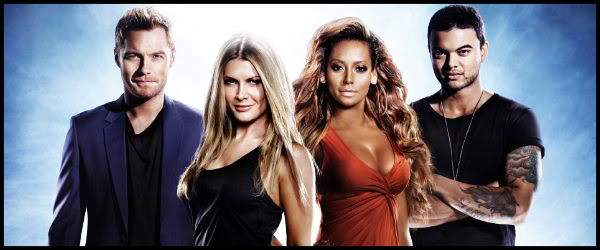 Top 24
Boys

Jason Owen
Adil Memon
Josh Brookes
Matt Cenere
Matt Gresham
Carmelo Munzone




Girls

Bella Ferraro
Shiane Hawke
Vendulka Wichta
Angel Tupai
Morgan Sheather
Bella Hunter

Overs

Nathaniel Willemse
Samantha Jade
Justin Standley
Chris Cayzer
Rob Vegas
Danielle Blakey


Groups


What About Tonight
Good Question
Fortunate
D&D
Boyband (Trent Bell, William Singe, Zach Russell, Jayden Sierra, Julian De Vizio) (Pic)
Girlband (Briden-Star Aspinall, Veronica Bravo, Keeda, Katini Yamaoka-Dinkubahi and Stephanie Lambell) (Pic)
Day 1
The contestants have no idea who their judge is or where they are headed. Samantha thinks it'll be weird if Guy was her mentor cause their are friends and he'll be harder on her cause he knows her. Bella has a feeling they are headed to Europe. Vendulka says that now that she's about to go to the next round it has hit her how serious this is and how much she doesn't want it to end. Also, the cool turtle backpack makes another cameo!
The Overs, the Girls and the Boys are going to New York, while the Groups are headed to London. Why the special treatment? The judges have no idea which category they'll be mentoring either. Mel has the Boys, Nat the Girls, Guy the Overs and Ronan the Groups, again. Things just gotten a lot weirder for Samantha! Or easier?
Before they get to perform, the contestants will be having a one-on-one mentoring session with their mentors, who'll give them a feedback on their song choice ahead of tomorrows performance. I won't be commenting on their performances now, cause this is just a rehearsal, I'll just make some quotes.
First up, the Boys. Adil Memon, who panicked at bootcamp, will be up first. "I'm definitely feeling pressure at the moment, there's no doubt, I'm in the verge of making my dream come true", he says. Mel tells him to drop his nerves at the door, cause she can feels them. "I need you to be way more confident than that. Adil gets himself into this vicious circle, were he freaks out about freaking out, which makes him freak out even more and then it's all just one big freak out" (Mel)
Carmelo Munzone, who supported Adil when he panicked, is up next. He gets the chorus timing wrong, Mel tells him he has to get it right, that he has to get it on point. "I've never done RnB before, I'm just gonna practice my heart out", he says.
Country guy Jason Owen is finding it hard to be away from his parents and that shows in his awful rehearsal. "I like your voice, I don't think that particular song suits your voice that well", Mel tells him. He wants him to sing his second song, which she claims is so much better.
Matt Gresham is next. Despite liking his song, Mel tells him she can't see him when she's looking at him cause he's got his eyes closed. "Having Mel to tell me to open my eyes when I sing is very confronting, obviously I want to impress her but I was really scared of Scary Spice", he says. Haha.
Matt Cenere, who's been a bit absent since his audition, is singing next. He'll perform "With You" but Mel feels his song isn't sitting like it should do, so she asks him to do a different song, "Echo" by Jason DeRulo. She thinks he's got more confidence with that song but Matt still wants to do "With You". Mel tells him he was very flat on that one and didn't go anywhere.
Last up is return contestant Josh Brookes, who, according to Guy, never finishes a song. And he may actually be right cause he cut his performance short again. Mel warns him that the person who's coming the following day will make him nervous so he needs to get the song right.
It's time for the Overs. Bootcamp stand-out Nathaniel Willemse is first to see Guy. "Sometimes I go to far within myself and I can't come back out", he says. However, his rehearsal don't go very well. Guy thinks that sort of performance is sliding back into his audition phase. He wants to hear his second song, "When a Man Loves a Woman". "As good as Nathaniel has been, you are only as good as your last performance and I can only go really on what he does tomorrow", Guy adds.
Justin Standley, who hasn't seen his kids for 12 years, is performing next, with "I Don't Want To Miss A Thing". "If you can relay on it and if you can draw on your own personal experience, it's just gonna help so much with the emotion of the song, just sing from your heart". (Guy)
Danielle Blakey, who we've barely seen thus far, follows. "One of the things I'd really love Guy to work with me is coming out of my shell", she says. "When you are singing a song like "The First Cut is the Deepest", it needs to have some emotion, it needs to have some rawness to it. I love your voice, love the tone of it but I'm blocked by something, you are not letting me in. I just want to strip all of that away and just get to an even more fragile you and just see the vulnerability", Guy tells her. Danielle gets really emotional after it. "Sometimes it's hard to come across strong so that was hard. I feel like my whole life I've always been in the background, I believe in myself but sometimes it's hard to go that bit further, so I just have to learn a way to do that".
Chris Cayzer got a no from Guy during his audition. "It's always a bit awkward when you say no to somebody and they end in your category but I guess it's harder for them cause now they've got to prove me wrong", Guy says, "It just feels a little bit too stiff. We've gotta find a way to make that song sexy and young and Chris Cayzer".
Next up is Rob Vegas. "The greatest thing about Rob is that he has an incredible voice, that's a great starting point". (Guy) Rob almost loses his voice when rehearsing. Guy tells him that if he'd done that twice, he would've lost his voice. "If you don't warm up, forget about it, cause you are gonna lose your voice", he adds.
Finally we've got Samantha Jade, Guy's friend. "I think the biggest thing is eyes. You've to open them. She's a great singer but now Sam's got to turn into somebody that can't just rely on her vocals but also can emotionally portray a song", Guy says to her.
Also in NY are Nat and the Girls. Bella Ferraro, who has forgotten the lyrics twice during bootcamp, will be rehearsing first. "What I need to see from you today is get to where you where in that first audition and shows us that you've got it in you", Nat tells Bella. Thankfully, she didn't forget the lyrics. "You've got this really captivating voice but when I look at you I feel so much fear".
My fave, Vendulka Wichta is up next. "If I was at home I'll probably be at school, sitting in math and learning Pi but I'm here, it's a dream come true that music brought me here", she says. After she performs, Nat tells her she didn't feel her as much as she did before, she thinks that her song needs a tender moment.
Morgan Sheather, who moved to Sydney on her own, follows. "I do think you've got a great powerful voice but you've got to be careful not to push it so hard that it sounds screechy", Nat tells her. "I've got so much riding on this, I really don't want to go back to my room above the pub", Morgan says.
Bella Hunter, daughter of the late Marc Hunter, is next. She says she doesn't know if it's been a hindrance or a blessing because when she walks into a room people already have an opinion on her. "I am trying to be my own artist", she adds. Bella is singing Alicia Keys but Nat doesn't think it's the right song for her. Bella goes for "Umbrella" by Rhianna. She says she's feeling the pressure now that her song has been changed.
Judges fave, Angel Tupai, is ready to impress Nat once more. "She's an incredible singer but for me it's all about how easily adaptable she is and whether she can take my advice", Nat says, "I think what we need to work one is stage presence, you need to open your eyes. If I'm to take Angel to the liveshows, I need to know that she's gonna connect with the people watching at home".


14 y/o Shiane Hawke is the last to go. When she's done singing, she starts crying cause she's really nervous. "Singing is the only thing that I'm actually good at. When I was younger I had a disability and when I was 6 months I had to have an operation to get my feet turned back around. I can't walk for very long and I can't wear heels, which means I can't shop for shoes very much. I used to think that my life was over, like I'm so different to everyone else, I can't run around, so I think the more I'm in this competition, the more my confidence will build and I'll just get better and better".
Finally, it's the Groups turn. Fortunate, who made it to the final stage of bootcamp last year, are up first. "What can I say about Fortunate. They can sing, they can dance, they are charming, they look good, I mean, they are better than some bands that are on the charts now", Ronan says.
Awful What About Tonight is next. "The thing about WAT is they're very young lads, they just need to look a little big cooler, they are popstars, they've got to act like them", Ronan says, "There're times when some of you aren't singing and somebody is taking the lead, the other four don't really know what they are doing. I'd like to see more conviction in your faces when you aren't singing".
Sassy Good Question follows them, an easy task. Joelle thinks Ronan is scary. "Joelle was seriously overthinking her performance, I could see it in her face. She was scared when she came in, she was thinking about her next move, it was just way too much", Ronan says. And he liked WAT?
Twin brothers duo, D&D, are confident they've made the perfect preparations to impress Ronan. They've pre-selected every outfit. They pick "One Thing" by 1D, who are mentoring them, of course, they don't know that yet. As soon as they are done, Ronan tells them they are not singing that. "I would be embarrassed", he says, "D&D have to understand this is a mentoring session, I'm trying to help them to make them better".
The Boyband (Trent Bell, William Singe, Zach Russell, Jayden Sierra, Julian De Vizio) is up next. "I don't know why you didn't allow individuals to sing longer, everybody is taking two lines, two lines, two lines, there's no flow in the song", Ronan tells them.
The Girlband (Briden-Star Aspinall, Veronica Bravo, Keeda, Katini Yamaoka-Dinkubahi and Stephanie Lambell) is the last act to perform. The girls are one member down but that's not a problem cause 5 is the magic number after all. The girls have picked the name "Black Ivory" cause it reminded them to a piano. Ronan does some weird faces and then calls it a stinker. I suspect there's a name change ahead. The girls are singing Karmin's "Brokenhearted"? Ronan wants Veronica to sing more and Briden-Star less. "I was in a band, I know how it's like. Everybody wants it's moment to shine, everybody wants to sing, I get it, but right now you need to win". Poor Briden is a little brokenhearted, she says it's not good for the soul but she agreed it's for the best to let Veronica sing her lines.
Day 2
We start with the Groups. Ronan is joined by "the biggest band in the world" One Direction. Why are the Aussies pimping them so much? It's totally annoying.
Boyband (Trent Bell, William Singe, Zach Russell, Jayden Sierra, Julian De Vizio) -
The guys take on "We Found Love". It's good to see they followed Ronan's advice, considering Trent and William sang most of the lines. They've got surprisingly good harmonies and William's rap was great, as usual. The surprise was Jayden though, who knew the guy had such a fantastic tone? "It was nice that we actually got a chance to hear them all individually sing", Louis says.
Girlband (Briden-Star Aspinall, Veronica Bravo, Keeda, Katini Yamaoka-Dinkubahi and Stephanie Lambell) -
"We are as ready as we ever gonna be, there're only so many times you can rehearse, I just wanna do it now", Briden says. I'm glad Veronica is singing the lead cause she's the better singer. Briden does a nice job, specially with the dancing part. She also winks at Harry, who feels a little awkward. The performance wasn't great but considering this is their first time singing together, they sounded damn good. They could be an entertaining group to watch. "Mixed emotions really. For me, yes they are bubbly, great energy, gorgeous looking girls but I didn't believe them, I don't feel the chemistry is right between them", Ronan says. Niall thinks Briden looked out of place. They all agree that Veronica is amazing though.
What About Tonight
- "One Direction is the whole reason we are here, it's amazing", they say. Ronan wants to see what 1D have to say about them cause they are very similar. They are their awful selves, with the blond guy moving like he was having a seizure. Obviously, Ronan loves them cause he loves boybands. "I've got shivers cause they remind me of us", Louis says. "I think they are my favourite" says Liam. I'm starting to suspect this pile of mediocrity may make it to the next round.
Good Question
- The girls are singing "Love the Way You Lie" and are by far, the best group we've seen, and probably the best group overall, mainly cause Joelle's voice and tone are so great. Kristina is beatboxing, which adds something different to the song and her rap is nice enough, not spectacular though. I'll be really pissed if this girls are eliminated cause there's no group like them. "I think given the right stage, I mean, she sang in this small stage and such a small audience and totally exploded, it was great, so given the right stage and the right audience they'll be amazing", Liam says.
D&D
- To my surprise, they sound better than I expected them to. They actually harmonized nicely and their tones really shone. After last night's rehearsal, I expected them to bomb and embarrass Ronan greatly but they really did a great job. However, Ronan felt it like a comedy act and Liam thought they were pushing too hard.
Fortunate
- We're told that they are 3 brothers, Izayah, Jaye and Jakiel Mariner Fuimaono, and their best friend, Joseph Kalepo. "If we made it to the liveshows, our mom would be so proud of us. Our mom and dad split two years ago. She's scared and loved us so much that she just left him and stood by us and raised us", one says. "Here we are doing this for her", one sobs, which is weird cause she's not his mother. "I guess it's just hard because we know how much our mom sacrificed, that's why we need this opportunity, to give back all that's she's given us. She deserves it the most", the other says. They are by far the most consistent group. They've got tight harmonies and some crazy moves. Their voices are terrific too, much better than the boyband, WAT or D&D. "There's no other band at the moment out there who can move like them", Liam claims. "We're gonna go to them for dancing tips for sure", Harry adds.
It's time for the Overs. Guy is joined by singer Alicia Keys. "It's all about the love and the passion and the joy of singing", Alicia tells them.
Samantha Jade
- She's feeling the pressure. "Since I was 15 I've been working with lots of different people and you get lots of different opinions. I've been shut down a lot of times, that's hard to get past.You put so much into it that it's not just your voice that they are knocking back it's you. I just think this is the best situation for me. I'm so lucky to have another chance", she says. Sam is singing "Bleeding Love". There's no doubt she's an amazing singer, it's a mystery why she's not succeeded. Her tone is really pure and she didn't oversing that song. Alica found a simplicity about her that she really loved.
Rob Vegas
- Rob almost lost his voice the previous day so he's worried he won't be able to perform vocally. Thankfully, he does and his voice doesn't crack like the last time. I guess he really warmed up this time. He sounded great though his performance was too near to the original to me. "He's not as trustworthy as I'd love him to be, one performance he'll nail it and next one he's kind of off", Guy tells Alicia.
Chris Cayzer
- "For me it's not about being good or skilled, it's about how hard you work" (Chris). He's singing "Tiny Dancer" and though Guy wanted him to be sexier, I don't know how he'll do that with this song. The performance is rather brief but it sounded nice, right?
Danielle Blakey
- "I think it was a wake up call when Guy told me to let go. This performance is an opportunity that doesn't come along ever, I'm ready to grow as a person and show myself and be more confident", Danielle says. Her cover is beautiful, much better than what we saw on rehearsals yesterday. Her voice is as soft as silk. I just smiled all the way. I hope Guy puts her through cause that'd make me really happy. "Such a pretty soft beautiful voice. I felt like she did tear down some walls there and let us in a lot more. It was really, really beautiful" (Guy).
Justin Standley
- Justin continues crying about his kids, it's getting boring. He may be a great singer but he doesn't make me feel anything. I've seen millions like him and putting him through over more talented contestants as Danielle or Rob would be a travesty. "He's a story teller when he sings. That's the perfect example of someone feeling a song. He just draws you in", Guy says.
Nathaniel Willemse
- "I wanna show every person who hasn't believed in me, not being believed in sucks and you think you've worked so hard and still it's not enough. Today I'm gonna perform as best as I can, not hold back", an emotional Nathaniel says. He said he wasn't holding back and he certainly didn't! This has to be the happiest Nathaniel we've seen, he was really feeling that song and it showed. His falsetto was crazy good. He's the strongest male vocalist in the competition and if he doesn't get a place in the liveshows, it's gonna be a major upset. "When you are able to find your own interpretation and your own self that's when you really are set free" Alica says. "It just screams artist to me", Guy adds.
Nat and the Girls are next. They are joined by Ke$ha. "What really is gonna separate a good singer from a star is the ability to rise to the occasion", she says.
Vendulka Wichta
- Her song, "Never Let Me Go" by Florence and the Machine, has been one of my faves for quite a while now and I'm glad to see what my fave contestants has too offer with it. To keep things short, I loved every bit of it and wished that it lasted longer, cause that was way too short. The way she connects with the songs is incredible for someone so young. I just wish I could listen to her voice forever. Haha.
Bella Hunter
- Bella's make up is really cool, she should give some tips to Ke$ha. Her "Umbrella" cover sounds terrific though I wonder if she wouldn't have sounded better with her initial choice. That said, she didn't sound original enough to me, I wish she had played a little more with the melody.
Angel Tupai
-"I've tried absolutely anything to give my family a better life, I would honestly do anything for them. Angel sings "Mr Know It All" and despite her huge voice shines throughout it, I don't think that was the best choice for her. I'd have gone with something more epic if I were her. She's amazing though, there's no denying that. "Holly shit! I got chills", Ke$ha says.
Morgan Sheather
- "I've never had the urge to do anything else and I don't know if I ever will", Morgan tells us. This is the strongest she's sound, not screechy at all as she did yesterday. It was very easy to listen to her, mainly because she was relaxed and didn't push it too much. "It definitely transcends, I feel her. But at this level, is it strong enough compared to the other girls?"
Bella Ferraro
- Bella is totally nervous. Nat told her earlier that she can't mess up as she's did twice before. She's singing "Heartbeats" by Ellie Goulding. "Don't forget to enjoy it", Nat tells her. Thankfully, she doesn't mess up this time and it's arguably her best performance, much better than her audition. Her tone is truly mesmerizing and her phrasing is gorgeous. "The thing that worries me about her is that in her second performance she completely lost it in front of an entire audience. My fear with her is that if I take her through, is that gonna happen?, because the pressure on this guys is enormous". (Nat)
Shiane Hawke
- Her song is Birdy's "Shelter". It's probably my favourite performance from her. The start was perfect but once again, when she hit the bigger notes, her voice went shrill and it was slightly unpleasant. I do think Shiane needs a lot of work and compared to the other girls, she's not as good as them. She'll be crazy good in a years time but if she makes it to the liveshows this time around, I don't think she'll make it to the very end and it'd be a shame, cause she's got what it takes, she's just not ready now. "Do not get rid of her. If you don't sign her, I'm going to", Ke$ha tells Nat.
The
Boys
and Mel are left for last. Usher, who's Josh's biggest idol, is helping Mel make her decision. "Under normal circumstances, I'd say it's really not that intimidating to perform in front of two people but when it's Mel and Usher, oh yeah", he says.
Jason Owen
- He's the only country singer of the competition, Justin Standley is barley one, if it wasn't for his hat, he'll just be a pop singer. He's great for country music but I really don't like what he has to offer, there're just better contestants than him. Usher criticizes Jason and Scary Spice goes really soft. "He's so nice, he's 18, I like to have a wildcard, that's my thing", she says.
Matt Cenere
- Matt's got a fantastic voice, I'm not really sure why we've not seen more of him. He's got lots of swag and a great attitude, plus he can actually bust some moves. He could work perfectly in a boyband if he fails as a soloist. His singing voice is really different from his speaking voice, it's much more smooth, which I really like. "I've never seen that many dance breaks to an acoustic guitar", Ushers says. Mel wonders if he'll be able to sing and move like that without compromising his vocals. And Johnny Ruffo made it through?
Adil Memon
- His performance isn't as strong as I expected it to be. It seems he's losing his voice when he's singing. To me, he needs to learn how to breath cause I think that's what's going on. I really like him though, what he did to that Keri Hilson song was quite spectacular. "I'm gonna exhale for him, I thought he was gonna bust a blood vessel, he was so uptight", Usher tells Mel.
Matt Gresham
-"I can no longer sit there with the guitar in front of me with my head down and my eyes closed. I've got to stand up and just be like this. It scares the hell out of me", he says. I've repeatedly say that I love Matt's tone but I'll say it again. I love his tone! It's really quirky and tasteful, I'm left wanting for more after he ends. He was the one who sounded the best so far. "I was impressed by his passion. Great tone, cool look. Cool goes a long way. He's talented, I'll say that", Usher says.
Carmelo Munzone
-Unexpectedly, Carmelo is the one who cracks under the pressure. He looked extremely nervous and seemed really distracted. It was quite obvious he was trying to get the timing of the chorus right, cause it looked like he was counting. That's the first time he's not sounded great and it's a shame, cause it may have ruined his chances.
Josh Brookes
- His song is "Ordinary People" and finally, Josh sang from beginning to end. He may not have the best voice or tone but he's entertaining and has attitude to spare. He makes lots of weird faces while singing, so he really needs to work with that. To Usher he was too aggressive with the song and I agree, that's what I was trying to say when I mentioned the faces. Haha.
Predictions
Last year I got 7 of the final 12 right, so let's see how many I can predict this time around. Also worth noting, those 7 weren't actual predictions, they were the ones I wanted to make it through.
Boys




Adil Memon
Josh Brookes
Matt Gresham




Girls

Bella Ferraro
Vendulka Wichta
Angel Tupai

Overs

Nathaniel Willemse
Samantha Jade
Danielle Blakey


Groups



Good Question
Fortunate
Girlband
Results
The quotes I make are all from the judges, unless stated. The Boys are gonna listen to their fate first. Carmelo Munzone, who had a rough time yesterday is first."I like the fact that you are a surprise but then I've seen really good from you and really bad, that's a big risk for me. I've made my decision, you aren't gonna be in my final 3". One down, 5 to go.
Adil Memon
is next. Last night he hardly
breathed
. "At your first audition I was quite surprised that your voice made me like melt. I do think the girls are gonna go crazy for you but here my dilema is, this nerves, I don't know how to make you belive in yourself even more to shake your nerves off. I almost think if you had more time to go away and figure a way that you can actually get over the nerves, you'll be a much better performer. I'm gonna be honest with you, you are in my Top 3".
Country boy Jason Owen follows. I wonder if they are ever gonna stop refering to him as country boy. "You are such a nice guy. What you see is what you get. I know that you've never left your town, is this a bit overwhelming to you? I just got to think it's a lot to take on bord each week. Do you have that mentality to handle what I'm gonna throw at you each week. This is a tougth one for me, you've made it to my Top 3". So there's only one place left and three contestants.
Matt Gresham is next to listen his fate. Obviously, he's out. "This are my thoughts. I know that you are a great passionate singer but to me sometimes you get so involved that you don't reach out and connect. The minute I look at you, I try to figure out how can I connect with you, and I don't want Australia to have that problem. I like your passion it's just how do I get you more relatable and do I have enough time? Usher thought you were cool. I can take you any further". I'm pissed, Jason didn't deserve that place over Matt.
Matt Cenere and Josh Brookes are left. "I think you've done well, you know, considering you didn't make it through to the home visists last year". (to Josh) "Usher loved your performance, I loved your performance. You definitely got that whole swag going on and that's you. I love that and I think Australia will love that". (to Matt) "Yesterday wasn't your best audition by far. I feel like when the preassure is on, you kinda fall apart. And from what you showed me yestreday, it's a big gamble". (to Josh) "You did an overall good audition yesterday but then when I think back to your very first audition and then your bootcamp experience, first audition was great, bootcamp not so great. I've made my decision, you are not gonna be in my final 3". (to Matt) So it's second time lucky for Josh and first time unlucky for Matt. I hope he comes back, there's talent there.
We are back with the Overs. Samantha Jade and Danielle Blakey will listen to their fate first. Things don't look good for my fave Danielle and it's a pity, cause I really liked her. Damn Guy, it's impossible for you to make a good decision, right? Both girls feel they are done if they get a no, I hope they aren't serious. "Hearing you sing, I didn't know that you were that good". (to Sam) "I love it when you sing, your voice has stunned me in every stage". (to Danielle) "I've been doing this for 10 years, when you are so polished, people can't relate to you that much". (to Sam) "The thing that worries me is that, during the liveshows there're are diffrent genres and it's tough to sing, I don't know if you can deliver a big uptempo number". (to Danielle) "The decision with you has probably been the toughest for me, because we know each other, people will think that you've got an easy ride". "It devastates me to say that but it's a no" (to Danielle) "I honestly belive that I can win with you so you are in my final 3" (to Sam)

Justin Standley is next. "The things that I love that you are this softly spoken bloke and then when you sing there's this firey singing right from the belly, from the soul and I love that. But is Australia gonna fall in love with you? The other worry I've is how you'd fit into this industry. Justin I've to say, I really honestly belive that Australia are going to love you. You are in my final 3" I honestly expected him to do that, I just wanted to belive he wasn't gonna do this. After all, Guy's decisions are mostly based on the contestants backstories.

Chris Cayzer is next and we know he's out. "You've improved and I can honestly say that you've well earned your posicion here. But I guess, could I win the show with you? It's been really tough for me but I've made my decision and unfortunately I'm gonna have to send you home".

There's just one spot left and two contestants, Rob Vegas and Nathaniel Willemse, who Guy compared to one another earlier. "Your voice, outstanding, great gift, incredible gift" (to Nathaniel) "Being a singer, listening to someone like you is such a delight" (to Rob) "Look, you have to give ourself or the Australian public will immediately dissconect from you" (to Nathaniel) "At times, you've been off. If we are going to the liveshows, it only takes one bad performance to be sent home. I've made my decision, I really can't take you further" (to Rob) "I'd be an idiot not to put you through to my top 3. You are incredible, for real. It's just the beginning" (to Nathaniel)
Nat and the
Girls
are next.
Angel Tupai
is the first one."Your voice is unquestionable, everytime you open your mouth, goosbumps happen, not just for me, for everyone, but it's not just about having a great voice. Sometimes I feel that you don't let us in sometimes. My worry, is that gonna be the case with an audience? I've my decision, you are in my final 3"
Bella Hunter
and
Morgan Sheather
are next. "You look like a popstar, you've got this whole package going on. Ke$ha thought that you were great". (to Bella) "Your voice is quite mesmerizing at times because you feel from your heart, part of that is because of your life experience but I feel sometimes when you want something so badly, you get very nervous" (to Morgan) "I've to make a decision, I don't have a place for you in the final 3". (to both) So both Bella H and Morgan are going home tonight.
Bella Ferraro
is next to listen her fate. "When you first auditioned for us, it was one of the most magical things I've ever heard, your voice is angelic. Your second audition for us was a disaster so my fear is that if I take you to the liveshows what if you crack? What if your fears take over? I've to make a decision, you are in my final 3".
That leaves one place left and it's either for
Vendulka Wichta
or
Shiane Hawke
, the youngest contestants in the competition. I'm starting to fear for my fave, come on Nat, don't fail me. "Your voice is extraordinary, it's so much soul, so much passion and it's so original. Ke$ha said yesterday that you could be the next Adele and that if we didn't take you on, then she'd sign you up straight away" (to Shiane) "You've shown a beautiful voice, you've sang some amazing folky ballads, they're so beautiful" (to Vendulka) "Yesterday in our mentoring session, when you got upset, are you gonna be able to handle it? It's such a lot of preassure, you are 14 y/o" (to Shiane) "During the show we've dance week and rock week and in my head I'm, can Vendulka sing these type of songs, how am I gonna know when I've only seen her in the folky side. I've to ask myself, do I think that you are ready for the show? You didn't make my final 3 honey" (to Vendulka) Ugh. She didn't thought Vendulka was ready but she thought Shiane was?!!!! What a pile of bull! I hope Vendulka comes back, or audition for The Voice, which will actually take her seriously.
Finally we've got the
Groups
. First up, returnees,
Fortunate
. "You've worked harder than anybody else in this contest but truly, is that enough? The shows called the XF cause we are looking for something really special that the world hasn't seen. I sent you home last year and that was tough. My predictment is that I'm in the same situation again. I want to win this year. I do, and I belive I can. So I'm only putting the best through. I've made my decision, you are in my final 3".
The
Boyband
and the
Girlband
are next to listen their fate, so it's safe to assume one of them didn't make it. "You guys can sing and sing together, which is really impressing. You look like a band" (to the Boyband) "Australia needs an act like you girls, you could really work, the 1D guys were going crazy when you girls walked off stage, they were trying to take numbers" (to the Girlband) "But I look at you guys and I can still see how raw this is. You came up on stage and there were no dance moves, there was no effort made. It was messy, I know you've never been in a band before, you are all solo artists and there were times that that's what I saw" (to both) "I've made my decision, you are not in my final 3" (to the Girlband) "I can take any risks with the acts I'm taking through, I'm putting the best bands through that I feel can go all the way, you are in my final 3. You got there Trent" (to the Boyband)
D&D
are next. "I know how much you want it. When I was mentoring on Day 1, I was impressed the next day. You listened to what I had to say and came back and the performance was so much better. For a few moments it was a bit cheesy but it was ok. And you are good guys and you are dressed like popstars already. You are not in my final 3, I'm sorry. You've come such a long way, don't give up"
One place remains and
What About Tonight
and
Good Question
are still left. Ronan wouldn't put three boybands through, right? Or would he? "You are beautiful girls, I can imagine the cover of the album. You look like two models and you can sing. I think you have something special, I think you have found the right person to be performing next too. The issues that I'm dealing with is that when I watch you perform is that sometimes I see two individual performers and in this category I need to see connection. I think you could sell records, I think you've something" (to Good Question) "I was really dissapointed at bootcamp. You guys are so young, so my big question is can you work now?" (to WAT) "So I've made my decision, you are not in my final 3" (to Good Question) "You guys were in and out of my top 3 constantly, guys you are in my final 3" (to WAT) Awful decision. I really hope Ronan is the first judge to lose an act, WAT. I guess mediocrity is better than talent. Ronan really loves boyband apparently. Please, never give him the Groups again.
Top 12
Boys




Adil Memon
Josh Brookes
Jason Owen




Girls

Bella Ferraro
Shiane Hawke
Angel Tupai

Overs

Nathaniel Willemse
Samantha Jade
Justin Standley


Groups



What About Tonight
Fortunate
Boyband
Now some little predictions on how the contestants will fare. This was actually a lot harder than I expected it to be and I bet I won't get a single one right. The list looks awful to me but best I could do. Haha
12 - Justin Standley
11 - Jason Owen
10 - What About Tonight
9 - Shiane Hawke
8 - Fortunate
7 - Josh Brookes
6 - Adil Memon
5 - Angel Tupai
4 - Samantha Jade
3 - Boyband
2 - Nathaniel Willemse
1 - Bella Ferraro


This entry was posted on 5:09 PM, and is filed under
Adil Memon, Angel Tupai, Bella Ferraro, Danielle Blakey, Fortunate, Jason Owen, Josh Brookes, Justin Standley, Nathaniel Willemse, Samantha Jade, Shiane Hawke, TV, Vendulka Wichta, WAT, X Factor Australia, XF Series
. Follow any responses to this post through
RSS
. You can
leave a response
, or trackback from your own site.