I'm currently looking for some new writers in order to expand the blog given that I can't post the amount of things I'd like to. So if you are interested in writing about anything related to music (news, TV shows, album reviews, introducing artists) just drop me an
email to musicisthedoor@gmail.com
and we can discuss some of your ideas.

11 September, 2011 6:31 PM



I'M LOOKING FOR A SWEDISH TRANSLATOR, IF INTRESETED, EMAIL ME


The fifth audition show of the season and the competition is just starting! The judges have found some impressing talent thus far, such as André, Moa and Amanda, but they want more! Will they keep finding talented hopefuls tonight? ...
Recap after the JUMP ...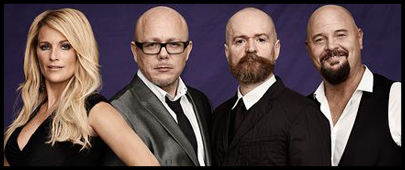 You can watch the full episode HERE (using what I explained in the comments) All the performances videos are taken from the Idol site too.
Belinda Marazanye
(15) - She doesn't have the best voice I've heard, plus her pronunciation sucks and her diction is weird. Still, the judges saw something on her, her voice wasn't completely horrible, but it wasn't great either. -
VIDEO
Denise Azemi Brasjö
(16) - Singing a Gaga song is a challenge, and that is because them are only made for her, and she's the only one who makes them sound medium good. In this case, Denise managed to make it sound listenable with her sweet soft tone, and it's quite interesting overall. -
VIDEO
Ida Corneliusson
(19) - Cissi and her big blue eyes are searching for contestants once more. This time the contestant works on a food truck, selling hot dogs. She pays for it with a golden ticket. Great way to get free stuff? Haha. Ida has a great voice, full of soul but some of her notes are really off. Her high notes are really off tune and screechy. However, they all say yes, minus Alexander. -
VIDEO
Josefine Nilsson
(17) - She's playing piano and no one is helping her carry it to her audition. It's really beautiful. It's actually very sweet. Her voice is really soft, so it kinda sounds a bit generic, and boring indeed. Maybe with folk tune she'll be better. Oh, she forgot the piano! -
VIDEO
Robin Stjernberg
- He's singing "Who You Are" by Jessie J. He's acoustic version is quite nice and definitely not expected. He's got a great voice actually, very big and this song works perfectly for him. Definitely the best audition of the day. -
VIDEO