I'm currently looking for some new writers in order to expand the blog given that I can't post the amount of things I'd like to. So if you are interested in writing about anything related to music (news, TV shows, album reviews, introducing artists) just drop me an
email to musicisthedoor@gmail.com
and we can discuss some of your ideas.

28 September, 2011 2:58 PM
The top 12 performed last week and it was Cleo Howman who said goodbye after a luckluster sing-for-your-life performance against Jacqui Newland. She was my favourite in this competition and now I'm a bit lost on who I should back now. Tonight it's "Party Anthems", in one of the worst themes ever and the contestants will be forced to sing sucky songs. Who will fail? Who won't suck? ... It's time to face the music!
Recap and videos after the JUMP ...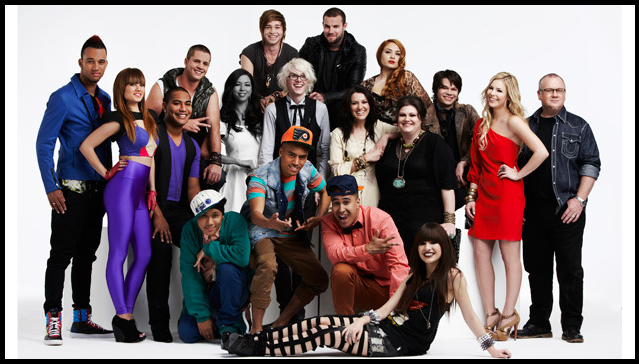 Luke tells us once more that the songs were selected by the Aussie public, who clearly have a very bad taste in music. Leaving that behind (not really cause he repeats it multiple times), the singing finally starts!
Audio Vixen
"Valerie"
-
7,5/10
- Nice song choice for them, probably the best of the night. I just love Ria's voice, it may sound a bit too thin at times but she's got a lot of power and range. And finally they are all singing parts, with Ria still having the lead, plus she's got some good dance moves, which I must say were fun to watch. Beautiful harmonies too, as usual. "Ronana's head is getting bigger by the second backstage, because he does have some pretty great contestants" (Nat) "When you look at a group like you, on your own, I don't think it'll work, but for some reason, it all comes together and it just feels great" (Guy) "Your harmonies are flawless and I truly enjoyed it" (Mel)
Declan Sykes
"I Write Sins Not Tragedies"
-
8,5/10
- Wow, he's definitely crazy. Who else would come out dressed like that and singing like that? Only Declan, he's one of the most interesting things in this show. The skull face make-up is hilarious and the dead looking musicians are really cool. The song is weird, very weird but it fits Declan perfectly, it's intense and dark. That was truly interesting. "I found this all a little bit too odd ... towards the end it got a little bit scary" (Mel) "I don't know what kind of parties you go ... I thought that was great" (Ronan) "When you did get, as Mel says, a bit scary, that's the bit I liked" (Nat) "You should remember this moment as the moment you scared Scary Spice" (Guy)
Mitchell Callaway
"All Summer Long"
-
3/10
- If you thought last week was horrible, well, he's even worse tonight. Totally out of tune, pitchy, sharp, it sounds horrible to sum it up. He always sounds really creepy to me and that's not a good thing, how is he still in this competition? He seems to be suffering also, he's the shy guy and he has to move, not good. "You sang great ... it's just a tiny bit pub performance" (Guy) "I only saw you smile after you finished the song, I don't thing you enjoyed that, I didn't really like it" (Mel) "You look scared sometimes up there ... you have to look like you are enjoying it a little bit more" (Ronan) Why is Nat always such a massive idiot when they criticize her acts? Listen to the critics the other judges make and shut the fuck up, stop shouting at them.
Jacqui Newland
"Heaven Is a Place on Earth"
-
5/10
- Mel promises us that femenine Jacqui is gone for good, that she made a terrible mistake. This is intended to be hard rock. Well, this sucks, period. I never heard this song but after this I don't want to. Jacqui is off throughout the whole performance, it's painful at times, and it's a pity cause she's a good singer. Still much better than last week's trainwreck but that was really weak. Why is Mel such a sucky mentor? Jacqui will end in the bottom again after that unfortunately. "Vocally that was just awful, I couldn't listen to that" (Ronan) "It was so pitchy ... you pushed way to much. As far as Mel thinking Belinda Carlisle is dirty rock, I don't get it" (Nat) "I do agree with the guys, I don't think it was awful, I think it was out of tune" (Guy)


Young Men Society
"You Shook Me All Night Long"
-
8/10
- Probably Ronan's best group, they are fun, they are great singers and they can also dance. What more can you ask? The school scenery looks a bit odd but their vocals are very cool. Their harmonies keep improving and the urban sound they bring to their performances is something really fresh. This performance is great but I hate this song, it sounds really cheesy, I prefer last week's performance to this but it was still good. "OMG! Why was that so good?!" (Nat) "That's one of the best performances I've seen on Australian television" (Guy) "I really, really enjoyed that. I think this is what the XF is all about, talent like this" (Mel)
Tyla Bertolli
"The Edge of Glory"
-
6/10
- Another horrible song choice for Mel's girl. I like this start. It's a really jazzy sound and Tyla's voice is finally shining. Oh, nevermind. She's a much better singer when she keeps it soft and now that she's going for an electro and fast sound, it's not working. It's screamy as it always is. She should have gone with the jazzy arrengment. Oh, it's back at the end. See? That was good, why couldn't you do all the performance like that? "It started really well, I loved the vibe .. vocally it just didn't come across" (Ronan) "I loved the jazzy vibe .. I think you did a really jod job" (Nat) "I really enjoyed the jazz part, and then once the floor part came and it all started getting excited, I started getting excited but then it just didn't go anywhere for me ... It just felt really messy" (Guy)
Reece Mastin
"I Kissed a Girl" - 7/10 - This song choice is disgusting. I hate it when they make guys sing this song that's meant for a girl. Reece has been incrediblly dissapointing so far. He came as a great performer and he was my favourite before the liveshows but then Guy take over and Reece is sucking every week. His vocals are sounding better than his past performance but it's still not what I expected from him. Oh look! He ate that dancers mouth, appropiate for the song I guess. "You are probably one of the strongest contestants to win the XF" (Mel) "I'm scared of you in this contest, you are absolutely brilliant" (Ronan) "You are just everything this competition is about" (Nat)
Andrew Wishart
"I Want to Break Free"
-
8/10
- Andrew wants to prove he's not boring ... good luck with that! This is much better than last week and as hard as it is, this is probably one of the best performances of the night. He slightly changed that song and actually made it his own, and it all sounded pretty great. When Andrew is one of the best of the night, you know something is wrong here. "That was brilliant ... That was a great song choice by Nat and you nailed it" (Guy) "Natalie, awesome. I wasn't bored at all and you were rocking it out, now we are talking!" (Mel) "Last week I was wondering why are you in this competition, you totally changed my mind tonight" (Ronan)


Three Wishez
"Don't Stop the Music"/"Wanna Be Startin' Somethin'"
-
7/10
- Big note at the start! This song choices seem something they would sing. They should be Ronan's best group, but for some reason, Audio Vixen and YMS are being much better than them. They sound totally off tune at the start. The second song is very weird, it sounds like a conga or something bad. The staging looks great again, props for their mentor. The harmonies are a bit off too, they need lots of work. "You performed a lot more together this week ... You need to work on your harmonies together, the rest was good" (Nat) "Great performance ... Joe, you've definitely come out of your shell, but there's still something missing in your eyes ... A lot of people are saying to me, Sophie stands out so much and she's the star of the band, I think Ronan did a good job by making you the lead this week, but boys, it shouldn't be that way" (Guy) "I did really see too much from the boys and I want to see more of that, I really think you need to show more of that Ronan and not just leave it all on to her" (Mel)
Johnny Ruffo
"Down"
-
5,5/10
- Johnny is definitely the worst singer in this competition but he still manages to do a good job with what he has. Yeah, his singing sucks but he makes an effort to not make it suck and I like that about him. He needs a lot of work if he's ever gonna be good, and I don't think this competition will be enough, but he's still much better than Mitchell and should last at least till top 8. "You definitely did this song proud ... Your voice sounded great and you look hot" (Mel) "Last week wasn't very good, you were brilliant tonight ... You've got a great voice and you can move!" (Ronan) "You nailed it, it was awesome" (Nat)
Christina Parie
"Girls Just Want to Have Fun" - 7,5/10 - Yeah, I still hate her, that's not gonna change, however, I like the arrengment of the song. It definitely sounds like something contemporary, the faster track makes it sound better than the original actually. Christina has a good voice but she's still not a performer for me. Yeah, she managed to make this a good performance cause she had to laugh, what she does in every song she sings but there are better singers than her. LOL at the dancers falling! Haha. And wow, that was too much confetti. "I'm really worried for Mel this week, cause I do think Mel could have two girls in the bottom 2 tomorrow night, but it's not gonna be you ... You and Reece need to ger together and go bowling because you are both brilliant" (Ronan) "Well, there goes the budget for the rest of the series ... I'm so glad you put that spin on it Mel, it was obviously perfect for you" (Nat) "You are definitely the strongest female in this category ... You and Reece should go bowling!" (Guy)
Once again, I was dissapointed with the performances. They seriously need to step up their games! Declan was once more the best performer with his out of the box unique performance. YMS wowed again with their dance moves and their smooth harmonies. Andrew was definitely the surprise! He was bloody great despite him being a bit boring and he really improved. Audio Vixen was stunning once more, beautiful vocals. The rest, was just meh for me. The girls are a complete failure and Mel should be ashamed of her mentor skills. And what's wrong with Mitchell and the judges praise? He sucks ...
Ranking:
Declan Sykes
Young Men Society
Andrew Wishart
Audio Vixen
Christina Parie
Reece Mastin
Three Wishez
Tyla Bertolli
Jacqui Newland
Johnny Ruffo
Mitchell Callaway
Resluts
So Ronan got it right! Both Tyla Bertolli and Jacqui Newland ended up in the Bottom 2, and let's face it, their performances were a hot mess. It's such a shame that Mel is such a crappy mentor, she's totally ruining this girls chances of winning. Jacqui once again brought a great performance with "Respect" and despite some pitchiness, she was great again. Tyla however, delivered a shaky and messy "Fighter", which was totally awful. The shocker came in the results when Mel, left with the possibility of sending the votation to deadlock, decided to send Tyla home cause she felt that Jacqui, who has been two times in the competition, had more chances of winning. Jacqui was seriously shocked by the news, considering any normal mentor would have sent it to deadlock. However, it was the right decision to make, Jacqui was much better. Also, give a listen to Kelly Clarkson's performance of her new single "Mr Know It All".
This entry was posted on 2:58 PM, and is filed under
Andrew Wishart, Audio Vixen, Christina Parie, Declan Sykes, Jacqui Newland, Johnny Ruffo, Mitchell Callaway, Reece Mastin, Three Wishez, TV, Tyla Bertolli, X Factor Australia, XF Series, YMS
. Follow any responses to this post through
RSS
. You can
leave a response
, or trackback from your own site.