I'm currently looking for some new writers in order to expand the blog given that I can't post the amount of things I'd like to. So if you are interested in writing about anything related to music (news, TV shows, album reviews, introducing artists) just drop me an
email to musicisthedoor@gmail.com
and we can discuss some of your ideas.

06 September, 2011 8:16 PM
The show is a definite hit with 4 consecutive #1 places, it already seems that the XF Au will be getting a third (fourth actually, but they like to make like season 1 never existed) season! And I couldn't be more excited. Last year the show was kinda a flop but now it's getting better and better. Hoping for the best! Back to the talent, who will shine tonight? ... It's time to face the music!
Recap and videos after the JUMP ...
People compare to the Black Eyed Peas, they are
Three Wishez
. They've been together for some months now. Oh, this is nice but their inexperience as a group shows a lot. They've got great voices though, totally get the BEP comparisson. Her voice is great but they kinda overlapped. Still, with a little coaching, they can be great.-
VIDEO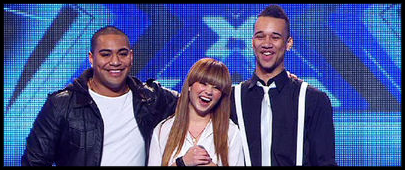 And they weren't the only great group. Repeat auditioners Brother Love, now known as Fourtunate, show an incredible lack of style and a boring unexciting performance. The judges love that unexplicably. Sex and Chocolate show their old fashioned vocals and crazy dance moves. Nat loves both things too. Haha. 80s looking Femme Da Funk are probably the best in that clip with crazy strong vocals.
Crazy kid
Declan Sykes
(15) has a really weird look. He died his hair white, cause no one had it like that. Haha. He's got a really quirky folky voice. One of the strongest voices among the guys, plus it's something unique, which we've not seen before. "Don't slack off!" he tells the audience. Ouch, his falsetto sucks but that was a cool performance. Judges love it but not his falsetto. "You're like this crazy science teacher" says Nat. They make his mother go up on stage, she's about to die up there! Haha. He goes through. -
VIDEO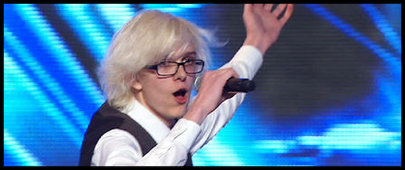 Fashionista
Jade Naidu
(21), thinks she looks really stylish with her accessories. She looks like a cow for me. She singing a really weird version of Sam Sparro's "Black and Gold". But wow! She's probably one of my fave girls! She's got a really intriguing quirky vocal style. I loved that! Guy says she's between being ok and completely awful. He's so wrong! The other three love her. They all say yes. -
VIDEO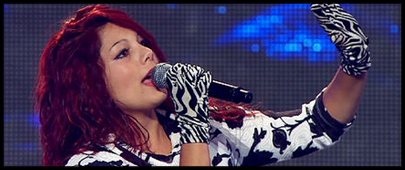 Traffic controller
Jane Lilford
(27) is hoping this audition will change her life. She's singing the big song "Rolling in the Deep". She nails it with her huge voice, which reminds a lot to Adele's actually. There's a lot of power in her voice. "If you ever wanna stop traffic just open your mouth" says Guy. They all think she should be signed already, so Jane is off to bootcamp! -
VIDEO
Originally from Bali,
Budi Bone
(39) has been performing for almost 20 years and is so confident that he's really good. Well, he's not. He's a big joke. Big, big, big joke. They call him a Shaggy impersonator. I don't really know who Shaggy is actually! Haha.-
VIDEO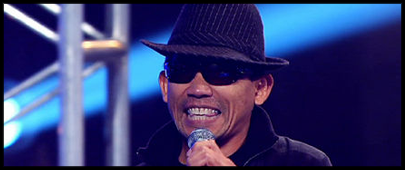 Tony Tuhoro
(44) is next. He's unemployed and has been homeless since 2007. The stuff he's been dealing isn't in his life anymore he tells us. He's voice isn't really good. This is one of the cases where the sob is bigger than the actual talent. Yeah, he's not completely awful but he's not the best we've seen. Nat tells him exactly that. Mel thinks he doesn't have it. They all say yes but Mel. That was one tricky audition. -
VIDEO