I'm currently looking for some new writers in order to expand the blog given that I can't post the amount of things I'd like to. So if you are interested in writing about anything related to music (news, TV shows, album reviews, introducing artists) just drop me an
email to musicisthedoor@gmail.com
and we can discuss some of your ideas.

Last weeks result show was sublime. Justin Standley was finally sent home when he faced judges fave Angel Tupai in the B2, leaving us with an almost perfect Top 9. We still need to get rid of Jason, but there's always time for that tonight. The theme this week is "legends", much like the heroes theme on the XF UK first liveshow. We'll have Madonna, Coldplay, The Beatles and much more today, you don't want to miss it! ... It's time to face the music!
Recap, videos and POLL after the JUMP ...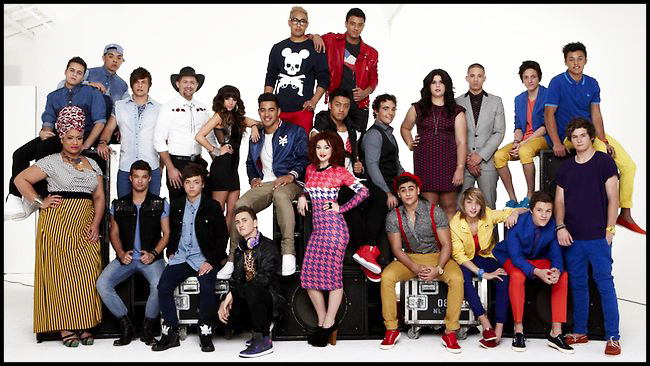 Fourtunate
"Easy Lover" - 7/10 - Last week they proved to Mel that they can bring sexy. Tonight, Ronan says Fortunate is gonna show us that they can sing. They struggle during rehearsals, not getting the harmonies right. They don't really nail them either during their performance though the start did sound rather good, despite some pitchy notes. Cool moves but they've really dissapointed me so far. All their performances prior to the lives had been flawless but once they made it to the top 12, they started being just ok. They're great performers, I'll give them that, and they certainly got the audience moving.
Carmelo Munzone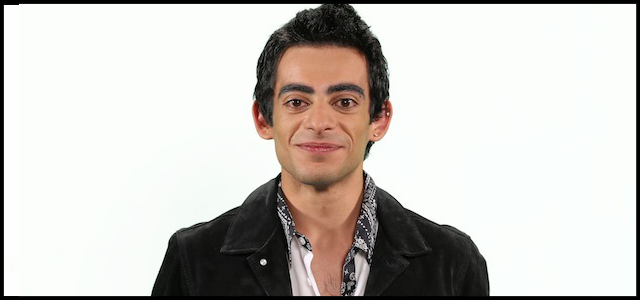 "Every Little Thing She Does Is Magic" - 7,5/10
- He says last week was terrifying. Carmelo feels he let Mel and himself down. Fortunately, Carmelo's much better tonight. This song is right in his wheelhouse and though I still felt the nerves, his tone was gorgeous and he stayed on tune for most of the performance. I heard some of his nervous giggles once or twice and his timing was a little off as Ronan pointed but at least he didn't look like Bambi tonight, right?
Shiane Hawke
"Piece of My Heart" - 5/10
- She's tackling a "beast" this week, Janis Joplin. "My mom told me that she was one of the greatest rock singers of the 60s and that she died on 1770", she obviously gets corrected, "Oh, 1970" she says. She really didn't know who Janis was? Awful choice Natalie, way out of Shiane's league. Angel could've done a great job with this but Shiane is just too young for this tune. She looked petrified sitting on that sofa and her voice was too weak for this rock anthem. There were no dynamics, she barely moved, and although it was a nice performance, it just didn't stand out.
Samantha Jade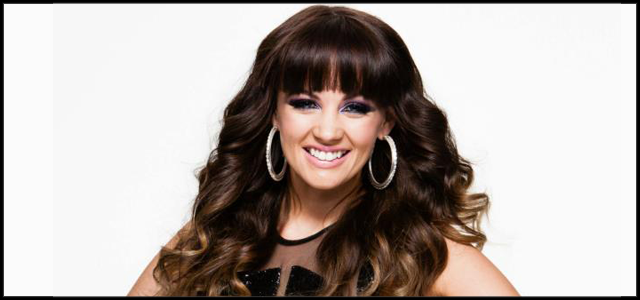 "Run to You" - 9/10 - She feels like she was overcompensating last week. Guy wants Sammi to "unlearn" the way she usually sings. He wants to see her sing the way she's never sang before. To me this is pretty much the same girl we've been listening to for weeks, though she didn't "overcompensated" tonight. Sammi has the best voice in this competition and tonight she took full advantage of it. The bigger notes were well placed and that final lines were stunning. Her best thus far, she deserves to be here next week.


Jason Owen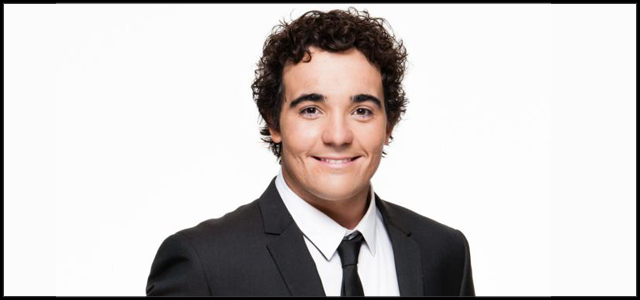 "Dancing in the Dark" - 3/10
- "All the girls out there now know that I'm single. It's amazing to have the female attention, is something I've never been used to. I'm from Alberta and the youngest girl was 35 when I was 12". Jason's been carrying his secret weapon, a hair brush, and has been practicing in front of the mirror with it. For the first time, Mel actually picked a good song for Jason. It's slightly country and fits his voice. He's not doing a good job singing it but at least Mel did her job tonight. Jason picks a poor random girl from the audience and forces her to dance with him, making the entire audience wish he was actually dancing in the dark. Will we ever get rid of him?
The Collective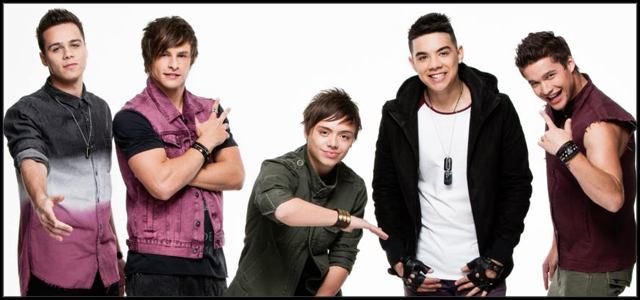 "A Hard Day's Night" - 8/10 - Ronan thinks this song will not only show they are great performers but that they are also great singers. They've been having a few off weeks if I'm honest, mainly because "Domino" set the bar so high for them that it was almost impossible to follow. But they are finally back tonight! Ronan gave them another old song but unlike the past weeks, they totally commanded the performance. Their voices were sick, their harmonies perfect and most importantly, they were truly entertaining. Nat wanted something more contemporary, while Guy called them nerdy. Mel thought they took a step back and that they lost their edge. I actually liked that a lot, though I agree with Nat.
Bella Ferraro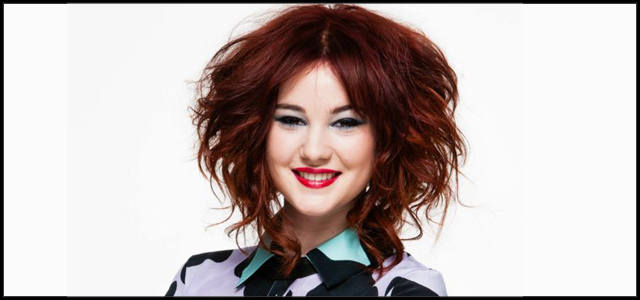 "Ray of Light" - 9/10 - Bella thinks Nat gets her as an artist and really knows how she likes to sing. "You do not mess with a Madonna song", Mel says. I think Bella both looked and sounded gorgeous and so did the stage, those golden tones were beautiful. As Guy said, the performance was really enchanting, I just couldn't take my eyes off of her, it almost put me in a trance. And once again, I give props to Natalie, she's really doing a fantastic job with this girls. Another magical performance from Bella. There's really something exciting about her, she's an original talent and this show is more than lucky to have her.


Nathaniel Willemse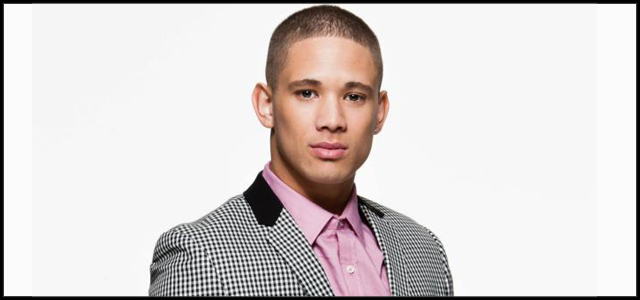 "The Scientist" - 9,5/10
- Nathaniel thinks he let Guy down last week. Apparently Guy didn't know he was gonna take his jacket off and was a bit pissed about it. "This week I need you to stick to the game plan", Guy tells him. This week Nathaniel is playing piano. He's voice is just gorgeous, I can imagine his record and I just know it'll be a hit. He's got this strong velvety sexy tone, it just makes me wanna sit back and play him on repeat. Phenomenal performance, I felt every word he was saying and obviously he did too cause he looked very moved at the end. He's my favourite right now.
Angel Tupai
"Dirty Diana" - 6/10
- She says being in the B2 last week makes her want it even more. It shows cause she really gave this performance her all. Unfortunately, it wasn't the right song for Angel, it forced her to oversing and I just felt that it wasn't the real Angel, I would have given her a more soulful song. She forgot the lyrics but she was great at faking it, to be honest, I didn't even notice it until the judges pointed it out and I had to rewatch it. She commited to the performance though so I give her points for that. Mel totally bashes Angel and dispite I mostly agree with what she said, I felt a little sorry for Angel, I just wanted to go up there and hug her.
Nathaniel Willemse
Samantha Jade
Bella Ferraro
The Collective
Carmelo Munzone
Fourtunate
Angel Tupai
Shiane Hawke
Jason Owen
B2 Prediction:
Shiane Hawke and Jason Owen
Elimination:
Jason Owen (It's really his time to go, isn't it?)
Results
Bottom 2:

Carmelo Munzone
Fortunate
Both acts had it coming. Carmelo because of his nerves and Fortunate for being incredibly inconsistent, so I'm not really surprised to see either of them here. I was hoping both Jason and Shiane ended here cause their performances were the worst but I guess the audience is giving them some pity votes. Btw, how pissed were you when he was declared safe first?
Carmelo Munzone - "Feeling Good"
- Carmelo's done a better job by himself tonight than Mel has since the competition started. He picked the perfect song to showcase his tone and despite it didn't flow as much as I'd want it to, he did sound terrific on it. Now at least we know it's all Mel's fault.
Fortunate - "Without You"
- No matter how much I like Carmelo, I'm rooting for Fortunate to stay. Yes, they've been disappointing most of the time but I still remember how terrific they can be. This performance was a glimpse of hope, they sang and dance the heck out of that song and for once, their harmonies were perfect. As with Carmelo, it shows Ronan is been doing a mediocre job with them.
Ronan
: "I'm really shocked the boys are in the B2. Their professionalism, the passion they bring to the stage withe every performance is incredible. They deserve to go much further in this contest. Carmelo, you came into the show late, it's been very tough for you and you've done so well. The act that I'm sending home is Carmelo"
Nat
: "Carmelo it's been a shaky ride the last couple of weeks but that was your best vocal performance because it's obviously a song you love. Boys, I don't think that was as good tonight but I loved your performances before. The act that I'm sending home tonight is Carmelo"
Mel
: "Obviously I enjoyed both performances tonight. I was pissed off. Carmelo, well done. The act that I'm sending home is Fortunate"
Guy
: "I must say I'm pretty shocked. (to Fortunate) I know that wasn't your best vocals and I think we expect a lot from you guys and I must say I kinda disagree, I'm not shocked at the B2 as much as I love you guys, I don't think we've seen much from you, it's all pretty much been the same kind of performance for me. Carmelo, if you sang like that last night, I don't think you'd be here tonight because that was a lot stronger but I must say there's still a lot of uncertainty when you sing, you don't really command a song. Saying that, the act that I'd be sending home, based on who I think needs more work and needs more time, is Carmelo"
Eliminated:
Carmelo Munzone
When Mel didn't pick him at the JH, people were pretty pissed but looking back at Carmelo's journey, I must said she originally made the right decision. Carmelo proved not to be ready, he couldn't handle the nerves and most of his performances were underwhelming. He's a super nice guy but this competition was too much for him.
This entry was posted on 9:11 PM, and is filed under
Angel Tupai, Bella Ferraro, Carmelo Munzone, Fortunate, Jason Owen, Nathaniel Willemse, Samantha Jade, Shiane Hawke, The Collective, TV, X Factor Australia, XF Series
. Follow any responses to this post through
RSS
. You can
leave a response
, or trackback from your own site.