I'm currently looking for some new writers in order to expand the blog given that I can't post the amount of things I'd like to. So if you are interested in writing about anything related to music (news, TV shows, album reviews, introducing artists) just drop me an
email to musicisthedoor@gmail.com
and we can discuss some of your ideas.


I'm looking for a Swedish translator, if anyone is interested, please email me.
Marie almost lost her second group in a row last week, when Hey Mary faced the struggling Over Freja Modin in the B2. The judges decided to save the retro girlband, sending the blond singer packing. Only 10 remain now. Who'll succeed? Who'll crumble? ...
It's time to face the music!
Recap and videos after the JUMP ...
Awa Santesson-Sey
MMMBop (Hanson) - 6/10
- Does anyone remember when Janet Devlin sang this song last year or have you already wiped out that atrocious performance out of your mind? Well, the fact is that Awa did a hundred miles better with this childish song and considering she's a child, this was a perfect fit for her. I hate this song but it gave Awa the chance to show her fun adorable side and I think she succeeded. The dancers dressed as school kids were a little creepy, was it so hard to find a bunch of kids to do it? The vocals weren't stellar either but when are they? This was Awa's best performance and that's just sad. -
VIDEO
Alexander Holmgren
Turn Me On (Kevin Lyttle) - 7,5/10
- I was prepared to hate this performance from the second I saw Alexander's horrid "baby blue" (as Ison put it) tank top but it was a surprisingly current and entertaining song for him. I still don't like what Orup is doing, his category looks tacky and amateurish compared to the others, but this was definitely a step in the right direction, at least song choice concerned. Alexander's voice worked perfectly with it and though he looked a little uncomfortable at times (I bet it was his tank top), I loved what he did tonight. -
VIDEO
Hey Mary
Nothing Compares 2U (Sinead O'Connor) - 7/10
- No retro song for them tonight? What's going on? It seems Marie may've realized that a retro girlband isn't the most commercial thing to do, so she made the girls change it up tonight. They are sitting on stools and there's nothing else going on on stage, besides their faces on the screens behind them. Their harmonies are gorgeous but tonight they were also strong as individuals, which last week wasn't the case. They got some harsh comments from the male judges judging by the amount of boos, I thought this was very pretty but I expect them to go back to what they like doing soon. On a completely different topic, one of them is pregnant, how have I missed that? -
VIDEO
Oscar Zia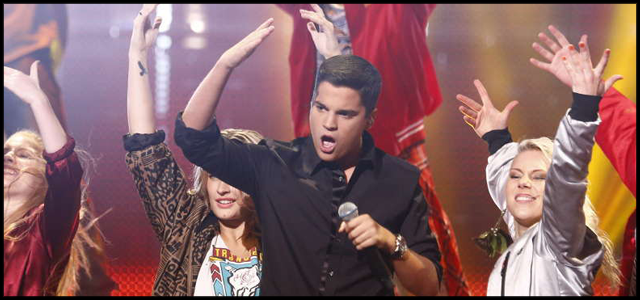 Danza Kuduro (Lucenzo feat. Don Omar) - 3/10
- Not only this is an awful song, it's quite inappropriate as well. Was he having a speech impediment tonight cause I couldn't understand a single word he was saying, either in English or in Spanish. I assumed he knew how to speak Spanish, since he was singing a Spanish song, he clearly didn't because his pronunciation couldn't suck more. On the plus side, the stage looked great, didn't it? -
VIDEO
Benny Hult
Mad World (Gary Jules) - 2/10
- I couldn't help feeling sorry about him tonight. He was delivering what was probably his best performance to date but when he got to the chorus, he forgot the lyrics and it all went downhill from there. It seemed he was struggling from the very beginning, he was way too focused on the lyrics and couldn't really do anything else with his performance and it showed. I bet he got a lot of pity votes either way. -
VIDEO
Manda Nilsénius
It Feels So Good (Sonique) - 6,5/10
- I liked this song choice for her but the performance was really inconsistent. His voice sounded rather weak the first half of the performance and it wasn't until she started singing the chorus in a beautiful higher register that I started enjoying the performance. It wasn't perfect either but I liked the transition between the two. On another note, I love her look, that haircut looks really great on her. -
VIDEO
Malcolm Brandin
Here Comes The Hotstepper (Ini Kamoze/Malcolm B) - 7/10
- This was good I guess. I'm getting tired of writing the same about him every week and if I'm boring myself I bet I'm boring you a lot more. This was one of my fave performances from him though and he certainly has a lot of stage presence. -
VIDEO
Isak Danielsson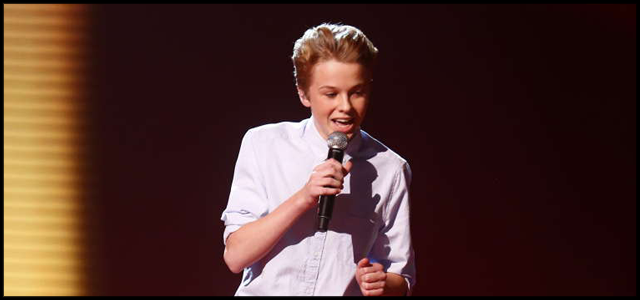 You're Beautiful (James Blunt) - 6/10
- Bad song choice, bad arrangement and bad vocals. Ison did an awful job with Isak tonight. This isn't the type of songs he can sing, I love everything he does, but his voice is too deep for this track. It got better towards the end but the beginning was painfully weak. His voice even cracked a bit when trying to hit the bigger notes. I was disappointed at his performance, I expected a lot better. Hopefully he impresses me next week. -
VIDEO
Frida Sandén
One Of Us (Joan Osbourne) - 6,5/10
- Who's styling this girl? That person needs to be fired. A hunting vest? Seriously? This is a lovely song but I'm not certain Frida did it justice. Yeah, it sounded good but I found it flat. She struggled on the lower notes, a lot, which surprised me because she tends to be a great technical singer. It liked feeling too, I could have forgot everything else if I had connected with her but I just didn't. Another ok performance from her. -
VIDEO
J.E.M
Groove Is In The Heart (Deee-Lite) - 8/10
- Good song for them. I wish Marie picks a song to let Elli's voice shine though cause she's trying to let the rappers shine by picking songs were they've got raps already. She should pick a good song and let the other two write their own raps. Back to the performance, it was rather enjoyable. Loved Jeremie's rap tonight. Elli sounded good as well but was overshadowed by Margime, who was actually singing tonight and she sounded great while doing so. Fun performance. They got way up on my list tonight. -
VIDEO
Ranking
J.E.M.
Alexander Holmgren
Hey Mary
Malcolm Brandin
Manda Nilsénius
Isak Danielsson
Frida Sandén
Awa Santesson-Sey
Oscar Zia
Benny Hult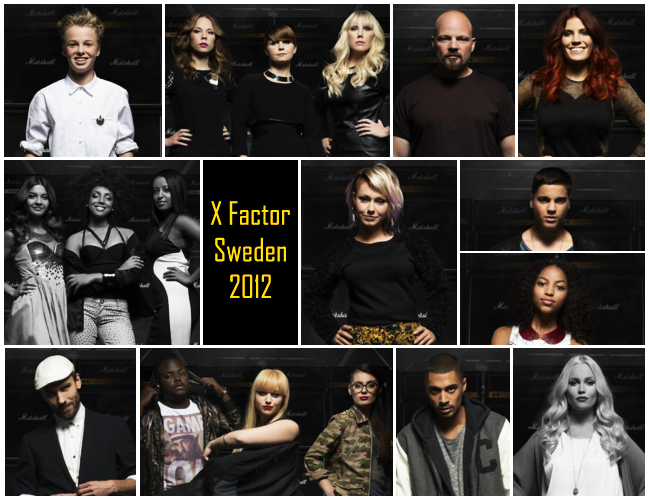 Frida Sandén
Manda Nilsénius
Manda Nilsénius
- Wide Awake (Katy Perry) - This is the best song she's sung since the competition started and it's also the best she's sounded. That shows Andreas is doing an awful job with Manda. She sang every note perfectly but her voice was very generic, I hope she had done something different with that song cause she sounded a lot like Katy here. -
VIDEO
Frida Sandén
- Skyscarper (Demi Lovato) - Again, the best song she's sung so far. While Manda's rendition was perfect, Frida's was a little shaky and flat, it started very soft and it also ended that way. I was expecting some big notes here and there but her performance was very restrained. She was clearly emotional though, probably the first time I've seen her that way. -
VIDEO
Elimination:
All the judges voted to send Frida home. That's gotta suck. I was shocked they made Andreas vote third and not last, considering both girls are his acts but I was more shocked by the decision they made, I was expecting Manda to go home and I never thought they were going to save her unanimously. Frida was a great singer but she never really connected with the audience, which was probably Andreas's fault, given that his song choices sucked from the start.
This entry was posted on 6:54 PM, and is filed under
Alexander Holmgren, Awa S-S, Benny Hult, Frida Sandén, Hey Mary, Isak Danielsson, J.E.M, Malcolm Brandin, Manda, Oscar Zia, TV, X Factor Sweden, XF Series
. Follow any responses to this post through
RSS
. You can
leave a response
, or trackback from your own site.