I'm currently looking for some new writers in order to expand the blog given that I can't post the amount of things I'd like to. So if you are interested in writing about anything related to music (news, TV shows, album reviews, introducing artists) just drop me an
email to musicisthedoor@gmail.com
and we can discuss some of your ideas.


We saw some weird decision being made during the Judges Houses, with the judges sending home early favourites like Sabina, Sara, Kristin, Lukas and Adam. But that is now in the past. With the top 12 now selected, it's time for them to take the stage and face the public vote. Who'll be first to get the axe? Who'll be the unexpected dark horse? ...
It's time to face the music!
Recap after the JUMP ...
J.E.M
Wild ones (Flo Rida feat. Sia) - 7/10
- Interesting song choice, very current. It's funny, cause I compared Elli to Sia last week and now she's singing her song. Though I like Margime, I admit her voice is a little annoying, it's too high pitched, but at least she brings the swag to the performance and her rap was really great. Jeremie is also a very good rapper though he wasn't my favourite. Great first performance, they really have lots of potential, only thing wrong with it was Jeremie's outfit, was he styled like a school boy? -
VIDEO
Freja Modin
Evighet (Carola) - 5/10
- I've a felling Orup is ruining what could've been a phenomenal act. This song is just wrong for her. It was way too boring and combined with her slot, I fear she'll end in the B2. Despite her outfit looked cute, she was kinda lost in it. Her voice sounded gorgeous but the performance really didn't go anywhere and it ended abruptly, I really couldn't tell she was over cause the performance was so one-note. -
VIDEO
Awa Santesson-Sey
Call me maybe (Carly Rae Jepsen) - 3/10
- I still can't get over the fact that Andreas picked Awa over Sabina. I wish he explained me how this is better than anything Sabina did before. She's cute and I enjoyed her dancing but her voice was mediocre at best. She really wasn't singing, it seemed like she was going through the lyrics, I saw no effort, she wasn't even trying to deliver a good vocal performance. Just awful. -
VIDEO
Isak Danielsson
Somebody that I just to know (Gotye) - 9/10
- Isak is the living proof that just because you are young, you can get away with mediocrity, (I'm talking to you Awa). This song's been a little overplayed, well, a lot indeed, but Isak's take felt fresh and interesting. His voice really sold me his performance and the staging gave it an eerie look, I loved the effect the green light and the people walking in front of him created. Flawless vocals, outstanding soulful unique tone, I don't think I can love him more than I already do. Andrea gave him a critique, probably cause Orup bashed Awa's performance. My favourite performance of the night. -
VIDEO
Frida Sandén
Teenage dream (Katy Perry) - 4/10
- Frida sounds incredibly out of tune the first few lines. He looks gorgeous but once again, Andreas has screwed it up. There's nothing remarkable about this performance, it was weird actually. She either sang in a strange lower register or in her normal singing voice, the transition between the two were almost nonexistent and she was pitchy for the most part. I hope she survives though cause I know she can do better than this. -
VIDEO
Benny Hult
Wild horses (Rolling Stones) - 6/10
- This was a dated and rather old fashioned song for Benny. I've been bashing him for being this dull karaoke singer for weeks and now that Orup can coach him he gives Benny this song. He did sound great on it but it was nothing that I wanted to see again. The choir was also very predictable. Is Orup even trying to do a good job? Cause he's failing completely. -
VIDEO
Malcolm Brandin
Bredängsstil (Malcolm B) - 6,5/10
- I've no idea how I'm gonna comment on his performances cause I've almost zero knowledge about rap and I don't really understand what he's saying either. So forgive me beforehand for my comments. Back to the performance, I really liked it, specially Marie's sexy pics that appeared on the screen. He showed swag and the audience looked entertained. I kinda wished it was more musical but I didn't mind much. That's all I can say. -
VIDEO
Hey Mary
With every heartbeat (Robyn feat. Kleerup) - 8/10
- I never expected them to make it this far. They were obvious fodder during the auditions and I really can't see how their retro style can be commercial. Thankfully, they actually impressed me tonight. Giving them a Robyn song was a smart move by Marie, had she gave them one of the retro songs they like singing, they would've been easily eliminated. This at least gives them a fairer chance. Their vocals are really gorgeous and I truly enjoyed their robotic movements. I kept thinking about Denmark's Nicoline Simone & Jean Michele, and that could only mean good news for them. (Well, unless one of them decides to withdrew and ruin the other two chances, but that's unlikely to happen, right?) -
VIDEO
Manda Nilsénius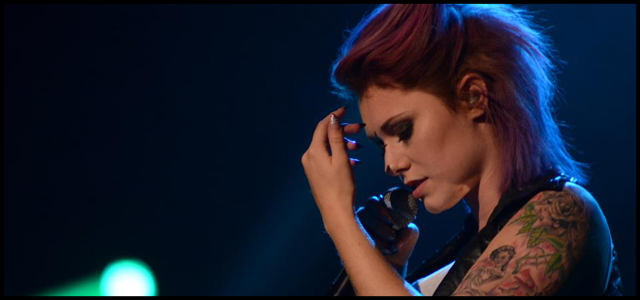 We found love (Rihanna) - 7/10
- Manda's a brand new look, which does look a lot better indeed. Finally Andreas did something right with one of his girls! Despite this isn't the type of song I'd have picked for Manda, she did a terrific job with what she was given. Her voice sounded stunning at the beginning but when she got to the chorus it started sounding a weaker. I'd have kept it slow cause she was definitely struggling to get the chorus's timing right. She's my favourite from Andreas's category though and I actually enjoyed her performance, I just wanted it to be better. -
VIDEO
Alexander Holmgren
Marry you (Bruno Mars) - 6,5/10
- I liked this song for him on paper but unfortunately, what he got to offer didn't impress me as much as I thought it would. His voice is terrific and his raspy tone is cool, that's out of the question, but what he did tonight looked very simple and it was boring to be honest. The stage looked a little empty, they should have devised a different staging cause that one wasn't working. It's official, Orup sucks as a mentor. -
VIDEO
NJOY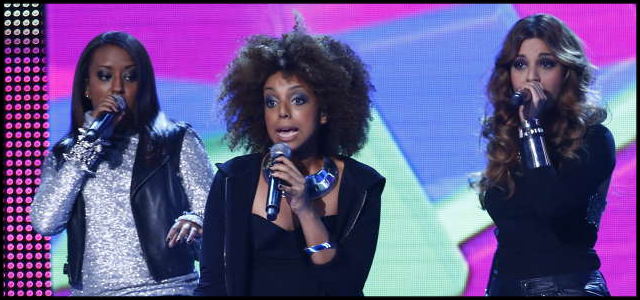 La la love (Ivi Adamou) - 6/10
- Ugh. I appreciate Marie tried to be contemporary tonight, (she did really great overall to be honest, props to her!) but I can't see how this performance could ever work. The truth is that the song only sounds good on Ivi, mainly because it's actually a really bad song. The girls did the best they could with it and it actually sounded quite great but for the most part, I just couldn't stop thinking that I wanted them to sing something different.. The rap was unnecessary but besides that, I quite enjoyed that performance, so I guess it really wasn't entirely wrong for them. -
VIDEO
Oscar Zia
Boyfriend (Justin Bieber) - 5/10
- This is a horrific song. It's just a desperate attempt to get the young girls to vote for Oscar and I think it may have actually worked. People had said that Oscar reminded them to Eric Saade from the very start and I've finally seen it tonight. Mediocre voice but great performer. He could be perfect as a Swedish Bieber too, cause lets face it, all the girls are voting for him after this. -
VIDEO
Ranking
Isak Danielsson
Hey Mary
Manda Nilsénius
J.E.M.
Alexander Holmgren
Malcolm Brandin
NJOY
Benny Hult
Oscar Zia
Freja Modin
Frida Sandén
Awa Santesson-Sey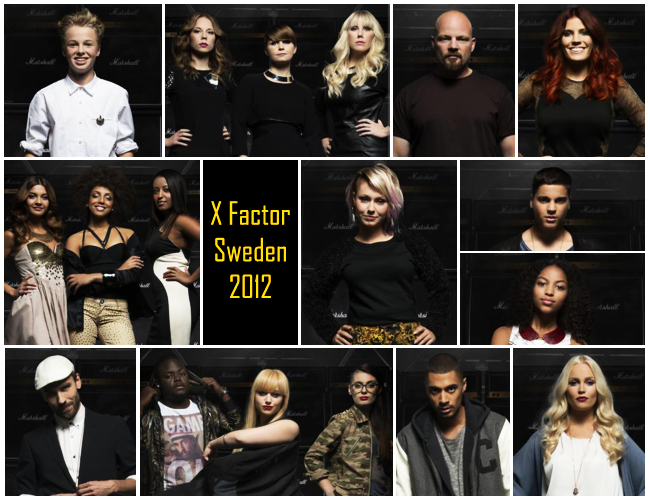 Freja Modin
NJOY
Freja Modin
- "En dröm" (Aleks) - A much better performance. She's singing again in Swedish but at least this song isn't as dready as the previous was. It's got a nice beat and her voice actually sounded great on it. It didn't let her show it much mainly cause the performance was really short but I think it was enough for her to get through. -
VIDEO
NJOY
- "Free Your Mind" (En Vogue) - Again, this is really a lot better than what they did before. The song isn't really contemporary but they did sound good on it. Some pitch issues here and there but it was still an ok performance. I prefered Freja's though, just cause I like her more as a whole. -
VIDEO
Elimination:

NJOY
Marie obviously votes to send Freja home, while the others all pick Marie's group, NJOY, to leave the competition. It's rather ironic that the best mentor is the first one to lose an act but that's how it all works. NJOY clearly couldn't get enough fans and despite Awa deserved to go home this week, I don't think I'll miss them either.
This entry was posted on 5:40 PM, and is filed under
Alexander Holmgren, Awa S-S, Benny Hult, Freja Modin, Frida Sandén, Hey Mary, Isak Danielsson, J.E.M, Malcolm Brandin, Manda, NJOY, Oscar Zia, TV, X Factor Sweden, XF Series
. Follow any responses to this post through
RSS
. You can
leave a response
, or trackback from your own site.