I'm currently looking for some new writers in order to expand the blog given that I can't post the amount of things I'd like to. So if you are interested in writing about anything related to music (news, TV shows, album reviews, introducing artists) just drop me an
email to musicisthedoor@gmail.com
and we can discuss some of your ideas.

27 December, 2011 3:43 PM
Tamás
Tarány, who was poised to make it to the final, was eliminated in fourth place, leaving Gergő Baricz, Enikő Muri and Tibor Kocsis battling for the title in this two night final.Will it be the crazy
Gergő, old fashioned singer Tibor or diva
Enikő?
... It's time to face the music!
Recap and videos after de JUMP ...
Are you gonna be my girl (Jet) – 8,5/10
- This was one of the best songs performed by Gergő. It's still having those strange sounds in the higer tunes but full of energy! It was a good choice because he's rocking it!
Enikő Muri
Játssz még! (Kati Kovács & Zorán Sztevanovity) – 7,5/10
- As sweet as she can be, she is performing this hungarian song as good as she can. She has a magical look and she's trying to show us her feelings. She has done a great job so far, hope she gets the prize she deserves!
Somebody to love (Queen) – 8,5/10
- This is like an anthem to the lovers and he's doing it really good! He definitely deserves a place in the second round of the final! He's also not having the typical problems at the higher tunes, so great job!
Round 2
Duet with András Laár - Afrika (KFT) – 6/10
- He looks really funny and full of energy. This is a weird song choice, talking bout a safari. The performance is ok, but I prefer his first one to this.
Enikő Muri
Duet with Attila Dolhai – A zene az kell (A Valahol Európában) – 8/10
- She looks really pretty and is having a great start. The songs is a beautiful ballad, it kinda reminds of a Disney song. She is doing it even better than in her first one. She has lots of chances of making it to the final!
Duet with Zséda - Mindhalálig mellettem (Zséda) – 7/10
- He sang this before as a duet with Enikö and now he's doing it as good as he did last time with Hungarian singer Zséda. The song is nice, great for listening at home in a Saturday evening. He seems to be happy with his performance. Me too!
Round 3
Wicked game (Chris Isaak) – 7,5/10
- Being used to listen him in a happy, partying style of music, I still have to admit that this kind of songs, sounds, at the beginning, a little bit bizarre with Gergö's voice. At the end, however, I just can say: wow!
Enikő Muri
Hurt (Christina Aguilera) – 7/10
- It's almost impossible to reach Christina's range but she has done a good work, very emotional, and even if she had some problems with the higher tones, the whole performance was great, very appropiate for this show!
I will talk and Hollywood will listen (Robbie Williams) – 7/10
- Even if he doesn't have the charisma Robbie has, Tibor made an ok performance. I still think he is wonderful with ballads, but he still has to improve a little his body expressions and dancing for the upbeat ones!
Results
Eliminated Contestant:


Gergő Baricz
If I were a boy (Beyonce) – 8/10
- She sang this song in the first liveshow and although it's not her best, somehow it was chosen again. I've never liked this song and, I'd have never chosen this one. It has a long part where she has to sing in a low tune that doesn't show her actual voice. When she gets to the higher notes the crowd goes nuts and she finally starts to shine! Great job Enikő!
Feeling good (Michael Bublé) – 8,5/10
- Tibor performed this on the 8th show. He've done a better job in chosing the song cause this is really the kind of songs he can be great at stage. It shows he's really enjoying it and the crowd shows the same!
Round 2 – Christmas song
Where are you, Christmas? (Faith Hill) – 6,5/10
- Her voice was a little bit trembling at the beginning, a little out of tune sometimes. It's not her best performance, she still showed potential, at least at the last part. It was just ok, not brilliant.
Silent night / Csendes éj – 9,5/10
- A worldwide known Christmas carol is the best bet to get the crowd on your side! He's singing it almost perfectly. He's showing a great voice and a sweet side, making a good combination between the original and the hungarian version. Someone is smelling like... winning!
Round 3 – Winner's Single
Mit ér egy hang (Josh Groban) – 7/10
- This is the Hungarian version of "You raise me up". She starts kinda ok but she's losing some strengh during the chorus! Anyway, she's doing it ok, but I'm missing power and energy. In some parts it's sounding a little strange. Anyway, I wish her a lot of luck!
Tibor Kocsis
Mit ér egy hang (Josh Groban) – 10/10
- He's being more powerful than her from the beggining. He's lucky cause this choir makes the song even more special! I definitely think we have here a winner!! Great job, amazing!
I totally have to admit that Tibor and Enikő have something in their look, that makes both look very special! If I had to choose one, I have no doubt that Tibor will win this show, because he's been imporoving during all his performances. It's true that Enikő is more versatile but Tibor has a powerful voice and control over it, something that sometimes I miss in Enikő.
Results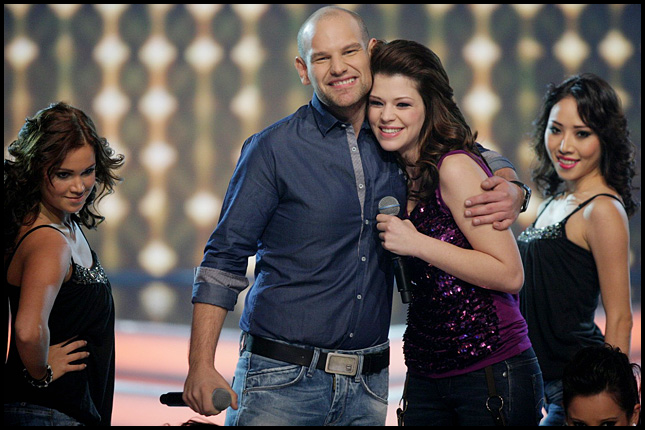 Click the image for the results!