I'm currently looking for some new writers in order to expand the blog given that I can't post the amount of things I'd like to. So if you are interested in writing about anything related to music (news, TV shows, album reviews, introducing artists) just drop me an
email to musicisthedoor@gmail.com
and we can discuss some of your ideas.

10 December, 2011 2:11 PM
I know I've not been posting this lately and I'm sorry but I had to study for my exams. But now I'm back and so are the recap! Last time I wrote, Craig Colton was sent home via deadlock after the former frontrunner found himself with returning act Amelia Lily in the B2. Craig had just became incrediblly dull and boring as this competition rolled and his frontrunner status vanished. Tonight, the contestants will be singing a guilty pleasure and a song from their heroes and one more will leave tomorrow one week before the semis. Who'll be eliminated this week? ... It's time to face the music!
Recap and videos after the JUMP ...
Round 1 - Guilty Pleasures
Little Mix
"Baby" / "Where Did Our Love Go"
-
7,5/10
- This is the exact same cover that Rachel Crow sang during the US XF but we all know that Simon's been stealing ideas from this show, such as Gamu's audition song and Diana's "With or Without You", so the girls are totally allowed to steal him back! I'm still not sure if this mash up works. "Baby" is repulisve so despite I love this girls, I can't like this.
Louis:
Little Mix two weeks to go to the final, last week you were incredible, this week it was lacking something. i think you're going to have to pull something more out of the bag if you want to stay in the competition.
Gary:
I really enjoyed that tonight, it was a great opening to the show. Vocally it was great, it looked brilliant, can't wait to see your next song.
Kelly:
You know that I love you girls and I really believe in you. the first thing is some of you were in your head too much over the dance steps, another thing was Jesy on the breakdown it would have been great to hear you beatbox more. Another thing, if you are going to do the Supremes, definitely nail it. But I love you guys i really do
Tulisa:
Little Mix, listen to the audience. Sabotage, sabotage. Everyone is worried because you guys have such a huge fanbase and you could win this competition.
Janet Devlin
"MMMBop"
-
3/10
- Kelly is either sabotaging Janet or she just has no brain. This is a horrific borderline stupid song choice for Janet. Yeah, it's cute but the lyrics are too complicated and too fast for Janet. I've no doubt Janet can do an upbeat song but not a song like this. Oh look, she's totally failing here, she messed up the lyrics a lot of times and it was just painful to watch Janet crumble while singing that. Disaster ...
Louis:
Janet did you forget the words? You messed up but at least you carried on that was the right thing to do. It wasn't a great performance or song but I believe in you.
Tulisa:
Janet you look really upset, you know the mistakes you made and I think the nerves took over. I have to agree with Louis, I found it quite mediocre for this stage of the competition.
Gary:
Janet it was a real mess, for the second time you've forgotten your words and I do think that it had a percussive nature to it, it needed a groove and you don't have a groove in your voice. You shouldn't be singing songs like that.
Kelly:
There is always a second song. You are a fighter and that's why you've come so far in this competition.
Misha B
"Girls Just Want to Have Fun"
-
8/10
- I've seen this song covered on this type of shows at least three times this year and I'm starting to get sick of it. Still, I've to say that Misha did the best job with it! The song is great for her cause she's funky and has a lot of attitude and her personality works perfectly with this. Great performance!
Louis:
Thank god you're still in the competition. I love the way you stuck with the theme, it was pop but it was soulful. Fantastic!
Tulisa:
There is not one bad thing I have to say about that. It was on point, amazing, I'm gald you took gary's advice. This is the Misha B we know…loved it!
Gary:
Now the show has started and what was great was it was back being Misha B. It's you being yourself and not thinking of tomorrow and the semi final, it's you thinking of 2012 when you are finally unleashed on the public and I'll be there waiting to buy an album.
Kelly:
I am so proud of you! I loved it.
Marcus Collins
"I'm Your Man" - 5/10 - Marcus visisted Gary's studio and he realized he's a sucky recording artist. Or something like that, I don't feel like watching again. Another old fashioned boring tune with loads of coreography for Marcus, cause he needs a lot of stunts to hide the fact that he's a generic and one dimensional artist.
Louis:
Marcus you are the last man standing, you tick every single box, you always deliver!
Tulisa:
You do it to me every time. Every time I watch your rehearsals I'm not sure and then you prove me wrong every time. It was a journey from start to finish and that's a performance….well done.
Gary:
First of all well done, an amazing performance tonight. I am about to say my first negative about you. You came into my dressing room and said you were really made up to be in the last five. That's not good enough for you or me. You could win this! Start believing you could do that, well done.
Kelly:
You gave me everything tonight honey. You did it right, I just love you.
Amelia Lily
"China in Your Hand"
-
9/10
- Is this her guilty pleasure? Cause I've never heard this song ... Maybe it's because it's so bad that people's been trying to forget this tune. Well, this is much better than I expected. It's actually the best performance so far cause despite her voice is generic as hell, this song is actually giving it an interesting vibe. More of this please!
Louis:
Amelia last week I said you were the perfect popstar, this week i think that song choice was incredible. You deliver ever week, I'm so glad we saved you. I think you're incredible.
Tulisa:
You look so elegant and graceful on stage and can I just talk about the passion that you have, you get lost in music. It's like you're in a music video. Nobody gets lost in the music like you do. It's an amazing talent.
Gary:
Last weekend you were in the bottom two and you've come back with a performance like that tonight. Congratulations and well done. I remember the original of this song and it was nice to hear it sang in tune for once!
Kelly:
I had never really heard of this song, but this is such an amazing record with you singing on it.
Round 2 - Musical Heroes
Little Mix
"Beautiful"
-
9/10
- Perfect song for them, totally agree with Tulisa. I love how stripped back this is, they needed to do something like this and they finally did it, and it's beautiful. They are definitely my favourite act left and I don't care if I'm sounding really biased but they are the only act that is interesting enough to win this and they are the sole reason I keep coming back. Perrie needs to lead and they need to work on their harmonies but apart from that, amazing ...
Louis:
Girls you pulled it out of the bag for the second song. Tulisa I would love to see them in the finals. That was powerful and emotional.
Tulisa:
It was the best performance you have ever done! Pick up the phone and vote for Little Mix.
Gary:
It actually wasn't your best vocal performance tonight, if I could say two things which you have to your advantage, you have hard work on your side and the other thing is that you have friendship and it's a key ingredient to a successful band.
Kelly:
I really hope people vote for your guys, you have no idea how much I want to see you at the top of the charts. Great job girls.
Janet Devlin
"Under the Bridge"
-
7,5/10
- Definitely an improvement over her last performance but let's face it, even a Wagner performance would've been better than "MMMBop". I'm not in love with this song for her either, Kelly really let Janet down tonight. I still like the twist Janet brought to that performance, it was very cute, yet not brilliant. Janet may be in danger tonight.
Louis:
You had a shaky first song, I wasn't crazy about your song choice but I love you, I love your voice. It's all about the voice with you and that's what we're looking for.
Tulisa:
Janet that is a brilliant song for you, it brings back who you are. That's the Janet Devlin that will sell albums and sell out tours. When you are at your best, I love it!
Gary:
Janet I don't think you're having the best night tonight, that was slightly better but it wasn't brilliant. If I could say one thing that's interesting about you, you are playing this on your own terms. In the past I have called you boring, not versatile and you have ignored me and been yourself and that's what we're looking for. Congratulations for that.
Kelly:
Janet I am so proud of you because in this industry everyone will be dealt different challenges. You had a rough start but you came back out……and I'm so proud of you for that.
Misha B
"Killing Me Softly with His Song"
-
7/10
- This is a great song but I'm not sure people should keep covering it. Misha is doing a great job, she's sounding really soulful and the mirrors and the smoke make a cool effect but I'm not sure if that performance had the intensity or emotional factor needed to captivate the audience, it was just some great vocal. Still, Misha is finally back tonight!
Louis:
Misha every week consistent, brilliant soulful performance. Nobody wants to be in the final more than you and you're prepared to work hard.
Tulisa:
I would say this is the best week you've ever had. You've done it tonight, double whammy. Both times you've hit the nail on the head. That song could have been written for you.
Gary:
I think I preferred your first song tonight and there was some pitching problems in the first verse of that. But Misha I do love you and this place would be duller without you here. Well done.
Kelly:
Misha I am so proud of you, I know the crowd is too. Beautiful job tonight mama!
Marcus Collins
"Lately"
-
4/10
- Another boring old tune for Marcus? Wow Gary, you're doing a great job as a mentor!! Congrats! This time Marcus is sans dancers, just him and a red piano. Now it's obvious that Marcus can't sing on tune with slow songs, he just works on the other boring thing he does. Most boring performance of the night?!
Louis:
You nailed every single note of that song. You made it your own, you're a versatile performer. You must make it to the semi final, you deserve to be there.
Tulisa:
That was emotional, I know that you wouldnt like to admit it but I think it was just as emotional for you as it was for everyone in the audience. Marcus would never ask for the sympathy vote and that's one thing I love about him but this guy has had a tough time in life and he really deserves to be on this stage. Well done for coming this far!
Gary:
Marcus, right, I think this is a real moment for you because people know you as the entertainer but right now they know you also as The Voice. The voice has been unleashed tonight and I think this has changed the whole game for you. Sensational performance, well done!
Kelly:
I love me some you and I am going to be constructive, because I want to have you here. The pitch was rough at the beginning and it took you a minute to get into the groove but when you did, you sent everyone sailing on an emotional high.
Amelia Lily
"Since U Been Gone" - 5/10 - Huge improvement on her first song, a thousand steps backwards on her second song. Can she get any more generic than Kelly Clarkson? She's like the princess of generic singer (Xtina is the queen). Plus, if you are planning on taking on Kelly, at least nail the vocals, something Amelia clearly did not cause her voice isn't strong enough.
Louis:
Amelia two amazing songs form you tonight. You make it all look so effortless. I see a big future for you.
Tulisa:
I'm glad you did that song tonight, it made me reminisce. It was a song I had for an ex-boyfriend when I was about 16. I think you've got a real belty voice and I think you showed that off tonight. It got a teeny bit shouty but you pulled it straight back. I think you have a rockers voice and that song really suited you.
Gary:
Amelia I think you've had an all round good night tonight, two great performances. Kelly I always think Amelia Lily's songs are pitched just a little too high.
Kelly:
Amelia Lily hits those notes in her sleep. I wish you could hear her in rehearsals. I'm so happy we get a chance to witness it, Amelia is amazing!
Ranking:
Little Mix
Misha B
Amelia Lily
Janet Devlin
Marcus Collin
Resluts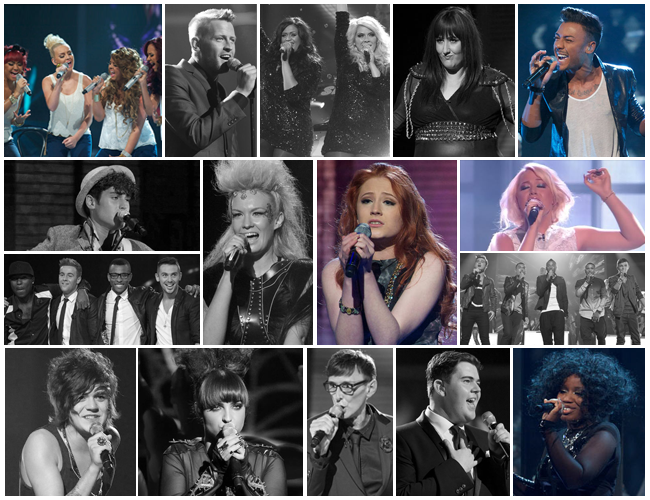 Janet Devlin vs. Misha B
Janet Devlin - "Chasing Cars" (Snow Patrol)
Janet's performance was really beautiful. It reminded to her first audition and this was exactly what she needed to do yesterday to avoid being here now. Unfortunately, Misha's performance was also beautiful and even more emotional than Janet's, which I fear, may eliminated my other favourite ...
Judges' votes for elimination:
Louis: Janet Devlin
Tulisa: Janet Devlin
Kelly: Refused to vote*
Gary: Janet Devlin*º
*
Saying she could not pick between her two acts. O'Leary warned her that this would cause Janet Devlin to be eliminated as it would go to a majority vote and Devlin already had two votes, but Rowland still declined to cast a vote.
*ºWas not required to vote, but said he would have eliminated Janet Devlin.
Well, Janet's time had come, she's the second frontrunner that has been eliminated, the first one being Craig. Her performances have been lackluster for weeks now and the lyric mess up and overall disaster of tonight just did Janet in. I'm confident that Simon already has a record deal for her or if he doesn't someone has ...