I'm currently looking for some new writers in order to expand the blog given that I can't post the amount of things I'd like to. So if you are interested in writing about anything related to music (news, TV shows, album reviews, introducing artists) just drop me an
email to musicisthedoor@gmail.com
and we can discuss some of your ideas.

28 December, 2011 3:47 PM
Both the audience and the judges were really critical of Marlen during her Idol Norge run, the truth is that she was pure raw talent and with a little development, the girl could be a fantastic singer. Maybe the judges were scared of her potential? She's got lots of soul and her style was really distinct. Here's my chat with one of my favourites of the season and some interesting things about Marlen, including, what's next for her and Berklee ...
Interview after the JUMP ...
*Who is Marlen by Marlen?
I'm very happy and sparkling as a person and I love to make other people happy. I can be very determined, as long as I remember; I have always been clear on how I want things to be. When it comes to my voice, I am very critical. It is actually rare I am satisfied with one of my performances, because in this area I am automatically a perfectionist. I am a goal-oriented person who works hard to get a place in the music industry.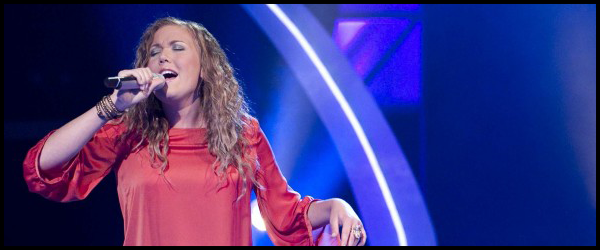 *How would you define yourself as an artist?
I am a soul/pop/ gospel/blues singer. My strength as an artist is my wide vocal registry, and my good rhythm understanding. What I focus on as a musician is to express my feelings through music, and let the audience see the passion I have above music.
*What can you tell us about your life?
My life is mostly based on music. I practice different types of singing techniques, to keep my voice on top. I also spend a lot of time in front of the piano, so that one day I can accompany myself when I sing. When I take a break from music, I often spend time with friends, it fills me with joy and positive energy. I also try to train three days a week on aerobics center.
*How did you get started with music?
My mother was the first person to discover my singing talent. She encouraged me to take singing lessons, but I rejected it. Later on, on her 30th birthday, she bought a karaoke machine, just to get me to sing. I found it fun, and I started singing.
*Would you name any artist as your Idol?
My Idol is Whitney Houston. I've grown up with her music and the way she sings has inspired me a lot.
*Is there a current artist that you can compare yourself to?
There's actually no artist I can compare myself to, but some of my friends tell me that I sound like Beyonce sometimes. I see that as a BIG compliment.
*What is your favorite song right at this moment?
My favorite song at the moment is "Tightrope" by Janelle Monae ft Big Boi.
*Who would be your dream collaboration?
A collaboration with Jay-Z got to be the dream.


*What is the best advice someone has ever given to you?
It must be all the advice I've received from the Norwegian artist Hanne Krogh. I was part of the Norwegian TV program on TV 2 called "The Great Cross of the Team" (the battle of the choirs). She was the leader of the choir, and I learend much from her. It is one thing that I still keep in my mind while I enter the stage. She told me to remember the woman on the last row, which is on the way home, but I have to make her stay until I finish my song.
*What career would you have pursued if not music?
Then I would have followed my mother's footsteps, becoming a hairdresser.

*Can you tell us something interesting about you?
That I got into Berklee College of Music.
*Why Berklee? How did that happen?
There was one producer here in Haugesund, who told me he went to Berklee. He inspired me to apply! I went to an audition in Sweden, where I sang a song called "Can't give up now" by Mary Mary. I was improvising a Blues, and in the end I was having an ear training test!! And 2 months later, I was accepted!

*What are you planning on studying and for how long?
I am going to study performance! I will be studying 4 years, then I will get a bachelor of music degree.
I saw it as a big opportunity to make my dream come true in the first place, and also to show my voice and get professional feedback.
*What were you doing before you auditioned?
I was warming up my voice and singing the song in front of my friends.
*What is it like to perform on the Idol stage?
It is quite unnerving. I was comfortable in the beginning, but I guess it was because of all the positive feedback I received earlier. After my performance during the first final round, I got a lot of negative feedback, that made me very nervous during the next broadcast. But other than that, it's an incredible feeling to stand on the stage and sing in fornt of the entire country. It made me so happy.
*Looking back at your performances, would you have done something different?
I was pleased with all performances, except my second final when I was singing "Stop" by Sam Brown. During rehearsals, I had peace with me, and I was not quite as intense as I was during the broadcast. If you listen to the audio file I have posted on YouTube, you'll hear a completely different version of the song. That's how I would implement it, but I had some nerves.
*What did you think of the Judges critiquing each week?
I was not particularly happy with the criticism I received. During the first final round, the judges said that I had chosen the wrong song, and it didn't made me wiser about what I should work on. The second final round I was told to be more humble. I do not know if it went to my personality, or whether they believed in the song. But the song "Stop" is all about the man you love, who suddenly stands across the street from you, in another woman's hands. This would not have gotten me to think of emotions like humility. The only thing that would have gone around in my head is feelings of frustration, jealousy and hatred. I decided to take the place of those feelings. I sang from the heart, and conveyed the message as I would have experienced it, if I had been the victim in this situation. During third and last final round, I got lots of positive feedback. I choosed to listen to the judges, and I took a song where I was able to show a lot of humility. But it struck me out of the competition.
*It seemed the judges were much more critical to you than to others, do you think that played against you?
I did not feel depressed by the feedback, but the feedback didn't made me any wiser about the things I should work on. They said that the reason they are so strict with me, is because I'm such a good singer. I still don't understand this. I've also noticed that the judges have stood up for all the eliminated contestants during the broadcasts, except for me. This gives me a feeling that they disliked me from day one.

*Do you feel that the Judges sabotaged your chances?
No I don't!! I believe in myself as an artist, the judges only made me stronger! They made me wanna work harder!!
*Was choosing a song each week tough for you?
No actually not, I'm used to the pressure.

*Was there a song you considered performing on the show but decided against?
Yess, i was going to sing "Feeling good " by Nina simone, but there was a boy in the last semi final who sang it, so it was not possible for me to sing it !


*Was it hard to remain true to yourself as an artist during the show?
No, because all participants had their own character, and it made it easier to stand out.
*Do you have a favorite and least favorite performance you did on Idol?
My favourite was at the semifinal, when I was singing "Hurt" by Christina Aguleria. The least favorite was "Stop" by Sam Brown.
*The night of your elimination, you souned by far the best you had had the entire season, what do you think happened? Where you expecting it?
I was very pleased with my performance, and that meant everything to me. I rather leave the competition on a good day than on a bad day. I have to admit that I didn't expect to leave the competition on that day.
*What made you pick "Songbird" that week?
Because songbird is my moms favorite song.
*How would you describe the overall experience?
It's such a nice experience! I caught a glimpse of how the industry works. I aslo met a lot of nice people. I really hade the time of my life, I will always remember it.
*What's your fave moment of the season?
My fave moment of the season was being picked as one of the 10 finalists.
*To finish with Idol questions, who do you think will take the title?
I think Isak will take the title.
*How can we expect an album from yours to be like?
I am not sure yet. But I guess it will contain a lot of Marlen fever. Like a lot of soul and powerful songs.
*Will we be getting one anytime soon?
Not an album, but maybe a single. I am working with different studios at the moment, so we'll see what's going to happen.
*Has Idol opened any doors for you?
Yes. I have achieved a lot of gigs; I've been doing interviews in both radio and TV. Plus I got some really good contacts.
*What are your plans from now on?
I am actually moving to Boston in January! I got accepted to Berklee College of Music!! So I guess I find my way from there.

*Are you planning on trying to succeed in the American market or you'll try to make it in Norway?
Yess, I am. I hope Berklee will help me.

*Will you release your music on Norway while still on Berklee? Or you'll wait to finish it?
I don't know yet, I'll see what's going to happen! I made my own website, so I'm going to update all of my fans while I'm in the US, and I will upload everything I record on the school to YouTube !!