I'm currently looking for some new writers in order to expand the blog given that I can't post the amount of things I'd like to. So if you are interested in writing about anything related to music (news, TV shows, album reviews, introducing artists) just drop me an
email to musicisthedoor@gmail.com
and we can discuss some of your ideas.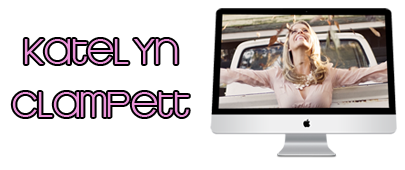 UPDATE: The EP made it to #27 on the iTunes Singer/Songwritter charts!
I first interviewed Katelyn almost a year ago (
HERE
) and now I'm interviewing her again! In our first one she told me that she would eventually release an EP. And here it is! This amazing singer has just released her newest and first EP, titled "Strictly Business", today, April 1! Considering how talented she is, there's no surprise in the EP being so great! It features five pop/rock songs full with attitude and the unique charm only Katelyn can bring us! There are some to-be-hits in it, such as the title song "Strictly Business" and "He's No You" but the others aren't bad at all! All the songs are great and her voice stands out in each of them. Katelyn delivers amazingly well written lyrics like a pro and catchy sassy fun songs. The question isn't if she'll be signed, the question is when.
Buy "Strictly Business" and read the new interview after the JUMP ...
Buy "Strictly Business" HERE.
ME
: Hi! How are you?
Katelyn: Hey! I'm great how are you?
ME: Amazing! I've been hearing to your new EP! It's great!
Katelyn: Oh thank you!
ME: Ok, 1st is pretty general, What's the concept behind your new EP?
Katelyn: Love and the lack of it (Laughs). It's a collection of songs I've written over the past couple years. It's clear in this EP that I have a broad range of musical interests, but it still has my stamp on it.
ME: It definitely has, but I noticed that your going for a more rock vibe now, would you agree on that?
Katelyn: This EP definitely has more rock undertones. Good to work out to.And good to drive to. Although you might get caught speeding. (Laughs)
ME: (Laughs) Probably the song with the most attitude is Strictly Bussines, what's the meaning behind it?
Katelyn: Basically the story-line is a girl who gets a new job. She starts to have a fling with her boss, but he refuses to consider it anything more than "Strictly Business," even though it's clear that they're more than friends. I was driving back to my home in Los Angeles after rehearsal and this concept just popped into my head. I get a lot of my lyrical ideas when driving. (Laughs)
ME: (Laughs) You should drive more then! Are you planning to record a music video for any of the songs? Strictly Bussines maybe?
Katelyn: It's definitely in the works. Either that song or for "He's No You."
ME: Oh, two different vibes. So you either chose the strong rock song or the most soft one, do you think that that decision should show what type of artist you want to be?
Katelyn: Definitely, but I think that the 2 songs compliment each other. I think that being an artist and a songwriter has alot to do with being able to showcase different emotional sides and concepts.
ME: Totally and "He's Not You" is really emotional, which would work great for a video, does it reflect any past experiences of yours?
Katelyn: I wrote "He's No You" this past summer. It's weird, I was about to go to a concert and the song just popped out of me in about 15 minutes. It was a really exaggerated version of what I was going through at the time.
ME: (Laughs) That's how talented songwriters work. So you write all your songs by yourself? Have you ever collaborated with someone?
Katelyn: I wrote all of these particular songs myself, but I co-write with different people every week.
ME: But do you consider that the most personal songs should be written all by yourself?
Katelyn: Not necessarily. Once you start making a living off of writing songs for yourself or other artists, they become less and less precious to you. So personal songs or non-personal songs both could always use an extra hand.
ME: Yeah, that's true. back to the EP now, it will have 5 songs, is there any particular reason for you picking those songs and only 5?
Katelyn: Well 5 is my lucky number. It's also the number of songs that are usually on an EP. These songs are just a glimpse of what's to come. It's a big part of my life these past couple years.
ME: :D So you are saying that there's an album coming?
Katelyn: There are a lot of things coming!
ME: Exciting! I've read that you have been signed to Winogradsky/Sobel, what's that about?
Katelyn: That's a licensing deal. They take some of my songs and put them in tv shows and film.
ME: Great! What will you feel if that happens?
Katelyn: I'll feel relief haha. These songs would be great in tv and film, so we're going to cross our fingers and see what happens!
ME: I agree! Fingers crossed too! I may be wrong here but i remember i read that you have your own label, is this true?
Katelyn: Nope. I'm independent!
ME: So I'm totally wrong. lol
Katelyn: It's tough. I've been approached by major labels, but I'm not sure that's what I want right now, especially considering that major labels aren't doing so well right now.
ME: Yeah, it's tought but you would be great for a record label. As Kara said, you are the whole package :D
Katelyn: Thank you! I'm not saying that I won't sign a major deal, I just have to make sure it's the right one. Most labels are wanting to take all the rights away from the artists right now, so I have to make sure the ball is in my court.
ME: Of course, that's the most important thing. What's great is that you've been approached! Where those not the right deals?
Katelyn: As of yet, no. I've had to turn some big opportunities down, but I've got some promising things on the table right now that I'm really excited about.
ME: Great to hear that! How did the recording process happen? Where the songs recorded at the same time?
Katelyn: "Strictly Business", "He's no you" and "Gimme a beat" were recorded around thanksgiving/christmas of 2010. "All over again" and "Just don't know it yet" were done in 2009. So they're old, they're the grandma and grandpa of the EP. (Laughs)
ME: (Laughs) They are great still. Do you have a favourite song from the EP?
Katelyn: "He's No You", hands down.
ME: Yeah, I love it too! haha
Katelyn: It's the only ballad on the album, but it was very refreshing to write and I'm pretty proud of how it turned out.
ME: What would you say to someone who's buying the EP?
Katelyn: I would say "Buy this!" haha just kidding. I would say that I really appreciate your support in buying it! You won't be disappointed. It will take you on a journey and you'll have these songs in your head for a few days. Hope that's ok.
ME: They certainly are on my head now!
Kateyn: Mission accomplished! (Laughs)
ME: So what can we expect from you in the coming monts/years?
Katelyn: You can expect for me to be involved in 2 worlds: Pop/Secular music, and Contemporary Christian music. There's a lot going on, but my main goal is to be writing like a maniac and getting paid for it!
ME: With getting piad you mean writing songs for someone else or selling records?
Katelyn: Both! I want to be an artist as well as writing for mainstream artists
ME: That's a great plan. Jessie J started like that and now shes a hit, do you know her?
Katelyn: Yup! Love her.
ME: So the best of lucks on that and thanks a lot for this!
Katelyn: No problem, thank you!
ME: I would spend all day chatting but you may have things to do, hope we can repeat this later in the year!
Katelyn: Of course! Have a great day!