I'm currently looking for some new writers in order to expand the blog given that I can't post the amount of things I'd like to. So if you are interested in writing about anything related to music (news, TV shows, album reviews, introducing artists) just drop me an
email to musicisthedoor@gmail.com
and we can discuss some of your ideas.

15 November, 2012 5:59 PM

I'm looking for a Swedish translator, if anyone is interested, please email me.
Two contestants were eliminated during last week's result show, struggling girl band Hey Mary and teen heartthrob and, to me, one of the front runners of the competition, Oscar Zia. The theme this week is Swedish songs so the contestants will be taking on Sweden's best. (Btw, sorry about the low quality pics, the site I use to fetch them didn't post them this week) Who'll miss on the Top 6? ...
It's time to face the music!
Recap and videos after the JUMP ...
J.E.M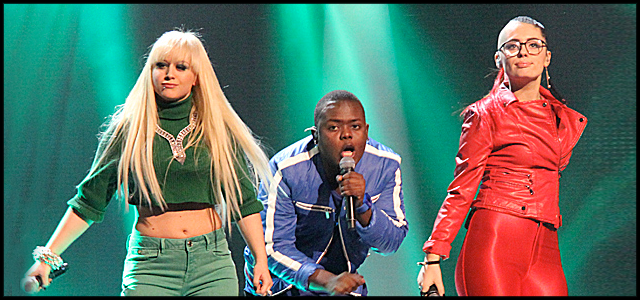 Me and my drum (Swingfly) - 7,5/10
- Swingfly is in the audience. He says JEM is gonna kill it. This has been one of their best performances in a while. While the outfits looked heinous, the song was perfect for them to showcase not only their rapping but also Elli's gorgeous voice. I remember this being one of my favourite songs when it competed on 2011's Melodifestivalen, so it was a pleasant surprise to see them cover it. That was really fun but most importantly, highly entertaining. Plus it was nice to see them not perform last for a change but will this affect the number of votes they get?-
VIDEO
Awa Santesson-Sey
Måndagsbarn (Veronica Maggio) - 7/10
- Though I love Veronica, I do think there are better songs for Awa to sing, say "Jag Kommer", which has a much catchier sound. Awa was surprisingly good tonight despite that. Her voice sounded perfectly and she moved around the stage with more confidence than she's ever had. I'm starting to warm up to Awa a little, she's not as disastrous as I initially think she was and Andreas isn't completely ruining her. This was a great move indeed, if Andreas can find suitable songs like this one for her, she could make it to the finals. She just needs to keep it interesting and I think this one was. -
VIDEO
Benny Hult
Longing for Lullabies (Kleerup feat. Titiyo) - 5/10
- Orup had finally found what route to take Benny last week but apparently, he lost his map this one. He gave him a boring sleepy song that felt like it went forever. The dancers behind him were much more entertaining than Benny was. Vocally, it was very good but this was completely forgettable. In fact, I've already forgotten what I saw. -
VIDEO
Malcolm Brandin
Tar det tillbaka (Petter) - 7,5/10
- Petter is in the audience as well. This is a first! For the first time, Malcom hasn't performed an original song. I guess it would've been weird for him to sing an original when they were supposed to sing Swedish songs but he's Swedish so ... He's rapping behind a podium, like if he was some kind of politician. I still think his "Malcolm B-thoven's femma" was his best so I'm grading this performance lower than that one. He's a great performer though and he really commands the stage but can that be enough to take the top prize? After all, rap is a tough genre to sell. -
VIDEO
Alexander Holmgren
Happyland (Amanda Jensen) - 8/10
- There seems to be a trend with Orup. He'll pick a great song and a shockingly bad song. This was the great song. Who would have thought Amanda Jensen and Alexander had made such a fantastic combination. I could've done without the cabaret dancers but everything else about the performance was really good. His raspy tone was in full display and this song allowed him to show it, unlike some other picks Orup has given him. He seems to be in the right track now but can he maintain it? -
VIDEO
Manda Nilsénius
Listen to your heart (Roxette) - 9,5/10
- I adore this song, perfect pick for Manda. This will give her the chance to show her emotional side, something she did to perfection tonight. She was extremely vulnerable during this performance and the intimate arrangement helped her create a moment. The only thing I didn't like much was when the performance shifted from the beautiful stripped down cover to the regular tempo of the song. Her voice was heavenly though, specially when she did that gorgeous thing with the "Listen to your heart" line. One of my favourite performances of the season. -
VIDEO
Isak Danielsson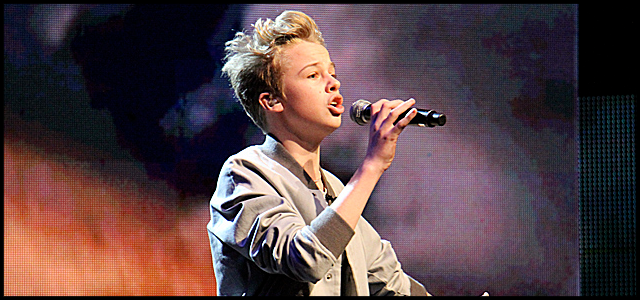 Silhouettes (Avicii) - 9/10
- While this song is more suitable for the dance floor than for a singing competition, Isak managed to pull this off like a pro, even sounding a lot better than the original. To me, this performance was about showing Isak can be as contemporary as all the other acts, something he's actually been doing from the start, but with this Aviccii track it all was more evident. Fantastic vocals, he reminds me a lot to Adele and I know I've said this but his soulful voice is so phenomenal that I feel I should keep making that comparison. God, I can't stop replaying this cover. He better win this. -
VIDEO
Ranking
Manda Nilsénius
Isak Danielsson
Alexander Holmgren
J.E.M.
Malcolm Brandin
Awa Santesson-Sey
Benny Hult

J.E.M.
Manda Nilsénius
I'm really surprised to see Manda here. She's been struggling forever but I thought she was amazing last week, in fact the best of the night. JEM was also really good last night but performing first may have hurt them. To me, Benny and Awa should've gone a while ago so it's a shame to see better acts leave before them.
J.E.M.
- "Nothing on You" (Bruno Mars feat B.o.B) - So it only took a B2 appearance for them to actually pick a good song. I've been saying they should do this forever, pick a song for Elli to shine, with background rapping. They did exactly that and they were really great. If they survive, they should do something like this next week. I wouldn't mind if they stay though I prefer Manda to them. -
VIDEO
Manda Nilsénius
- "Oops.. I did it again" (Britney Spears) - Oh no. She didn't even sang the stripped down version. Her vocals were flat and her performance uninteresting. She's a great vocalist so she should have picked a song to show that. She didn't unfortunately and she might have sealed her fate with this. -
VIDEO
Elimination (via deadlock):
I'm pissed. Manda was the best last night and didn't deserve to be eliminated after that. I still don't see how she got the less amount of votes after that performance. Something clearly went wrong with her and I'm not sure what cause she did everything right. Let's hope we see her again in the future.
This entry was posted on 5:59 PM, and is filed under
Alexander Holmgren, Awa S-S, Benny Hult, Isak Danielsson, J.E.M, Malcolm Brandin, Manda, TV, X Factor Sweden, XF Series
. Follow any responses to this post through
RSS
. You can
leave a response
, or trackback from your own site.