I'm currently looking for some new writers in order to expand the blog given that I can't post the amount of things I'd like to. So if you are interested in writing about anything related to music (news, TV shows, album reviews, introducing artists) just drop me an
email to musicisthedoor@gmail.com
and we can discuss some of your ideas.

25 November, 2012 2:14 AM

Both Xtina and Blake lose a team member last week when Adriana Louise and Michaela Paige were eliminated after receiving the least amount of votes. Tonight, the top 10 artists take the stage once more in order to win you over. This week, the judges have also brought music experts to help them over. Xtina is joined by record executive Ron Fair, who signed her to her first record contract. Country producer Scott Hendricks will be coaching Blake's team and Idol alumni/Grammy winner/Smash S2 star Jennifer Hudson will help Cee Lo. No one helps Adam, he doesn't need it apparently. The stakes are higher than ever cause this week, either Blake or Xtina could be left without a team. But will that actually happen? ... This is The Voice!
Recap after the JUMP ...
Sylvia Yacoub
"Girl on Fire" - Team Christina - 5,5/10
- She says she never thought she'll be here. Getting to work with Ron was awesome for her. Xtina says she sees a lot of an early her on Sylvia as far as who she is vocally and all the passion she puts into what she does. Ron thinks Sylvia's a god given instrument but she needs to have the confidence to let go. "At this point I'm at a crossroads, I worked really hard to try to get to law school but I don't feel it like I feel music" she says. She's playing the piano again, which makes this performance sound and look very similar to "The One That Got Away". I heard some pitch issues but overall, it was pretty good vocally. I think she should have stayed on the piano, which sounded indeed really beautiful, cause when she started moving, the quality started going downhill and that's when I spotted the pitch issues. Good performance but unfortunately, her days are counted since I don't think she's got the strongest fanbase and she performed first.
Terry McDermott
"Summer of '69" - Team Blake - 6/10
- Terry feels this is a one time life experience. Terry feels great about his 80s song. At least someone is happy. It seems he's only taking on the 70s/80s since he's auditioned and that makes him look like a one trick pony. Scott feels Terry will bring the house down, "there's no one else in the show like him" he says. He's got lots of stage presence, a great voice and a terrific range, I'll give him that but constantly delivering the same type of performances isn't a good thing in the long haul. I don't think he'll get past Top 8 if he continues to go down this path.
Melanie Martinez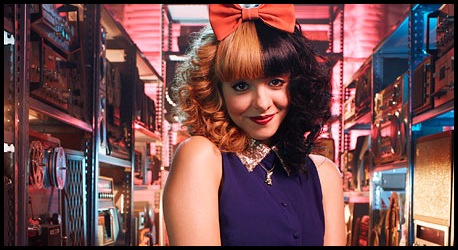 "Seven Nation Army" - Team Adam - 9/10
- She was shocked to see America voted for her. "Being in the Top 10 feels crazy" she says. Adam gave her a rather unusual pick. Adam loves that she's always doing the unexpected thing. The first time Melanie sang in front of people was a year and a half ago when her friends convinced her to do the school's talent show. She says it was scary but once she started singing she felt that was she was supposed to be doing. Adam wants Melanie's performance to explode since she is more of a softer singer. She's playing guitar this week and she actually looks a lot more comfortable with it. Surprisingly, this song works amazingly with her breathy voice. Her tone sounded spectacular on it. As it happens with Terry, Melanie's performance tend to sound a little too similar but if she keeps doing the unexpected as she did tonight, she won't be boring anyone. I also missed that exploding moment Adam wanted her to find, that's something she needs to work on as well but she was trying to find it at least. Her best performance since "Toxic" though, welcome back girl!
Cody Belew
"Crazy In Love" - Team Cee Lo - 4/10
- Jennifer is a fan of The Voice. She thinks this is the best way to prepare for the industry. Cody says she'll perform this Beyonce song with a little Cody twist. Jennifer thought that Cody's personality was more memorable than his voice. Oh really? His vocals were very uneven, mostly weak and that dancing at the end was completely unnecessary. At this point, he's only here because of his personality and I'm not sure it can take him any further cause once he starts singing this diva ballads, he loses any spark he had. He's somewhat entertaining but I prefer him a lot more when he takes on a country song, he's also starting to look like a joke contestant more and more as the weeks go by, the outfit didn't help with that either.
Bryan Keith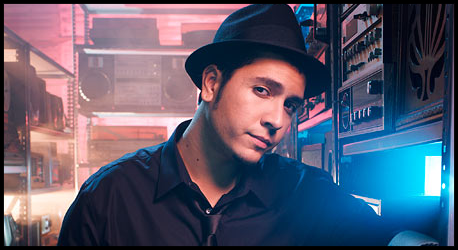 "New York State of Mind" - Team Adam - 8,5/10
- It makes him very proud to sing this song. His family didn't suffer too much from Hurricane Sandy. He used to listen to this song with his dad and brother, "it's just in us" he says, "I love NY so much and this really gives me the chance to show the people how proud I'm of my city". This is a great song for him since it gives him the chance to show his jazzy voice. He sounded wonderful on this performance and while he still lacks personality, he sang this song in such a natural effortless way that I didn't mind it this week. He sounded so gorgeous and despite the arrangement wasn't the most original, he captured the song's feeling.
Amanda Brown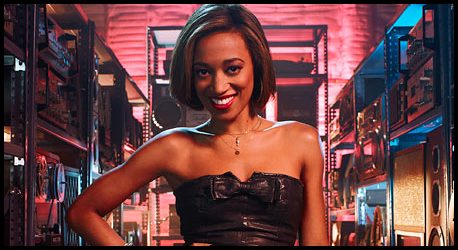 "Stars" - Team Adam - 9/10
- She feels the pressure going into this performance since last week wasn't the best from her. She's singing Grace Potter again this week (She sang "Paris (Ooh La La)" back during the Knockout rounds") Adam believes this is song is so powerful that it can catapult Amanda into the stratosphere. When Amanda left college to purse music, she scared some of her family members. She feels the responsibility to give a great performance to make her family proud. Very different performance from her, really intimate though her vocals were still quite powerful. Flawless delivery and truly heartfelt, she was struggling to keep the tears in and that made it a lot more beautiful. Loved the song choice as well, extremely fitting and since this is a quite unknown song, there's no much place for comparisons. I personally, liked this performance even more than her jaw-dropping rendition of "Dream On", I felt she was a lot more sincere with this one.
Nicholas David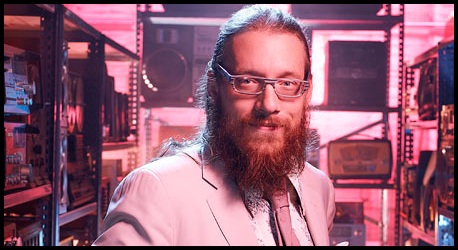 "Lean on Me" - Team Cee Lo - 6,5/10 - Nicholas feels Jennifer is a wonderful example of what can happen when you stay true to your dream. Cee Lo thinks this song will showcase a totally different side from him as an artist. When he was younger, he took piano lessons all the time and that was the beginning of his dream. Jennifer loves Nicholas, she feels he sings from the soul. He's playing piano this week, with a gospel choir behind him. His hair looks different, cleaner, I guess he took his monthly shower. Haha. Good song choice but I wasn't very excited with this performance. It felt a little flat, there wasn't a big moment there. He's really original but something was missing for me there.


Trevin Hunte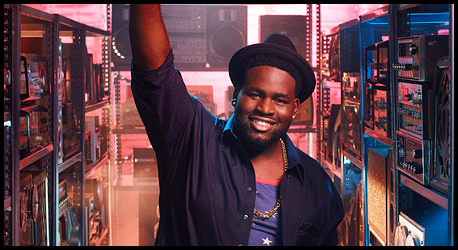 "Scream" - Team Cee Lo - 4,5/10
- Trevin wants to show America a new side of him. Trevin wants to do "Scream" by Usher this week, he wants to show he has a funnier side to him, he thinks America has forgot he's only 18. Cee Lo thinks this is a big risk. Trevin wants to take the risk just like his grandfather took a risk by bringing his entire family from Ghana. For XF AU watchers, winner Samantha Jade completely killed this song twice on the show so everything Trevin did here fell short from what she did. While watching this I kept thinking about Sammi and how inferior Trevin's performance was compared to hers. I appreciate he took a risk but this wasn't the right song for him and he sounded awful on it. He attacked this song the same way he would have taken on a ballad and that clearly didn't work. Back to the ballads next week I guess.
Cassadee Pope
"Over You" - Team Blake - 10/10
- Cassadee thanks Blake for letting her do this song. She says it means a lot to her, even more after founding out the story. Blake wrote this song with his wife Miranda after losing his brother. He wants America to see Cassadee's softer side. She lost her great grandfather with whom she was really close to when she was 9 years old. She says losing him was hard cause her time with him was cut away too short. She wants to do this song justice cause it means a lot to Blake. And boy she did! This was by far her best performance to date. Who would've thought Cassadee could sound so amazing on a country song? Her delivery was passionate and touching and despite singing this song with conviction, she still looked incredibly vulnerable, plus her tone sounded more beautiful on this performance than it usually does. I don't really know what else to say, I feel like I love her a lot more than I did after this.
Dez Duron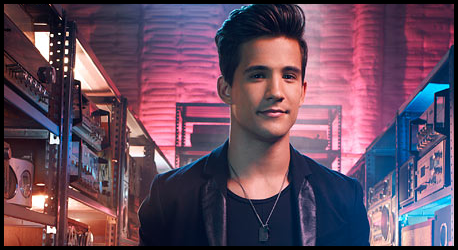 "Feeling Good" - Team Christina - 6/10
- Christina gave him this song cause she wants him to dig a little deeper. Ron wants Dez's performance to touch the audience heart. Dez's father wrote a Grammy winning song. He's his hero. He says this was the song that started it all. Cute vocals, a lot better than last week's but he didn't look too at ease on this song. I think I would like him more if he wasn't this cheesy but since he is, I couldn't enjoy this performance. By the way, I also hate Michael Buble's version of this song (and any other song he sings), so it's no surprise I didn't like this.

Ranking
Cassadee Pope
Amanda Brown
Melanie Martinez
Bryan Keith
Nicholas David
Terry McDermott
Dez Duron
Sylvia Yacoub
Trevin Hunte
Cody Belew
You get two votes this week!
Results
A little detail I failed to comment on previous weeks, when a contenestant's performance charts within the Top 10 of the iTunes "Top 200 Single Chart" during the 24 hour voting window, it will be given an iTunes bonus that multiplies iTunes votes made in the 24 hour voting window by ten. The finale's vote count will also include a 'Cumulative iTunes Vote Total' of all singles (from Top 12 onwards) purchased during and outside of the various voting windows, with iTunes bonus previously earned. Good call, that should give some contestants and advantage, remember Lindsey Pavao constantly charted on the Top 10 last season, yet was eliminated during the semi-final against the boring Chris Mann, this may have gave her the points needed to move on.
Nicholas David
Cody Belew
Melanie Martinez
Terry McDermott
Trevin Hunte
Amanda Brown
Bryan Keith
Sylvia Yacoub
I felt a little sorry for Sylvia. When she standing next to Amanda and Bryan she should have known she was toast, yet Carson called her name when he was about to reveal the results but only to ask her a question, which made her think she was the one saved. That wasn't the case though and she was sent home. Bryan's elimination was kinda of a shocker. He gave a terrific performance but unfortunately, it might have been a little forgettable. He didn't deserve to go this week though, Cody did. Right now, I'd say we'll lose Cody and either Terry/Nicholas next week but everything can change within the next performance.
This entry was posted on 2:14 AM, and is filed under
Amanda Brown, Bryan Keith, Cassadee Pope, Cody Belew, Dez Duron, Melanie Martinez, Nicholas David, Sylvia Yacoub, Terry McDermott, The Voice US, Trevin Hunte, TV, TVO Series
. Follow any responses to this post through
RSS
. You can
leave a response
, or trackback from your own site.