I'm currently looking for some new writers in order to expand the blog given that I can't post the amount of things I'd like to. So if you are interested in writing about anything related to music (news, TV shows, album reviews, introducing artists) just drop me an
email to musicisthedoor@gmail.com
and we can discuss some of your ideas.

17 November, 2012 1:07 AM

And we are down to 12! The remaining contestants will be singing for your votes and just for your votes since there're no more saves. Two will be going home every week but there's a twist, no coach is guaranteed a place in the finale, the B2, regardless their team, will be going home. The stakes are higher than ever. Can they handle the pressure?... This is The Voice!
Recap after the JUMP ...
Michaela Paige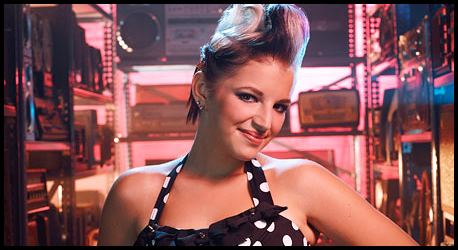 "Blow Me (One Last Kiss)"- Team Blake - 4/10
- Michaela was saved last week. She says Blake saving her was that kick in the butt she needed. Now she does not only have to prove to America but also to Blake that he made the right decision. She says she wants to be a pop rock with a little bit of punk artist. Blake thinks this song is exactly what she needs to do as an artist. No mohawk this week? Not sure changing your brand style is what she needed to do this week. She's been compared a lot to Pink, so singer one of her songs wasn't clever either, and less clever if it's this one. It was funny to see her sing the chorus, since she had to replace almost every word with a "shh. Good vocals but she would've been better with a different song and since she was saved last week, delivered an ok performance and sang first, we can say she's the first goner of the night.
Dez Duron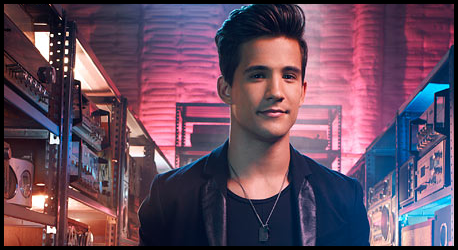 "Can't Take My Eyes Off You" - Team Christina - 5/10
- He never expected to make it this far after not turning any chair last year. He sees himself as a soulful pop artist, doing songs that are meaningful and passionate. Both his parents are pastors. He used to sing in the church. He reminds me to a cruise singer, I think being cheesy is a requirement to work on them, so Dez is perfect for the job. He's got a great soulful tone but unless he starts picking more current edgier songs, he's not getting anywhere. Looks can only take you so far.
Adriana Louise
"Good Girl" - Team Christina - 5,5/10
- Christina saved Adriana cause she felt she didn't have the chance to show what she has. She says she's a pop artist. Certain people of her family have told her she should quit trying, now what makes her continue is knowing she'll make her mother proud. Xtina thinks this is the perfect song for her, she wants Adriana to be a sassy character. I still can't forgive Xtina for giving Adriana De'Borah's spot but I guess I can't blame Adriana for that. She's a good vocalist but she's just too much for me, there aren't as many dynamics as there should. I think I've said this last week but she hasn't changed a thing. With that said, I thought this performance was a lot better than last week's even if she was pitchier on this one. I was expecting a trainwreck but the song worked surprisingly well with her. Was this enough to get America to vote for her? Maybe.
Cody Belew
"The Best" - Team Cee Lo - 4,5/10
- Cee Lo saved Cody last week. He says he wants to be "larger than life" and remembered for "epic performances". Cee Lo thinks this song needs a lot of attitude but believes he can pull it off. Growing up he stuttered. He was very reclusive and depressed. He was in speech therapy. He says the one thing that helped him was singing. "I used to say, God didn't give you the gift of speech but he gave you the gift of song, I'd rather had the latter". He's a bit of a drama queen, ok, he's a total drama queen. He was certainly channeling his inner black lady tonight but the amount of cheese he brought to the stage was just excessive. He needs to know when to do her "bam bam" moves because this wasn't a performance to do it. Also, Cee Lo needs to give him better song, two weeks in a row, he's sang this overdone diva songs and it's tiring.
Amanda Brown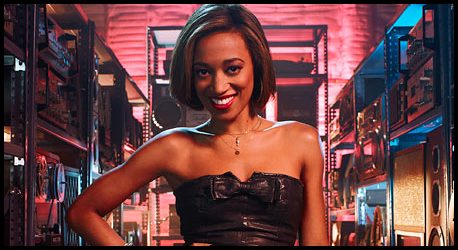 "Spectrum" - Team Adam - 7/10
- She views her self as an alternative artist but doesn't want to put limitations to herself cause she may miss something really great. Adam calls this song choice ambitious. And damn it was. In an attempt to do so much vocally, some notes sounded flat and a bit off when she hit the chorus. She's a terrific performer and looked stunning up there but this is a risky song to sing live and unfortunately, she wasn't the star she was last week. It was a decent performance in the end but by any means as amazing as she was the previous week.
Bryan Keith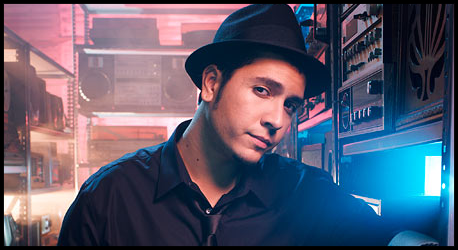 "Back to Black" - Team Adam - 8/10
- He says his goal as an artist is to bring back an older feel to rock music. He says it's weird singing this song because he comes from a totally different background. He used to sing in a metal band. Sorry but I don't see how that's even possible. Haha. Fantastic vocals. He looks dead in the eyes but his smooth slightly jazzy tone was more than enough for me. While it was a gorgeous vocals, there was no connection with the painful lyrics of the song as he hinted earlier, he should have at least tried to. Not that it really matters cause he'll get a lot of votes for those vocals.
Cassadee Pope
"Behind These Hazel Eyes" - Team Blake - 7/10
- It was a big relief for her that America voted her through. She wants to be a pop rock artist with an edge. She says this song is originally about a relationship gone sour but it actually reminds her to her relationship with her dad. Her parents divorced when she was 11. She says she hoped for her father to reach out to her since The Voice started airing and nothing. Blake says she naturally goes sharp when she sings. I think he's right, Cassadee is a sharp singer but that's just the way she sings. I loved this Kelly song back when it was released but I don't think it was the right song for her. The guitar looked useless, she didn't gave it as much use as she could but I guess it looked nice on her. Obviously, she didn't sing this song as Kelly does but that was never the intention, since she clearly doesn't have such a powerful voice. I really enjoy her tone but I didn't like the way she sounded on the bigger notes. At less she showed an emotional connection, unlike Bryan. She'll be safe this week but Blake needs to pick better, more interesting songs for her.
Trevin Hunte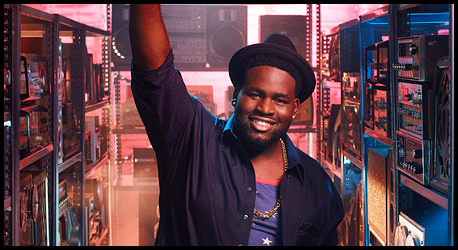 "When a Man Loves a Woman" - Team Cee Lo - 7,5/10
- He wants to be someone who sings RnB but could also sing anything else. He says Trevin's job is to own the emotions of the song. His mom moved from a very poor country to Queens. Hurricane Sandy really messed up everything in her house. "She has to start over again", he says. Once more, Cee Lo has picked an old fashioned overplayed song for him. He really needs to give him a current song if he wants Trevin to have a shot at the title. His a phenomenal singer, he really reminds me to AI's Joshua Ledet when he gets to those big notes though I think the Idol alumn had more grit to his voice. Huge notes all over the performance, impressive but interesting? Not really, I've seen that a million times.
Melanie Martinez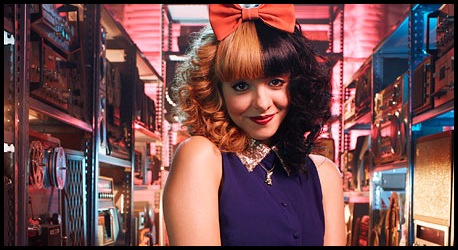 "Cough Syrup" - Team Adam - 8,5/10 - Adam had to save the once frontrunner. She sees herself as an indie/folk singer/songwriter. She wants her music to touch people's hearts. Her song is about being outcast in society. She says she's always felt like that. Melanie was inspired by Cruella de Vil (I totally thought about her the first time seeing her) to dye her hair this way. Her mom freaked out but it has now became her signature. Wonderful song for her, it's evident she picked it herself again. I love the fact she knows who she wants to be as an artist and though last week was a misstep, this was executed perfectly. Her voice was lovely tonight, yeah, it could've been a lot better but her quirky tone seemed more present than in her past performance. She was really emotional at the end, that's showing connection Bryan ...


Nicholas David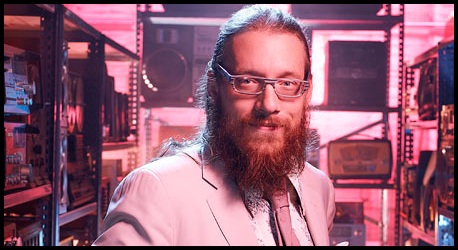 "The Power of Love" - Team Cee Lo - 8/10 - He'd like to be a soul singer with the ability to play any genre. He always looked up to his grandfather, he loved music but had to shelve that dream because he had to provide for his family. This is an odd song choice, probably a bit too unknown for the public. There's something rather charming about him, I don't know if that's either because he looks like a grandad, maybe his own, or because of his awkward goofy dance moves. I enjoy how original he sounds, and looks, while he sings though some of his faces tend to look weird. I'm not sure if the public will vote for him, but right now, I'm enjoying what he does.


Sylvia Yacoub
"My Heart Will Go On" - Team Christina - 6,5/10
- She aspires to be a pop singer. In high school she had a nodule on her vocal chords and there was a strong chance that she'd lose her voice and never be able to sing again. She says that was one of the most scary things and that's why she doesn't take this for granted. After last week's incredible cover, Sylvia sings this old fashioned boring song? Why did she make such a stupid decision? Yes, there were some bright moments here and there but this wasn't current and really had no business with the original Celine hit. She's a lot more interesting than Adriana though so I think she's got the edge over the latter. If she's to survive this week, she needs to get pack to what she did week one asap.
Terry McDermott
"More Than a Feeling" - Team Blake - 6/10
- He wants to be a rocker. Duh. When he was 14 he told his parents he wanted to be a rockstar. He says they've been extremely supportive ever since. Terry tells us he lost his mother to Garret's disease. Yet another old 70s rock track. He's starting to get boring and unless he sings a contemporary song, let's say Muse, he'll be gone soon. He still has some weeks of life though but I wouldn't be so confident if I were him. His range is crazy but it seemed he couldn't hold a single note for very long tonight. Very forgettable, I don't see how this karaoke performance was worthy of the pimp spot.
Ranking
Melanie Martinez
Bryan Keith
Nicholas David
Trevin Hunte
Cassadee Pope
Amanda Brown
Sylvia Yacoub
Terry McDermott
Adriana Louise
Dez Duron
Cody Belew
Michaela Paige
You get two votes this week!
Results
Bryan Keith
Sylvia Yacoub
Nicholas David
Dez Duron
Trevin Hunte
Cassadee Pope
Terry McDermott
Amanda Brown
Cody Belew
Melanie Martinez
Michaela Paige
Adriana Louise
Was anyone not expecting this? After all, neither of them got enough votes to make it this far and had to be saved by their coaches. Michaela was always fodder, like Ashley was last year and Adriana, despite being a strong vocalist was not interesting enough and because of that, didn't attract much fans willing to vote for her. Strong Top 10 overall, now we just need to get rid of Dez and Cody.
This entry was posted on 1:07 AM, and is filed under
Adriana Louise, Amanda Brown, Bryan Keith, Cassadee Pope, Cody Belew, Dez Duron, Melanie Martinez, Michaela Paige, Nicholas David, Sylvia Yacoub, Terry McDermott, The Voice US, Trevin Hunte, TV, TVO Series
. Follow any responses to this post through
RSS
. You can
leave a response
, or trackback from your own site.