I'm currently looking for some new writers in order to expand the blog given that I can't post the amount of things I'd like to. So if you are interested in writing about anything related to music (news, TV shows, album reviews, introducing artists) just drop me an
email to musicisthedoor@gmail.com
and we can discuss some of your ideas.

04 November, 2012 4:12 PM

I've been having a lot of problems with this show since it began. The first season wasn't completely covered since I couldn't do it myself and the guy that was writing it decided not to do it mid season. The same thing happened again this year. That's why I've decided that it'd be better if I did it myself. So from now on, I'll be covering the XF US for you all. I won't be writing the missing posts (Auditions 5 and 6, Bootcamp and JH) because it'd take me too much time I don't have it, but I hope you enjoy the live shows recaps! So 16 contestants have made it to the lives but by the end of the week, only 12 will remain, with the judges picking 8 contestants for a sing off and then sending 4 of them packing. The theme tonight is Made in America but don't expect anything great, I've heard it was a pretty lame night ... It's time to face the music!
Recap and videos after the JUMP ...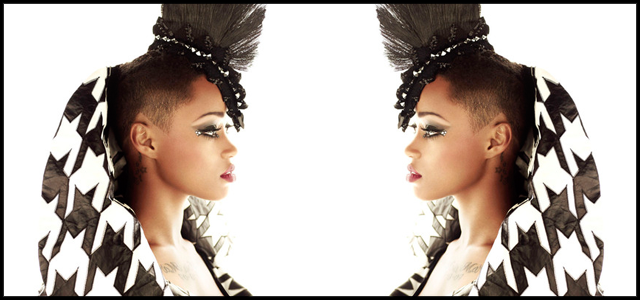 "What Is Love" - 4/10
- Paige still can't believe she's in the Top 16 (we can't either) She's doing this for her baby. Demi wanted to make Paige feel more adventurous so she shaved her head. Paige says she feels unstoppable. Demi says she has the looks but she's not the best vocalist (I think everyone agrees on that). She's got a crazy headpiece, she looks like a porcupine to me. She's getting a little swallowed by the stage but the performance wasn't as atrocious as I expected it to be, good filler. On the other hand, her voice is weak and she has zero charisma, she's the definition of fodder to me. She actually reminded me to S1's Simone Battle, the only difference is that the latter could sing and had sass for days while Paige doesn't.
"You Keep Me Hangin' On" - 4/10
- Britney is Arin's "brentor" according to Khloe. He says being in the Top 16 is awesome, he's ready to give Britney all he's got. She says he's gonna make the girls swoon. He wants to make the judges believe that he's gonna be a superstar. (Good luck with that) What a weird song choice. The arrangement made it sound completely different but I'm not sure it worked. Arin was probably the best singer on InTENsity the past year so it's a shame to see his talent so little showcased here. It seemed to me that there was more focus on interacting with the dancers and playing sexy than on actually delivering a strong vocal performance. The song choice didn't help with that either.
"My Love Is Your Love" - 7,5/10
- LA thinks that David's challenge this week is to make him believe that what he sings is coming from his heart. He also felt that his voice was the one that needed the most attention. This is yet another off song choice. I wonder if they judges are really picking these. If they are, they all suck at this. I really like David's voice, there's a lot of soul in it, definitely the best vocals so far. I wonder how much better he'd have sounded if given a better song cause there's definitely a lot of potential here.
"Hell on Heels" - 8/10
- They live in a "really small town where everybody knows your name". They say it's an awesome feeling being in the Top 16. Simon tells them that they've got to open up to people cause they don't like them very much. They say that because they don't have a sad back story it's more complicated to get across. Simon picked the same song they sang on their audition because
he has no clue of what to do with a country act
we didn't really get to see it. Their are the perfect country trio. Unlike Lakoda Rayne, they really know what they are doing and blend greatly with each other, which was something that the other girlband lacked. Their harmonies were lovely but no matter how good they were, Simon's still going to send them home. They are fodder after all and wouldn't survive the voting either way.
"Home Sweet Home" - 6,5/10
- She says life at home is really quiet and small, "it's nothing compared to this". Demi is concerned if she'll be able to step it up. She thinks that when Jennel is on stage she's a sexy rock star but when she's off stage she becomes a little closed up. Jennel looks a lot like Demi, and now that they cut her hair, the similarities are a lot more noticeable. Awful song choice for her, this song is too big for Jennel and it shows. I just felt she was shouting most of her performance, mainly on the big notes. The start was really pretty though, I wish the rest of her performance had been more like that. Could have been a lot better, song was wrong.
"Hey, Soul Sister" - 5,5/10
- Diamond says Britney is helping her to become an artist, showing her what to do in order to be successful. Is it just me or her speaking voice is completely annoying? She also gives me Rachel Crow shades, talking about her small apartment every single week. Every time I listen to this song I hate it a little more. Again, dreadful pick Britney. What Diamond did with it vocally was good though, yeah, it made no sense but if we didn't listen to the lyrics, she did rather great with it. The final notes were especially cool.
"Gotta Be Somebody" - 5/10
-This opportunity means everything to him. LA says he's had a change of heart about his feelings for his category. (He hated the Overs when he was announced as their mentor) "Right now, my biggest competition is myself", Vino says. What an atrocious song for him. Nickelback? Really? I really liked what I saw from him before but his style is completely different from what we saw tonight. Besides the pitch issues at the beginning, he actually did ok with it but the problem was that it was totally not himself. Simon was right, LA should have gave him a soul song, then he would have shone.
"Boom! Shake the Room"/"Gangnam Style" - 6,5/10
- Lyric says that she's been to more funerals than weddings. "You can be from a place like Flint, Michigan and make it to a place like LA. We are living proof that it can be done". Simon thinks they've got to have an incredible stage presence in order to beat singers with great voices, so he sends them to work with XF UK choreographer Brian Friedman. This guys exude charisma and unlike last year's Astro, they are indeed really likable. Lyric's flow is sick, I'm absolutely in awe with her. She's a star and as such deserves to go far in the competition. However, I'm not confident that will happen after tonight. The song choice was just wrong, Simon needs to let them pick their own material and they'll be a lot better. It was entertaining nonetheless. I'm totally with LA on this one: "It sounded like somebody put you in a washer, dumped in bleach and took all the soul away from you"
"Because the Night" - 6/10
- We see her at her job. She says being here is a dream come true. Demi thought Cece needed a whole new start so people could see her differently so she gave her a whole new look. She also wants Cece to become likable, "if she doesn't become likable, she's not going to have a future as a popstar". There's no denying Cece could be a marketable popstar but this performance didn't prove that. Cece was nervous, pitchy and just trying way too hard. The girl has stage presence and a voice to kill for so why has Demi turned her into a 90s wannabe puzzles me. Oh, and for someone who's working on being likable, crawling on the floor really helped her achieve that?
"Tough" - 6/10
- LA thinks Tate is an American classic and an original. Can someone be those things at the same time? He wants Tate to entertain, he needs emotion from him. I was under the impression he was a country act but I didn't really hear country tonight, at least not until the end. He's soft voice is quite good but I wasn't impressed by his performance, it was a little boring as Demi said. LA should have picked a better song for him, maybe a more recent song.
"I Won't Give Up" - 7/10
- This song is definitely something she wouldn't have chosen for herself. Beatrice is rather nervous about this song. Britney tells her that she needs to get out there and own this song cause a true artist is able to capture any type of song. I don't really know how I feel after her performance. This song is gorgeous and I love Beatrice's tone but the whole performance felt fake to me. She's just a kid after all and she couldn't really pull the emotional connection this song needs, and even if she cried a little, it looked like a kid playing acting. Her vocal delivery was one of the best tonight though and I've gotta give her some points for that.
"Dance Again" - 3/10
- LA calls him "Mr Entertainment". Before he joined the competition he worked in tech support but was fired when he auditioned. LA says they did him the biggest favour. OMG. Jason is totally this year's joke contestant, and probably the type that doesn't realize it, which is sad. The guy is completely over the top and LA picking this song didn't do any favours to him either. His voice was painfully terrible, yeah, even worse than Paige's. For someone dubbed Mr Entertainment that wasn't very entertaining nor funny. Simon hated everything about it. "It was utterly horrendous, it feels like LA woke up one morning and tossed this song at you".
"We Are Never Ever Getting Back Together" - 5/10
- "We have a new name for boring reasons" says Simon. Their new name, 1432, means "I love you too". I wonder why Simon thought this song was right for them. It makes them sound amateurish and it didn't allow their vocals to shine. I liked the start but as soon as they got to the chorus it went all downhill. The staging look dreadful too, horrible production as LA put it. I had high hope for them but if this is Simon's idea of a good performance I'm worried. I still think they could become the American Little Mix but Simon really needs to work on their song choice and change their name asap, cause this one is more lame that the reasons that made them change Lylas in the first place. Btw, did LA called this the best song in the world? And Khloe bullying Demi to tell her who she thought was the best was pretty hilarious too (she said Camila, I concur).
"Here for the Party" - 4,5/10
- He doesn't think he belongs in Louisiana. He says it's hard to go against all this girls. Demi assures him she chose him for a reason, she doesn't want the other girls to intimidate him. Bad song choice, Demi didn't get a single one right tonight (I agree with most of her comments at least) I know Willie is the novelty but is an African American contestant singing country really that special? After all, we already have Darius Rucker. His voice was extremely weak, mainly because the song was totally out of his range. ""I didn't really get that. I don't think you were taking yourself seriously. It really didn't show off your vocal ability, I think the dancers were inappropriate. It felt a bit cheap and silly. I don't think your mentor has done you any justice with that whatsoever", Simon says, he couldn't have said it better.
"Good Feeling"/"Something's Got a Hold on Me" - 7,5/10
- Brit thinks Carly's got an older presence so she wants to feel the kid inside her. She thinks it'll be outrageous to dress Carly in a school uniform, just like she did during her "Baby One More Time" music video. That's a silly idea. Carly doesn't look completely comfortable with the outfit nor the staging. Her voice sounded fantastic but her attitude could've been better and the song choice didn't feel right for her either despite she sounded great on it. Brit should have gave her something more playful and fresher. She was one of the best tonight though.
"One Day" - 8,5/10
- Earlier on the show we saw on of them doing push-ups backstage, two times. Way to prove you are not a d-bag. They say this isn't anything they are used to. "We live life to the fullest, we skate, we surf, but music is by far the most important thing in our lives". Simon calls them three excited dogs. They may be douches but they are one of the best acts this year. I admit I loved their audition and I also loved what they did tonight. Their voices were spot on, their harmonies perfect and they've got lots of charisma plus they felt fresh unlike most boybands, maybe cause they are "not a boyband". They are pimping the hell out of them but I don't mind it cause there's talent there and they can actually be a relevant act, unlike S1 winner Melanie Amaro. Best performance of the night.
Emblem3
Sister C
David Correy
Carly Rose Sonenclar
Beatrice Miller
LYRIC 145
Jennel Garcia
Cece Frey
Tate Stevens
Diamond White
1432
Vino Alan
Willie Jones
Arin Ray
Paige Thomas
Jason Brock
Each judge will chose two of their acts to put through to the Top 12. Then the remaining two acts will have to sing for survival and the judges will pick one of them to move on. So exactly as it happened last year, only difference is that we'll hear them sing once more.
Jennel Garcia
Paige Thomas
Cece Frey
Willie Jones
Vino Alan
Tate Stevens
David Correy
Jason Brock
Carly Rose Soneclar
Beatrice Miller
Arin Ray
Diamond White
Emblem3
LYRIC 145
Sister C
1432
Emblem3
Carly Rose Sonenclar
Cece Frey
1432
Jennel Garcia
LYRIC 145
Beatrice Miller
Vino Alan
Arin Ray
Tate Stevens
Paige Thomas
Jason Brock
Let's see how bad I do this time!
This entry was posted on 4:12 PM, and is filed under
1432, Arin Ray, Beatrice Miller, Carly Rose, Cece Frey, David Correy, Diamond White, Emblem3, Jason Brock, Jennel Garcia, LYRIC 145, Paige Thomas, Sister C, Tate S., TV, Vino Alan, Willie Jones, X Factor US, XF Series
. Follow any responses to this post through
RSS
. You can
leave a response
, or trackback from your own site.