I'm currently looking for some new writers in order to expand the blog given that I can't post the amount of things I'd like to. So if you are interested in writing about anything related to music (news, TV shows, album reviews, introducing artists) just drop me an
email to musicisthedoor@gmail.com
and we can discuss some of your ideas.

28 November, 2012 10:06 PM

We are down to 8 after losing 8 contestants during the past two rounds. Tonight, in this season's semi-final, the remaining contestants will battle once more for a place at the final. Only 1 will make it per team. Who'll it be? This is The Voice!
Recap after the JUMP ...
"Somebody Told Me" (The Killers) - 5/10
- I really enjoyed what he did last week but tonight, he's back to square one for me. He picked an awfully bad song, and I love The Killers, but this was atrocious. The song didn't make any sense and the melody was quite weird. I liked his raspy tone and the amount of energy he put into it was remarkable but I just couldn't enjoy what he was doing. -
VIDEO
"Girl On Fire" (Alicia Keys) - 7/10
-I've heard this song three times this week. Sylvia Yacoub on The Voice US, Eyelar Mirzazadeh on The Voice of Holland and now Louise. Out of the three, I preferred Louise by far. While Sylvia's version wasn't as pitchy as Louise's was, Louise tackled it so subtly that it didn't feel as shouty as it did with Sylvia. Her notes could've been stronger but the beginning was so pretty that it wasn't such a big deal for me. -
VIDEO
Kamille Bjerregård Schjøter
"Pressure" (Quadron) - 9/10
- Thank god she's singing this song. Had she taken on something similar to what she did last week, she was most certainly a goner. She's probably a goner still but at least she'll go doing what she does best. Gorgeous vocals, her jazzy tone worked perfectly with this song and she was finally was able to showcase some of the impressive tricks she gave us during her audition. That scat at the end was just superb. -
VIDEO
"Seven Nation Army" (The White Stripes) - 8/10
- Melanie Martinez sang this song on The Voice US earlier this week and her version was amazing. Dianna's is very different but indeed quite amazing as well. The performance was a lot more intense and it had loads of dynamics, which Melanie lacked. Great phrasing, I think that was the best thing about the performance. Dianna's distinctive jazzy voice wasn't as present on this cover but the cello gave it the jazzy feel it needed. A great performance but I wanted more vocally. -
VIDEO
"Dont Wake Me Up" (Chris Brown) - 8/10
- Another unexpected great performance from him. I was fully prepared to hate this but once more, he surprised me. It just impossible to believe that a sucky song like this one could work so good with his voice. He looks uptight with his suit and his turtle neck but his voice tells something different. His sound is current and he sang this song perfectly. He needs to loosen up though. -
VIDEO
"Who's Gonna Save My Soul" (Gnarls Barkley) - 10/10
- I've constantly said that Andreas is an unique artist but tonight, he completely reminded me to Lukas Graham. Not a bad thing though, cause I love everything Lukas does. This was a different, more emotional, side from Andreas and let me tell you I loved how awesome he sounded. He still looks creepy when he sings but that makes it a lot more special. That was absolutely perfect. -
VIDEO
Christoffer Stjerne
"The Pretender" (Foo Fighters) - 6/10
- Didn't really like this song for him. He appeared to be shouting for most of the song and his vocals were a major disappointment. There were not interesting nor original. This song didn't let him do anything with it and for that reason, he may be heading home tonight. It was good but weak and weak won't make the cut. -
VIDEO
Emilie Päevatalu
"Let's Take A Walk" (Raphael Saadiq) - 8,5/10
- This is a terrific song choice for her jazzy voice. It may have not been as exciting as it could but at least, her vocals were gorgeous. Very old school. I didn't get the nearly naked dancers behind her but they looked pretty, so I can't complain. Haha. Loved the liberties she took towards the end, that alone made her delivery a lot more interesting. -
VIDEO
Ranking
Andreas Odbjerg
Kamille B. Schjøter
Emelie Paevatalu
Dianna Lindharth
Christian Krogh Sørensen
Louise Schouw
Christoffer Stjerne
Johannes Hubertz
Results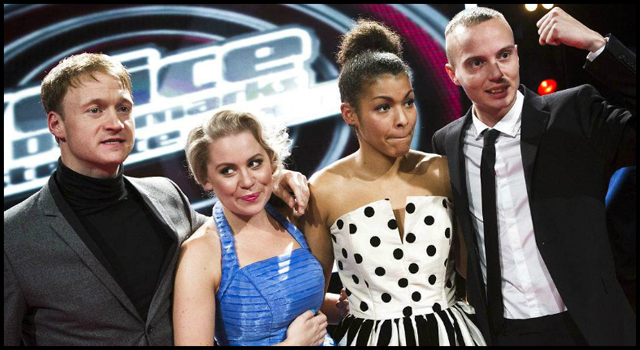 Coach's Points:
Johannes Hubertz - 40
Louise Schouw - 40
Kamille B. Schjøter - 40
Dianna Lindharth - 60
Christian Krogh Sørensen - 60
Andreas Odbjerg - 60
Christoffer Stjerne - 40
Emelie Paevatalu - 60
Public's Points:
Johannes Hubertz - 49
Louise Schouw - 23
Kamille B. Schjøter - 17
Dianna Lindharth - 70
Christian Krogh Sørensen - 77
Andreas Odbjerg - 83
Christoffer Stjerne - 30
Emelie Paevatalu - 51
Safe:
Dianna Lindharth - 130
Christian Krogh Sørensen - 137
Andreas Odbjerg - 143
Emelie Paevatalu - 111
Eliminated:
Johannes Hubertz - 89
Louise Schouw - 63
Kamille B. Schjøter - 57
Christoffer Stjerne
- 70
This entry was posted on 10:06 PM, and is filed under
Andreas Odbjerg, Christian Krogh Sørensen, Christoffer Stjerne, Dianna Lindharth, Emilie Päevatalu, Johannes Hübertz, Kamille Bjerregård Schjøter, Louise Schouw, TV, TVO Series, TVOD
. Follow any responses to this post through
RSS
. You can
leave a response
, or trackback from your own site.