I'm currently looking for some new writers in order to expand the blog given that I can't post the amount of things I'd like to. So if you are interested in writing about anything related to music (news, TV shows, album reviews, introducing artists) just drop me an
email to musicisthedoor@gmail.com
and we can discuss some of your ideas.

07 November, 2011 1:26 PM
Well, I'm back guys! We've all seen that Charlie has been doing a very lousy job, so I'm taking over for the next of the season. At least some acts I hated are already gone by now (Mitchell!!) and this top 6 is actually pretty solid. The remining 6, 1 over, 1 girl, 1 group and 3 boys, will take on Dance tonight so expect a whole lotta fun! (Not really) ... It's time to face the music!
Recap and videos after the JUMP ...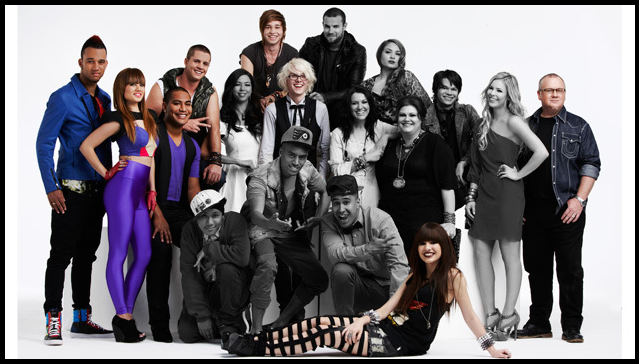 Reece Mastin
"Stayin' Alive" - 6/10 - Oh gawd. Not this song. I have to give props to Guy's mentoring skills, he's acts always last the longest cause he does a great job with them but something he definitely can't do is pick proper songs for his acts. Reece hasn't got a song that fits his voice since the compeition started and that may be harming him. Plus this sounded a little more screechy than usual and that comes from someone who likes Reece.
Declan Sykes
"Walking on a Dream"
-
7,5/10
- Well, this is kinda hilarious. It's like Johnny Robinson's geisha show but this time it does work cause Declan isn't dressed as one too. He's definitely my fave, he's unique and has a great voice and definitely didn't deserve to be in the bottom last week. His falsetto is still not perfect but this was a major improvement from that painful first attempt.
Christina Parie
"When Love Takes Over"
-
4/10
- Christina is so generic that she gets to sing the generic predictable dance song choice. This is pretty much what she's been doing the whole competition, picking a song and singing a bad karaoke version of it. This time around, she didn't even hit the notes and was pitchy as hell.
Andrew Wishart
"Titanium"
-
5/10
- Pitchy, pitchy, pitchy. I see that Andrew's voice hasn't improved at all since I stopped recapping. Good thing, Nat picked the most contemporary song of the night and the staging was great actually. Andrew's vocals did improve when he got to the chorus but that first part was amiss.

Johnny Ruffo
"Without You"
-
4/10
- Oh Johnny, Johnny, Johnny. You can't sing, you never will, and that's the truth. Guy can try to hide that fact with the elaborate staging and the dancing but he's just the weakest contestant left. That said, this wasn't particularly disgusting but there were many many off moments.

Three Wishez
"I Feel for You"/"Push It"
-
7/10
- Joe is finally gaining some confidence, and it was about time, he's lack of expression was getting annoying. This wasn't my fave performance from them but at least they embodied the dance feeling with their entertaining performance, something the others didn't do.

Ranking:
Declan Sykes
Three Wishez
Reece Mastin
Andrew Wishart
Christina Parie
Johnny Ruffo
Resluts
This is probably the best results night in XF history. Not because poor
Reece Mastin
found himself in the bottom (and gave us a quite shaky sing-off) but because
Christina Parie
, one of the judges faves and who everyone was saying was gonna win, was the eliminated contestant when acts clearly less talented, like Johnny advanced. I gotta say, I'm glad this happen. I never liked Christina and the fact that she was Mel's last act makes it even better. That's gotta show she's the worst mentor ever.