I'm currently looking for some new writers in order to expand the blog given that I can't post the amount of things I'd like to. So if you are interested in writing about anything related to music (news, TV shows, album reviews, introducing artists) just drop me an
email to musicisthedoor@gmail.com
and we can discuss some of your ideas.

06 November, 2011 3:42 PM
After last week's tragic results, where two of the best acts, Misha B and Sophie Habibis, ended in the B2, with the latest being eliminated, the remaining 9 contestants will now take on Club Classics, a dated and boring theme. Not one, but two acts will leave the competition this week, so the preassure is higher than ever! Who will be the unlucky two? ... It's time to face the music!
Recap and videos after the JUMP ...
Johnny Robinson
"Hung Up" / "You Spin Me Round (Like a Record)"
-
3/10
- With a double elimination coming and he performing first, I doubt that Johnny will survive this week. Plus, he's gotten really boring as the weeks have past and I don't think he's got such a big fanbase. He just sealed his fate with this helium heavy pitchy performance. Oh god, what happened to his voice in the second song? It got so rough and now I wonder if that he's natural voice. By the way, Gary is such a hypocrite! He's got the worst act in the competition and he tells Johnny they are looking for a popstar?
Tulisa:
I really hate to say this but that was the first night that I found it a bit predictable. You know how much I love watching you in stage but that for me was going backwards rather than moving forwards.
Kelly:
You looked like you were having a good time and I always say this but I really mean it, you are my guilty pleasure. I wanted to jump on stage and dance with you. I had fun, I can't lie.
Gary:
It was like the opening of a bad pantomime in Scarborough. It's actually making a mockery of this competition. I try to remind everybody that we're looking for a pop star, we're looking for someone to sell records, I want to ask you a question and I don't want any fancy comebacks, were you really comfortable singing like that tonight? It's too cabaret, it's too wedding singer for me.
Louis: It was incredible, we need someone like you in the competition. He may not be the typical pleasure but the public love him.
Janet Devlin
"I Want You Back" - 6/10 - Janet tells us she did everything this week and that she will be showing us her fun side tonight! Well, this is really different and I must say I'm loving this side of Janet, at least it's not making me sleepy. Don't get me wrong, I love Janet but her performances have been too similar since the start. Poor Janet, she forgot the lyrics and kinda ruined that performance. It was still enjoyable but she forgetting the words showed how uncomfortable she was. Tulisa and Gary can DIAF, they've been telling her to sing uptempo and when she does they tell her to stick to ballads? Idiots ...
Louis:
You stepped out of your comfort zone, I loved the interpretation, I love your voice, I'm a big fan of you in this competition.
Tulisa:
I know I put pressure on you saying I'd like to see you do something uptempo but I'm starting to see that you've kind of got your own style and it's amazing and it's unique and watching you do something else tonight, made me think you should stick to what you know.You looked a bit uncomfortable.
Gary:
I feel weird saying this but for me that performance just wasn't right. I thought vocally it was really weak, I think you completely lost your identity and I think coming back next week you have to stick with Kelly, let her mentor you, because she knows where you should be going.
Kelly:
I did let you pick the song, I still think that going out and trying something new was really good. I think that tonight performance was a good performance it probably wasn't one of your strongest, but babe guess what you still came out and had a good time.
Craig Colton
"Heaven"
-
7/10
- Craig an uptempo don't go together. Neither do Craig and dancing. So her club classic will be more like a
hot
mess. Craig has lost his spark for me. He's got a great voice but that can't be the only good thing in your performance. He got a lot of praise from the judges, as he always does, but I'm not sure that's enough, I'm sensing a shocking B3 tomorrow ...
Louis:
As always you hit every note, you remind me of a young Gary Barlow when you're singing and dancing!
Tulisa:
I knew you could do it! I said do something uptempo and look what happened. I love seeing you have fun because I had fun with you.
Kelly:
I was starting to think that some people in this competition were getting complacent, but you came up here and told us that you are not complacent, that you want to be here. I respect that, great performance, you sounded fantastic. Who knew you were doing uptempo….owww!
Gary:
You totally delivered once again, what a reaction from the crowd. In the back of the net, well done!
The Risk
"A Night to Remember"
-
7,5/10
- Derry gave his number to Nicole last week. Haha. Is he somehow expecting her to call him? Don't count on that man. This reminds me to their first performance where everyone was raving that they were amazing and that they could win. I still can't stand this cheesy boybands, and I'll never will. But at least there were some good vocals here and Derry's rap was actually a nice touch. Plus Gary is right, Charlie needs to be the lead here.
Louis:
Wow, boys after that performance you have definitely put yourself back in the race. Derry I loved the rap, Charlie you're the main man in this band. I loved everything about it, well done.
Kelly:
I was a little bit nervous about this song for you, but I'm so happy you did it. When I first heard the intro harmonies were a little bit loose but you tightened them up. What your job is to do is to sing better, perform better, give it everything you've got. Good performance this week guys.
Gary:
This was your best song choice to date. There was so much you could have done with this song but I felt like the vocals were lacking tonight, not as good as usual. I'm waiting for the point that you all realise that Charlie is the lead singer in this band.
Tulisa:
I have got nothing negative to say tonight, I am just so happy for you guys. Well done, give yourself a pat on the back. You have won this competition tonight.
Marcus Collins
"Reet Petite"
-
9/10
- Where did Gary got this song from? Never heard this song, but I bet it's as old as Louis. Oh, nice retro feeling here and it's actually perfect for Marcus, cause I find him really old fashioned. That said, that was probably the best performance thus far. He was fun and nailed it vocally, nice job. And he finally showed something different from the past weeks.
Louis:
Marcus I didn't think it could get any better. That's your best performance yet, you are the perfect popstar. There's a little bit of Bruno Mars, Jackie Wilson, Little Richard, you are the X Factor.
Tulisa:
I have watched you and heard you perform while I was in my dressing room this morning and I was up dancing with my PA. I think out of all the contestants, you are the one that understand what to do in this competition to get far and that's keep reinventing yourself. You do that every week.
Kelly:
It has been so wonderful watching you grow in the competition. They style this week is so cool, I just love me some you! I really do, great performance babe.
Gary:
Week on week, you've got better and better and that wasn't the performance of the night, it was the performance of the season mate.
Kitty Brucknell
"Like a Prayer"
-
6,5/10
- "I think it'd be cool if at the beggining I was like ... dead". Haha. I just love her, she's the complete show. She may look a little psycho at times, but behind that, her personality is hilarious, and her intro clips are always the best! Surprisingly, she's sounding a little flat and pitchy at times, which never happens to her. Kitty, this is the wrong week to mess up cause you've been winning the public but you are still in danger. I hope she avoids the B3. Kelly was totally right, she was spot on with her comments.
Tulisa:
Kitty every time you step on that stage I am fully entertained and captivated an mesmerized by you. You are the kind of artist that could hold a concert every night in an arena tour and keep people entertained.
Kelly:
For me out of all your performances that for me fell a little bit flat. Because I felt like when you were going across the stage you were holding back as far as the vocals were concerned. It didn't look natural.
Gary:
I'm a big fan of yours, I loved the performance tonight and the Bucks Fizz moment in the middle but I did agree with Kelly that the vocals were a little bit off in places. I've never really seen you move around before but you can't dance babe! I know that sounds rich coming from me, but it looked a bit clumsy.
Louis:
I thought it was a fantastic performance. I want people to vote for you.
Frankie Cocozza
"I Gotta Feeling"
-
0/10
- I gave up on commenting on him. He sucks, he always will. Get rid of this! Props for Louis, everything he said to Frankie was true. And I loved the audience booing!
Louis:
Frankie we are half way through the competition and it's all getting serious…that was really bad karaoke and I don't know how you're still here. You're not a rock star, you'll never be a rock star and the only big thing about you is your hair.
Tulisa:
Frankie, I was actually just starting to get comfortable with the edgy rebellious Frankie but song choice wise, it was a bit soft for you. It didn't work for me tonight, it wasn't edgy enough for you.
Kelly:
First of all, Louis I think that you are out of line telling someone what they will never be. I want you to really work on your vocal man it's the only thing that lacks in your performance but it's the main thing that you need in this industry, is to be able to sing. I'm not meaning that to mean. For someone to say that you'll never be anything is really mean….I'm sorry!
Louis:
I'm not playing to the cameras like you are!
Gary:
Back in your cage Louis, back in your cage. I completely got the wrong song for you, I apologise for that right away. You came out and you did bring it tonight and I know you're under great pressure and I do feel sorry for you. To be booed on this stage is disgusting, that shouldn't be allowed. You did your best tonight.
Louis:
Oh shut up Gary! Just shut up, how can you justify that.
Gary:
Oh Louis be quiet…shut up Louis!
Misha B
"Proud Mary"
-
8/10
- This is very similar to the original Tina Turner's classic. Her voice is always great but I somehow didn't enjoy that much, she did some of the creepy laughs she did during her past performance and they sounded out of place. Still, she is the whole package and there's no doubt she's very talented.
Louis
: Misha you never looked as well as you did tonight, I loved what you did with the song you have star quality. You and Marcus are in a different league to everybody else, it's like you're natural born stars.
Tulisa:
Misha I love seeing you get dressed up but I also loved tonight how you toned it down a but and we can see what a natural beauty you are. Great performance tonight.
Gary:
Misha you've got your crown back, well done. Amazing performance tonight and the biggest artists in the world have highs and lows. You had a low last week but if this is how you bounce back, look out everybody.
Kelly:
Misha I am so proud of you.
Little Mix
"Don't Stop the Music"
-
9,5/10
- Each girl gets her own intro package. They also performed with Jessie J last week! I'm loving the obviously pimping they are giving them cause they are actually my favourite act right now. Their harmonies are a little off but that performance was everything club classics is supposed to be! They've got great vocals, specially Perrie, plus lots of swagg! If this girls are cut, I'm done with this show.
Louis
: All I can say is i loved everything about it Great song choice, great styling and you've broken the girl band curse on X Factor.
Kelly:
Ladies I really believe in you but what I want you to start working on….what I would have loved to hear from you tonight was something acapella. I heard it in rehearsals and it slayed that whole performance.
Gary:
Girls incredible again, it's hard to fault you. You come back every week reinventing yourselves.
Tulisa:
Girls it's like you just come from nowhere. You are an incredible band who's got a chance of winning this competition. We've got to know you a bit tonight. Come on people pick up the phone for Little Mix.
Ranking:
Little Mix
Marcus Collins
Misha B
The Risk
Craig Colton
Kitty Brucknell
Janet Devlin
Johnny Robinson
Frankie Cocozza
Resluts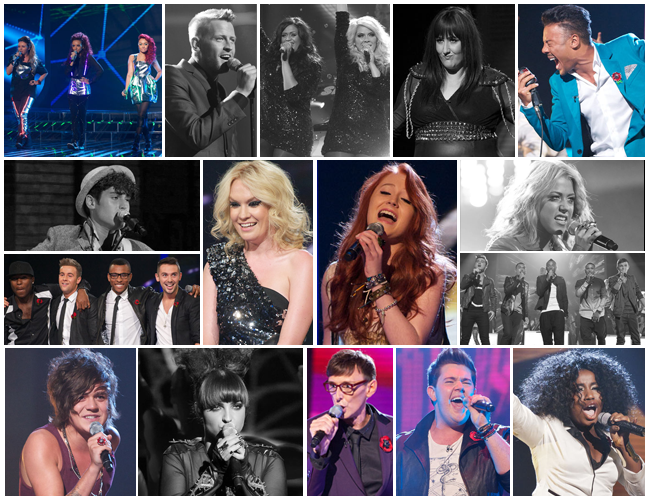 Ready for some epic news? Well, here they go ... And no, it's not the wonderful performance by goddess
Florence and the Machine
, it's the result itself. Don't go nuts yet though, we'll have to stand horrid Frankie for another week, given that he didn't even touch the B3. The first epic news is that ill fated old fashioned boyband The Risk was the act which recived the least amounts of votes, thus eliminating them immediately. But that's not it, chipmunk
Johnny Robinson
was akso given the boot after he found himself in the B3 alongside
Kitty Brucknell
. Well, I guess I don't mind Frankie staying if this two go home!
This entry was posted on 3:42 PM, and is filed under
Craig Colton, Frankie C, Janet Devlin, Johnny R, Kitty B, Little Mix, Marcus Collins, Misha B, The Risk, TV, X Factor UK, XF Series
. Follow any responses to this post through
RSS
. You can
leave a response
, or trackback from your own site.