I'm currently looking for some new writers in order to expand the blog given that I can't post the amount of things I'd like to. So if you are interested in writing about anything related to music (news, TV shows, album reviews, introducing artists) just drop me an
email to musicisthedoor@gmail.com
and we can discuss some of your ideas.

24 November, 2011 9:58 PM
Published by Denver Insomniac
After 10 weeks of competition, 400 hours of rehearsals, 142 performances and millions of votes, it all comes down to this. Last week, we lost the lackluster trio Three Wishez to public vote in what was a shocking elimination to some. This week, the remaining three finalists sing for Australia's votes one last time. Who will win it all? ... It's time to face the music!

Recap and videos after the JUMP ...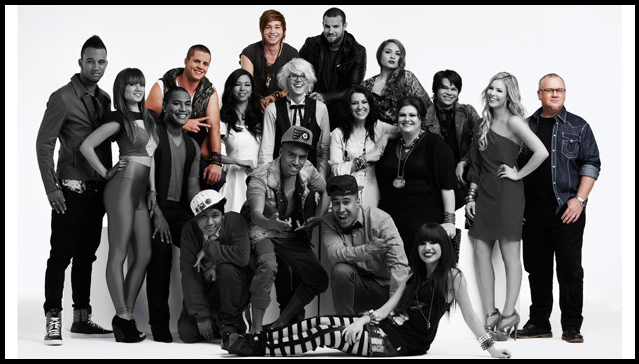 Through a strange turn of events, Charlie has mysteriously reappeared as a writer for "Mu$ic i$ the Door to the $oul"... Maybe MDS missed my trollish smile, or maybe he remembered how much he disliked writing X-Factor Australia. I find the latter very hard to believe. Anyways, I missed you guys and I'm sure you missed waiting 4-7 days for me to write a recap! So, let's begin, shall we? :-D
Andrew Wishart
"Someone Like You" (Adele) - 3.5/10 -
Not much to say here... A lot of people love Andrew's rendition of this. I didn't like this when he auditioned and I still don't like it now. I don't think the change of key works well. While it is a solid vocal from Andrew, I am left annoyed with this rendition.
Johnny Ruffo

"Do You Remember" (Jay Sean) - 4/10 -
Most of us will remember that his audition was not very good. Mel B harshly told him he couldn't sing. This is miles away from where he was. The performance itself isn't mind-blowing but Johnny's vocals are smooth and the choreography was, for lack of a better word, cool.
Reece Mastin
"Come Get Some" (Rooster) - 6/10 -
This was my favorite audition of the season and so far, it's also my favorite performance of the episode. Solid vocals and entertaining. Comparing this performance with the original audition also shows how much Reece has grown during the season.
Song of the series
Andrew Wishart
"Dakota" (Stereophonics) - 5.5/10 -
I agree with "Dakota" being Andrew's best song of the series. I'd probably put "Burn For You" a close second. "Dakota" only wins because it's upbeat and surprisingly works in Andrew's favor. However, this performance falls short of the first time he sang it. I thought his vocals were rather sloppy this time and maybe the song was going a little too fast. Much better than Round 1 though. The fire makes his guitar go out of tune. Haha!
Johnny Ruffo

"Sir Duke"- Stevie Wonder - 6.5/10 -
I
also agree that this is Johnny's best of the series. This performance reminds me of how much I loved it the first time. His falsetto isn't great at all this go-around but the performance overall was great. What can I say? I can feel it all Ooooverrr! On a random filler note, I wonder how comfortable that golden jacket is.
Reece Mastin
"Dream On" (Aerosmith) - 8.5/10 -
In Round 2, Reece has done something that Andrew and Johnny failed to do, and that is sing his song of the series better than he did originally. I know a lot of people think Andrew is the best singer in this contest but the last 10 seconds of Reece singing here easily tops anything Andrew has done, in my opinion. If Steven Tyler is watching, I'm willing to bet he is very proud.
Winner's single
Andrew Wishart
"This Much I Know" (Andrew Wishart) - 7.5/10 -
Pleasantly surprising, this just might be Andrew's best performance of the season. This song suits his voice perfectly, excellent chorus and has a very nice winner's song feel to it. Beautifully composed and very well done!
Johnny Ruffo

"You Don't Wanna Know" (Johnny Ruffo) - 7.5/10 -
Perfect for Johnny. It's pop, it's dancey and has a fantastic Winner's song feel about it. He sounds great! I absolutely
love the way this sounds. I could dance to the chorus forever... or something like that. Anyways, I really really like it. Johnny hits a nice glory note before the last chorus and then enters the chorus slightly off-time but it's nothing major... Did I mention I like the chorus?
Reece Mastin
"Good Night" (Reece Mastin) - 7.5/10 -
Well, let's get rid of the obvious. This song sounds just like "Raise Your Glass" by Pink. However, I actually like this much more than Pink's song. Reece sounds great. Nice party tune! One could argue that this song isn't Rock 'n' Roll enough for a Reece song but it's the Winner's single but I don't really care, it's rock enough for Reece to sing it and pop enough to be on some charts. Damn, the audience went crazy for that!
Superstar duet
Andrew Wishart
"You Found Me" (w/ The Fray) - 4.5/10 -
Bleh... I wish they stuck Reece with The Fray instead. If Isaac, the lead singer, wasn't there to help, this probably would have been a bit of a mess. Andrew had some really good notes and some really bad notes.
"Shoop/ Push It" (w/ Salt-n-Peppa) - 7/10- 1.5/10 -
Johnny sounded
fantastic
until Salt-n-Peppa came out. Sometimes, things don't need salt and pepper at all... Literally. If it ain't broke, don't fix it! Ugh... Salt-n-Peppa ruined everything. I liked Johnny's performance too much to let them ruin it... The first rating is for Johnny by himself, the second one for Salt-n-Peppa, who I never need to see again.
Reece Mastin
"Kids" (w/ Kylie Minogue) - 7/10 -
I wasn't expecting this at all, these guys are great together! Reece is definitely stealing the show here but they both sound really weak during the choruses. Still really entertaining though! Reece has been consistent, solid and entertaining for the entire season. I've been rooting for him since Declan lost. Hopefully, Reece wins.
The Top 12 re-unite for a Kylie Minogue medley!
Ranking:
Reece Mastin
Johnny Ruffo
Andrew Wishart
Results
No offense to MDS, but I thought this season was fantastic. In fact, I thought this was the best season of any X-Factor ever and certainly a million times better than the previous season's Top 3. To claim otherwise is absolute "rubbish" and there is nothing about the average harmonies and one-trick pony rapping of Three Wishez that could have made the Grand Final any better than what it was, which was excellent. The only way it could have been better is if Declan made it to the Finale instead of Andrew. I would have loved to see Guy's team own the Grand Final... Anyway, enough about *my* opinion. Back to the show! First results of the Grand Final, Johnny is eliminated at third place. Awww.. lol


Reece Mastin Final 2 Journey recap - "Crying" (Aerosmith)




Andrew Wishart Final 2 Journey recap - "With or Without You" (U2)


Buy "Good Night" HERE