I'm currently looking for some new writers in order to expand the blog given that I can't post the amount of things I'd like to. So if you are interested in writing about anything related to music (news, TV shows, album reviews, introducing artists) just drop me an
email to musicisthedoor@gmail.com
and we can discuss some of your ideas.

04 November, 2011 2:41 PM
So the worst contestant managed to stay for another week when Kitty Brucknell and Sami Brookes found themselves in the Bottom 2, with the latest being eliminated after her mentor decided to keep Kitty. Tonight, the remaining 10 contestants will sing Halloween inspired tracks in order to get your vote. Who'll be the most frightening? ... It's time to face the music!
Recap and videos after the JUMP ...
The Risk
"Thriller"
-
5/10
- Ashley decided to quit, in case you are wondering who Ahsley is, he's the other black guy who's not Derry, and yeah, he was really forgettable and a mediocre singer, so no loss. Replacing him is Ashford Campbell from eliminated Nu Vibe (this guy has more lives than a cat, haha). Well, I can hardly note the difference cause they still sound as bad as they always do. Aiden's "Thriller" can't be matched, this is pure below average karaoke. -
VIDEO
Louis: Guys, it's a tough song to sing, I always loved The Risk, I think you're a better vocal harmony band. Welcome back Ashford, you fit in perfectly. Ashley did the right thing, guys I see something special here…you've got it!
Tulisa: Gary is so right, you could have given up but you have fought your way through this week. I saw your faces when you got the news, it was totally out of the blue. But you made your decision, you brought Ashford back and you completely smashed it tonight.
Alexandra: What a fantastic opening to the show. With you being a new member, I think you need to find that balance of being a bit more organic. But I love the fact that you guys are a great vocal group but what you also have to think about is that there are great bands out there like JLS and The Wanted, One Direction, find where you guys sit because you are unique. Find that, keep it, own it.
Gary: Guys I've always really liked you, now I really, really like you. Ashford, you've slotted right in. I've been right there where you are right now, in 1995 Take That, right before big tour one of our band members left and at that point you make a choice you lie down and lose or get up fighting like you've done tonight. Well done.
Johnny Robinson
"That Ole Devil Called Love"
-
4/10
- Ugh, Johnny is trying to pass as an average no-joke act, well, he's doing a great job in being a boring singer if you ask me. When a joke act gets boring, it's over, and that's what I'm expecting to happen to Johnny if he keeps doing this. This sounds like a boring jazz standar done by a chipmunk. -
VIDEO
Louis: Johnny you are the fun factor too, you have a very authentic jazz voice. You nailed it!
Tulisa: You finally got to sing a ballad and you sung it well. Louis you've been hiding his skill for too long. I loved it! Johnny I thought you were very, very sexy tonight.
Alexandra: Great song choice first and foremost. You just got up there and sung your little heart out. I love you, you bring the fun to the X Factor and I wish you the best of luck, because you are very special. I do adore you.
Gary:
Johnny, that's it, it's that simple. That's all you needed to do because you're not a novelty act, you're a great singer.
Sophie Habibis
"Bang Bang"
-
7,5/10
- How is this song supposed to be a Halloween song? This is not the spooky performance Sophie's been promisisng but it's pretty stellar. Her voice is priceless and is something really special but she needed to do something upbeat, and she gave us the same slow performance. I don't know how much will the public stand this, I loved it though. -
VIDEO
Louis: You're a great singer and a really nice girl. I'm not sure about the song choice, for me there is something missing but I don't know what it is. It's like you're a secretary who sings at the weekends or something.
Tulisa: Sophie I could tell you were a bit nervous tonight because the song is not what you're used to but you've got no reason to be nervous. You nailed it. I was worried when I saw you in rehearsals but I felt that you started to find your own tone vocally. There was a bit of Kate Nash in there too, I really liked it.
Gary:
You're actually one of the best singers left in this competition. But this is the fourth week running that you've chosen to sing a really dreary ballad. I've got a big problem with you, I love your voice but your song choices are as dull as dishwater.
Alexandra:
I'll keep it real and say that there were some slight tuning problems babe but it does not take away the fact that you are a beautiful performer Everyone is commenting on the song choice but it's Halloween so don't we want a little droopy song choice here? You are finding your own two feet, we're still early in the competition and you are a lovely, lovely girl. Just remember each week shine, because you can shine!
Marcus Collins
"Superstition" / "Need You Tonight"
-
5/10
- Oh look! Marcus is doing the same performance again! It's not? Well, it sounds the same and looks the same. I guess Marcus is trying to repeat the succcess he had with last week dance heavy routine, but you can't do the same trick twice. This is boring. -
VIDEO
Louis:
Marcus, every week you bring it. You're happy, you can sing, you can dance, Marcus you've got everything.
Tulisa:
You really nailed the Halloween them tonight. I loved the staging! You looked like you were having funa nd when you have fun, everyone else has fun.
Alexandra:
You have fun on stage, you worked that stage. I really enjoy you, you've got a great look, I like the fact that you got involved with the Halloween theme.
Gary:
You totally delivered mate well done! Love the voice, love the stage presence, I love your smile!
Misha B
"Tainted Love"
-
7,5/10
- Oh god! What's up with that styling? An unicorn with an unibrow? At least someone sticked to the Halloween theme, cause this is pretty creepy, specially the rapping part. Misha always delivers and brings a great show, I wonder if she can give something a little stripped back sometimes. -
VIDEO
Louis:
You are something rare, it's very very seldom we see someone like you. You're a rare talent, vocally and visually and every week you bring something exciting to the X Factor. If Kelly was here, she'd say 'you put it down baby girl!'
Tulisa:
You absolutely smashed it tonight. The truth is you were born a star and and I want to let you know that anything I say to you is only because I want you to be the best you can be and be as successful as you can be. The point I was trying to make was you don't have to fight for your right to be here because you deserve it. I relate to you and I get you. I think you tore it up tonight, well done.
Alexandra:
First of all I feel like there has been so much pressure put on your shoulders and you need to ignore everything around you and focus on you. At the end of the day you vocally never disappoint, my only thing is I can't wait to see you completely stripped down. You show everybody who you really are and what you're made of. Remember this competition is about growth and you are growing. Remember it's a ladder and you just keep going baby.
Gary:
Misha, out of the stratosphere tonight. It's a funny one, it's like a record company has signed you at the age of 9, developed you for ten years and this is what we are seeing on the stage. It's pretty incredible.
Janet Devlin
"Every Breath You Take"
-
7/10
- This is a very weird song Kelly. I appreciate that they tried to give us something different and try to make this song fit into the theme but it's just not working. Janet is sounding really plain and as it happens with Sophie, it's the same thing she does every week. It was quite haunting but I'm not sure the vocals matched up here. -
VIDEO
Louis:
Janet that was a big task as we all know that song but I loved your interpretation. I found it very, very haunting and the best thing about you is you're real. There is nothing fake about you, it's all about the voice. You're a ready made recording star and in the words of Kelly Rowland 'you got it all going on!'
Tulisa:
Janet I feel like there's something different about you tonight. It's the look in your eyes, it looks like you mean business. You've come out here with a different energy tonight, you're saying 'here I am, I am a contender.' I'm starting to see you, the Janet and I love that. Vocally, not the strongest performance you had but I loved the song choice and your energy tonight.
Alexandra:
All I want to do is cuddle you and take you home. You my dear have something very special because you mean every word you sing. I think you've done a fantastic job tonight, yes you were nervous and it's expected on this show but you should be proud because you just did Ireland proud.
Gary:
Janet well done again, another great performance of yours tonight. You know I'm a massive fan of yours but just let me share you one little worry I have about you. When I know you're coming on the stage I kind of know what to expect. You're predictable in a good way ok, but when I know what you're going to sing I know what's coming. I just hope the public keep interested for the length of this competition.
Frankie Cocozza
"Should I Stay Or Should I Go"
-
0/10
- Just go! GO!! Ugh ... -
VIDEO
Louis:
Frankie I think you've got your swagger back. That was vocally a lot better than I was expecting but I think you're always going to be known more for your antics offstage.
Tulisa:
Frankie I think you quite won me over tonight with that performance. I am starting to think that the Frankie we saw in the first audition maybe wasn't the real you. It took us all a while to see the real Frankie. You're rebellious, you're wild and I liked it tonight. It was a good performance.
Alexandra:
I'm really confused about you because I feel like you lack in vocal range, I think that you gave energy in your performance which is always great but my fear is how serious do you take this? But it was an energetic performance to say the least.
Gary:
Don't worry Frankie she's only here for one night mate! Really good performance, I'm really proud of you. Well done.
Kitty Brucknell
"Sweet Dreams (Are Made Of This)"
-
9/10
- This theme was made for Kitty! She's psycho so any theme regarding Halloween is perfect for her crazy self. She's one of the most entertaining contestants for sure. That performance was pure fun and who knew Cruela could sing?! -
VIDEO
Louis:
After that performance I know I made the right decision last week. You never let me down.
Tulisa:
Every week you pull a new trick out of the bag. You come up with your own ideas, you tell Louis 'I wanna do this…'. For me, you are the least manufactured act because it's all about you, you're bringing yourself and your personality to the stage.
Alexandra:
You've got some pipes on you. you can sing. My only thing is you are very entertaining hut it could come across slightly cabaret. That's the only point I would make. Louis, this girl is a singer.
Gary:
Kitty I was really disappointed to see you in the bottom two last week, you didn't deserve it but definitely people either love or hate you. I love the fact that you're a diva, ferociously ambitious and that you dusted yourself off after Sunday, and performed like that well done.
Little Mix
"E.T."
-
9,5/10
- They were forced to change their name cause a charity was already using it. And they picked ... Little Mix? Wonder what made them pick such a stupid name, still, I'm their fan and I'm proud to say I'm a Little Mixer, even if that sounds as the most dull thing ever. Haha. I'm loving their make up and the staging, Tulisa did a great job with this one. Definitely the best of the night! This girls can really sing and perform! I'm hoping they can be this years One Direction, they deserve it! -
VIDEO
Louis:
You are four of the nicest girls we have every head on the X Factor. I love this band, Tulisa well done
Tulisa:
I am so proud of you, you have done so well. Jesy it takes a lot to speak up about insecurities, I'm proud of you for telling your story.
Alexandra:
You guys are such a talented bunch, The harmonies were on spot, there is a space for you in this big old market here. You upped the leveler for groups right now. Wicked!
Gary:
Girls, Tulisa well done, great song choice. I really felt I could hear you all sing, really good! It feels different this year, I couldn't pick a winner, this competition is wide open!
Craig Colton
"Set Fire to the Rain"
-
6/10
- Seriously? Is Gary stupid? None of his songs were fitting for the theme, and this is probably the worst. Craig's just getting more boring and boring as the weeks go by. This worked the first, the second week, but we are already in the fourth week and he's done the same thing every week, and I'm bored. He could have the best voice ever but if it's old fashioned, it'll always be boring, and this sounded really, really pitchy. -
VIDEO
Louis:
You know I believe in you, you know I like you because you're an honest, great, musical performer. I think you're the heart and soul for The X factor. I think you're now a contender.
Tulisa:
Craig the more I hear you perform, the more I think this guy could sell albums, the more I appreciate how unique your talent is and your vocal. I thought that was an amazing performance, it was a massive song. My only criticism is that I am starting to find it a bit predictable and i want you to shock me one week and do something different.
Alexandra:
You have a voice, a beautiful voice, it's soulful, you project well. The key is to come back every week and shock everyone. Surprise them, give them something every week but you can do it!
Gary:
Craig Colton that was the performance of the night, well done.
Ranking:
Little Mix
Kitty Brucknell
Sophie Habibis
Misha B
Janet Devlin
Craig Colton
Marcus Collins
The Risk
Johnny Robinson
Frankie Cocozza
Hands down to Little Mix for bringing us the best performance of the night! This girls are golden and with the right promotion, they could be big! I hope the public votes for them cause they've got talent. Kitty was the other stand out performance of the nigh. She was fun, great vocals and appropiately spooky. The rest of the contestants just felt short to the challenge, they really need to step it up.
Resluts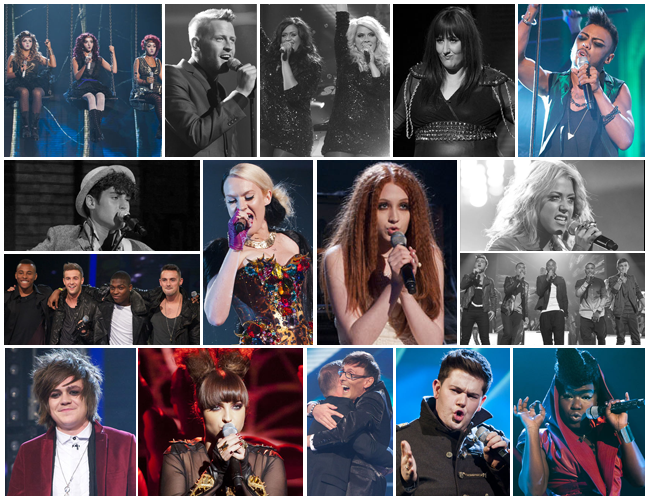 S7's fourth placer,
Cher Lloyd
dropped by the stage to perform her latest single, "With UR Love", which is without doubt much superior than "Swagger Jagger". Fun performance but vocally, that was mediocre Cher.
We proceed to the results now. We all know British public are just a bunch of brainless idiotic people, so it comes as no suprise that Sophie Habibis and Misha B both found themselves in the B2. And we all know who's toast, unfortunately.
Sophie
is up first, singing "Shelter" in the Birdy way. This is just beautiful and she's proving everyone she has a massive talent with her swan song. Hope she gets a great record deal or at least tries out for another show, there's always The Voice coming next year girl.
Misha
is next and she's finally doing a stripped down performance singing "Use Somebody". She's delivering some great vocals, but I'd rather have Sophie over her. We all know that's not gonna happen though.
The judges proceed to vote. And none of them votes to keep Sophie in the competition, nor even the bitch of her mentor, so that means the fabulous
Sophie Habibis is eliminated
from the competition, while talentless idiots like Frankie are still in it, but don't worry, he'll be cut in next week's double elimination.
This entry was posted on 2:41 PM, and is filed under
Craig Colton, Frankie C, Janet Devlin, Johnny R, Kitty B, Little Mix, Marcus Collins, Misha B, Sophie Habibis, The Risk, TV, X Factor UK, XF Series
. Follow any responses to this post through
RSS
. You can
leave a response
, or trackback from your own site.