I'm currently looking for some new writers in order to expand the blog given that I can't post the amount of things I'd like to. So if you are interested in writing about anything related to music (news, TV shows, album reviews, introducing artists) just drop me an
email to musicisthedoor@gmail.com
and we can discuss some of your ideas.

07 November, 2011 2:14 PM
In a shocking result, Christina Parie left the competition when she found in hersef in the B2 alongside fellow frontrunner Reece Mastin last week. Mel B has no acts left now, proving she's the worst mentor in the show. The top 5 will perform songs by music legends in the hopes of winning one more week in the competition. Who'll be a hit? Who'll be a miss?... It's time to face the music!
Recap and videos after the JUMP ...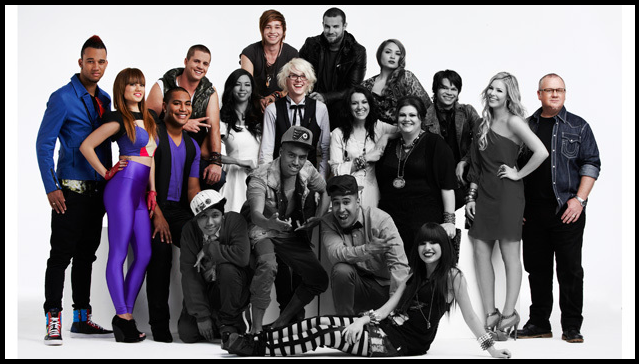 Johnny Ruffo
"Sir Duke"
-
6/10
- This is surprisingly sounding quite decent, something I was definitely not expecting cause he's supposed to be eliminated tomorrow night. I guess this dated tune is favouring him somehow cause there was improvement there and I wasn't tortured with countless bad notes. That was probably his best to date. "This is my favourite performance from you ... Vocally that was really spot on" (Mel) "That was brilliant but you look like a waiter" (Ronan) "Your vocals tonight was the best that they've been in the entire competition" (Nat)

Andrew Wishart
"I Still Haven't Found What I'm Looking For"
-
5/10
- Boring song for a boring contestant, that can't go well. The arrengment is kinda weird, it starts slow and then Andrew scares us with a sudden change of speed. The thinner notes didn't work either and since Andrew has never been in the bottom, I suspect this may be the week he ends in it cause there wasn't nothing interesting going on there. "That song has been sang so many times but it's never been that good" (Guy) "For me, I didn't really like it, there was too much guitar in there for me" (Mel) "Vocally you were amazing but there wasn't connection" (Ronan)
Declan Sykes
"Help!"
-
8/10
- What I love about Declan is that he brings something different every week and though he sometimes lacks vocally, his performances are truly entertaining and he keeps the audience moving. This was exactly that. It wasn't vocally perfect but this was not the typical "Help!" cover, it was fun, young and fresh, and I loved it! "That is how you do a performance!" (Mel) "It kinda seem you were in your bedroom there, that's the impression I got ... maybe it's a good thing .. vocally, I thought it was great" (Ronan) "This week I went weeeeehooooooooooo!!!!" (Nat)

Three Wishez
"In the Air Tonight"
-
7/10
- Phil Collins is very dated but this guys made it sound actually quite contemporary. I still felt old for me, cause I hate this song, but their cool urban style and Fred-Day's rapping made it quite great. Joe, however, kinda ruined it for me, he's never sounded worse and he was all over the place. "I definitely didn't hate it but to top last week's performance was really hard" (Nat) "I'm really torned as well .. I don't know if it was messed up so much or what" (Guy) "I could feel your passion but I didn't feel you were working together as a team" (Mel)
Reece Mastin
"All by Myself" - 4,5/10 - This isn't a great comeback for Reece. The start is very rough and he lost quite lost and uncomfortable. He's not feeling it, so I'm not feeling it. He kinda picked it up towards the end cause he could go all note crazy but that wasn't a good performance. "I felt you were a little bit awkward and pissed off ... I really didn't belive what you were singing at times" (Mel) "Vocally you really struggled ... you look like your in a cementery and that performance can be deadly" (Ronan) "It was so cheesy and this isn't you at all" (Nat)
Ranking:
Declan Sykes
Three Wishez
Johnny Ruffo
Andrew Wishart
Reece Mastin
Since the XF is completely irrational, the best act in the competition, well, the best two acts, found themselves in the bottom while Johnny (mediocre), Reece (awful) and Andrew (boring), all secured another week in the competition. Poor Declan was doomed when he found out he had to sing agains Three Wishez, Ronan's last remaining group and probably the frontrunners for many weeks. Plus Declan's performance really didn't help him, so the judges opted to eliminate the best to keep 3W in the competition for another week.