I'm currently looking for some new writers in order to expand the blog given that I can't post the amount of things I'd like to. So if you are interested in writing about anything related to music (news, TV shows, album reviews, introducing artists) just drop me an
email to musicisthedoor@gmail.com
and we can discuss some of your ideas.

02 December, 2012 1:41 AM

Christoffer Stjerne, Louise Schouw, Kamille B. Schjøter and Johannes Hubertz all left the competition during last week's semi-final. Only four remain now and by the end of the night, we'll find out who'll be Kim Wagner's successor. Will it be pop singer Christian? Jazzy Dianna? Soulful Emilie? Or unexpected Andreas? ... This is The Voice!
Recap after the JUMP ...
"Living While We're Young" (One Direction) - 7,5/10
- Cool, fresh and joyful, exactly the type of music I could see Christian doing. It's weird this type of songs fit him so perfectly, considering he's almost 30. He sounded better than 1D ever will on this song. I don't really like this song chorus but with his clear tone, it was not so painful. My only problem with it is that he didn't seem comfortable on stage, he really doesn't know how to work the stage. I bet he records fantastic though. -
VIDEO
"If The World Didn't Suck (We Would All Fall Off)" (Aqua) -
Is anyone else sad they are not singing "Barbie Girl"? That would've been so hilarious. They are unfortunately doing this much superior song. Christian sounds great as always but Lene sounded a little nasal to me, then again, that's how she sounds most of the time. Oh look, there was a little kiss at the end! (which the photo may have totally spoiled, haha) -
VIDEO
"Hurt" - 8/10
- Not exactly what I was expecting but quite close. Winner's Singles aren't good half of the times and this one probably falls in the middle. I'm very indifferent about it. He sounded strained at parts and the chorus didn't allow his voice to shine, which is a shame. The verses sounded great, I specially liked the beginning. Not sure he can actually win after this though. -
VIDEO
"Off The Wall" (Michael Jackson) - 7/10
- Ok, that was weird. Not really sure what was going on up there. The dancers looked creepy (goat skulls!! WTF?!) and the song didn't really suit Andreas voice. This wasn't the night to deliver a decent performance and that unfortunately, was what Andreas did tonight. He toned down the quirky weird and just performed like anyone else would've. Disappointing. -
VIDEO
"Hvis Jeg Skrev Dig En Sang" (Xander Linnet) -
Welcome back to the competition Andreas. After this terrific performance it's even more evident how awful the last song was for him. Still not totally weird as I love but getting there. I've just noted how similar Andreas and Xander are as singers, they really sound a lot alike. This was a lot better than his first performance but still not amazing.-
VIDEO
"Årets Defekt" - 9,5/10
- Finally! For the first time tonight I've seen the Andrea's I love. His voice was incredible on this, awesome control and gorgeous tone. I really believe he can do no wrong if given the right songs. This proved to be it. This is a great debut single and I actually think it can do good on the charts, specially considering Xander is featured on the studio version of it. Great tune but was it a little too late? I hope not. -
VIDEO
Dianna Lindharth
"Uopnåelig" (Marie Key) - 8/10
- For some reason, I've always avoided Marie Key's music. Don't really know why, cause this song sounds incredibly good. It's also perfect for Dianna's voice, I can see her being this type of artist, an alternative jazzy singer. I think she sounded specially good on this cause she didn't have to worry about the pronunciation, which has been an issue for her in the past, thus enhancing her beautiful tone. I really enjoyed that but I would've liked it to go somewhere, it ended to abruptly for me and I left waiting for a moment. -
VIDEO
"The Enemy" (The Raveonettes) -
Is Dianna trying to sound like Sharin on this performance? I barely could set their voices apart and I'm not sure if that's either a good or a bad thing. For once, Sharin band The Raveonettes is extremely successful so saying Dianna sounds like her is a big compliment. On the other hand, it can also be said she's not original enough. I don't think Dianna sounds like Sharin at all but surprisingly she did here thus I don't think this was a clever idea. -
VIDEO
"Come To Me (You Don't Know Me)" - 9,5/10
- If you were expecting a typical single, look elsewhere. This is out of the box, completely out of it. Like inside a different box. I applaud them for giving Dianna something so distinctively original. This is fresh, quirky, interesting and perfect for her to stand out. All my worries from her last performance have vanished. My issue with this is that I just don't see people voting for this song, this song is more an acquired taste, I love it, but will the mainstream public do as well? -
VIDEO
Emilie Päevatalu
"She Said" (Raphael Saadiq) - 8,5/10
- LOC made the right decision in letting her go the jazz route once more but I don't think this was the best song for her to do so. She did sound great on it, really great actually, and she owned the stage but my problem was that she didn't seem to bring anything new to the table. The problem was the song of course, I've heard it sang like this before, she needs to pick a better song if she still wants to win this. -
VIDEO
"Helt Min Egen" (LOC) -
I don't really like the way LOC raps but Emilie sounded superb on it. Unfortunately, there wasn't much for her to do here. LOC was the one performing most of the time and Emilie merely did backing vocals, and rapped a line. This is bad song picking, the focus should have been on her and not on Liam. -
VIDEO
"Skandale" - 8,5/10
- As they did with Dianna and Andreas, they hit the bulls eye yet again with this song. This is definitely the type of artist I see her being. A soulful singer with a big of a jazzy influence and a fresh and current sound. This actually reminds me to her first performance, when she sang with Barbara Molenko. I can totally picture her in that vein. Good job. -
VIDEO
So,
who should win?
Christian was good on his first two performances but his debut single didn't sound like a hit. Andreas was disappointing on his first song but improved on his duet and his single sounds really great, plus he also seems to have the biggest fan base. Dianna's three performances were solid and I loved her winner's single but she may be to niche to actually gather the amount of votes needed to win. Lastly, Emilie's duet was decent at best, her first performance was uninspiring but great and her single was very good. Based on the performances, I actually think it's anybody's game.
Who do you thinks deserves winning?
Scroll down for the results!
.
.
.
.
.
.
.
.
.
.
.
.
.
.
.
.
.
.
.
.
.
.
.
.
Results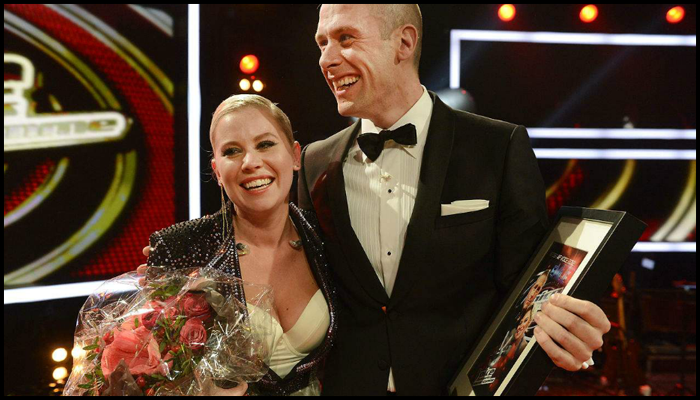 1st Place

: Emilie Päevatalu

2nd Place

: Andreas Odbjerg

3rd Place

: Christian Krogh Sørensen

4th Place

: Dianna Lindharth

Honestly, I'm surprised it was Emilie in the end. She never looked as a threat to me and I never expected her to win. Andreas seemed to be the front runner and I would've sworn he would be taking the crown in the end. There's no doubt someone will sign him though, he's too talented to go to waste. I also hope someone signs Dianna, that single sounded really interesting, maybe Sharin can help her? I wish all the best to Emilie though, I'll surely be following her, cause I she's actually a great winner. Btw, this is Liam's second win!