I'm currently looking for some new writers in order to expand the blog given that I can't post the amount of things I'd like to. So if you are interested in writing about anything related to music (news, TV shows, album reviews, introducing artists) just drop me an
email to musicisthedoor@gmail.com
and we can discuss some of your ideas.

19 December, 2012 11:56 PM

Trevin Hunte finally hit the road last week leaving soulful Nicholas David, rocker Terry McDermott and pop singer Cassadee Pope vying for the crown. After weeks of auditions, battles and live performances, tonight we will finally know who'll be Jermaine Paul's successor. The black guy trend is already broken but can the male trend be broken too? ... This is The Voice!
Recap after the JUMP ...
Round 1
Nicholas David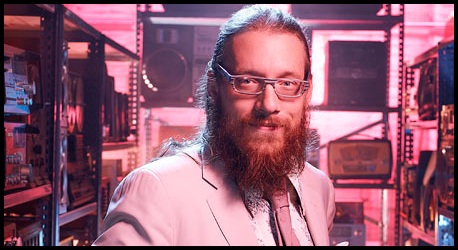 "Great Balls of Fire/Fire" - Team Cee Lo - 7/10 - Before The Voice he was overweight and struggling with drinking. He met his wife and she gave him drive and motivation. Cee Lo says the moment he heard Nicks voice, he heard a soulful voice that he didn't even know still existed. He says his plan so far was singing songs that had a message. He's doing a medley tonight. He tears up thinking about his family. "There's nothing else that I'd rather do than win this for them", he says. I don't quite get the reason behind this performance. He's basically been the soulman season long and this performance doesn't reflect that. I give him points for trying something new and I admit that was really entertaining but doing something so drastically different now may not be a good idea. He's never winning though, so why not having some fun?


Cassadee Pope
"Over You" - Team Blake - 9/10 - She's reprising her stand out performance. Well, this is clever. I loved this performance and this was yet another gorgeous rendition of Blake's tune. Obviously, I preferred her first attempt at it, the song lost some of it's magic this time, mainly because I've already seen it and the first time was so fantastically haunting. Her voice was a bit shaky too but she pretty much killed it again.
Terry McDermott
"Dude (Looks Like a Lady)" with Blake - Team Blake - 6,5/10
- Blake brought Terry's family to his house. Blake calls Terry a "family guy". He also brings Terry's father, who he hasn't seen in 4 years. Terry's shock face is kinda adorable. A familiar face on guitar Carson teased. It happened to be Adam, shirtless and sporting a wig, inexplicably. Haha. This is a weird song choice and honestly, I didn't like it very much. It didn't let Terry show off his range and was quite ridiculous. Adam had to be the best thing though, he's such a cool judge. Haha.
Round
2
Nicholas David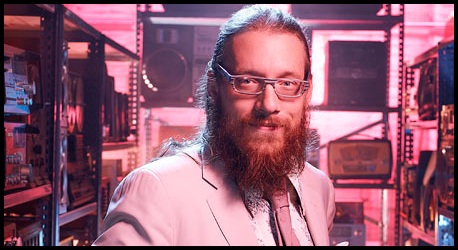 "Lean on Me" - Team Cee Lo - 7/10 - Nick's reprising his Top 10 performance. Not a fan of this performance, I found it cold the first time around and my views on it haven't really changed with this redo. It did sound better, there were more dynamics but I would've picked a different song for him to sing, maybe "Over The Rainbow", cause that was my fave from him. "You look like the principal of the school of funky stuff" Adam says. Haha. "That was the dumbest thing I ever said in my life", he adds.


Terry McDermott
"Broken Wings" - Team Blake - 6/10 - His father introduced him to classic rock. Terry said Blake made an instant impression on him. "You and I can win this if you just get up there and talk", Blake told him back then. He says "I want to know what love is" was a turning point. Somehow, this is his son's Liam favourite song. I think Terry himself can't even believe that. Haha. This was ok? Vocally at least. He wasn't the great singer we've been accustomed to. His song choice was unimaginative and uninteresting as well. You think this is the type of performances that are going to win you the contest?


Cassadee Pope
"Steve McQueen" with Blake - Team Blake - 5,5/10
- Cassadee family and boyfriend also visited Blake's house. Cassadee says her sister is the reason she's singing today because she took voice lessons before her and she wanted to be like her. "God definitely broke the mold when he made Cassadee Pope", Blake says. OK. She's a bit underpitch at the start, actually, most of the performance. Blake doesn't sound very good either.The mini megaphone was such a useless gimmick. Didn't like this at all, specially because this was such a bad song choice.
Round
2
Terry McDermott
"I Want to Know What Love Is" - Team Blake - 8,5/10 - So Terry is reprising his "turning point". Nice, since this was one of the few performances I liked from him. Cool vocals, nothing really different from what he did the first time. I liked the setting a lot more this time though, the female violinists were a nice touch.


Nicholas David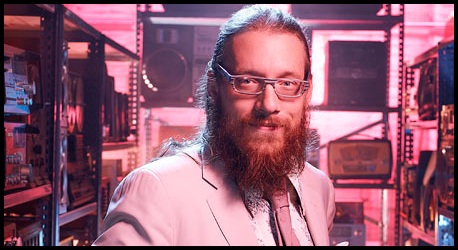 "Play That Funky Music" with Cee Lo - Team Cee Lo - 6/10 - Nick's family join Cee Lo at his "above ground lair". When he was on second grade, he asked his parents to get singing lessons. His wife, Krista, says this has been a sacrifice she's glad they are making. She says it was hard when he stepped back from music cause he's so gifted. OMG, mini Cee Lo was so amazing! He completely overshadowed Nicholas but given the level of insanity involved in this performance, I'm not surprised. I was expecting even more insanity, but I guess adding more things to that performance would've made Nicholas invisible. Considering this was his last performance, I'm fully convinced he won't win, cause that was a joke performance at best.


Cassadee Pope
"Cry" - Team Blake - 8,5/10 - He was on a band, Hey Monday, before The Voice. She left to go solo. She said she felt coming into her own when the liveshows started. Blake says she has an unique ability to tell a story. His dad called her recently and they talked about what they needed to do to make it work. The staging reminds me to "Over You"'s and it also reminds me to it vocally. It's one of those big emotional ballads she does so well and while her voice was not the flawless beauty it's been in previous weeks, the emotion she poured into the performance was so palpable that her vocal issues were forgotten. Another great performance from her, she's got this in the bag.
Ranking
Cassadee Pope
Nicholas David
Terry McDermott
Who do you thinks deserves winning?
Scroll down for the results!
.
.
.
.
.
.
.
.
.
.
.
.
.
.
.
.
.
.
.
.
.
.
.
.
.
.
.
.
.
.
.
.
.
.
.
.
.
.
.
Results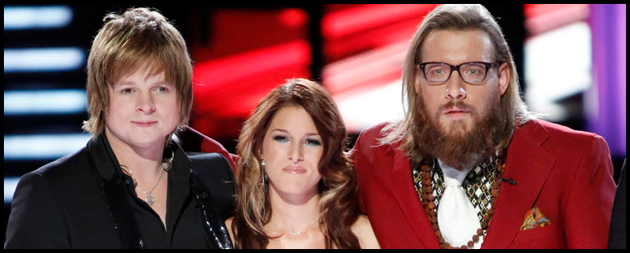 Winner:

Cassadee Pope Runner up: Terry McDermott
3rd Place:

Nicholas David
No surprises here. Everything went as expected in what was the most unsurprising win in history. Cassadee was the clear front runner and her winning was the most reasonable outcome. I'm super stoked about it cause she was indeed my favourite left and I've been rooting for her since the very beginning but let's admit her win was anti climatic. Most of her performances ranked on iTunes Top 10, and with those buys considered in the final voting numbers, she pretty much had the win assured. Finally a woman won The Voice and broke that horrid soulful black guy trend. Hopefully, Cassadee can be the first successful winner of The Voice US and bring some credibility to this show at last, and I believe she can. May the wonderful Amanda Brown and the unique Melanie Martinez join her in her future chart domination!
Next season, Christina and Cee Lo will be taking a break, with Usher and Shakira joining the show. Not particularly excited about any of them but they could surprise. And in case you are bummed Cee Lo and Xtina won't be returning, the best part of the show is coming back, me! Haha