I'm currently looking for some new writers in order to expand the blog given that I can't post the amount of things I'd like to. So if you are interested in writing about anything related to music (news, TV shows, album reviews, introducing artists) just drop me an
email to musicisthedoor@gmail.com
and we can discuss some of your ideas.

11 December, 2012 12:14 AM

I'm looking for a Swedish translator, if anyone is interested, please email me.
J.E.M., our manufactured group, and the last one remaining, left the competition last week, when the audience decided to save fellow bottom 2 contestant Isak Danielsson, who seems to be less unlikely to win as the weeks past. Who'll be crowned the winner tonight? Old fashioned Benny Hult? Poppet Awa Santensson-Sey? Or underrated soulman Isak? ...
It's time to face the music!
Recap and videos after the JUMP ...
The eliminated contestants return to the stage! They reprise some seconds of one of their past performances. J.E.M. with "Wild Ones", Frida with "Wherever You'll Go", Alexander with "Smells Like Teen Spirit", Manda with "If I Were A Boy", Hey Mary with "Heartbeats", Oscar with "Boyfriend", NJOY with "Free Your Mind", Freja with "Bara Himlen Ser På" and Malcom with one of his raps. That was nice I guess, at least to see them all back together. -
VIDEO

Round 1
Awa Santesson-Sey
Independent Women (Destiny's Child) - 6,5/10
- Great choreography as usual but Awa went back to the weak singer she's been all the season. Nice show opener and that's what she'll always be, an entertaining opener cause I really don't see her headlining a full concert. Vocals weren't awful and that was the song's fault cause it wasn't a good pick to start with. -
VIDEO
Isak Danielsson
Titanium (David Guetta feat Sia) - 9,5/10
- This's been one of his best performances in a while. Great arrangement, his vocals were flawless on this extremely hard song. The intensity in which he sang this was something awesome to watch, specially considering Awa and Benny are so shallow. I could actually see him in a disco tune, his soaring vocals would work perfectly with that kind of music. -
VIDEO
Benny Hult
Ain't no mountain high enough (Marvin Gaye och Tammi Tyrell) - 6/10
- Benny gets the gospel choir treatment, well, blond gospel choir, but whatever. Boring vocals, cheesy song and a delivery with almost no soul. There were some nice moments but mostly, I was left cold. Can't believe he's still here. -
VIDEO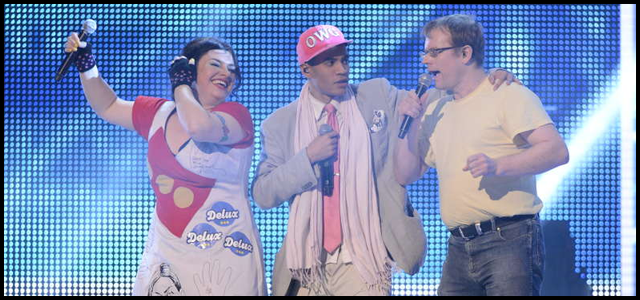 Well, that was a bizarre performance. OWG, Milkshake Mama and the creepy guy whose name I don't recall make a return to the XF stage. Honestly, I would've preferred to see some of the other finalists again but I can't deny that Milkshake Mama wasn't entertaining. A LOT better than Benny indeed. Why didn't she make it again? Creepy guy forgot the lyrics! Or did he? That was fun, in a wonderfully awful way! -
VIDEO
Round 2
Awa Santesson-Sey
My heart is refusing me (Loreen) with Loreen - 8/10
- Wow, I was surprised at how good Awa sounded here and while Eurovision 2012 winner Loreen obviously sounded way better than she did, little Awa proved that she can also show her big pipes if she wants to. Great performance, Awa's best this season without doubt, Loreen's awesomeness obviously influenced my views on her, I bet she sounded a lot worse on her own. -
VIDEO
Isak Danielsson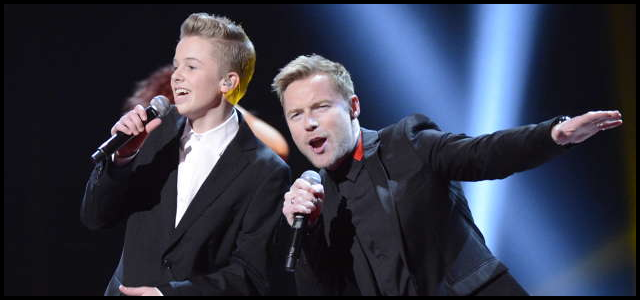 Life is a roller coaster (Ronan Keating) with Ronan - 7,5/10
- Look who's back on our TVs? After paving the way for The Collective to came third on the XF Au a few weeks ago, Ronan returns to sing with Isak tonight. Poor Isak is stuck with Ronan while Awa gets to sing with Loreen. This wasn't bad by any means but I can't really stand Ronan after this last season of XF, he's became so obnoxious. Nice but it lacked something, epicness, that's it, which may also be because this song is so awful. Andreas comment of Isak being Ronan's mini-me was spot on. -
VIDEO
Benny Hult
Hungry heart (Springsteen) with Orup - 6,5/10
- Poor Benny gets to duet with mentor Orup and it's even worse for us cause we are given a hugely old fashioned cheesy performance. That seems to be the recurring theme tonight for Benny, boring and cheesy. He may end up being the Jason Owen of this season cause I don't see him winning but I also don't see him going home after this performance, despite how bad it was. -
VIDEO
Elimination:
Ok, this is just sad. I was honestly expecting Isak to win given that he's been the most consistent and relevant contestant this season. He's got a huge voice and could be highly marketable. Benny's completely unremarkable and Awa is just too young. At this point, Awa is the right pick but this season is already lost.
Round 3
Awa Santesson-Sey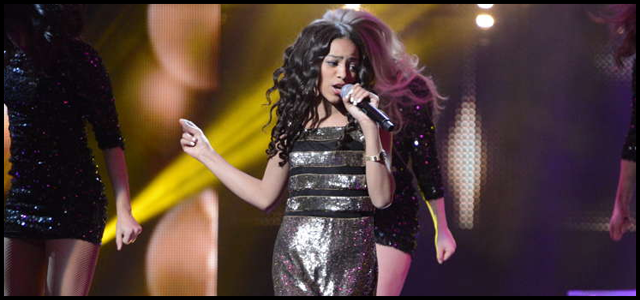 You can't hurry love (Supremes) - 7/10
- She should be singing something current cause she's sang this type of songs for her entire XF run. While I don't like it, she must have done something right cause now she's in the Top 2, the audience must really love her personality cause I really don't see someone loving this. Good vocals, good performance but I'll forget about it as soon as I stop typing this. -
VIDEO
Benny Hult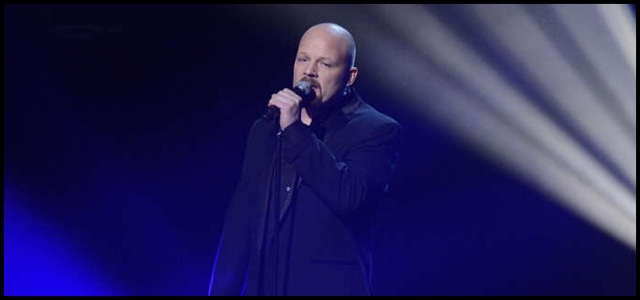 Love you more than you'll ever know (Michael Ruff) - 8/10 -
His typical kind of performance but somehow, he's voice wasn't the dreadful flat thing it always is. He'd a great rasp and though it's ending was a little abrupt, the whole performance was a pleasure to listen to. Probably one of the few things Orup's got right this season.
- VIDEO
Who do you thinks deserves winning?
Scroll down for the results!
.
.
.
.
.
.
.
.
.
.
.
.
.
.
.
.
.
.
.
.
.
.
.
.
.
.
.
.
.
.
Results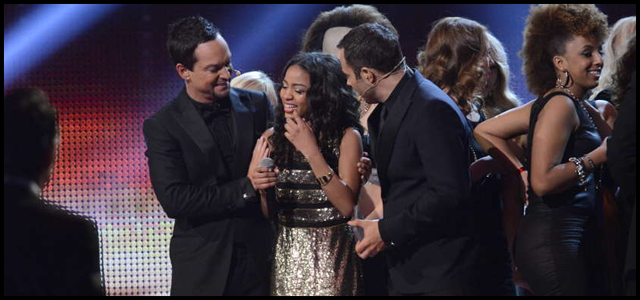 1st Place

: Awa Santesson-Sey

2nd Place

: Benny Hult

So adorable little Awa was ultimately crowned the winner. I remember someone saying she was winning after her audition aired but I never really expected that to happen. Her performance were decent at best and she never really stood up. It's nice to see a girl winning so easily for a change but in this case, the deserving winner would've been Isak. Now it remains to be seen what type of music Awa will release and if it'll be any kind of success. I want her to but I really can't see it happening.