I'm currently looking for some new writers in order to expand the blog given that I can't post the amount of things I'd like to. So if you are interested in writing about anything related to music (news, TV shows, album reviews, introducing artists) just drop me an
email to musicisthedoor@gmail.com
and we can discuss some of your ideas.


With bootcamp just days ahead, it's time to give a close to the auditions for this year! We've had some exceptional talent in this past two weeks but the question is, will the show close on a high note or will it fail to deliver? ... It's time to face the music!
Recap and videos after the JUMP ...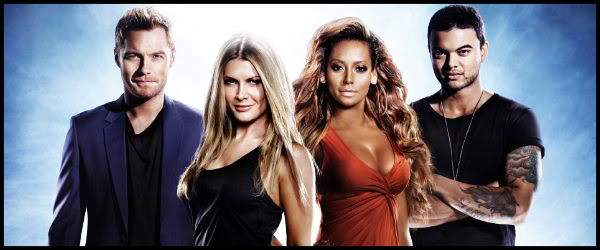 We are informed that the only thing in the judges mind tonight is finding members for a supergroup. Ugh. One potential member is
Jayden Sierra (17)
. When he was young he was into soccer but singing was what he enjoyed more. He's singing "The Only Exception" and despite nice, I'm not really feeling it. He's got a cute tone but I'm not sure it's enough. As Mel said, he could really work in a boyband, in which being mediocre is a requirement. -
VIDEO
Veronica Bravo (16)
- She auditioned last year and made it to Mel's bootcamp, where she was sent home. Honestly, I don't remember her at all and I'm great at remembering faces. She said she's not too crushed cause when she went back home Johnny Ruffo was with her. She says she wants to be like him, being a girl. So this girl went home and Christina Parie, Tyla Bertolli and Jacqui Newland stayed? Veronica can sing way better than the three of them together. Her voice is incredibly mature and the issues she had were minimal. Whoever gets the girls this year has a tough job ahead. -
VIDEO
GCG
- Christian (21) and
Ahmed
(19) - There were three of them but the third member wasn't able to make it cause he is in prison. He'll be released in 12 months. Nat asks them if he did something bad. They say he's on probation and didn't reach to sign in. Both of them are rappers. Ahemd is much better than Christian, who forgets every single lyric. Ronan asks Ahmed if he'll go on his own. He says no, until his bro Christian says if he can get through alone then they need to take him. "I'm your best friend, do it". So Ahmed will be on his own at bootcamp. Could he be Australia's Astro? -
VIDEO
Valencia Fesolai (18) -
She comes from a singing family. She's currently studying law but has always wanted to be a singer. She sings at church functions but wants to become an artist and make a career out of it. This audition is not what I expected at all. She picked a diva song and then made it a whole better. She added her own touch to an overplayed song and made it feel fresh. I really enjoyed it, specially the grit to her voice. -
VIDEO
D&D
- Danny and David Massa (25) - Oh no. Twins!! The nightmare of a new Jedward comes true. They've a YouTube channel with over 1 million views. Their father passed away when they were 12 and their mom had a nervous breakdown after it. They are now full time carers for her. "She's never the same the way we remember her". They are better than Jedward but unfortunately that's all good I've to say about them. They were completely cheesy and their dancing was annoying. Their voices weren't good at all either. People just liked them cause they are twins, what's the fascination with them? I really don't get it. -
VIDEO
Judah Kelly (15)
- Final auditionee of the year! He says school hasn't been easy at all. "I'm not the most popular kid, I guess being fatter than everyone else makes it a lot harder. No one really gives me a chance, they just see the fat kid, the new fat kid, and they don't really want to get to know you". He's singing "I Won't Let You Go", which Ronan says he loves. He forgets most of the lyrics but other than that, it's a great audition cause he faked it like a pro. He's got an awesome voice for a 15 y/o and a fantastic tone. He gets a standing ovation from the judges, I think it's the first one this year? He could be a great contestant, he just needs to remember the lyrics the next time. -
VIDEO