I'm currently looking for some new writers in order to expand the blog given that I can't post the amount of things I'd like to. So if you are interested in writing about anything related to music (news, TV shows, album reviews, introducing artists) just drop me an
email to musicisthedoor@gmail.com
and we can discuss some of your ideas.


We witnessed another fantastic episode last night in which the girls showed their supremacy over the rest of the contestants. We've not seen many groups thus far, could that mean they all sucked? Or are they saving the best for last? ... It's time to face the music!
Recap and videos after the JUMP ...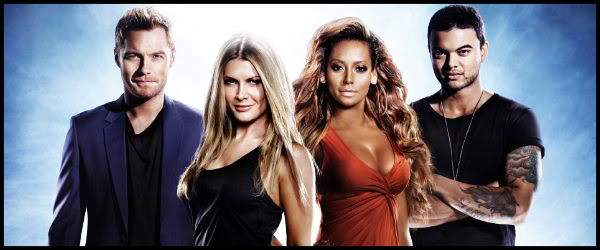 Angela Vayne (39)
- Angela lives in Tasmania, she's an artist who mostly does watercolour landscapes. "I'm here to fulfill my destiny". "I live in a block of flats and I practice in the hallway but I had the police called on me" she says when asked where she sings. Angela clearly looks like a joke contestant but once she starts singing there's clearly talent in there. I didn't love it though, the song seemed wrong for her, but she's a lovely woman and honestly, she's quite hysterical. I'd like to see her again. -
VIDEO
William Singe (19)
- He's a bank teller, he says that everyone who comes in automatically hates him. Haha. Why does his face look familiar to me? Where have I seen him before? William doesn't have a bad voice but the fact that he's singing Justin Bieber takes all the credibility away from him. He did a better job than the fetus, that's for sure. Plus he added an original rap to the song, which instantly made it better. His tone is nice enough too, I wouldn't mind him staying. -
VIDEO
First montage of the series, unfortunately, they keep insisting on the new 1D crap. We see a bunch of young boys including
Jack Saunders
,
Rob Vegas
and a guy named Julian. None was particularly exciting though they did sound okay. -
VIDEO
Good Question
- Kristina (20) is a former Miss Universe contestant and Joelle (21), the "blond" one, is her student friend. Kristina got to the finals of Miss Universe then the XF opportunity came and she decided to drop off the competition. Kristina discovered Joelle online and they started collaborating cause they felt stronger as a duo. They are singing "Wild Ones" and they are actually very good. Joelle's got a fantastic tone and Kristina did fairly well on the rap part, I wonder if she can sing though. I loved that performance but I'm not sure if the female audience can relate to them, I hope they can. -
VIDEO
Matt Gresham (23)
- When he was 18 he left school and didn't know what to do with his life. "I went from drinking twice a week to every day. When I was 20 I gave up drinking to focus on music, I just kept practicing and I started getting regular shows at this little bar, it was really cool". Wow! What a great audition, I loved every single bit of it. His reggae vibe was quite fresh, it actually reminded me to André Zuniga-Asplund, from Idol Sweden, who you all know I loved. "You are an Aussie boy singing in a Jamaican accent. You don't do that in every song. " Mel tells him "Forgetting about that for one minute, you're a very unique, cool and different performer, we've not seen that in this show yet." Totally agree but that song is meant to be sang in a Jamaican accent, isn't it? Another fantastic male contestant, things are getting complicated! -
VIDEO
Hayden Maurirere (20)
- Hayden's originally from New Zealand. He's a son who's three y/o. He wants his kid to look out to him and see him doing something good for himself. He does some side jobs for a living, gardening and delivering among them. "I don't want to work in a factory all my life, I don't want to be doing this jobs, I've wanted to be a singer all my life". Hayden's got a lot of raw talent and with some polishing, I could see him becoming a great singer. There's a smooth original tone there and as Guy put it, it started good but it ended great. -
VIDEO