I'm currently looking for some new writers in order to expand the blog given that I can't post the amount of things I'd like to. So if you are interested in writing about anything related to music (news, TV shows, album reviews, introducing artists) just drop me an
email to musicisthedoor@gmail.com
and we can discuss some of your ideas.


We had our first returnee, two times eliminated Trent Bell last night. We also had a Pinoy teen idol, a struggling musician and Timomatic's sister. The bar is very high this year, there's no doubt about that. Will tonight's contestant keep the standards high? ... It's time to face the music!
Recap and videos after the JUMP ...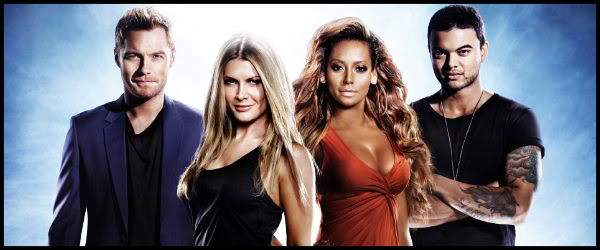 Fortunate
- Last year they made it to bootcamp. They thank Ronan for sending them back last year, they say they weren't experienced enough but now that they've been together for a year they hope to change their luck around. They've gotten a major makeover since last year cause they look much better now. There's definitely an improvement over last year. They sound great and it makes me wonder why they were sent home in favour of other acts in Ronan's JH. The harmonies were pretty sweet and the ending was fantastic. Another great group, why do they even need to find a boyband when they already got this lads? -
VIDEO
Bella Hunter (23)
- "Singing is in my blood and I can't escape it. This is my first audition in a very long time, I'm starting to panic". Mel knows her, she says they've been in the studio together the previous month. His dad was Dragon's frontman, Marc Hunter, who he passed away when she was around 10. Bella's singing my all time fave "Video Games", which I've actually haven't heard in a while. She's doing good with it, not as great as I hoped but it's pretty solid. She's got a lovely voice but the song was totally wrong for her as Ronan pointed out. If she finds the right song and gets rid of her nerves, she'll be a lot better. -
VIDEO
Two family members are competing against each other.
Zach Russell (22)
is first. Despite being the younger brother, he looks like the oldest. Zach's a courier by day and a singer by night. I found his audition a little irritating, as Mel did. He doesn't have a bad voice but the song choice is awful. I hate it when people sing this song cause they usually butcher it. As Nat said, he did butcher it. -
VIDEO
Zach's brother,
Aaron Russell (25)
, is next. Aaron is an Over, so he could be competing against his bro in the liveshows, provided they both make it. Honestly, he's a much better singer. If one of them has a chance to make it, it's Aaron. His tone fells much more pleasant though he also sucks at picking songs. He got a little shouty though and it turned a little karaoke. Mel also found Aaron irritating cause he wanted to see him sing more. Well, she gets irritated easily. So both bros are through, who'll make it furthest? -
VIDEO
Sarah Main (17)
- She's gonna sing Minnie Riperton's "Loving You", notable for it's huge glass shattering note. So will she be able to pull it off? The performance is off to a beautiful start. Sarah's got a gorgeous voice and her mellow and passionate tone was very mesmerizing. But what everyone was actually waiting for is for the note. So the rest of the performance was relegated to the background. When the note finally came, Sarah hit it flawlessly and my jaw dropped. Getting that note right requires some serious talent. Sarah's audition was quite magical, almost angelical. This one is a raw diamond. Definitely one of the best. -
VIDEO
Semaema Cornford (26)
- She was born in Fiji but never met her birth mother. She was left in the hospital when she was born and then moved around from family to family until she was ultimately adopted when she was 10. Semaema has lupus, she says it affects people in different ways and for her it started attacking her kidneys when she was 13 and that she's on dialysis at the moment. She had to start with it 3 years ago, she goes to the hospital 3 times a week and get plugged to a machine for at least 5/7 hours. "When I was 21 my doctors told me to go home and say goodbye to my parents because there was no cure for my lupus so everyday I know that it could take me but I just keep going. Music is what keeps me going it takes me to another place and singing helps me escape from what's going on in my life". She says she got into the transplant list at the beginning of this year. She's dedicating the song to her dialysis nurses for being there for her. Aw! Semaema's got a great voice but it's not as powerful as I hoped it will be, I do think that the song was wrong for her cause she's got a nice tone underneath and all she said before singing may have affected her voice. This girl is quite an inspiration, I wish her the best and look forward to seeing her again. -
VIDEO
This entry was posted on 11:01 PM, and is filed under
Aaron Russell, Bella Hunter, Fortunate, Sarah Main, Semaema Cornford, TV, X Factor Australia, XF Series, Zach Russell
. Follow any responses to this post through
RSS
. You can
leave a response
, or trackback from your own site.