I'm currently looking for some new writers in order to expand the blog given that I can't post the amount of things I'd like to. So if you are interested in writing about anything related to music (news, TV shows, album reviews, introducing artists) just drop me an
email to musicisthedoor@gmail.com
and we can discuss some of your ideas.

Published by Kevin Mc Stravock

It may only be the second episode of the series but already this year's X Factor is looking to be a good one with Ella and Curtis in particular impressing me last week. On this week's show, the panel are joined by guest judge Rita Ora in London and Mel B in Manchester before new judge Nicole Scherzinger who is going to be the permanent fourth judge from Bootcamp onwards joins Tulisa, Gary and Louis in Newcastle! It's Time To Face The Music!
Recap and videos after the JUMP ...
We're ahem... treated to a montage of people getting ready to audition for the show as well as an interesting video of our first hopeful Rylan Clarke getting ready for his audition by getting a spray tan in his garden before his friend plucks his eyebrows. Clearly ITV have got the tapes for TOWIE and The X Factor mixed up. Rylan comes on stage and immediately compliments Gary Barlow on his cardigan, did someone say 2 Shoes? He also reveals that he was in a Take That and also a Westlife tribute band in Ibiza. He's singing Des'ree track 'Kissing You' from the soundtrack of Romeo And Juliet but he has decided to mix it up a little bit and has transformed it into an Ibiza club track, because clearly what the UK need is a new mega-talented Ibiza club singer. This is pretty awful, his voice isn't mildly good enough for the standard of the competition but Tulisa in particular seems to be loving it, I'm definitely not. Rita Ora loves it as does Tulisa and Louis says that it was fun. Gary doesn't and says No. However, as the other three need their heads checked enjoyed the performance, Rylan is through to bootcamp! - VIDEO
After an ad break (because most people needed one to recover from Rylan's audition), the show continues in London as next up is Kye Sones, a 29-year-old chimney sweeper from London. Before you say 'Mary Poppins', we're informed of the intricate details of his day job in much the same fashion as Matt Cardle's audition two years ago when the eventual winner revealed that he was a painter-decorator. Already I'm getting Matt vibes from this guy. He is singing a mash-up of Swedish House Mafia track 'Save The World' and guest judge Rita Ora's number one single 'R.I.P' but to a stripped back acoustic backing. His voice is pretty cool although there's something a little bit whiny about his voice, bizarrely he sort of reminds me of Morrissey vocally, not sure exactly how that's possible on a stripped back version of a Swedish House Mafia track. Anyway, this is a good audition although I think last weeks' successful auditions were a bit better. All the same, he thoroughly deserves to go through and unsurprisingly the judges love it with all four giving him a standing ovation and with Tulisa claiming that she could listen to his voice all day long. Rita calls him a superstar and Gary says that they have found an artist. Kye is through to bootcamp with four Yes votes! I don't think he is amazing but purely because of the Matt vibe, I have a feeling Kye could actually win this though I think we have seen better talent. - VIDEO
After another break, (jeez is it called The Ad Factor?) we're in Manchester with Mel B again as we see our next auditionee Lucy Spraggan chatting backstage to a young girl Shanelle as they await their time to shine whilst Gary and co. tear a mixed gender group to shreds. Shanelle is up first and we hear a short clip of her singing which is actually really good, she has a lovely tender voice with a smooth, bluesy tone and although it's far from the best, it definitely merits her place in bootcamp, right? Wrong presumably as all four judges say No despite big cheers from the audience which increases Lucy who is watching from afar's nerves as she sees her friend being rejected. All I can say is how could they reject her yet put Rylan through?
Now it's 20-year-old Lucy Spraggan's turn. Lucy tells the judges that she is one of those annoying people with a sign that you try to avoid because she is responsible for selling baby photographs. She also says that she doesn't really enjoy her job because it isn't what she wants to do, she wants to be a singer. She is singing her own song 'Last Nite' which is about beer fear apparently (it was trending on Twitter last night during the show). Lucy's songwriting skills can't be doubted, she has a very witty style of writing and it reminds me of Kate Nash and Lily Allen's music with a hint of Laura Marling too. Unfortunately that doesn't stretch to the vocals however as I honestly don't really like her voice, I just feel like it lacks melody, it's not awful but it reminds me a little bit of a female Frankie Cocozza though thankfully Lucy herself is a lot more endearing and likeable than last year's resident badboy. In short, I believe that as a songwriter, she is fantastic but as a singer she needs work, her vocals just don't wow me as much as her songwriting does and the ditty style of the song meant that it felt more like something The Loveable Rogues off Britain's Got Talent would perform making me think that this show isn't the best fit for Lucy's style. Regardless, the audience absolutely love her as do the judges and she gets four big yesses even managing to impress tough to please Mel B. - VIDEO
The panel have
moved to Newcastle now where Nicole joins the panel once again with all four judges feeling optimistic about what they'd like to see from the Geordie auditionees. Up first representing Newcastle is
Billy Moore
who reveals that he has been practicing his singing in a well-known fishing spot near his home. Gary asks Billy what the fishermen think and he says that it's a mixed bag. He is singing Don't Stop Believing by Journey. Personally I stopped believing that he could make bootcamp as soon as he opened his mouth. He completely misses his key and ends up sounding a bit like a CD player when you leave it out in the rain. The judges give him another chance where he reveals that he isn't used to singing to a track as he had been singing acapella when rehearsing his audition song. He starts again and once again messes it up interrupting his singing with ad-libs of 'I'm killing this. Sorry, I'm murdering it'. Well, at least he's honest! The audience end up finishing the song for him. Unsurprisingly Billy doesn't make it through to the next round, what a pity. -
VIDEO
Up next is teenager
Sophie Stockles
who is performing 'Love You I Do' by Jennifer Hudson, she is joined backstage by her parents and her aunty who tell Dermot that Sophie is a fantastic singer. Well, she certainly has power, belting out the first few notes and her voice is projected around the auditorium very easily. Unfortunately, she's about as controlled as a car driven by a badger and her voice ends up verging on noise pollution. As Nicole puts it nicely 'it's lacking tone and pitch'. Her family appear to be absolutely gobsmacked that the judges didn't enjoy the performance, something tells me that the terms rose-tinted spectacles may be relevant to the audition. Sophie isn't through but if you want to scare away a few stray animals in your garden, here is the audition again! -
VIDEO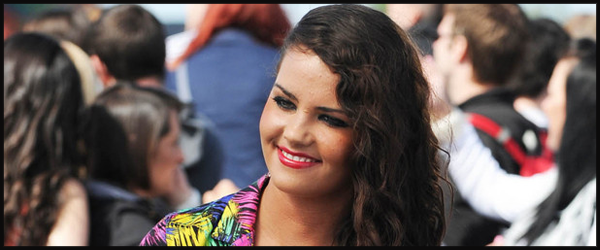 The last auditionee of the day, hoping to change the judges' minds about Newcastle having any talent is
James Arthur
who has had a tough life with his parents splitting up when he was just two and aged ten he moved to Bahrain with his mother and his step-father, a marriage that itself eventually broke up leading to James moving back to Middlesbrough with his mother and going off the rails completely leading to his mother having to kick him out of the house because she couldn't control him. Unable to live with his father, James had to sleep rough until he was placed in a foster home. However, he has turned his life around, something which he largely thanks music for as it has allowed him to express his anger and frustration in a positive way. His mother and father are both joining James and the rest of the family for his audition, something which he says is an achievement in itself. With that sob story all over, it's time for his audition as he performs his own arrangement of Tulisa's track 'Young' with a rap in the middle. I have to say that this is for me, the best audition of the series so far, every word he sings is brimmed with emotion and he completely blows me away with his rap, he's like Charlie Simpson mixed with Plan B and I absolutely love it. His mum is in tears, the audience is in tears, I'm in tears (no, not really though it was a very emotional performance) and I loved it, this is what the show is all about. James gets four big yesses from the judges and sails through to the next round. Best audition I have seen in ages! -
VIDEO