I'm currently looking for some new writers in order to expand the blog given that I can't post the amount of things I'd like to. So if you are interested in writing about anything related to music (news, TV shows, album reviews, introducing artists) just drop me an
email to musicisthedoor@gmail.com
and we can discuss some of your ideas.

Published by Kevin Mc Stravock

I never expect the show to wear around and then all of a sudden, it jumps up on me and I know that it's only a matter of auditions shows, decisions and live shows until Christmas. However, don't be getting the tinsel and mince pies out yet as it's still August. I'm of course talking about The X Factor which is returning to ITV1 for a ninth series. Much of the show is staying the same since last year apart from the unfortunate departure of Kelly 'Girlalirl' Rowland who has been replaced by former Pussycat Doll and X Factor USA judge Nicole Scherzinger but as the decision was only confirmed partway through auditions, a number of guest judges joined returning panel members Louis, Gary and Tulisa to judge the talent on display. I'm not going to say anything rediculously cliched but...It's Time To Face The Music!

Recap and videos after the JUMP ...
Kicking the show off is 17-year-old
Sheyi Omatayo
. Sheyi works in Nando's and he reveals that he got very excited when working in the restaurant one day because UK pop singer Pixie Lott had came into the eating place. He says that he has always wanted to be a singer and it looks like today has the potential to be his big break as he's onstage. He really allows the audience to warm to him by making a few jokes with the judges telling Louis that he is a plain guy and saying that Tulisa would order something hot off the Nando's menu as she's looking hot. Unfortunately, as Tulisa says, he quickly goes from Camden Boy to Cookie Monster on his rendition of 'What A Wonderful World' by Louis Armstrong. However, things sadly do not improve on his second song as he continues to sing it in his strange tone. It's a no from all four judges and it would be a No from me too even if he did have a great personality. -
VIDEO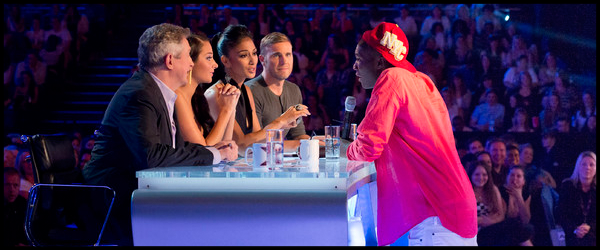 Up next was a montage of acts who got through. Whilst they were all very good in their own way, the only one whose voice captured my attention was 24-year-old
Tasha Leigh
, a florist whose brief clip of 'Nothing's Real But Love' by Rebecca Ferguson was vocally fantastic, really surprisingly good. Unfortunately, I don't see this coming to anything, if Tasha was meant to go really far in the competition, surely they wouldn't have stuck her in a montage where the majority of the focus went on her job? -
VIDEO
Up next came nervous 21-year-old
Jahmene Douglas
who works in Asda. He confesses that he isn't an outgoing person and prefers to stay at home as opposed to going out. He appears struck by nerves when he steps onto the stage, struggling to respond to the judges' questions but as soon as he opens his mouth to sing, all of that goes out the window. He's performing 'At Last' by Etta James and boy does he have a powerful voice, he absolutely smashes the song again and again with his impressive falsetto, he reminds me a bit of Lascel Wood from last year but better. However, if I had to criticize slightly it's that he did overdo it slightly on the vocals tricks and I would have liked him to sing the song with a little bit more restraint as it did become slightly shouty towards the end though compared to previous acts like Danyl Johnston and Amelia Lily who often overdid it, it was nowhere near as big a problem for Jahmene. I fully expect to see him at least at Judge's Houses though I seriously hope that Louis' wishes to have him in his category don't come true or he'll be singing 'Mack The Knife' by Week 3. -
VIDEO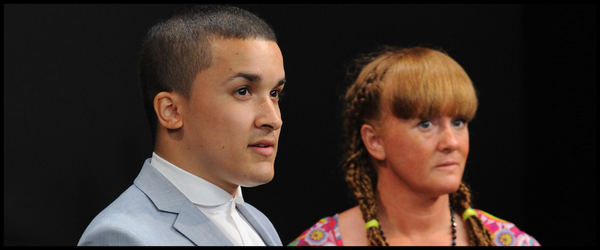 That audition over, we're treated to another montage, this time of tribute acts. Up first is Omar from California who is a Prince tribute artist, quite an energetic performer and definitely convincing as a Prince tribute artist but it's not what the show is looking for. He is followed by Alexander from Glasgow, a Rod Stewart tribute act who claims that 'Rod looks like me'. All I'll say is that Rod doesn't have anything to worry about. Needless to say that he won't be winning the competition. The last act in the montage is Tulisa lookalike Ashley, a chip shop worker who impresses me at least by managing to sing Tulisa's debut Number One 'Young' better than the judge herself though the fact that she essentially looks like Tulisa only a few inches shorter surely means that she's unlikely to go far in the competition.
Rounding off our tribute artists is 22-year-old
Zoe Alexander
from South Wales, a Pink tribute artist who wants to get away from the Pink comparisons and be herself. It definitely wouldn't take a genius to work out that she's a Pink tribute artist to look at her although I'd say that's an advantage as she looks like a pop singer. On first impressions, she comes across quite grounded, she's focused on stepping away from the Pink material and being herself but I must question why she then picks a song by Pick, 'So What' specifically as it's not going to allow her to stand out. And true to form, her performance of the song is good but nothing special, it's definitely not good enough for the show and it does feel a little bit flat overall. The judges appear to agree as they all comment on her not being able to stand out from the crowd by singing a Pink so and ask her to sing a different track. She performs 'Next To Me' by Emeli Sandé, another okay performance but she lacks the soul in her voice to be able to pull it off. The judges all say that she needs to go home and work on herself as an artist trying to step away from the shadows of being a Pink tribute artist and become a stronger singer and performer. Zoe isn't pleased however and immediately attacks the judges for making her sing Pink when she didn't want to, of course, the judges never said the words though I do wonder if producers advised her of it at the producers auditions. Zoe storms off stage and throws her microphone before shoving the cameraman out of the way. Her father then joins her and she then returns to the stage and swears at the judges before once again storming backstage. Let's just conclude that Zoe won't be becoming a popstar anytime soon. -
VIDEO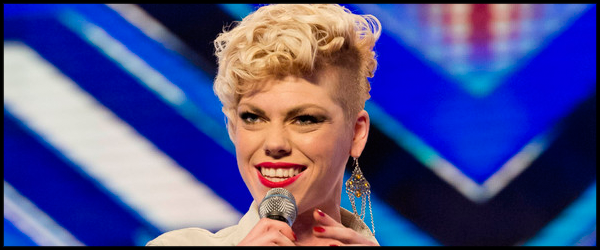 We're now in Manchester where the terrible trio are joined by former Spice Girl and regular panel member on The X Factor Australia, Mel B. First up to see Mel is
Curtis Golden
who is 18 and a self-professed geek. He's singing an arrangement of 'Candy Man' by Christina Aguilera and wow is he a lot better than what I was expecting, Mel B appears a bit miffed at his strange mumbling towards her about being a big fan of The Spice Girls but he's certainly for me at least the best of the night so far, his voice is so completely original and he really does put his own stamp on the song, I so hope he makes the live shows as he would be an exciting artist due to his originality. He's through although Mel B isn't impressed branding him 'irritating' and it seems that Curtis isn't the only one failing to win Mel over... -
VIDEO
We have another montage, this time of acts who face the wrath of Scary Spice who appears to be living up to her name. Also singing 'Candy Man' is
Maria
, a student who recently recorded her first single. Mel tells her that she should find something else to do which although blunt is kind of true as she's not a great singer. 17-year-old
Lucy
is reduced to tears when Mel tells her that she looks like a popstar but doesn't sing like one. Not even joking, her bursting into tears reminded me of that X Factor drama series Rock Rivals on ITV1 with Michelle Collins, are we sure we're not watching a repeat of that?
Tae Blondo
also fail to impress Mel...or me with their half-rate harmonies. And 18-year-old
Matt
's audition is dubbed the worst of all time by Mel which is probably a bit of an exaggeration although to be fair, it was pretty terrible. However, it's Mel's criticism of 82-year-old
Louis
which gets the biggest boos of the day. The pensioner seems like your typical cuddly granddad character and kudos to him for coming on stage and singing, his performance of 'Make You Feel My Love' by Bob Dylan is nice although of course it's not going to set the stage alight. However, Mel is a little bit tactless, telling him that she wanted to fall asleep, whilst I agree that he probably wouldn't have got a Yes from me, I think she should have been more tactful in her comments. Regardless, I do think that the producers carefully edited that montage to make Mel look harsh. -
VIDEO
The final act of the night was 16-year-old
Ella Henderson
. Now I know I have already mentioned Rock Rivals but at the start of this audition, I was beginning to think that the show had become how Peter Kay parodied it a few years ago as Ella's VT about her grandfather complete with melanchonic music and photos of her as a child was beginning to take the form of R Wayne and R Gran from the C4 spoof show devised by the popular comic. Thankfully her original song was able to convince me otherwise as quite frankly, she blew me away. This is the first year that auditionees have been allowed to sing their own songs and you could definitely feel the benefits of it with this audition as despite the 'Young Adele' comparisons she has been handed in the newspapers, I thought that Ella showed that she is her own type of artist. There were about five or six different tones and layers to her voice rather than just one and if I had to compare her to an artist, I'd need to be comparing her to a list of artists as she doesn't sound like any one musician. The song was incredible, really moving and sophisticated especially considering the fact that it was written by a sixteen-year-old girl and I definitely think that Ella will be advancing to the live stages unless there's a massive shock between now and then. -
VIDEO