I'm currently looking for some new writers in order to expand the blog given that I can't post the amount of things I'd like to. So if you are interested in writing about anything related to music (news, TV shows, album reviews, introducing artists) just drop me an
email to musicisthedoor@gmail.com
and we can discuss some of your ideas.


There seems to be a lot of talent this year, with more spectacular contestants wowing us last week.The stand-out was grilband Good Question with their sassy take on "Wild Ones", rapping included. It remains to be seen if there's anymore talent among the groups, cause this one is the only one we've found so far. Will we find the next big group tonight? ... It's time to face the music!
Recap and videos after the JUMP ...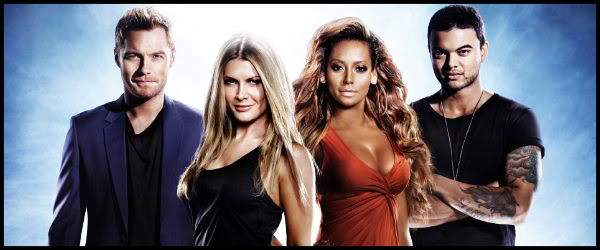 Trent Bell (22)
- Trent is back for the third time in a row. This guy can't get enough nos, can he? The first time around he got to bootcamp, last year he made it to the JH, so the obvious step is liveshows, right? His still has a good voice but as I said in the past, I'm not sure it's enough to get him to the liveshows. The guy's got zero originality and if he's put through he'll just be good karaoke. The judges praise his perseverance, so I guess he'll make it through for being persistent? -
VIDEO
Morgan Sheather (20)
- She moved to Sydney on her own and now lives above a pub. "It's been a lot harder to do than I thought it would be. I found myself living in a cold room and living on food packages and not being able to find work and not knowing if I'd be able to keep a roof above my head. My mom told me my entire life not to give up, not matter how hard it got. When you've a dream, you've gotta chase it". Morgan's got a very sexy and sultry voice, it's quite quirky if you ask me. It wasn't my favourite audition but I see there's a lot of potential in her voice, that take on Pink was really unique. I wouldn't mind seeing her again, I'd actually love to. -
VIDEO
Tabitha Omaji (23)
- Tabitha is Timomatic's sister and before you ask who, I've no idea who he is either. Haha. "I'm here because I saw my big brother take stages like this and smash it so I'm here to have a go myself". She's definitely an entertaining performer, I love the way she struts across the stage. The whispering was also nice but her voice is somewhat generic. I won't deny it wouldn't be fun to watch her every night, cause it'll definitely would. -
VIDEO
We see more guys who the judges think will be a good fit for a boyband. Don't they think we've seen enough of that? Next we see a contestant who's been a teen idol himself.
Chris Cayzer (25)
lived in the Philippines, which he calls his training ground, for about six years in which he started acting, he released two albums and got an award for favourite new male artist but all he wanted to do is come back and succeed in Australia. "Going from that to doing pubs. Ah, I really miss it. I really want a bigger audience, just being professional. It's the only think I know how to do, that's why I'm here". His song choice is surprising, "A Thousand Miles" by Vanessa Carlton. Despite the interesting song, I really couldn't like him. He came across as really cheesy to me though there were some nice moments, such as the one in which Mel stood up. I agree with Guy here, he has to grow a lot but since he's an Over, he may still make it far. -
VIDEO
Briden-Star Aspinall (20)
- Her parents did musicals pretty much all their life growing up. When she was 18 y/o she got into the musical Hairspray. "It was a little overwhelming at first but it was a great first taste and I'm hungry for more". She says she's very insecure about her singing. Awful song choice, I don't know what she was thinking. I liked her voice though, I saw potential in it and she has a nice enough tone. However, her movements were extremely distracting, very cheesy and theatrical, definitely what you'd expect from a musical theater student. Mel hated everything about Briden-Star, a little too hard actually. On the one hand, I agree she's not edgy enough but on the other, I truly think there is potential. She just needs to really polish her act. -
VIDEO
Carmelo Munzone (22)
- He's from Liverpoll and is a very weird person. He's singing "Sunday Morning" cause Adam Levine is his idol. They are definitely painitng him as a joke act but shockingly he's not bad at all, actually he's great. If only he had stopped laughing while he sang, the performance would've been a lot better but considering how distracted he was and how amazing it sounded, I think Carmelo can be a lot better than he was tonight. When Nat asks him why he was laughing he says "I'm a very happy person". He was my fave tonight, hands down. -
VIDEO
This entry was posted on 8:57 PM, and is filed under
Briden-Star Aspinall, Carmelo Munzone, Chris Cayzer, Morgan Sheather, Tabitha Omaji, Trent Bell, TV, X Factor Australia, XF Series
. Follow any responses to this post through
RSS
. You can
leave a response
, or trackback from your own site.