I'm currently looking for some new writers in order to expand the blog given that I can't post the amount of things I'd like to. So if you are interested in writing about anything related to music (news, TV shows, album reviews, introducing artists) just drop me an
email to musicisthedoor@gmail.com
and we can discuss some of your ideas.

29 September, 2013 8:04 PM

Last week, the remaining 9 contestants took on the biggest hits of right now, resulting on the elimination of one of Foo's girls, Ellie Lovegrove, who faced JTR in the B2. The top 8 will now perform rock songs. Is this finally the week cocky Ronan loses one of his precious acts or will his unbelievable massive ego keep growing? ... It's time to face the music!

Recap after the jump ...
Dami Im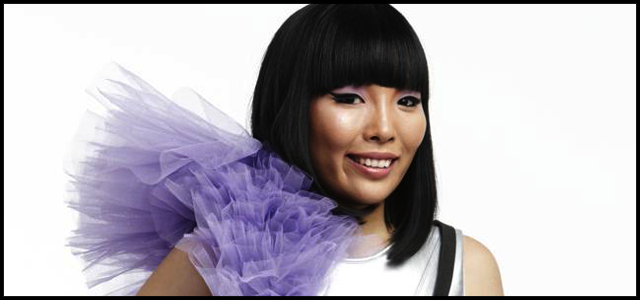 "Best of You" - 8/10 - Dami isn't performing last this week, she's performing first. Can't she just perform third or fourth? It's getting annoying. Also getting annoying, the standing ovations the judges keep giving her. I don't see that stopping anytime soon. After watching back last week's performance, all she could notice was the lipstick on her teeth, which she finds really annoying since it happens every week. Oh, like the Standing Os! "Dannii told me to get my rock on, I don't really know what it means" Dami says. This isn't my favourite from her. Her singing is excellent, there's no denying that but there was something about her cover that didn't convince me. Maybe Rock just isn't her style. She sounded lovely for most of it but when she went for the big shouty notes, it felt forced to me plus she could've hurt her voice. Still, Dami being not so awesome is miles better than half the other acts. Look at that, 5th standing ovation in a row. Shocking. "You're just so phenomenal Dami" (Nat) She talks about the standing ovations, "that never happens".
THIRD D3GREE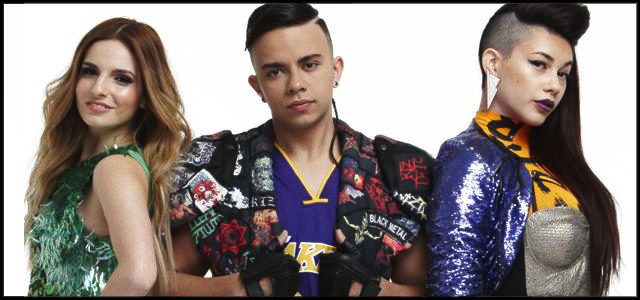 "By the Way" - 8,5/10
- Kelebek wishes they could've done a little better last week. Jacinta thinks that while they coped with it well, there's room for improvement. Nat thinks this will be the hardest week for them. Props to Nat for this pick, the arrangement was completely spot on. From Kelebek's rapping, to Jordan's dance solo to Jacinta's money notes, everything felt cohesive and true to the group's style. Best member tonight? Jordan. Not only did his soulful tone was fantastic but he also really impressed with those dance moves.Who would've thought he would be able to overshadow the girls? "That was absolutely my favourite performance you've done because you've utilized your best talents as Ronan would say, you put your best foot forward. Each of you stared, but you came together and that's what was magic" (Dannii)
Joelle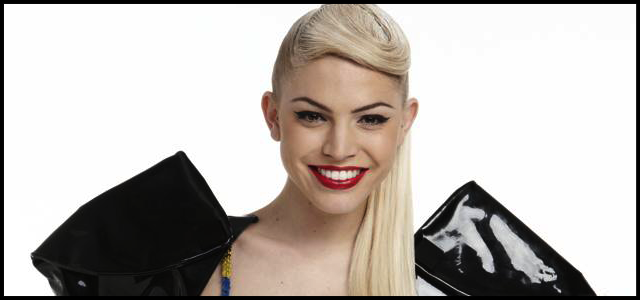 "Joey" - 9/10 - She felt good after last week's performance but seeing the judges faces, she knew they didn't like it. Foo promises a stripped back cover tonight. She wants to show Ronan who she is. Finally! This is the type of covers she should be giving us and I'm a little worried it's a bit too late now. Great arrangement, gorgeous vocals. The fact that the stage was mostly dark and that Joelle didn't move kept the focus on her tone, making it sound all that more special. This has to be her best performance and considering the songs Foo's given her so far, it's no surprise it is. Either way, wonderful performance. "I think tough love works with you because that was bloody good. I've always believed in you, I've always loved your voice and that connection, and that tone in your voice, the song choice and the way you look is the reason we put you through into bootcamp and you deserve to be here after that performance" (Ronan)
Omar Dean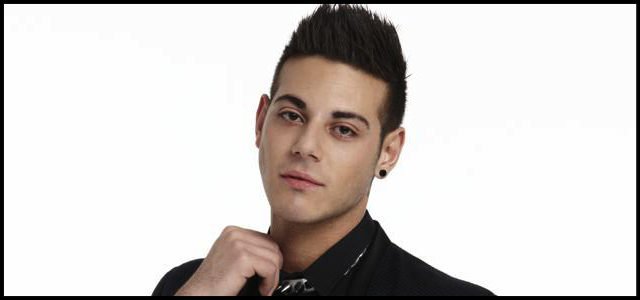 "Any Way You Want It" - 5/10 - He confesses he is super scared of heights and suffered a lot last week standing on that big platform. Ronan wants Omar to embrace this song. He's not so sure about it. His mentor suggest him to forget it's a rock tune and sing it the way he would sing this song. This is such an awful pick for him. Omar clearly doesn't like the song, his about-to-cry face says it all. Vocally, it's a decent cover, that is, until the falsetto from hell began. Why would he even attempt to do that when it was obvious he couldn't do it? Dannii said it all, it was too much for Omar to handle. "Not one of my favourite songs and you had me up until the big 'why were you like that' (in super high pitched voice) I don't know what happened. (To Ronan) Come on! So in the test run you heard that and you thought that's what we're gonna go with tonight. I don't think you are doing a great job for him if you are gonna allow him to go out, it's too much" (Dannii)
Jiordan Tolli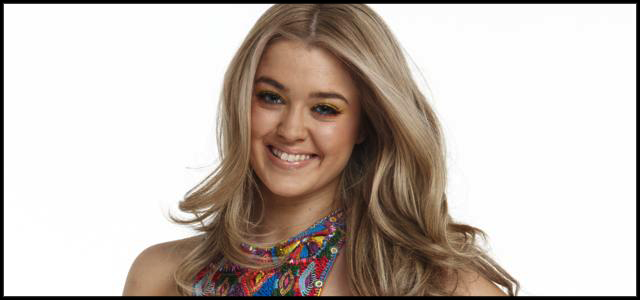 "Dancing with Myself" - 4,5/10 - Foo tells us last week Jiordan was so sick that she was meant to go to the hospital. That explains her weird voice I guess. She had chest pains, she was dizzy and her heart was racing really fast. Jiordan doesn't know how her voice will suit this song. Foo gave her this tune because she has the perfect energy to do punk rock. Eh, not sold on this. She certainly has the energy but her voice suffered here. After giving such a spot on song to Joelle, Foo does this to Jiordan? This isn't her and despite she gave it her all, it showed. Her vocals were just awful here, probably because of all the running. I hope the Jiordan I love comes back soon, cause honestly, I hated that. "Ah, I didn't love it. You look like you had a lot of fun up there, you look great, you embrace everything but that just didn't work for me" (Ronan)
Jai Waetford
"Drops of Jupiter (Tell Me)" - 6/10 - Ronan found it tough to pick a song for Jai this week. He went for Train, which he admits it's soft rock actually. During rehearsals, Jai's cover is super mellow, something that really doesn't change during the actual performance. Ronan kinda cheated here, Train is more pop than rock. Jai sounded ok though, some awful notes here and there but mostly good. I've not much to say about it, pretty decent. "I love the jacket man! Vocally, you are kicking booty up on that stage, the fluctuations and dynamics that you put on that song, it makes your heart skip a beat. You really got a voice man" (Foo)
JTR
"Thnks fr th Mmrs" - 5/10 - They've been two consecutive weeks in the B2. When they found out they were in the B2 again it was heartbreaking for them. Nat picked this song because it has a lot of energy and guts, and she thinks they've been missing that. While last week was better, the song really worked with Robin's voice. The other two brothers were ok I guess. Harmonies still suck though. 'I don't want to be here' John continues to give it as little energy as possible, someone grab him and shake him already and the blond dude was way too smiley. The fireworks were a nice trick, good enough to cover how weak their performance was. "I got mixed feelings. I'm not a girl! There was so much pyro I thought a gas station had blown up and I loved it but it's not New Year's Eve. I still think you guys are holding back energy cause if you take away all that stuff it's a little weak" (Foo)
Taylor Henderson
"Choirgirl" - 8,5/10
- He forgot the words last week and ended up singing the same line twice. He blames this on being out of sync with the band. Even though he got through it he couldn't stop thinking he blew it. I really like what they did at the beginning, the slowed down intro sounded awesome. This song was a perfect fit for Taylor's voice, the raspiness in his voice felt really great. Overall, this is definitely the best Taylor has sounded in weeks, props to Ronan for this choice. The judges give him a standing ovation. "I loved that. I love when I watch a singer perform how you acknowledge the band throughout that performance because we've had a killer band tonight. To watch the growth that you've had from the first week to then, it was just ... well done. Amazing" (Nat)
Ranking
Joelle
THIRD D3GREE
Taylor Henderson
Dami Im
Jai Waetford
JTR
Omar Dean
Jiordan Tolli
B2 Prediction:
Omar Dean

JTR
Results
Bottom 2:
Joelle
Jiordan Tolli



Joelle

- "A Thousand Miles"

- I can't believe Joelle is in the B2 after giving us the best performance of the night. That's probably to blame though. This is a lovely cover, the songs she picks for herself are always much better than what Foo gives her. That tone is to die for.




Jiordan Tolli

- "Torn"

- On the contrary, Jiordan deserved to be here. For the past two weeks, she just hasn't been good enough. She's not any better here, her vocals are awful, which is surprising since she's proven she's a much better singer than this. I don't know how the judges would justify saving her after such a trainwreck.




"I can't believe this. Joelle, finally last night I feel we saw the best of you. And you came out and you truly sang again for your life. It's taken five weeks to get to this point I don't know if we're gonna see anything better. Jiordan, you've been great every week, you didn't have a great week this week and that's gonna happen. Didn't love your song choice. I gotta go with my gut, the act that I'm sending home is

Joelle

" (

Ronan

)

"You both have really beautiful voices. You're very different artists. Joelle, it has taken you a while to fire up. I loved that, I love the tone of your voice. Jiordan, I love what you brought to the competition, you've a really beautiful voice. We didn't get to hear that yesterday, I didn't love the song tonight, I think you pushed a bit too hard. The act that I'm sending home tonight is

Joelle

" (

Nat

)

"I saw Joelle was storming up the iTunes charts yesterday. I heard tonight Jiordan getting all of the audience going, chanting your name. Whatever happens tonight is all about choices. Be prepared to make mistakes but really be committed to take something out, don't put it in. The act I'm sending home tonight is

Joelle

" (

Dannii

)




Eliminated:




Joelle

Well, this sucks. Joelle hasn't been good for a few weeks but it hasn't been her fault. Foo has been such an awful mentor to her, it was hard even for her supporters to like what she did. And the week the guy gets it right, she's kicked off the competition. It's not Jiordan's fault cause she did deserve to stay in the competition but it's such a shame Joelle has to leave after her best performance. At least it was in a good note. I hope we get to see her again.
This entry was posted on 8:04 PM, and is filed under
Dami Im, Ellie Lovegrove, Jai Waetford, Jiordan Tolli, Joelle, JTR, Omar Dean, Taylor Henderson, THIRD D3GREE, TV, X Factor Australia, XF Series
. Follow any responses to this post through
RSS
. You can
leave a response
, or trackback from your own site.