I'm currently looking for some new writers in order to expand the blog given that I can't post the amount of things I'd like to. So if you are interested in writing about anything related to music (news, TV shows, album reviews, introducing artists) just drop me an
email to musicisthedoor@gmail.com
and we can discuss some of your ideas.

15 September, 2013 7:30 PM
The auditions finally came to an end and now, the remaining 119 contestants must face the hardest challenge yet, the Slutauditions. In the next 4 days they'll have to give their everything in order to impress the judges. Who'll make it to the semi-finals? Who won't step up to the challenge?
Recap after the JUMP ...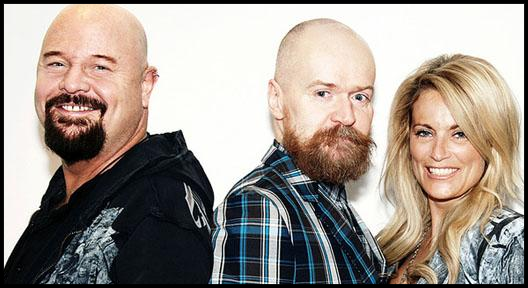 Day 1
Classic Slutaudition challenge. The contestants will form lines of about 10 people, then they'll sing for a short time in front of the judges acapell

a

. The judges will then decide which of them got to stay in the competition.

First up,

Bolivia Protopapa

who insists on taking on pop divas. Her "ET" take is actually pretty nice, I like it more than her audition, though by now, her audition is only a blur. In the same line, hunky

Ludvig Lagerwall

who goes from one of the most impressive auditions to one of the worst Slutaudition performances ever. Not only his singing was awful but he also forgot the lyrics. Bye bye.

Niklas Janfjord

is next and while his confident is still non existent, I really enjoyed his take on "Don't Let the Sun Go Down on Me". Also impressive is

Kevin Kelly

's Britney Spears cover because after seeing his audition, no one could've guessed he was able to do that.

Matilda Melin

follows, giving the older contestants that preceded her a run for their money. We could be looking at our first semifinalist.

Wilhelm Börjesson

closes the line with a rather unimpressive cover. Eliminations happen instantly, with only Ludvig leaving the competition.

A bunch of bad performances follow with .

Felicia Larsson

bombing, as expected and

Julia Axnér

apparently answering her cell phone mid performance. It's safe to assume both are going home.

Sarah Mathisen

who was a mess during her audition is the first to perform in her line. Surprisingly, the little we see from her is awesome. Glad she was able to get rid of those ugly nerves.

Juliette Holmqvist

tries to impress with "Turn My Swag On", which is honestly rather messy. I still enjoy her tone.

Sebastian Gustavsson

delivers a disappointing slow tune which doesn't let his tone shine at all.

Jens Hult

on the other hand, let's his gorgeous raspy voice shine during his short clip.

Erik Rapp

also does something moderately good yet his young age worries me. Never-before-seen

Sanne Karlsson (27)

gives us the best performance of the line with her unique tone. Still too short to be properly able to judge her. Lastly, shy

George Shaid

shows us his beautiful falsetto which will definitely grant him a place in the next round. The entire line, which also includes

Mai Ly Sorri

and

Chris Hagberg

goes through.

It's Bagge's protegees turn to take the stage.

Shauni Strand

tackles Alicia again, nailing it in the process. She could try something different, a different artist even.

Oliver Cardoso

is ok, yet there was something off in that performance.

Ebba Bosma

(19)

and

Viktor Björnlund

(22)

do their best to impress the judges but since none of them was featured on the show before, I guess we'll say goodbye to them.

Sanna Johnsson

's rendition is rather nice, her tone is a lot prettier than her previous performance made it sound. Shauni and Oliver make it to the next round while the rest are eliminated on the spot.

The contestants continue to take the stage as quirky

Olivia Maunsbach

wows everyone with an adorable Daughter sounding performance. Alexander's boy toy,

Albin Gummesson

, proves he can actually sing with a cover of "Stay With You", while

Sakib Zabbar

proves the exact opposite. I liked his audition but that performance was too much of everything. Less is more. The three of them make it to the next round and are joined by

Anders Othén

and

Ted Pålsson

.

Up next is

Sara Sangfelt

, who the judges claimed was the best auditionee of Stockholm. Her "Feeling Good" rendition is ok but she's not really able to repeat the magic of her Amy cover. Here's hoping she will.

Calle Nilsson

does exactly what I feared he will, he shouts for most of his "Born This Way" cover.

Max Gylling

also disappoints, not only because of his crazy eyes but because his rendition isn't nearly as good as his audition.

Ida Forsberg

is the last to perform, giving us a subpar cover of "Sunday Morning" which, despite sweet, wasn't technically good. Only Sara and Calle make it, joined by auditions stand out

Simen Thelander

.

Also on the way home,

Mandana Svensson

,

Sanna Stihl

,

Viktoria Ekelund

and

Jonathan Strömberg

.

Mons Lorenzen

is next and without his guitar, it seems all his talent and confidence have vanished.

Lina Eliasson

(17)

on the contrary performs a solid rendition of "Dance With Somebody" which is likely to put her through.

Jay Samson

(21)

is also a decent singer though that wasn't a meaningful first impression. Finally, football player

Kevin Walker

does his best to impress the judges once again and despite not being stellar, Laila's a huge smile on her face. The only one to make it is Kevin. I would've kept Lina as well.

Something has most certainly affected the water, as previously unremarkable

Yosefin Bouhler

and

Sandra Wikström

, along

Miriam Bengtsson (19)

, wow the judges with their huge voices and phenomenal tones. Also through to the next round is

Julius Kool

. I didn't really expect any of them to make it.

Final performances of the day.

Gustav Bjule

gives us an unimpressive cover.

Elin Bergman

drops the rap in favour of a "One and Only" cover, which sounds great, as does

Arantxa Alvarez

's jazzy performance.

Simen Thelander

actually gets shown singing, as impressive as the first time we saw him. Lastly,

Gabriel Alares

, still not able to convince me he's got what it takes. They all make it, with former X Factor Sverige contestant,

Sofia Emefors

and

Casper Påhlsson

among them.

Day 2

The remaining contestants will now be facing the Groups challenge. Drama and bad singing will ensue and front runners will leave out the door. I don't think any of them is excited about this.

Group 1

- Shauni Strand

and

Arantxa Alvarez

- Shauni finally sings a different type of music and it's really good. A bit pitchy here and there but nice overall. Arantxa's voice doesn't work as well with this song, I love what she's able to do with it but this type of music isnt' for her.

Group 2

- Felix Magamba

- Poor Felix got stuck with a sucky group. That kid, Allen something, auditioned for the XF last year. He was as awful as he is now. He ruined the performance, though Felix was pretty terrible himself.

Group 3

- Jens Hoult

- Cheesy song. Laila can't stop laughing for some reason. Jens is the star of the performance, the other two guys sing to themselves every time they sing together, which is weird. Jens is the third wheel to them.

Group 4

- Casper Påhlsson

- Not only it was extremely pitchy but they didn't sound together at all. One of them also forgot the lyrics at one point. It can't get worse than this.

Group 5

- Yosefin Bouhler

- A messy performance but much better than the one before it. Yosefin's voice seemed to be all over the place to me. It may have been on pitch but I couldn't really tell. They didn't sound like a group either.




Group 6

- Juliette Holmqvist, Sandra Wikström

and

Gabriel Alares

- This is way better than I expected it to be. They may have big personalities but aren't exactly the best singers. However, something was definitely working here as they gave one of the best group performances of the night, mainly the girls. Gabriel sounded good but the way he moved around the stage was so over the top, I can't wait to see him out the door. This was a perfect song for Juliette, she's never sounded better. If she's able to keep finding songs like this one, she could go really far.




Group 7

-

Erik Rapp, George Shaid, Chris Hagberg

and

Sakib Zabbar

- Their "Payphone" cover is ok but I'm not sure it was the best pick for them. It was quite pitchy at times, I couldn't tell whose fault was it though. Sakib sounded great though which was surprising.

Group 8

-

Sanne Karlsson

and

Sofia Emefors

- The girls sound angelic during the performance, the boys are a mess. Sofia has one of the prettiest voices in this competition, it's a shame we barely saw her. Sanne's voice is cute as well, though her high pitched tone may be a problem.

Group 9

-

Kevin Kelly, Miriam Bengtsson, Gustav Bjule

and

Elin Bergman

- A group that actually worked well together. That's a shock. They seem to have really jelled and their cover felt really organic. Gustav's and Elin's rap was also super interesting. The judges call their performance the best in Idol's history.




Group 10 - Matilda Melin, Wilhelm Börjesson, Mai Ly Sorri

and

Albin Gummesson

- Their OneDirection cover sounds like a proper mess but since this quartet is formed of some of the strongest contestants in the competition, I wouldn't worry much.

Group 11

- Sara Sangfelt, Simen Thelander

and

Tova Strandell

- Sara seems back in her element in this performance. Tova's delivery is only decent, maybe that's why we only just saw her now. If Simen keeps singing like that he'll soon become my favourite, that tone of his is phenomenal.

Group 12 - Oliver Cardoso, Anders Othén

and

Julius Kool

- This is such an insipid cover. The song isn't great to start with and their delivery did nothing to improve on that. I could easily see all of them leaving tonight.

Group 13

- Sebastian Gustavsson, Ted Pålsson, Calle Nilsson

and

Kevin Walker

- Kevin was apparently training so he missed most of the rehearsals. Will he keep training once he makes it to the liveshows or will he fully commit to this? He should have skipped it, maybe he wouldn't have been that flat. Sebastian and Ted are also a disappointment. Calle is the only one that shows enough energy cause the other three look so stiff. Their harmonies were horrendous.
Felix Magamba, Shauni Strand, Casper Påhlsson, Wilhelm Börjesson, Mai Ly Sorri, Ted Pålsson
and
Calle Nilsson
Day 3
It's the last challenge before the Top 20 is decided. They'll have to perform one more time before the judges, then, their fate will be decided.
Sebastian Gustavsson - "Locked Out of Heaven"
- His previous performance was horrendous and I still don't know how he made it through. He'll really have to prove himself here. Look at that. As soon as the music starts playing, he forgets the lyrics. What he attempts to sing is disastrous. It's quite embarrassing. He's going home. Bye, bye.
Kevin Walker

- "Locked Out of Heaven"
- So far, he's showed a serious lack of commitment. This song isn't right for him. I wonder if he picked it himself. Better than Sebastian though, much better. His voice was pretty flat on it though, mainly because it's definitely not his style. It's disappointing.
A montage of girls sounded pretty awesome.
Matilda Melin
takes on
"Jag Kommer"
,
Elin Bergman
sings
"Locked Out of Heaven"
and
Sarah Mathisen
goes for
"Somebody That I Used to Know"
.
Bolivia Protopapa
- "Girl On Fire"
- Meh. I really didn't care for her performance. It was ok I guess but it felt as if she was forgetting her lyrics, struggling to get them out. There was something weird with her voice as well. I'm not feeling confident about her chances of making it.
Sakib Zabbar

and

Arantxa Alvarez

- "Locked Out of Heaven"
- Why is everyone singing this song? Sakib sounds terrible, he's a complete mess. The judges faces say it all. Arantxa sounds slightly better, yet it's not a good performance. More disappointment.
More forgotten lyrics. What's going on tonight.
Jens Hult
,
Erik Rapp
,
Tova Strandell
and
Simen Thelander
all fail to impress the judges when they also fail to remember a single lyric.
Apparently,
"Jag Kommer"
was a pretty popular song, with
Gustav Bjule
and
Albin Gummesson
taking on the Veronica Maggio tune. Another act that took on it was
Olivia Maunsbach
with not so great results. I really liked everything she did before this and I thought this was decent at best but her voice wasn't strong enough and she had many off moments. She should try next year if she doesn't make it.
Sandra Wikström
and
Sanne Karlsson
-
"Girl On Fire"
- I hate this song but it worked awesomely with this two girls. Sandra's big voice was a perfect match for this tune while Sanne's particular tone sounded really interesting with it. Sandra's ending was awesome.
Juliette Holmqvist
- "Locked Out of Heaven"
- Getting tired of this. I've not heard a single contestant that has sounded good on this song. Juliette is no exception. She was ok but this wasn't working. I feel like I say this every time but the one thing I like her is that tone. If only she knew how to use it.
George Shaid
-
"Mirrors"
- I don't think George has the confidence to pull this off. That said, it sounded much better than I was expecting it to. His pronunciation needs some work but he's one of the best male contestants they've.
Kevin Kelly
-
"Stronger"
- He has surprised me a few times before. This isn't the case. I'd like to know the reasoning behind that song choice cause it made no sense at all. His singing was like hearing his audition all over again. An utter mess.
More Bruno Mars hell.
Oliver Cardoso
,
Sara Sangfelt
and
Gabriel Alares
all keep stabbing this song.
Miriam Bengtsson
, who has apparently lost her voice, also takes on it. Don't they know this song is already dead? It has been murdered so many times tonight I've already lost the count. Miriam was ok though.
Some contestants keep forgetting their lyrics, prompting the judges to send them home on the spot. Among them,
Johan Norström
and
Chris Hagberg
.
Yosefin Buohler
-
"Girl On Fire"
- After such a disastrous group performance, Yosefin needed to redeem herself tonight. Unfortunately, she didn't. The performance was on the right track, I even thought she was the best of the night, yet she begins to forget the lyrics, then stops singing all together. The judges, however, don't send her home just yet.
That's it for the day. I've not seen a single good performance tonight, I'm shocked. Only Matilda, Elin, Sarah, Sanne and Sandra stepped up to the challenge and we barely saw them. I fully expect all this girls to make it but then? How are the judges going to pick 15 more contestants out of all this mediocrity?
Eliminated:
Olivia Maunsbach, Kevin Kelly, Julius Kool, Sofia Emefors, Vendela Hollström, Tova Strandell and Bolivia Protopapa
Top 20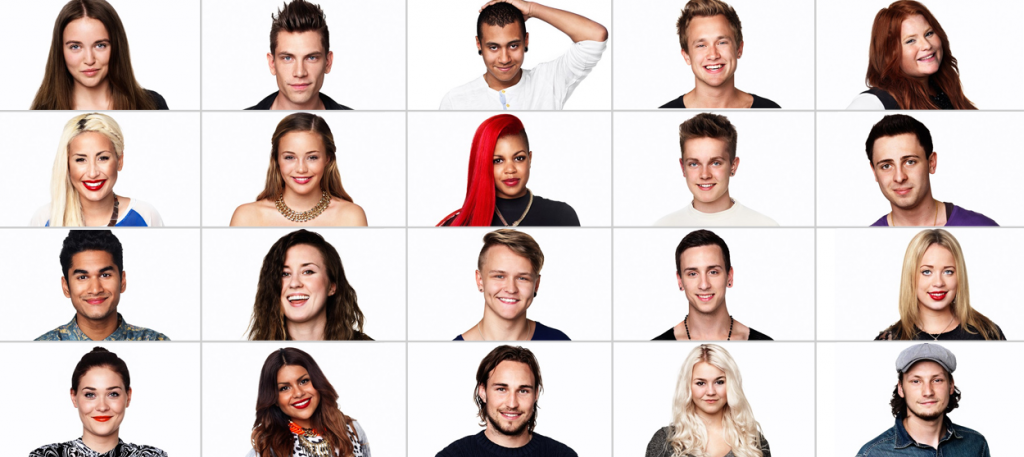 First row:
Elin Bergman, Gabriel Alares, Gustav Bjule, Albin Gummesson
and
Sandra Wikström
Second row:
Juliette Holmqvist, Matilda Melin, Miriam Bengtsson, Erik Rapp
and
George Shaid
Third row:
Sakib Zabbar, Sanne Karlsson, Simen Thelander, Oliver Cardoso
and
Sara Sangfelt
Fourth row:
Sarah Mathisen, Arantxa Alvarez, Kevin Walker, Yosefin Buohler
and
Jens Hult
Starting next Monday, the Top 20 will be divided into 4 semi-finals of 5 contestants each. 5 girls, 5 boys, 5 girls, 5 boys. Two of the five will advance by public vote and we'll be left with 8 finalists. Then, the judges will pick 5 more finalists to round up the Top 13. Here's hoping that most of their picks are girls. Or all of them, since the ladies are much stronger this time around.
Time for some predictions. Top 13: Elin Bergman, Albin Gummesson, Sandra Wikström, Juliette Holmqvist, Matilda Melin, George Shaid, Sanne Karlsson, Simen Thelander, Sara Sangfelt, Sarah Mathisen, Arantxa Alvarez, Gustav Bjule and Jens Hult
As a bonus, you can now watch Miriam's and Sanne's auditions: