I'm currently looking for some new writers in order to expand the blog given that I can't post the amount of things I'd like to. So if you are interested in writing about anything related to music (news, TV shows, album reviews, introducing artists) just drop me an
email to musicisthedoor@gmail.com
and we can discuss some of your ideas.

04 September, 2013 5:20 PM
Idol rises from the ashes. After being replaced by The X Factor Sweden last year, which was not only a ratings flop but an overall disappointment, the show that brought us Loreen, Darin, Danny Saucedo, Agnes, Linnea Henriksson, Amanda Fondell, Robin Stjernberg and multiple others is back for another round. Will we find a new star this time?
Recap after the JUMP ...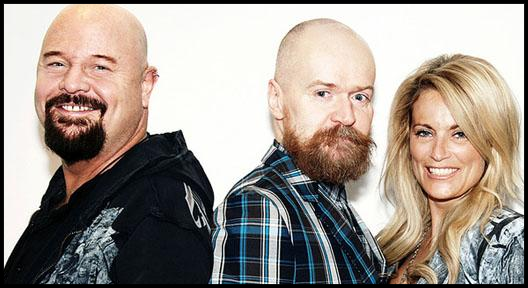 You can watch the full episode HERE
A very wet bunch of hopefuls will be meeting the judges tonight in Stockholm. Will they impress?

Sarah Mathisen

(21) - "Stay"

- Her face is so damn familiar, I'm pretty sure I've seen her before. Maybe it's one of those faces. She'll be playing the piano, it's setup taking way longer than Sarah probably wanted. She sounds a lot like Amanda Fondell. She's very nervous. She sounds better without the piano yet she keeps forgetting the lyrics. Her nerves are about to make her collapse. She sounds good though, I really like her, really, really like her. Alexander gives her a no, the Bagges a yes.
Erik Rapp

(16) - "Too Close"

- Look at that. Erik represented Sweden in the 2011's edition of the Junior Eurovision Song Contest. His song,

"Faller"

, is actually not that bad. A decent audition, I guess he's better suited for a boyband. Nice voice though.
Mons Lorenzen

(19) - "It ain't me babe"

- He lives in his car? It looked like it to me. His friend just got rejected, it'd be interesting to see how that affects his performance. Not at all apparently. His voice is very Passenger/The Tallest Man on Earth-like. Interesting audition, lovely tone.
George Shaid

(19) - "The Blower's Daughter"

- He sings very softly. Laila asks him to sing a bit louder. It's no help, so the judges decide to lean in. The audition is very pretty, specially when he gets to the chours. Gorgeous voice, he needs to raise the volume a bit though.
Sara Sangfelt

(18) - "Back to Black"

- She's "kidnapped" by Kakan. Such a wonderful audition. I adored that cover, my only complaint is that it was way too short. She was probably scared by Laila's and Alexander's crazy shouting. The fact that she stayed true to Amy's original, yet didn't sound like her was remarkable. Laila calls her the best audition in Stockholm. I've to agree.