I'm currently looking for some new writers in order to expand the blog given that I can't post the amount of things I'd like to. So if you are interested in writing about anything related to music (news, TV shows, album reviews, introducing artists) just drop me an
email to musicisthedoor@gmail.com
and we can discuss some of your ideas.


She'll always be remembered as that phenomenal singer who shockingly missed the final on the sixth season of the Danish XF. Amanda was the front runner from the very beginning yet she only placed 4th in the competition. It's hard to say what went wrong, since the girl didn't miss a beat in the entire competition. This is my chat with her, in which she answered some burning questions for us. Like, who was the master mind behind those amazing songs, why we saw her cry during the JH and what's next for her. If you ask me, brilliance.
Interview and videos after the jump ...
*How would you describe yourself as an artist?
Well, that's kind of hard to explain. I would say that I am an independent artist. I don't think I can be compared to anyone who has competed in the XF before. When I sing, it comes from deep inside my heart. I never came to win, I came to learn and to give.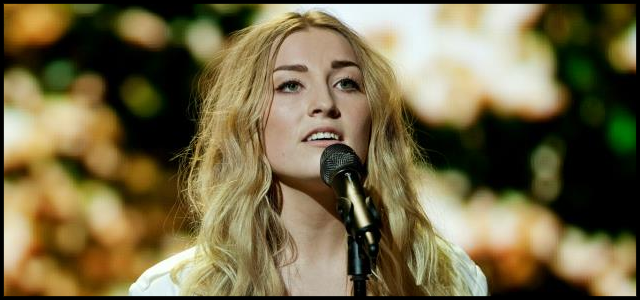 *What made you audition for the XF in the first place?
Haha, actually it was my friend's idea. I'm not the kind of person who would sign in voluntarily to such a show. I was at a festival where you could sign in, I defeated my fear and jumped right on to it. A few months later a guy called me, telling me I continued in the competition.
*From what we saw, you and Sarah were pretty inseparable but at the same time, she came across as your main competition. Did you realize that?
I never thought of her as a competition. I have never met a girl like her, we're still good friends today.
*To me, your breakthrough performance was 'Eyes on Fire', why did you pick that song?
I loved the song from the first minute I heard it. It is a special song and I wanted to avoid singing the same some of the others had been singing.
*Blachman made you complete a questionnaire during the Judges Houses stage, what was your reaction to that?
I was not surprised, I mean it is Thomas Blachman, who else? Haha.
*We saw you crying after your first Judges Houses performance, why?
I was just so proud of myself. I never thought I could be that good, I never thought I could be standing there … And suddenly I was right in the middle of it all.
*I always wondered, who picked your songs? Was it you, Blachman or both? Because they were terrific.
We picked them together. But it was our DJ,
Djuna Barnes
who found most of them.
*I'd like to ask about all your performances but I obviously can't do that. So I'll just ask about a few of them. 'Chimacum Rain' is a quite unkown song, where did you get it from?
Again it was Djuna's idea, completely genius!
*Your cover of 'Youth' is probably my favorite performance of the season. What's the meaning of that song to you?
I actually chose that song! It was my favorite song and I thought my voice sounded a bit like hers. Sadly, I didn't think I did a very good job that evening …
*I never expected to see 'Hollow Talk' covered on the show, whose idea was it? Did you think it was a risky choice?
It was Thomas idea. First I was completely lost; I didn't know what to do. It is a very difficult song and I didn't know if I could make it. But in the end it became my best performance. I was so proud of myself and I enjoyed it a lot so I started crying afterwards. Haha. Now I just loooooooove that song!
*Do you agree "I Knew You Were Trouble" wasn't your best? What was your recation when the viewers picked that song for you?
I wasn't surprised; it is a very popular song. I actually think it went better than expected. Sadly, I made a very big mistake when I spoke bad about Taylor afterwards. I think there is a lot of people who misunderstood my words, I just meant it is a very difficult song to sing! Go home and try it ...
*Which is your favourite performance and why?
Like I said, "Hollow Talk". I think I just nailed it!
*Were you expecting to be eliminated before the finale?
No, I was not, but something in my stomach had been trying to communicate with me all the week … I'm just trying to be positive and see it as an advantage now.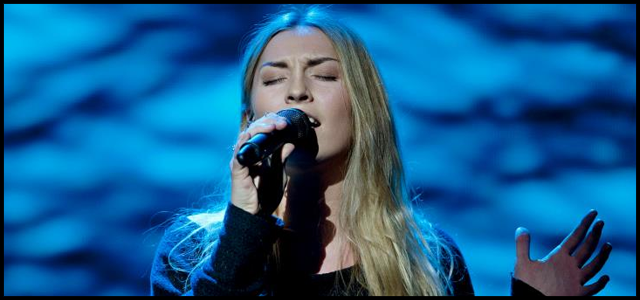 *What are you planning to do next? Is there an album in the works? A single?
I can't tell you right know. I need to finish school first. I love to sing and I will never stop doing it. When you love something as much as I do, you will never let the chance slip away.
*Will you be working with Thomas?
Maybe, maybe not. He is a very busy man with a lot of things going on. He is going to help me, that I'm sure, but I don't quite know yet where I will end yet. If you're patient, one day I may be creating beauty.