I'm currently looking for some new writers in order to expand the blog given that I can't post the amount of things I'd like to. So if you are interested in writing about anything related to music (news, TV shows, album reviews, introducing artists) just drop me an
email to musicisthedoor@gmail.com
and we can discuss some of your ideas.

Last week ill fated Nu Vibe was eliminated from the competition after landing in the perfect Bottom 2 with Frankie Cocozza. The guys were unimpressing and not so great singers, so they are definitely not a loss. The remaining 11 contestants will sing rock songs tonight in the hopes of winning your vote. Who will be the star tonight? Who'll be a wannabe? ... It's time to face the music!
Recap and videos after the JUMP ...
Marcus Collins
"Are You Gonna Go My Way"
-
7/10
- This is definitely the best he's sounded this far, that said, I'm not liking this at all. The fact is that I'm not a fan of Marcus's voice and I'll never be one. He did look a bit more confident than ever and the coreography was entertaining but that's it for me. -
VIDEO
Louis:
What a brilliant opening to the show. You sang, you smiled, you performed, Marcus if I was marking you out of ten…it's ten!
Tulisa:
Marcus why have I got a feeling that you were holding back in rehearsals this morning, because I watched you and I was a bit worried. But watching that performance, complete opposite of this morning's rehearsals. You were holding back, you absolutely blew me away. You were wild!
Kelly:
This week you came out here and made the stage yours. i have been so worried about you, as in taking control of the stage, tonight you did that, congratulations.
Gary:
Now that's how to open a show! Right there, amazing vocals, great energy. Marcus do me one favour ok? Get home tonight, watch that back and start believing in yourself please.
Janet Devlin
"Sweet Child o' Mine"
-
9/10
- OMG! This intro clip of Janet facing the press is amazing! "I'm here for the music, if it's not enough I'm not gonna change myself". She did a great job handling with that bunch of lairs and sucky "reporters", if that's how you call a bunch of people that make up their news. Oh god, what have they done to their hair? It's time to fire this awful stylist. This portrayal of the song is fantastic, it's still the Janet we've been seeing every week but her voice sounded amazing and the arrengment was perfect for her. Wow, Tulisa is really an idiot tonight, it's not about giving a rocky performance, it's about picking a rock song and making it your own. -
VIDEO
Louis
: Janet when I heard you were singing this I thought you were going to be so out of your comfort zone but you're not. I loved the whole arrangement of the song and the thing about you is your voice, you have a very pure amazing voice.
Tulisa:
Janet that is a massive rock song but for me that didn't feel very rocky tonight, that's not to say it wasn't good, but it wasn't rocky. I think that the vocals were great, but I didn't get that rocky edge from you. I still haven't seen you do that edgy uptempo performance and I think you are capable of it so I'd like to see you do it.
Kelly:
Janet I am so proud, you came out here with great personality and delivered a rock song and you killed it baby.
Gary:
Janet that was simply beautiful and gorgeous, well done. I really like to see you moving around, it's the first time we've seen you leave the mic stand. It was a great performance, well done.
Sami Brookes
"If I Could Turn Back Time"
-
6/10
- She really didn't want to sing this Cher song but decided to trust Louis. Well, bad move Sami. This is exactly what she didn't want, another boring karaoke ballad. She could have the greatest voice ever, not saying she does, but with songs like this, she's only one thing, forgettable. -
VIDEO
Tulisa:
Sami yes, Louis I do have to say it is a bit of a karaoke song. But it's one of my favourite songs of all time and it comes down to it, this is a singing competition and whether or not it was karaoke, it was good karaoke, because you have the voice. Amazingly, I think at the end of the day that was a brilliant performance.
Kelly:
Sami I think you have a really amazing voice. You sound fantastic!" You came out here and entertained everybody, you loook like you had a great time.
Gary:
Sami that was totally boring. Can I just remind you what we are doing here in this competition. We are trying to find someone who can sell albums, singles, cds, someone who can be a star. After that performance tonight, you're going to be none of the above!
Louis
: Gary this girl was literally getting sick two hours ago behind the stage. She's had a terrible day, I'm not looking for a sympathy vote but she pulled it out of the bag, that was a very powerful performance. Gary, it's all about the voice with her, it's a very hard song to sing and she nailed it.
Rhythmix
"Tik Tok"/"Push It"
-
7,5/10
- So Tulisa criticized Janet for not being rocky enough and then gives Tik Tok and an old song I've never heard to her act? Here's a fact for you Tulisa, Ke$ha isn't rock and there are no excuses for that, rocky guitarists? Really? You are just stupid Tulisa. The girls did a good job with what they gave them but they could have done much better. Again, fire the stylist! -
VIDEO
Louis
: Girls all I can say is I love this band, brilliant song choices but not really rock. I loved it, I love the fact that there is natural chemistry between you four girls. That's why girls have to vote for you, I really think again you have two great acts left, these girls could be really really big.
Kelly:
You ladies sound really great together, I still think the look needs pulling together, which you guys, I can tell you are definitely working on that. Here's the thing, I really want you guys to be better than the last female group that was here. Be better, be ten times better. Also Tulisa you should take back your comment about not being rock….because that wasn't rock!
Gary:
Well done tonight it was a very nice performance but Tulisa, I don't think you've quite understood the challenge this week, the theme is rock music ok. Not taking a pop track and putting a guitar on it. Taking a rock track, that wasn't a rock track.
Tulisa:
It said rock week not rock songs.
Sophie Habibis
"Livin' on a Prayer"
-
8/10
- Despite Sophie is my fave, I have to admit this wasn't her best performance. I love the fact that she picked this song and slowed it down, something that worked perfectly, but her voice sounded quite off in the lower notes, and that's a shame, cause it could have been a great rendition. I still enjoyed this, I just can't get enough of her voice and she gave us that extra spark Gary wanted! -
VIDEO
Louis: Sophie so much better than last week, I know you are out of your comfort zone but you made that song doubly your own. You've got a lot of competition with the other two girls and Kelly, you know that. I'd like Kelly to give you even more ….worker harder on her. It's all about Misha and Janet and I want you to get equal attention.
Tulisa: I think if there is any rock song you're going to turn into a ballad that should be the one to do it, because it totally worked. People always talk about your personality Sophie but I think you're just real and being yourself and that's the best you can be. I think you're great.
Kelly: I am so proud of you, what does Louis know? You're amazing.
Gary: At last you are starting to make an emotional connection with your songs, congratulations. Great performance.
Craig Colton
"Stop Crying Your Heart Out"
-
5/10
- This is the first time he's singing a man's song, well, I'm pretty confident this is Leona's version. This is the worst I've heard him, he's totally off tune and pitchy at parts. Please Craig, go back to female songs cause this isn't working. Plus he did sounded really old fashioned there. -
VIDEO
Louis: I know how serious you are taking this competition and I know how much you love your music. It's a great Noel Gallagher song and I know he is a big fan of the show but you will go far in this competition, you'll be there until the end and I think you will get a record contract and you deserve it.
Tulisa: You have the most amazing voice and you have the star quality and that was an amazing performance. But I have to go back to it again, I think I've got the wrong end of the stick when they said rock week, because I thought it was about the energy and the vibe and the guitars and I felt like that song was turned into a ballad and it was an amazing ballad but it didn't feel like a rock song.
Kelly: It was definitely a rock song but you have to give respect to songs' roots. Let me tell you something Craig, I feel like you are back in your zone. So proud of you, great performance tonight.
Gary: Well done again, you're a real constant and when you come on stage I really relax because I know you're in control. You're a true professional, great performance tonight, well done.
Kitty Brucknell
"Live And Let Die"
-
8/10
- "I'm was terrible at acting, I'm like Madonna at acting", "I keep telling Louis, can I do this, can I do that and he goes "It's a family show Kitty, put more clothes on". Kitty's got lots of crazy ideas, Louis tells us, "I want to set myself on fire" she says. That intro was fabulous! Haha. There's something really fascinating with her, she's a huge entertainer and she's got a fabulous voice. I don't see her much as a recording artist but she can give hell of a show! -
VIDEO
Louis
: Kitty you are a dream to work with, you are on the phone to me night and day. Nobody works harder than you, you absolutely deliver every single week. You are talented and you deserve to be there.
Tulisa:
Kitty, that was rock! That was what we call rock. I can never find anything bad to say about you. Every week performance wise you nail it. There's no doubt about it you are an amazing artist and performer. There has been a lot of negativity around your character but getting to know you a bit more backstage this week, I think your softer than people think , so let down the barrier because there is a good person in there.
Kelly:
Kitty you're a bad chick. The only constructive criticism I can give you is make it look more natural sometimes. Sometimes it looks a little bit forced or stiff or something.
Gary:
Kitty I can start to see where you're going with this and I'm in all the way. In fact you are the only contestant who is trying to say something through their music. You're creative, innovative. I'm here…ready! I can't wait for next week.
Frankie Cocozza
"Rocks"
-
0/10
- He wanted to get his confidence back after being in the Bottom 2 last week so he decided to go out and get laid. "There was alcohol, there was dancing, there were "fit birds"". Kelly wonders if Frankie is taking the competition seriously. Well Kelly, he's definitely a fame whore who only wants sex, so I'd say no. He makes a rock star entrance, something he's clearly not. UK, give this shitty cocky arrogant "singer" what he deserves and send him home ... -
VIDEO
Louis:
It was a great entrance, I think the song choice suited you and this should be your comfort zone. Because you are a rocker. Something worries me, I think you're a little bit over confident.
Tulisa:
I'm a little bit gob-smacked. The first audition when we saw you, you came across as this slightly cocky, confident, cute guy but there was a boundary with you. Now I feel like Gary has taken you to the extremes and I feel like we've lost Frankie. I don't know who you are anymore, he's tried to make you into a younger Gary, everything he wanted to be in his younger days. I loved who you were and there was a sense of innocence about you and I feel it's gone. You're rebellious but I don't think you're this extreme.
Kelly:
I actually think this is all you, but here's the thing, I need you to come up vocally, you really lack there. You have great presence and everything but you have got to come up ten times harder vocally.
Gary:
When I decided to sit in this seat, there was one thing I promised myself I would never do, and that was lie and I lied for you last weekend and I said your performance was good and it wasn't…it was awful. You deserved to be in the bottom two last week. Coming back tonight, to me, that was a comeback. Not an incredible comeback, but a comeback to who you should be. i think you did pretty well tonight.
The Risk
"Crazy"
-
3/10
- Oh look! They are also fame whores who want to get laid so they went out with Frankie! "Crazy" a rock song? Nope Tulisa. Well, this is just painful people. They are absolutely tuneless and it's really pitchy. Remind me why do they need four members? I can name Charlie, Derry and Andy but I can't name forgettable black dude. Time to axe someone here? -
VIDEO
Louis:
Well boys I loved it last week and I love it this week. It's not exactly hard rock but I love the harmonies and the way the four of you sing. There is not just one or two singers in this band. There's nothing not to like about The Risk.
Tulisa:
Guys I'm not going to make excuses for you, but it has been tough. You've had two days to learn the song and Ashley you've been really ill and I was worried. It wasn't your best performance but you pulled it off and did the best you could do with that song.
Kelly:
Guys I must admit I did like last week's performance more but the more I look at you guys, the more I'm really excited for your future. And Tulisa, high five mama. You guys definitely have to work a lot harder on your vocals.
Gary:
Guys I watched the dress rehearsal today and I was worried for you but you totally pulled it off tonight. There is a great work ethic in this band that lots of the other contestants should learn from.
Johnny Robinson
"I Believe in a Thing Called Love"
-
9/10
- When Johnny is one of the best acts of the night, you've gotta start worring about the quality of the other contestants. The fact is that Johnny looks so happy to be there and he's pure entertainment! I can't hate on him even if I found him so annoying, cause that was kinda cool. Haha. He's definitely a guilty pleasure. -
VIDEO
Louis: Gary has to like you because everybody here likes you and the public likes you. Gary does not want to like you but he has to. You hit every single note and you're not a rock singer – you didn't like the song – but you absolutely took that stage and we had fun.
Tulisa: You took the bulls by the horns this week and did a proper rock song. You haven't sang rock before, but you sang it like a rock star. You absolutely smashed it, rock star of the night for me!
Kelly: I must admit you really do rock, but I must say, you are such my guilty pleasure. I don't know if I can see you selling records but I know for damn sure love to watch you and have a good time.
Gary:
Johnny I really enjoyed that! Johnny only you could sing that song tonight…amazing!
Misha B
"Purple Rain"
-
9,5/10
- Misha is a fantastic singer and she made me forgett that I've heard this song in every single series of the XF sang by a big voiced woman, well, with the exception of Danyl. Ruth's version is said to be the best, well, I think Misha has matched that tonight. Her vocals were flawless and impressive there! The only thing that bugs me about her is that she belives she's already this big star who can be a giant diva. Here's a memo for you Misha, you're not. That said, this was still the best performance of the night. -
VIDEO
Louis:
Misha, every week you work it, You have a unique voice and you're a brilliant entertainer. Did you ever see the Tina Tunrer movie Mad Max…that's what it reminded me of tonight in a good way. You're very confident, you're a very confident performer. I hope you're not too over-confident. One of my contestants has complained to me about Misha bullying her backstage.
Tulisa:
There is no doubt about it, when it comes to talent you are way up there. Most people they come into the competition and they to be built up and progress but you came as a whole package and you are definitely the star of the show. But I do have one negative this week. I think you are very competitive and I've seen a different side of you backstage and you don't realise that you do it, but in some ways you being so feisty can come across as quite mean to certain contestants and I've been told by a few this week there's been a few mean comments towards them. I'm not putting you down but take that feistiness and energy when you get on the stage and leave them all behind, Put aside the attitude.
Gary:
I don't care what goes on backstage and we shouldn't be getting involved in that. I mentioned earlier we were looking for an artist that can sell albums and there she is right there. Amazing vocals, great vision, well done Misha.
Kelly:
We leave things backstage, backstage, but you brought it on stage and you brought it clean and clear and on fire tonight. I am so very proud of you, continue to work hard and you're supposed to be confident when you go on stage.
Ranking:
Misha B
Janet Devlin
Johnny Robinson
Sophie Habibis
Kitty Brucknell
Rhythmix
Marcus Collins
Sami Brookes
Craig Colton
The Risk
Frankie Cocozza
Resluts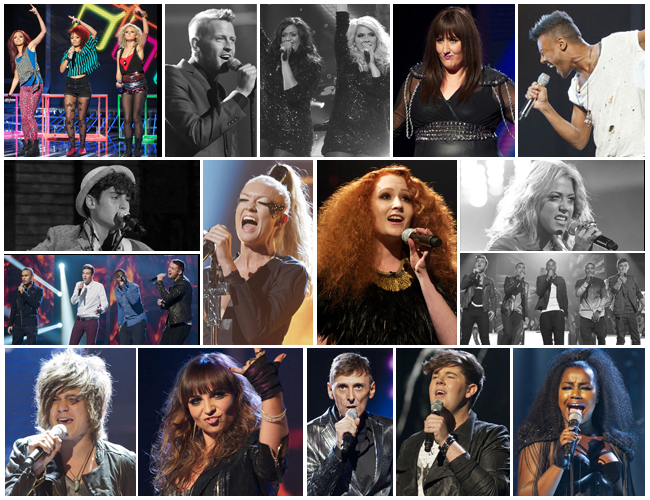 Before our results, we've got three great performances!
Kelly Clarkson
,
Professor Green with Emeli Sande
and
Bruno Mars
!
If there's any fairness in the world both Frankie and The Risk will found themselves in the Bottom but we all know that The Risk won't be there, so I'm betting on Frankie and Sami, with Frankie leaving. But we all know life isn't fair, and it's Sami Brookes and Kitty Brucknell landing in the Bottom 2. Poor Louis, he'll never win this show, ever.
Sami
is up first and she's singing yet another boring ballad. Yeah, she did sang "(You Make Me Feel Like) A Natural Woman" amazingly but it was still very forgettable.
Kitty
follows and sings a much more entertaining version of "The Edge of Glory". Vocally not perfect but much better than Sami.
This comes as an obvious result. Gary, Kelly and Louis vote to eliminate Sami, while Tulisa votes for Kitty, unexplicably. So Sami Brookes is leaving the competition ... Next week, Halloween!
This entry was posted on 4:32 PM, and is filed under
Craig Colton, Frankie C, Janet Devlin, Johnny R, Kitty B, Little Mix, Marcus Collins, Misha B, Sami Brookes, Sophie Habibis, The Risk, TV, X Factor UK, XF Series
. Follow any responses to this post through
RSS
. You can
leave a response
, or trackback from your own site.