I'm currently looking for some new writers in order to expand the blog given that I can't post the amount of things I'd like to. So if you are interested in writing about anything related to music (news, TV shows, album reviews, introducing artists) just drop me an
email to musicisthedoor@gmail.com
and we can discuss some of your ideas.

Published by Denver Insomniac

The Top 8 performed last week and we said goodbye to
Young Men Society after seeing them go into deadlock against Declan Sykes in what was a shocking bottom two. A lot of people like these guys but I thought most of their performances were boring and cheesy. I'm glad Declan got a second chance, he showed major improvement in "Forever Young" and deserved to stay
. The theme is "Australian Hits", who will be an Australian hit tonight?
... It's time to face the music!
Recap and videos after the JUMP ...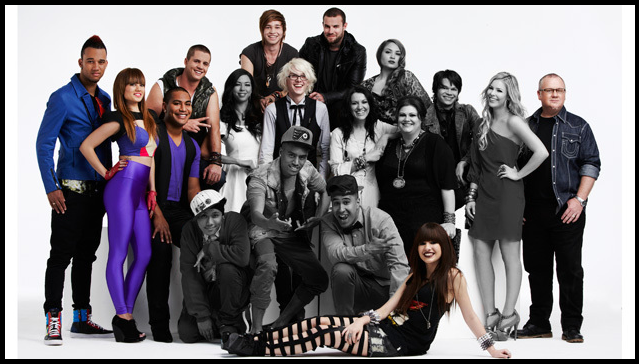 Mitchell Callaway
"Throw Your Arms Around Me" (Hunters & Collectors) - 3.5/10 -
Ugh... This was definitely better than last week, I just don't care for the way he sings or the songs Nat gives him. It's a bit of a snoozefest for me but he holds his notes well in the chorus."For me, you actually brought that song to life and drew a lot of emotion and I liked it."(Guy) "I enjoyed your performance last week and I enjoyed it again this week. You've given me another solid performance. But one thing I will say is I still don't feel at times that you're really enjoying it." (Mel) "It started off really shaky... but you pulled it right back in and I think your emotional attachment to the song was incredible, it really suited you." (Ronan)
Johnny Ruffo

"Lost Without You" (Delta Goodrem) - 5.5/10 -
I liked the song choice, he definitely struggled during the chorus. But still, it is unreal how much he has improved since the live shows started. He actually
sings
now. His vibrato is pleasing during the verses.
It was shaky and weak in some areas but overall, I think I liked it more than last week. "There were moments in there that were really spot on and then there were moments where it was a little bit pitchy and off and sometimes flat but overall, your intensity in your performance kept me glued to you. That sold it for me." (Mel) "It was just a little boring for me, I'm not sure this is what is right for you... It was very very flat at times." (Ronan) "There were times that was great during that performance and then times where it really wasn't great... It's just about consistency." (Nat)
Three Wishez
"You're the Voice" (John Farnham) -6.5/10 -
Wow, Joe starts the song for once. Sounds nice and looks more confident than we've seen previously, the harmonizing between Joe and Sophia, specifically when they sing "how long can we look at each other" is excellent, almost gives me chills. The rapping could have been awkward but Fred made it work, I think it blends very well.
I really liked this.
"Joe we heard you sing! It was so great to hear that. I was scared about rapping in that song but you made it come to life." (Nat) "That was so good... You just nailed that vocal. All of you shone." (Guy) "Joe, where have you been baby? That was brilliant... Sophia, as always, gorgeous and sounded amazing. Freddie, sorry, that rap irritated me... I wanted to hear the song. " (Mel)
Andrew Wishart
"Flame Trees" (Cold Chisel) - 5.5/10 -
I really like Andrew's singing, as I have said previously but this is kind of sleepy. His vocals are a little sloppy in some parts too. Not his best but it was still good.
"That wasn't the most perfect that I've heard you sing and I think you know that but it was, I mean, your voice." (Guy) "I love the styling, I loved your passion and enthusiasm during that song. Literally, that is one of my best performances from you right now."(Mel) "Tonight for the first time, I actually believe that you can go all the way in this contest."(Ronan)
Declan Sykes
"Fall at Your Feet" (Crowded House) - 7/10 -
This is awesome. There's something about this performance that is just chilling, I get lost in it. I love the staging with the 100 Declans behind him on the screens. Ronan seems to think he forgot the words or started at the wrong point but I didn't notice... And after replaying, I still don't. He ends the song perfectly, again chills. Australia, you guys would be fools not to take this kid to the finale. "I enjoyed that a lot... I thought that you were just in your own zone and I loved it." (Mel) "You can't forget the words at this stage, you lost your place in the song, you forgot your words... When you pulled that back and you got going again, incredible mate." (Ronan) "No matter what happens with this show, I just want to say I think you're going to have a huge career outside of this... I love you." (Nat)
Christina Parie
"Weir" (Killing Heidi) - 5/10 -
She looks great this week, love the hair. She gets off to a fantastic start but then it just fades and it turns into her usual slightly awkward, off-key rock gig. The giant chair confuses me as well, what's the connection Nat? I don't get it.. Oi Christina, I really hope we see a "surprise" elimination from you sometime soon... or just a sudden improvement, either would be pleasant.
"I do not want to lose you in this contest... I don't feel it was a great song choice for you and I just didn't feel the performance but you're better than this." (Ronan) "" (Nat) "You were better in the beginning. I don't know what's happening but you're just losing confidence or something." (Nat) "Get that fire back, get rid of any negative thinking, get rid iof anything that has shaken you and go back to what this is all about, and that is loving music." (Guy)
Reece Mastin
"Joker & the Thief" (Wolfmother) - 8/10 -
Yay, someone that deserves the pimp spot actually got it for once, now if only Declan could get it. Anyways... Holy crap Reece, is it possible for you to
not
give a solid performance? I loved this, excellent song choice and very fitting for his vocals. That part with the long notes was just. fucking. epic. Might even be the best of the entire season. Yet another solid performance. "Each week, you come out and you give us a guaranteed solid rock performance... When you sing with your head down, it's not good. People want to see your face, they want to connect with you." (Mel) "This is boring, it's boring with you because you're so bloody good, I have nothing bad to say. Every single week, you deliver, mate." (Ronan) "That song is so fierce, I loved it. You are ridiculous, that's all I'm going to say." (Nat)
Ranking:
Reece Mastin
Declan Sykes
Three Wishez
Andrew Wishart
Johnny Ruffo
Christina Parie
Mitchell Callaway
Results
Unlike last week, we get a bottom two that makes some sense! Johnny and Mitchell are the bottom two. Best results night I've seen this season.
Mitchell
sings "I Won't Let Go" by Rascal Flatts, to be honest, I think I liked "Throw Your Arms Around Me" better. Weird and shaky.
Johnny
goes next and performs "Billie Jean" by Michael Jackson. To my surprise, this is his best performance and one of my favorite moments of the season. Very entertaining and awesome. Mel and Guy vote to eliminate Mitchell while Nat and Ronan vote to eliminate Johnny, leading to the third deadlock in a row this season. We go to public vote to determine the outcome, Mitchell received the least amount of votes and is eliminated from the competition (YES!!). Excellent outcome. Sorry Mitchell, Johnny totally deserved another week in the competition after that performance and then some. I liked it so much, I really don't mind Johnny anymore, he's kind of turning into one of my season favorites now (epic comeback). I hope he can stay a little longer. Heh..
This entry was posted on 8:35 AM, and is filed under
Andrew Wishart, Christina Parie, Declan Sykes, Johnny Ruffo, Mitchell Callaway, Reece Mastin, Three Wishez, TV, X Factor Australia, XF Series
. Follow any responses to this post through
RSS
. You can
leave a response
, or trackback from your own site.