I'm currently looking for some new writers in order to expand the blog given that I can't post the amount of things I'd like to. So if you are interested in writing about anything related to music (news, TV shows, album reviews, introducing artists) just drop me an
email to musicisthedoor@gmail.com
and we can discuss some of your ideas.

Published by Kevin Mc Stravock

Last week saw the teams going against each other in the public vote for the first time and the result saw one from each team leave as Ray from Team Kian, Aoife from Team Sharon, Sinead from Team Bressie and Wayne from Team Jamelia were eliminated leaving us with six acts for the semi-final. With Team Sharon and Team Jamelia down to one act each, it's possible that Bressie or Kian will end up with two acts in the final at the expense of one of the female coaches.
Recap and videos after the

jump

...
Team Kian


Shane McLaughlin

'Pour Some Sugar On Me' by Def Leppard - 7/10 -
Shane is a really good performer, for me his tone is probably the best of all the male contestants this year but Kian's mentoring of him has left a lot to be desired and I have been surprised every week that Shane was voted through. That said, Jamelia's random attack of him last week was quite underhand and I didn't agree with the way she spoke to him. Tonight, Shane hopes to be able to change the judges' opinion of him with his performance. Well he certainly seems a lot more comfortable on stage tonight, that's for sure, whether that's to do with confidence or his determination to get good feedback tonight is unclear. I really like Shane but again, the song choice is letting him down majorly, for me this is too pub rock for my liking, he has a distinctive indie tone and I think something by Two Door Cinema Club or Damien Rice would suit him perfectly, these song choices just aren't cutting it for me although full propos to him for once again giving it his all. - VIDEO
Kelly Mongan


'Angel' by Sarah McLachlan - 8/10 - Kelly is a brilliant vocalist, I tend to not buy into artists who just stand and sing because I want something more but Kelly's phenomenal range makes up for it. Tonight she's going to be delving deeper into the emotional impact of her song as this track holds a strong personal meaning for Kelly. I have to say although I adore her soft tone and love how she is able to move from her upper range to the softer notes effortlessly but I do notice a few pitch problems tonight. Kelly is so consistent usually that it seems like a real shame that her vocals aren't up to the normal standard tonight but although the vocals fell down tonight, I still thought that it was a good performance mainly as she got the emotion of the song spot on. Kelly is a really likeable girl and clearly puts her all into every performance, I do think she should be okay tonight because she's clearly well liked by the public and despite it not being quite as good vocally tonight, it was still pretty strong. - VIDEO
Team Bressie



Shannon Murphy


'High Hopes' by Kodaline
- 9.5/10 -
I absolutely love Shannon's voice, at the start I thought she would just be a quirky country gal but she is so much more than that, her quirky tone reminds me a little bit of Ingrid Madsen in all reality as she has this lovely folky pop feel to her voice but she still has an impressive vocal range. This is just brilliant as usual, I love the original but her performance of it is equally great, at the start it's lovely and slow and really emotional but as the band kicks in, her vocals gain an edge and she really blows me away yet again, for me what is so great about Shannon is that she injects her own style into every performance. She has went for being behind Katy Anna and Sinead in terms of my preferences to being one of my favourites week in, week out and the fact that she is criminally underrated by the coaches makes me like Shannon even more. I really hope she gets through to the final as I think Bressie will have some really exciting ideas up his sleeve for her. - VIDEO
Katy Anna Mohan
'She Wolf (Falling To Pieces)' by David Guetta feat. Sia - 9/10 - Katy Anna is one of my favourites on any series of 'The Voice' to be perfectly honest. I was a fan of her blind audition but I didn't rate her within my Top 5 however week on week she has improved. Last week was stunning and this week is equally great, finally Katy Anna has chosen her own song this week after constant criticism by the other coaches for choosing songs from 'Bressie's iPod'. Well sticking to her own iTunes library paid off as this was another amazing performance, I don't think it had quite the same compelling feel as last week's song did but I still loved it and think Katy Anna got it spot on with the Disney/Creepy ratio as she described it. The coaches have some largely irrelevant constructive criticism for Katy Anna because of course Bressie's acts can't possibly give an amazing performance without some criticism but Katy Anna has done more than enough to merit her place in this competition and for me, she deserves to be in the final. If we could have a double whammy for Bressie and his team of quirky girls then I'd be delighted. - VIDEO
Team Sharon



John Gaughan


'Cannonball' by Damien Rice - 9/10 -
If you have been reading my recaps to this point, you'll know that whilst I've enjoyed John's performances, there has always been something missing from them for me. Last week he finally really impressed me and tonight he is doing the same, this is a genuinely great performance. The vocals are edgy, he sings it really well and the emotion is there, usually acoustic performances need to do something to avoid coming across dull and John manages that, I really think that he has improved a lot in the last two weeks and I wouldn't mind seeing him in the final now, even if I do wish that Aoife was still here as she was severely underrated last week. Anyway, a really strong vocal from John there and I wouldn't be surprised if he's here next week! - VIDEO

Keith Hanley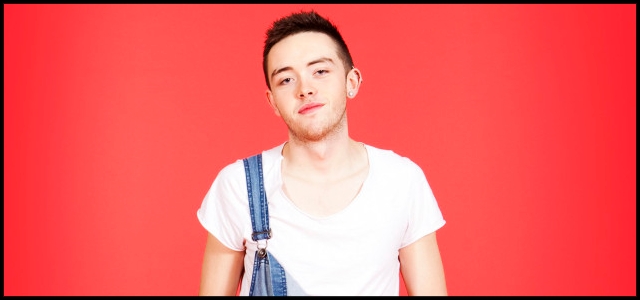 'Crazy' by Gnarls Barkley - 7/10 -
I claim responsibility for this choice after mistakenly typing Beggin' as Crazy a few weeks ago. Anyway, this is an okay performance, again for me Keith has went downhill as the live shows have went on, it doesn't get off to a good start when Keith attempts a big power note and it goes pretty off key. The rest of the performance is okay but doesn't really feel like it goes anywhere and Keith just does an okay job with the song, for me Keith;s performance skills are somewhat lacklustre tonight, there is no energy to this performance and it just feels like the normal showman that we see with Keith has dissipated with this choice. It's not a bad performance by any shot but it's not brilliant. - VIDEO
Results
Eliminated:
I'm gutted for both of these guys, for me they were two of the best tonight as can be seen by my rankings and I'm really surprised that they were eliminated. It was always going to be close but although I have liked Shane and Keith, neither gave great performances tonight. John wasn't one of my favourites but his last two performances have been superb and I'm really disappointed that Katy Anna, who has probably been the most consistently good act in this competition is a total star. It's also the end of the road for Sharon Corr who loses her final act and finishes fourth. I'm quite surprised that Kian of all coaches got both of his acts through as I think his song choices have been pretty weak, particularly for Shane and if anyone were to get two acts in the final, I expected it to be Bressie. So it's a four way battle for the crown now, who will win? I'm putting my weight behind Shannon for Team Bressie but any of them could win.
This entry was posted on 6:39 PM, and is filed under
John Gaughan, Katy-Anna Mohan, Keith Hanley, Kelly Mongan, Shane McLaughlin, Shannon Murphy, TV, TVO Series, TVOI
. Follow any responses to this post through
RSS
. You can
leave a response
, or trackback from your own site.