I'm currently looking for some new writers in order to expand the blog given that I can't post the amount of things I'd like to. So if you are interested in writing about anything related to music (news, TV shows, album reviews, introducing artists) just drop me an
email to musicisthedoor@gmail.com
and we can discuss some of your ideas.


Blind auditions are now over and the teams have 12 acts each but after the battle rounds, only 6 will remain and a total of 24 contestants will move on to the liveshows. The judges are being helped in making this hard decisions by celebrity mentors. Darren Hayes is joining Delta, Ricki-Lee joins Seal, Joel is helped by his twin brother Benji and Megan Washington is teaming up with Keith. Will a darkhorse emerge? Will a frontrunner fall? ... This is The Voice!
Recap after the JUMP ...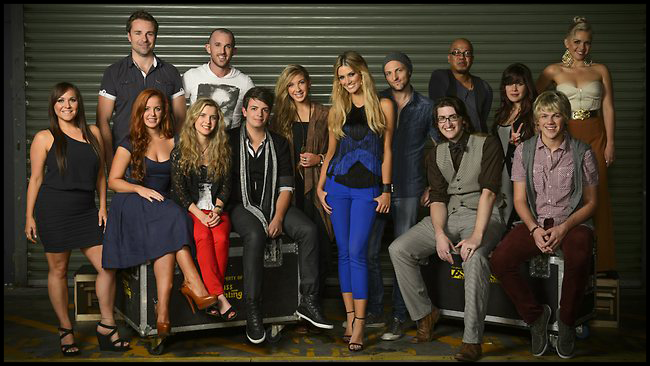 Glenn Cunningham vs Matty Chaps

- "Moves Like Jagger" (Maroon 5 featuring Christina Aguilera)

- Glenn is Delta's former backing singer, so he already has Delta's vote. Delta assigns an awful song for them, not many people can sing this song properly. Matty sounds better than in his blind audition but I don't really like him. He looks like a rat to me. Glenn does a lot of weird faces while singing and that's disctracting me from his actual sound, which wasn't as horrible as Matty's. As predicted, Delta picks Glenn. She needs to give him a really good song for the liveshows if she wants to keep him in the competition.

Winner

:

Glenn Cunningham
Adam Hoek vs Rachael Leahcar

- "Somewhere Over The Rainbow" (Judy Garland)

- Frontrunner vs The Voice of Holland failed auditionee, I wonder who'll win this? Darren thinks Adam has a good tenor but it's begining the song in the rong way. Adam got goosebumps when listening to Rachael, that's not a good sign for him. I can barley stand Adam's voice in this song, he sounds weird, too deep. Rachel's got a more pleasant tone, a little generic but still very beautiful, especially when she uses her vibrato a little more. She's obviously the winner of this battle.

Winner

:

Rachael Leahcar
Peta Jeffress vs Viktoria Bolonina

- "Purple Rain" (Prince)

- Ugh, I hate this pairing. This two were my favourites of Delta's team. Peta think's both of them are very quirky. Once again, Delta picked a horrible song for this duo. Surprisingly, Peta's favourite artist is Prince and "Purple Rain" is her fave song, she thinks she's got an advantage. However, Delta thinks she's one dimensional, while Viktoria has more dimensions. Peta's brining her original spin to the song but I've got to agree with Delta, Viktoria's got more sides than Peta. Her voice is more powerful, she's got much more range than her competitor while Peta's almost tiny, yet extremely captivating. Keith and Seal would give the edge to Peta, Joel belived Viktoria more. Can't they both get through?

Winner

:

Viktoria Bolonina
Danni Da Ros vs Sarah Lloyd

- "Hero" (Mariah Carey)

- Diva showdown. "It's really going to be whichever woman can let their wall down" (Delta) Danni says she's used not to be the winners, so if it doesn't happen, she's used to it. Yep, I'm still not into any of them. They'll have to do a lot more to get me into their bandwagon cause this predictable performances aren't calling my attention. I've got to give to them that they showed a lot of restrain but I didn't see the emotion on it. Sarah did a little better to me, though Danni's final moments were amazing.

Winner

:

Danni Da Ros
Jerson Trinidad vs Matt Hetherington

- "Higher Ground" (Stevie Wonder)

- Coming into this battle, I think I'll go with Jerson just cause I liked his audition more. None stands out though but Delta needs liveshow fodder, which she'll find in this battle's winner. Matt is a rocker, Jerson is a soulman, so it comes down to which style Delta prefers. She already has the soulman in Glenn, so I can see her going for Matt, who indeed sounded better in this battle. He'd a nice grit and rasp which I didn't listen before, I he improves those aspects, he'll be a decent contestant.

Winner

:

Matt Hetherington
Ben Bennett vs Jesse and Ashleigh

- "Fireflies" (Owl City)

- Delta hasn't made a single good decision regarding song choice, I hope that improves in the liveshows. She says she paired them together cause they represent they young pop sound. Jesse sounds like death here and his voice doesn't go together with Ashleigh's, who also sounds pitchy. Ben isn't interesting but at least was on pitch. Their harmonies suck. This is a major trainwreck, worst battle for sure. Whoever wins, will be first one out of Team Delta.

Winner

:

Ben Bennett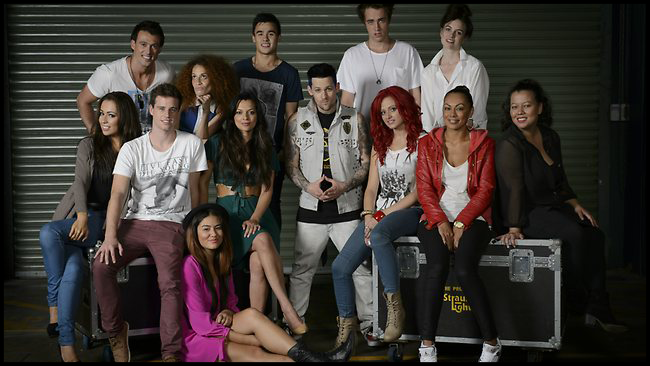 Chris Ninni vs Ben Hazelwood

- "The Only Exception" (Paramore)

- Chirs still gives me dbag vibes. Ben is much more humble than him. Chris thinks Ben is too young for this competition. To Joel, Chris's personality is his main disadvantage cause he's a macho attitude. Ben has problems to sing the song properly cause it reminds him to the time his brother, James, died. He's singing to him. No matter how much power Chris has, Ben schooled him in this performance. Not only did he emote perfectly, he also added a lot of layers to it's melody. I wasn't so crazy about him before this, but I might have just found a new fave. Chris just screamed throughout it while Ben showed a deep connection with the lyrics.

Winner

:

Ben Hazelwood
Mahalia Barnes vs Prinnie Stevens

- "Tainted Love" (Gloria Jones)

- They met 10 years ago and since then, Mahalia and Prinnie are best friends, their daughters are friends, Mahalia's daughter was the flower girl at Prinnie's wedding, plus they speak every day. That's gotta be uber hard. Joel is a mean person. Haha. This made for a fantastic battle cause this two know how to work together. I'll reapeat myself here, Prinnie is sassy, Mahalia's got something distinctive. Whoever Joel chooses, it's well deserved and will make a perfect contestant for the liveshows. To the one who's going home, I hope she returns.

Winner

:

Prinnie Stevens
Lakyn Heperi vs Nick Len

- "Big Jet Plane" (Angus & Julia Stone)

- Nick is scared of being paired with Lakyn, he says he's one of the artists you belive every word they say. I tend to agree. The frontrunner vs the fodder, any doubt who's winning? Benji thinks Lakyn look like he doesn't really care. "That's not true, I do care", he says. This is a perfect pick for Lakyn, he even give me goosies, or that maybe happened cause I'm a little cold. Either case, he really shined in this and I couldn't care less about Nick, was he even singing?

Winner

:

Lakyn Heperi
Mali-Koa Hood vs Laura Bunting

- "What's Up?" (4 Non Blondes)

- I'm glad Joel made Laura take some risks. This song is far from her musical theater background and that will be an advantage for her in the long run. Mali-Koa's style probably fits this song better. Joel tells them not to go for a perfect pitch but for a passionate pitch. Good advice. I love Laura's sound but in this case, Mali-Koa sounded a bit better, maybe becuase it was closer to the original song while Laura's was totally unique. That's why I think Laura's got the edge. Joel's got a hard decision to make.

Winner

:

Laura Bunting
Carmen Smith vs Michelle Serret-Cursio

- "We Found Love" (Rihanna featuring Calvin Harris)

- To Joel, Carmen and Michelle are in the same ability level and they are the most similar in their backing singer persona. To him, one of them has to step out and become more than a backup singer. I really like this song for them, especially for Carmen, who's sounding terrific during it. Michelle sounds good too but Carmen's style is more unique and sassy plus her voice sounds more pleasant to me.

Winner

:

Carmen Smith
Sarah De Bono vs Yianna Stavrous

- "Heavy Cross" (Gossip)

- They represent feamle pop to Joel. None has heard his song choice for them. He'd a feeling none would. Joel thinks Sarah isn't letting anybody in. I disagree, Sarah is nailing this song, something Yianna isn't achieving, despite having improved since her blind audition. Sarah's gotten more into the song and has the right attitude, Yianna is being the sexy girlband member. No matter what, Joel was always gonna pick Sarah, thankfully, in this case it was justified.

Winner

:

Sarah De Bono
Team Keith
Diana Rouvas vs Jaz Flowers

- "Mr. Know It All" (Kelly Clarkson)

- The song is definitely favouring Jaz, as Diana noted, it's not something she'd normally choose in her repertoire. I really liked both of them during the blind auditions so I'm not really sure who Keith will pick. Jaz showed more restrain as I suggested but Diana brought something different, slightly sassy to the song. Jaz was singing a little too thin and shouty at parts actually, while Diana was much smoother. Either way, this was a great battle but I'd give the edge to Diana.

Winner

:

Diana Rouvas
Adam Martin vs Abbie Cardwell

- "Heartbeat" (The Fray)

- Abbie is one of two country singers on Keith team, he's definitely bound to keep one of them so will it be Abbie? She struggled a lot with the song lyrics and the timing, while Adam is right in his comfort zone. "The song isn't me but I've got to make it me" Abbie says. Adam's got a quirky tone, which I really dig and though he tried to move around while performing it did looked a little off. Abbie was ok, but it showed she wasn't into her comfort zone, she's got a lot of talent though and should definitely keep going.

Winner

:

Adam Martin
Cam Tapp vs Taga Paa

- "Change the World" (Eric Clapton)

- Cam doesn't think Taga's voice is that powerful. Taga doesn't know the song, so he's in a disadvantage. We learn that Cam was the frontman of a rock band but gave up on it when his twins were born, then the accident happen. I'm not sure about this song, it's quite cruisey. Taga's definitely sounding better than Cam here, he's much sweeter while Cam sounds rough. The ending got better for both of them but Taga stole the show.

Winner

:

Taga Paa
Glenn Whitehall vs Jimmy Cupples

- "Plans" (Birds of Tokyo)

- Oh god, this's gonna be a shouty battle. At this point, I'll go for Glenn, just because I found Jimmy's voice annoying. Keith tells Jimmy not to overdo it, fortunately, he takes his advice and keeps the high pitched voice to a minimum, actually sounding quite good. The song does fit Jimmy better but Glenn's voice is more passionate, warmer, plus he has improved since his audition. I'd go with Glenn.

Winner

:

Jimmy Cupples
Brittany Cairns vs Kelsie Rimmer

- "Turning Tables" (Adele)

- Both artists are similar. Blonde girls with a slightly country tone, so it's a no brainer than Keith paired them together. To Megan, Keith has created a two headed blonde monster. Haha. Brittany sound lovely and so does Kelsie. The later does sounds more unique, she's putting her signature sound to the song and it's something really beautiful. I think I'd give Kelsie the edge just for that reason. Either way, the battle was quite emotional, both should've made it through.

Winner

:

Brittany Cairns
Brett Clarke vs Darren Percival

- "Shower the People" (James Taylor)

- To me, Brett was always the chosen one of Keith team but when he paired him with Darren, I started doubting. Megan gets a little teary while listeining to Darren, she says he has an incredible joy while he sings and that's really beautiful. I'm hoping Darren gets through, I need no country singers for a while plus Brett isn't particularly good. Darren is old fashioned but I'll rather have him than another unimaginative country dude. The battle was a let down, none impressed me and it was quite boring. Keith should cut this two and put Kelsie through.

Winner

:

Darren Percival
Team Seal
Paula Parore vs Karise Eden

- "Back to Black" (Amy Winehouse)

- I had a feeling that Paula was being paired with Casey, yet she got pitted against Karise, the other frontrunner of Team Seal. Boht have huge voices but it's quite obvious who is making it through. Seal hears the pain in Paula's voice, she's lived the song. Karise says she had a youth worker who used to shout at her, "I get to go home and this is your life and you've to stay here" she would say. It's obviously a very emotional song for both of them and they both sound extremely passionate and into the lyrics. However, I must give the edge to Karise just cause I find her voice more unique than Paula's. At this point, Karise is the frontrunner.

Winner

:

Karise Eden
Fatai Veamatahau vs Mitchell Thompson

- "Love the Way You Lie (Part II)" (Rihanna featuring Eminem)

- Seal pitted his youngest contestants together. Seal tells Mitchell to watch his phrasing, while Ricki-Lee thinks Fatai is amazing. Seal was impresed with Mitchell during the rehersal, saying he improved greatly. He thinks both of them have star quality. I must say I was quite surprised with Mitchell too. He's phrasing is outstanding and his tone is quite soothing. Fatai had a rough start but her gospely tone began showing as she went on, while Mitchell hit some bad notes. A real thight battle, anyone could have won this. I kinda hate Seal paired this two together actually.

Winner

:

Fatai Veamatahau
Anthony Dellamarta vs Michael Duchesne

- "Living for the City" (Stevie Wonder)

- Battle of the fodders! Seal made the wrong decision by pairing this two, none has a chance of winning this competition, however, it's good to have fodder in the liveshows. They are both soul artists, so this battle is even fielded. None sounds incredible though, both are quite decent, so I'm not really sure who I would pick. Maybe I'll take a look at their battles and in that case, I'll go for Anthony, just cause he did some cool scats before.

Winner

:

Michael Duchesne
Chris Sebastian vs Yshrael Pascual

- "Firework" (Katy Perry)

- Both should've made it to the lives, that could've happen if Seal had paired one of them with Anthony and the other with Michael. Unfortunately, one of them would have to go tonight. This song choice is atrocious. Chris's pharsing is great and those little runs at the end were fantastic but that wasn't enough to make me like this performance. Yshrael sounds ok but he sounded much better on his audition. Seal is right, he's not a great singer yet but he can get there. However, Chris is great right now and that's why Seal should pick him.

Winner

:

Chris Sebastian
Sam Ludeman vs Kieran Fraser

- "Viva la Vida" (Coldplay)

- Kieran's really need to improve his looks. He's not going to be a star if he doesn't look like one, and that's exactly what Seal tells him. Seal picked this song for them cause he doesn't believe in either of them with this song. That why he picked it? Weird. He says he sees weaknesses in both of them. They've soulful interesting voices but I agree with Seal, I don't believe in any of them. Kieran's not the only karaoke singer her, Sam's too. I find Kieran a bit more interesting but he did exactly what Seal told him not to, he moved around the stage like if he was in a big karaoke contest while Sam toned down his movements. None deserves it actually.

Winner

:

Sam Ludeman
Casey Withoos vs Emma Louise Birdsall

- "At Last" (Etta James)

- This was the hardest battle for Seal cause he belives everything they sing. Why the fuck did you pair them togheter then you moron? Both had a shot in this competition and they should've made it to the liveshows, the loser needs to return. They have similar voices, so I get the pairing. Lovely performance, without a doubt one of the best of the series. They've got a smooth soulish tone and they blend perfectly with each other. Emma does sound deeper while Casey sound more relaxing. I'd actually have to flip a coin to pick between this two.

Winner

:

Emma Louise Birdsall
This entry was posted on 5:56 PM, and is filed under
TV, TVO Series, TVOA
. Follow any responses to this post through
RSS
. You can
leave a response
, or trackback from your own site.