I'm currently looking for some new writers in order to expand the blog given that I can't post the amount of things I'd like to. So if you are interested in writing about anything related to music (news, TV shows, album reviews, introducing artists) just drop me an
email to musicisthedoor@gmail.com
and we can discuss some of your ideas.

Published by Kevin Mc Stravock
It feels like no time since we were watching the judges turn around in their chairs in the Blind Auditions but alas, we're getting closer to the final as Team Tom and Team Will have already been narrowed down to just two contestants per team. So now, we're back with Team Jessie and Team Danny as two acts must go home from each time, I would probably most like Vince and Becky from Team Jessie and Bo and Max from Team Danny to make it through, whether this actually happens has yet to be seen but fingers crossed!
Recap and videos after the JUMP ...
Max Milner
'Black Horse and the Cherry Tree' (KT Tunstall) - 9/10 - I can't believe they seem to be trying to screw Max over once again tonight by giving him the death slot, I know some people don't believe that being on early gives anyone a disadvantage, when seven other acts perform, it's most definitely a disadvantage, I just hope Max can make it through. This is a brilliant performance, I prefer it to the last performance he gave and love how he puts his own spin on the song. His vocals are so unique and thus, I really hope that he gets enough votes or failing that, is saved by his coach. Max is a lot more unique than the other guitar man in the competition, David, he just seems to have a much more soulful voice than I would have initally expected and the fact that I love this song only helps the matter. With that said, I just wish the silly Max faces floating in the background were done away with as they are pretty cringeworthy like the Tyler thing last week, all the same, this was a great performance and I hope beyond hope that he makes the semi-finals.
Bo Bruce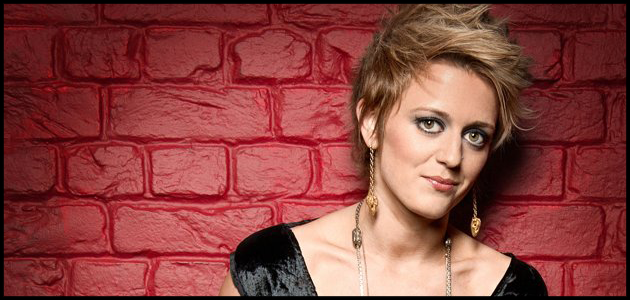 'Love The Way You Lie (Part II)' (Rihanna) - 9.5/10 - Bo has an unbelievable voice, it has a quality in it that is unmistakably similar to the likes of Dolores O'Riordan and Imogen Heap and I really believe that she would sell serious amount of records because there isn't anybody else out there on the market currently who has exactly what she has. It isn't just vocals. Bo can connect with the songs she sings in a really different manner to everybody else, she has natural stage presence and for me, she has natural star quality. I'm interested to see what Bo is going to do with this song, it's quite a different pick to her previous Kate Bush performance and it's definitely not a safe pick for her. And she's doing it rather well, her voice is absolutely stunning, it adds such a cinematic quality to the performance, it feels like a professional is up there rather than somebody who is on a talent show. You've guessed it, I really rather enjoyed that performance, really looking forward to seeing what she can bring to the table next week in the semi-finals, yes, I've never been more confident that somebody is through than I am now, she has everyone on their feet (that's the coaches, not literally everyone, she's not a hypnotist) and she just seems to have something special about her that makes her stand out. Aside from the odd cow conversation between Tom and Jessie (How now brown cow?), that was a great performance!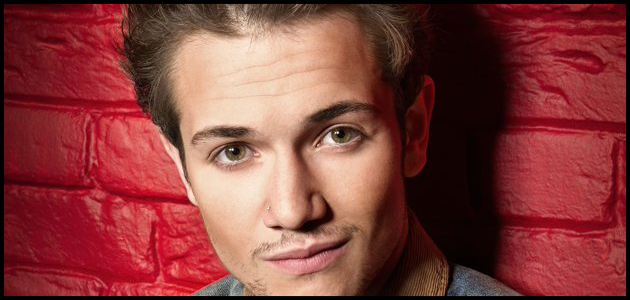 'Better Together' (Jack Johnson) - 3/10 - Somebody is definitely playing it safe tonight, this song choice is completely predictable, his voice sounds exactly the same as it has every other week and unlike his counterparts Max and Bo who both went for more risky song choices, Aleks isn't prepared to step outside of his comfort zone. I may be seeming harsh but Aleks hasn't really impressed me throughout the competition, he's been quite out of tune in his previous performances especially in his audition and for me, his 'shy' personality is coming across more as disinterest. He seems to be arguing with Danny during rehearsals who is trying to get him to do a big band arrangement of 'Are You Gonna Be My Girl?' which would definitely allow him to show his originality. This is almost the same as the original version of the song only Aleks' vocals are a lot weaker, yes he is only 17 but as Tom points out, 17 isn't an excuse to play it safe, Becky is around the same age, a bit older yet she continues to step outside of her comfort zone and take risks by changing things up. For me, Aleks has blown his chance, I can sympathize with him in the amount of criticism he has received tonight which may have been hard to take but he appeared uncooperative during rehearsals and it's shown in the performance, not good enough.
'She Will Be Loved' (Marroon 5) - 7.5/10 - David looks a bit like Matt Cardle and sounds a bit like Matt Cardle. He's very talented but his voice is very generic, if the show was 'The Voice of Matt Cardle', he would probably win but it's just called 'The Voice' so I don't know if he will win. Tonight he is singing 'She Will Be Loved' in the style of Matt Cardle, his falsetto is much better than it was last week when it sounded a bit like he was singing like Matt Cardle inhaling helium and being strangled simultaneously. All of that aside, this is a good song choice for him but just achieves to show that he isn't particularly unique or different, his voice is far too generic and I honestly don't see where there is a market for him, sure he is talented but I feel like Max and Bo are more likely to have lasting success compared to him.

'Turning Tables' (Adele) - 7.5/10 - Cassius is a good singer but he has yet to really stand out from the rest of the acts in his team, for me, he is the least memorable of Team Jessie and although his voice is great, as shown in the brilliant rendition of 'Closer' that he gave in the Blind Auditions, he hasn't topped that yet. This is a cool song, I like Adele and like that they haven't went for one of the more predictable Adele tracks but, here is the clause, he isn't doing anything drastically different with the song, he is just standing beside a piano singing it. Oh no wait, he is now doing something different! He is standing beside the piano on a, wait for it, a turning table! This is creative genius, whatever next, Becky singing 'Airplanes' whilst images of airplanes flying around are displayed behind her? Anyway, back to the actual vocals on the song, it's good, he gives the song an R&B feel which is always welcome, he reminds me a lot of Ne-Yo, to be honest I much prefer Cassius to Jaz in term of the soulful voices but I think he is at times a tiny bit pitchy though his falsetto is very smooth, he ought to be proud of himself but I don't know if it's enough to see him through unless Jessie saves him or he is genuinely the best of the night and gets the public support.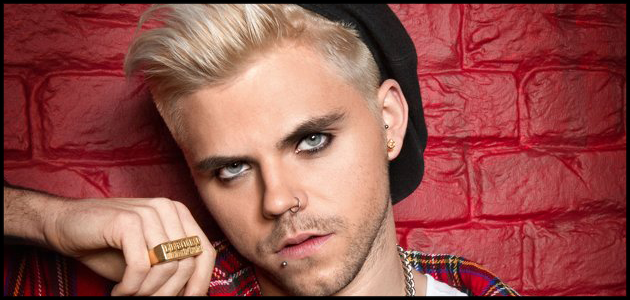 'My Love Is Your Love' (Whitney Houston) - 8.5/10 - Vince is certainly one of the most original contestants left, like Bo he often thinks outside of the box and comes out with performances that are very different to what you might expect. The only problem with that is because he is so quirky, it doesn't always necessarily translate into the public 'getting him'. When it comes to talent shows, the public tend to favour someone who sings the song as it is although both him and Bo have fared well so far and both of them are quite different to the standard crop of Whitney wannabes and Michael Buble a likes we often see on these shows. He's performing a Whitney classic with the reggae vibe to it, similar to the Wyclef Jean produced original as opposed to the dance remix by Jonathan Peters. Vince once again reminds me of Deandre Brackensick from American Idol only that he doesn't have a funky curly hairstyle and tones down his falsetto a little bit, oh and he doesn't jump around the stage sort of bobbing his head, not that it's relevant at all. Anyway, this is great, I'd say it's probably on par with the last live performance but I preferred his audition overall, with that said, if Vince Kidd is anything other than safe tomorrow night (basically if he goes home), it'll be a major shock. What remains to be seen is who will join him in the semi-finals.
'Seven Nation Army' (The White Stripes) - 8/10 - After rave reviews last week including a comparison to Janis Joplin from Tom (he'd already used Elvis Presley on another act), Becky wants to come out with another great performance tonight, I absolutely don't doubt for one second that she is going to do that. She's singing a pretty iconic song by The White Stripes but thankfully, she isn't singing the pretty abysmal Marcus Collins cover from earlier this year, instead staying faithful to the original. She starts off among the audience on the stairs (not content with trying to make her trip over that pink cord last week, producers seem intent on her falling down the stairs instead) and tells everyone to stomp their feet, unfortunately I can't do this as my feet are on a bed so I can't stomp the mid air. Oh dear, she stumbles on the lyrics and lets out a bit of a whopper (no not the burger, she says a bad word that can't be repeated here and has since been edited out). After that slip-up, the performance thankfully picks up and Becky seems to get into her stride, her vocals are on fire, they're quite deep but she is able to control them perfectly and I definitely can now see the Janis Joplin comparison (I think Tom meant Elvis Presley but let's just roll with Janis). She gets down to the judges and walks past them, standing in front of each for a few seconds and even handing the microphone to Tom upon which he shouts 'Elvis lives on' (Okay he didn't really, I couldn't make out what he said so decided to guess, but maybe he did? We'll never know!). This is a great performance, it definitely doesn't beat last week's 'Good Luck' as the lyrics mishap does make it lose a few points but aside from that, an otherwise great performance by Becky.
'Sorry Seems To Be The Hardest Word' (Elton John) - 9/10 - I really really like Toni, she seems to divide people because a lot of people find her too shouty/her facial expressions off putting but she has a lovely voice which isn't necessarily the most marketable but which I find lovely to listen to. She reminds me a bit of Gloria Gaynor vocally, I don't know quite why but her voice just seems very Gloria Gaynor esque, with that said I do sort of wish Tom had her in his team as he did a great job with both Ruth and Leanne and I think Toni sticks out too much on Team Jessie as being quite different style wise to the other three, as well as this, being on first with a Tina Turner song last week did her no favours. She is absolutely killing this song though (in a good way), her voice is full of soul and I'm honestly loving this, she knows about holding notes, about power and seems to be reigning it in a bit. Oops, spoke too soon, okay she sort of tails off near the end and is a bit pitchy but for me, this is my favourite Team Jessie performance of the night, it's one that she ought to be proud of regardless of what happens as even with the slight pitch problem at the end when she overpowered the last note, she sang that really well. I think it's unlikely that she'll make it through but who knows?
Results
Eliminated Contestants:
Aleks Josh
David Julien
Cassius Henry
Toni Warne
These were probably the four I expected to go, Jessie's team it was incredibly hard to choose as I enjoyed all the performances a lot, in fact I thought Toni was the best from her team although didn't expect her to get through as she definitely wasn't for everyone. I think Vince was a great public choice and Becky was a good choice by Jessie as she definitely surprises me week in, week out. Team Danny, the choice was definitely the correct one in my opinion, Bo was the best of the night overall so definitely deserved to win the public vote and I love Max's voice so he deserved to get the judge's vote. Roll on the semi finals.
This entry was posted on 2:17 PM, and is filed under
Aleks Josh, Becky Hill, Bo Bruce, Cassius Henry, David Julien, Max Milner, The Voice UK, Toni Warne, TV, TVO Series, Vince Kidd
. Follow any responses to this post through
RSS
. You can
leave a response
, or trackback from your own site.